Being able to pay for online deliveries, send money to friends and loved ones, and settle bills through digital payment platforms like PayMaya has become increasingly important over the past couple of months not only for the convenience they provide but also to maximize one's own safety. But the current crisis has also made loading up our PayMaya accounts more challenging as convenience stores, payment centers, and banks may be difficult or unsafe to visit. Fortunately, PayMaya has made it possible to load up your account via your neighborhood Smart Padala agent. And with over 30,000 Smart Padala agents across the country, this option is one of the most convenient, accessible, and safe options available to physical load up your account.
Loading up your PayMaya account via your neighborhood Smart Padala agent is incredibly easy. Here's a quick guide to help you process the transaction so you can continue to do anything and everything you need to do with PayMaya:
1. Go to any Smart Padala agent and tell the agent that you're adding money to your PayMaya account.
2. You can either Add Money via code or via mobile number:
To Add Money via code, simply tap "Add Money" in your PayMaya app and choose "Smart Padala via code."
To Add Money via your mobile number, just fill out the agent's transaction slip (include the amount you want to add and the mobile number linked to your PayMaya account).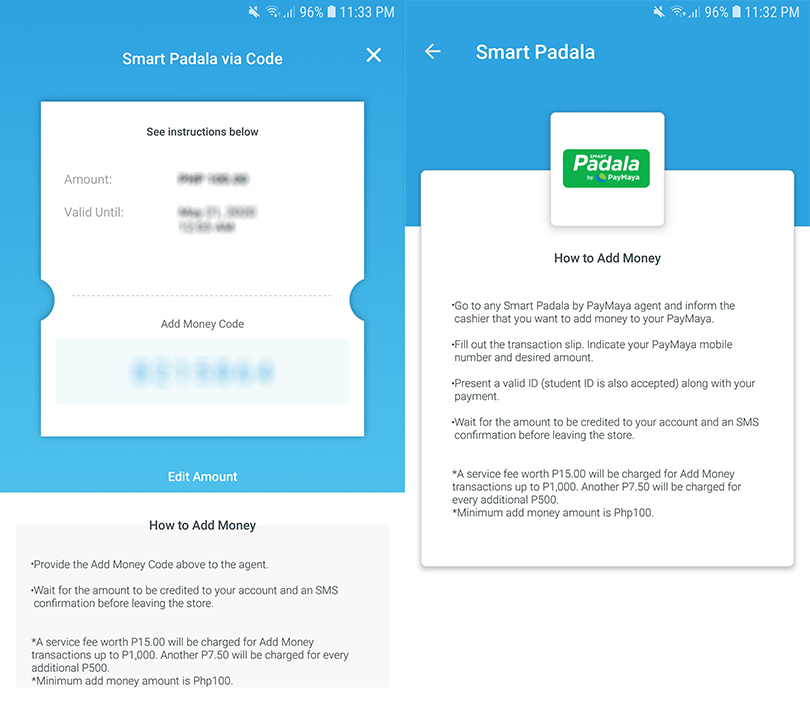 3. Give your Add Money code or transaction slip to the Smart Padala agent.
4. Present a valid ID (student IDs are also accepted) as you make your payment.
5. Wait for an SMS confirmation before you leave the store.
Note: The minimum amount you can Add Money is PHP 100. You will be charged with a PHP 15 service fee for adding up to PHP 1,000 in your account, and another PHP 7.50 for every additional PHP 500 beyond the initial PHP 1,000. For upgraded accounts, you can add up to PHP 100,000 per month in your PayMaya. For accounts that are not yet upgraded, the monthly limit for add money is PHP 50,000.
If leaving your home is not an option or there aren't any Smart Padala agents in your neighborhood, you can still load up your PayMaya account via online methods such as InstaPay through your respective online banking account as well as your credit or debit card. More information on how you can maximize your PayMaya account can be found here: https://www.paymaya.com/quick-guide.