ASUS has recently launched its new ZenBook Duo 14 (UX482) in the Philippines and the latest iteration of its dual-screen laptop features several significant updates that not only improve the laptop's capabilities overall but also make using its ScreenPad Plus much better. Having two displays on a single monitor, albeit one being only half the size of the other, opens up so many possibilities for multitasking on-the-go. So we've listed five ways users of the ZenBook Duo 14 (UX482) can multitask with its ScreenPad Plus. And while these are obviously easily accomplished on desktop PCs with multiple displays, the ZenBook Duo 14 (UX482) lets you do them almost anywhere.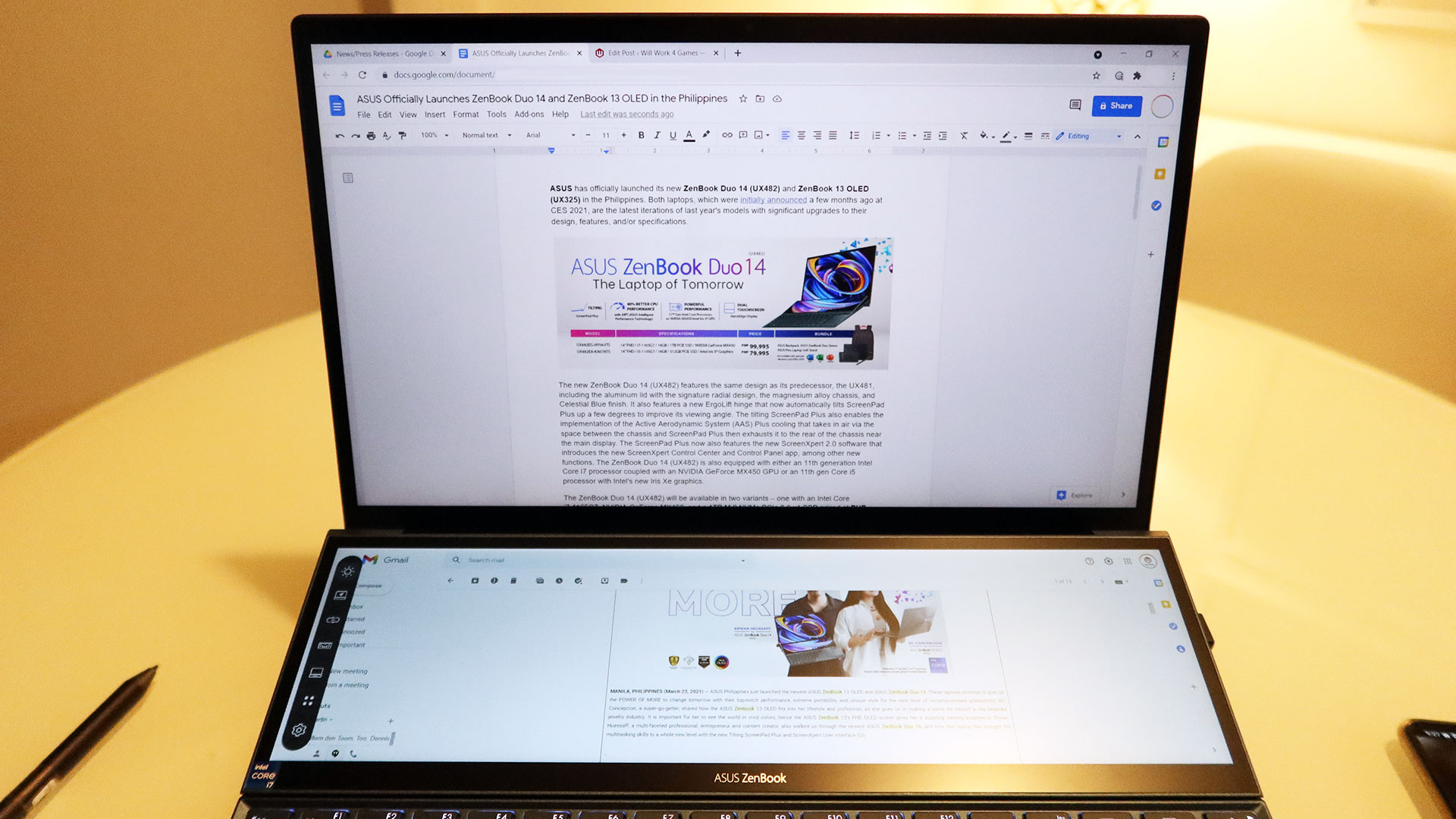 Use the ScreenPad Plus for Reference Material
For users who regularly have to use reference material for either their work or school tasks, the ScreenPad Plus of the ZenBook Duo 14 (UX482) will let users keep it visible at all times. Whether it's a document, image, or video, users can display it on the ScreenPad Plus while their main program or application takes up the entirety of the main display. This means they no longer need to switch between their main application and reference material all the time or divide the already limited main display to fit them both.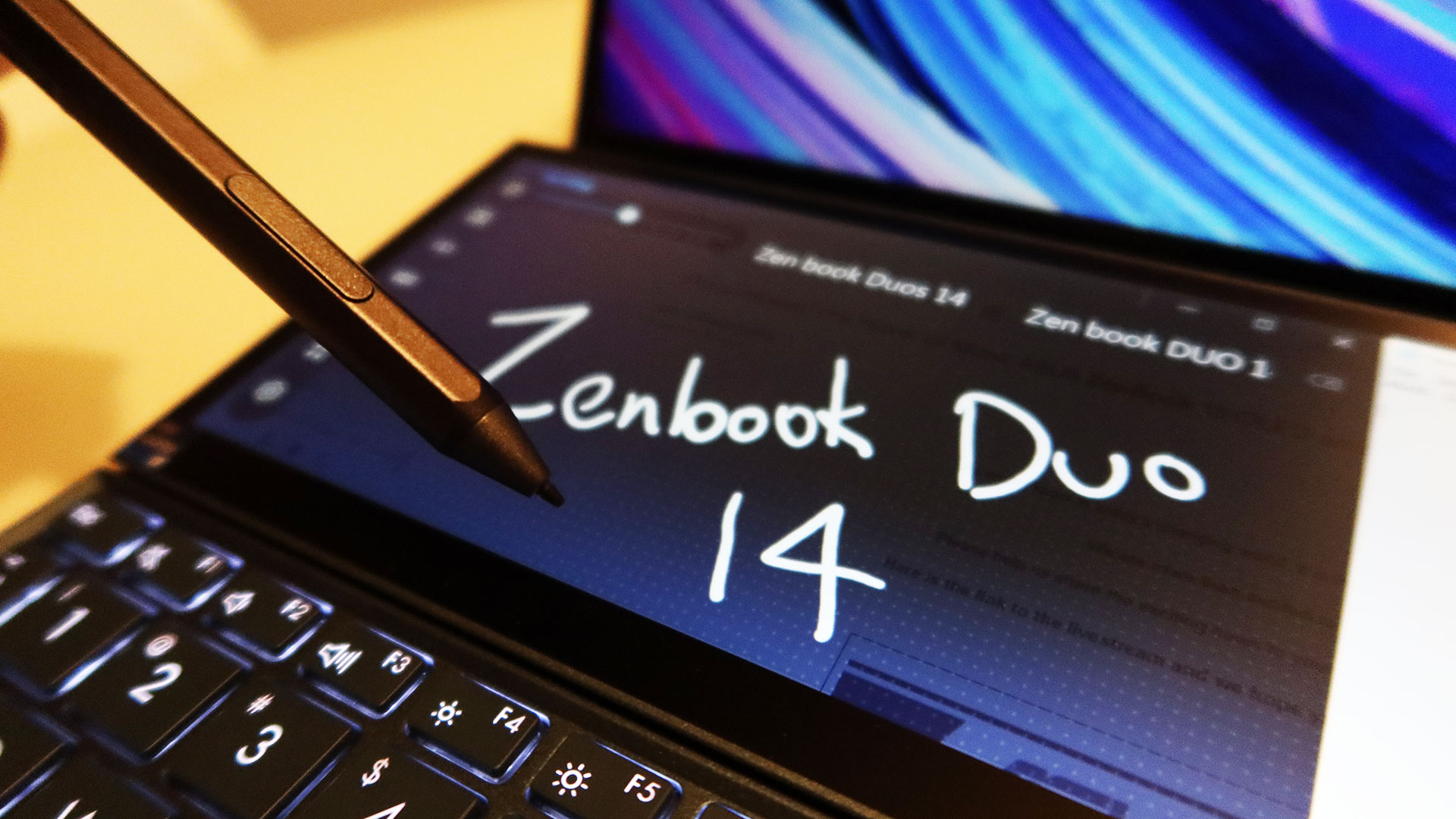 Easily Take Notes With the ScreenPad Plus and the Handwriting App
Similarly, users attending online meetings and classes can use the ScreenPad Plus to take down notes using a note taking app or program while keeping the main display of the ZenBook Duo 14 (UX482) dedicated for their meeting or class. Additionally, those who are more familiar with using a pen to take down notes can also utilize the Handwriting app of the ScreenPad Plus with the laptop's included stylus for their notes rather than having to type with the keyboard.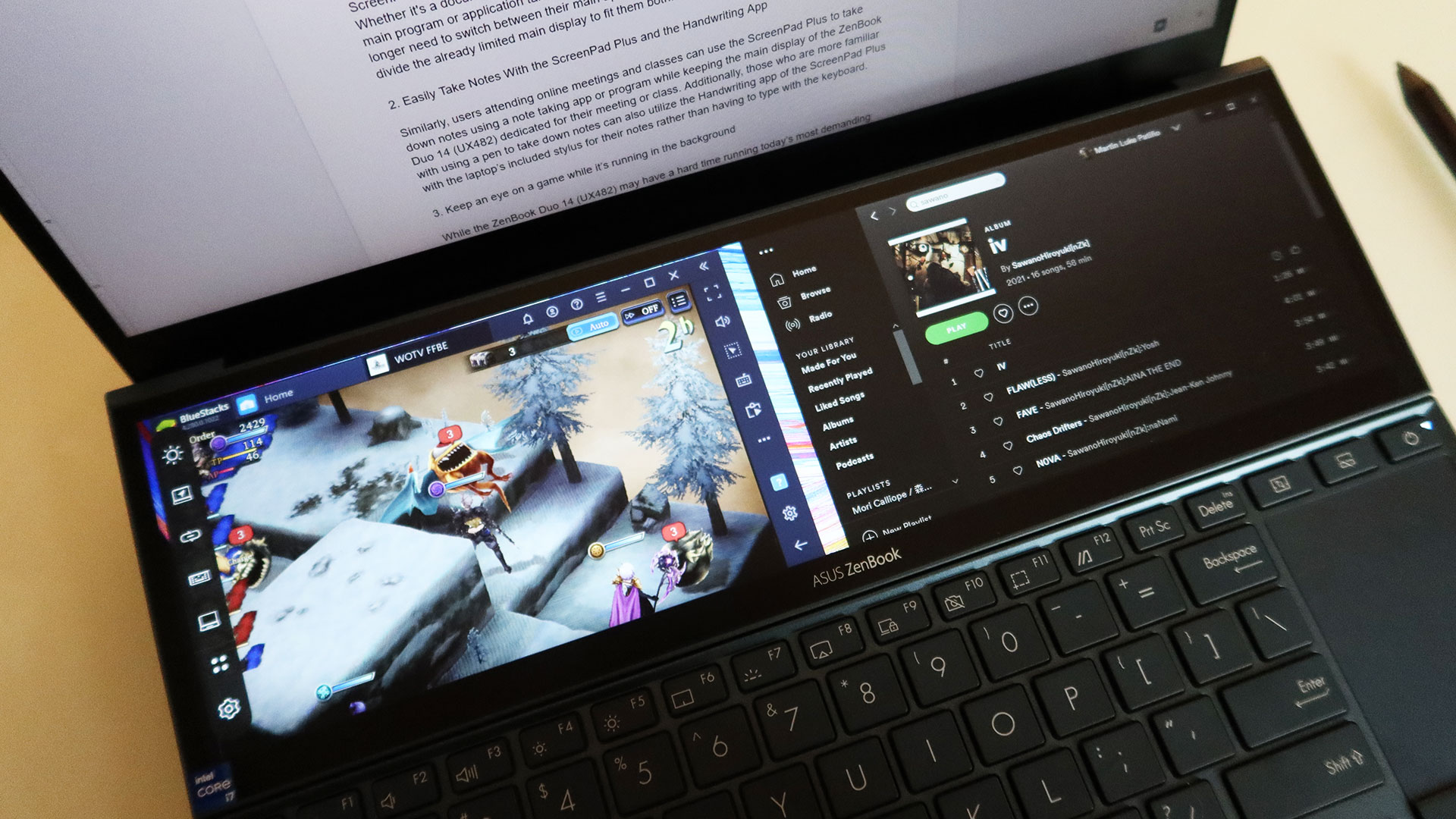 Keep an Eye on a Game While It's Running in the Background
While the ZenBook Duo 14 (UX482) may have a hard time running today's most demanding AAA titles, its 11th generation Intel Core processor and NVIDIA GeForce MX450 GPU are still capable of handling less demanding games like MMORPGs or mobile games (through an emulator). And with its 16GB of RAM, users will be able to run some of these games while they're busy with other things, allowing them to perform certain in-game tasks in the background, such as crafting or auto-farming.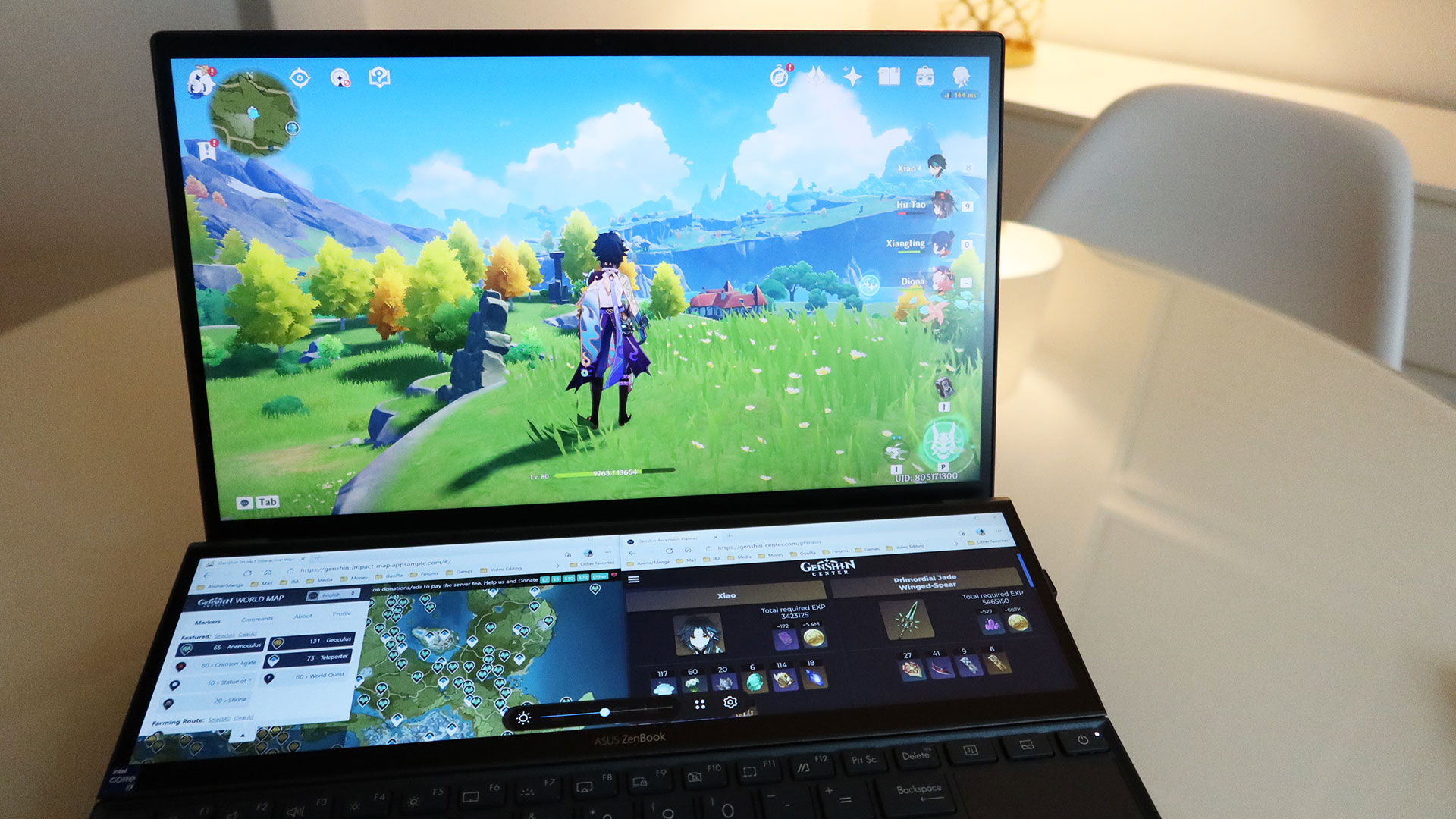 Track Your Game's Information and Progress With the ScreenPad Plus
Certain games like Genshin Impact feature gameplay loops that require players to keep track of not only the available resources of the specific day but also where certain items or enemies can be found. Many websites offer ways to not only find out this information but also to keep track of them to make things much easier for the player. With the ScreenPad Plus, people can keep these websites viewable while they play and easily find out and keep track of where they need to go or what they need to do.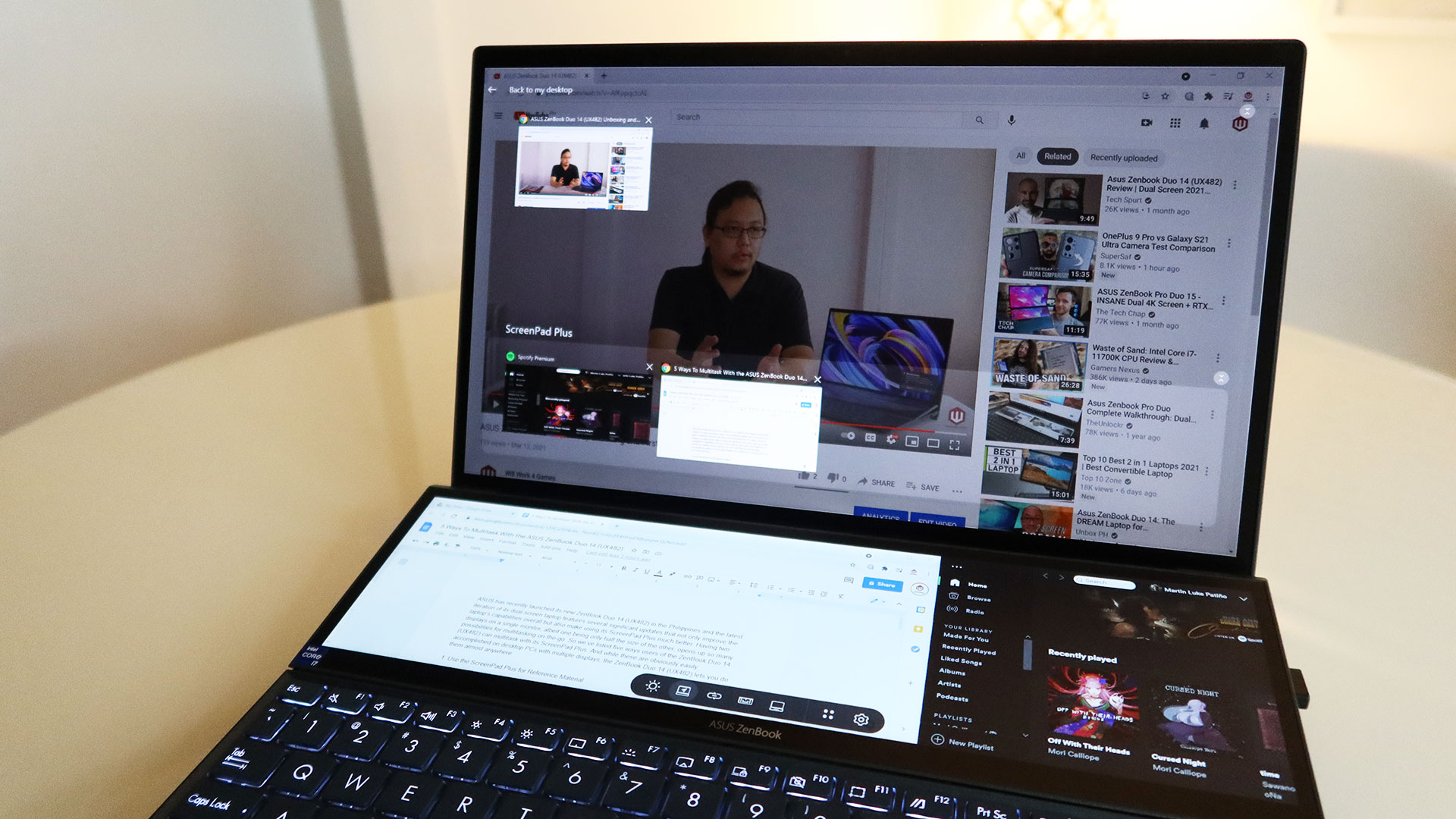 Jump From Task To Task With Task Groups and Task Switch
Finally, two of the features of the ScreenXpert 2.0 software of the ScreenPad Plus are Task Groups and Task Switch. Task Group allows users to save a set of programs that will automatically be opened and arranged in the user's chosen layout when the group is activated while Task Switch flips the apps between the main display and ScreenPad Plus so users can quickly and easily enlarge and focus on whatever program or window they need to at the moment.