Zotac has announced its roster of GeForce RTX 30 series graphics cards based on NVIDIA's recently unveiled Ampere architecture. The new GeForce RTX 30 GPUs include the Zotac Gaming GeForce RTX 3090 AMP Extreme, RTX 3080 AMP Extreme, RTX 3090 Trinity, RTX 3080 Trinity, RTX 3080 Trinity Holo, RTX 3070 Twin Edge, and RTX 3070 Twin Edge Holo.
"The GeForce RTX 30 Series based on the NVIDIA Ampere architecture is a marvel of engineering," said Tony Wong, Chief Executive Officer of ZOTAC. "We move forward introducing refinements on the component level, restraint on external hardware design, and advancements in cooling to bring out the best of each GPU."
All the new graphics cards under the AMP Extreme, Trinity, and Twin Edge series all utilize the company's new IceStorm 2.0 cooling system, which feature 11-blade fans, a new heatsink design, an improved heat pipe layout, and more. The company's Freeze fan stop feature is also now available in more graphics card models.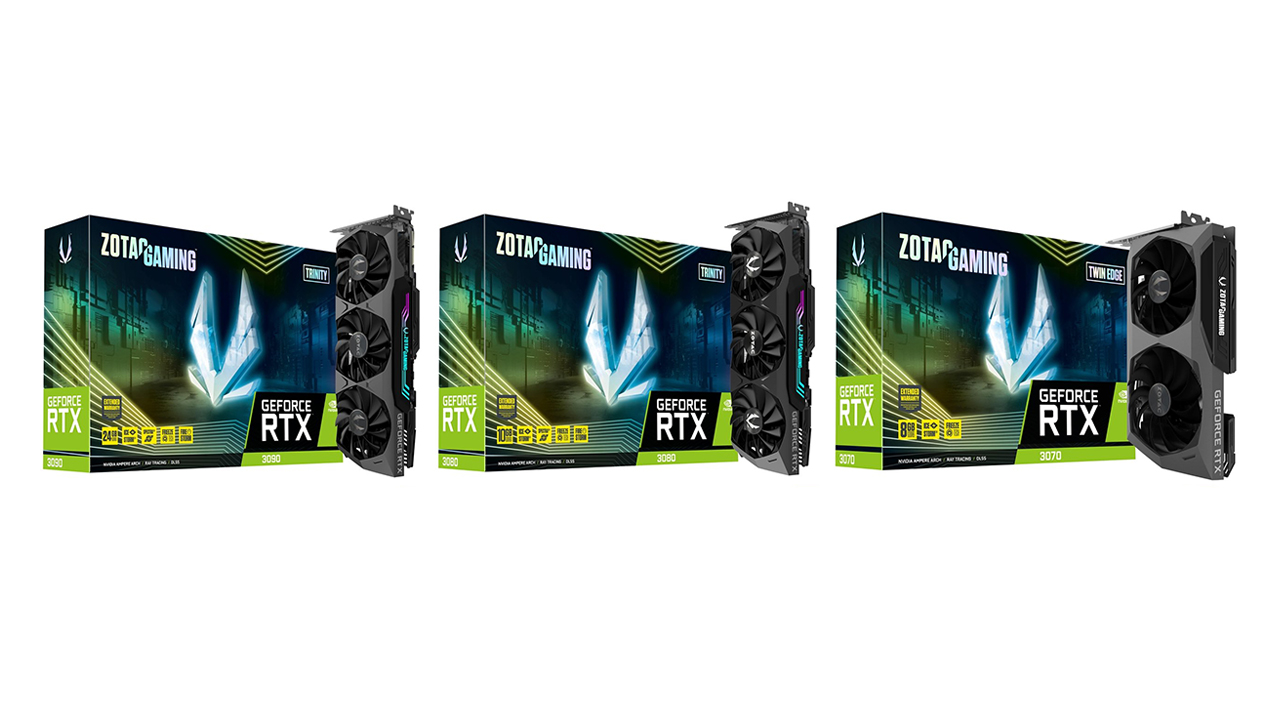 The top-end RTX 3090 AMP Extreme and RTX 3080 AMP Extreme cards come with an all-new HoloBlack design feature that utilizes an "aurora-like" holographic finish as well as Spectra 2.0 RGB lighting. The new AMP Extreme cards also feature a wraparound backplate, PowerBoost technology, and a 3-pin RGB header for connecting an external RGB LED strip to for syncing with the graphics card lighting.
The new GeForce RTX 30 Trinity and Twin Edge graphics cards feature standard and Halo variants, with the latter coming with the same HoloBlack design feature of the AMP Extreme cards.
The new Zotac Gaming GeForce RTX 30 Trinity graphics cards are scheduled to be available sometime in the 2nd half of September 2020 while the AMP Extreme and Twin Edge cards are expected for release sometime in October 2020.