OPPO has revealed some of the advantages of its upcoming MariSilicon X NPU. The company revealed the new neural processing unit at its OPPO INNO DAY 2021 conference last year. OPPO plans to utilize the MariSilicon X, which significantly improves the machine learning and AI capabilities of a smartphone, in combination with its other dedicated hardware for photography and video capture to enable its upcoming smartphones to not only shoot RAW 4K night videos but also improve the overall smartphone experience.
The MariSilicon X offers more power efficiency, capable of delivering up to 18 TOPS (trillion operations per second) at 11.6 TOPS per watt. As an example, the OPPO Find X3 Pro consumes 50% more power when shooting in 4K at 40fps than a device with a MariSilicon X NPU. The new chip, with its multi-tier memory architecture, also makes multitasking easier as it's able to handle advanced AI features without affecting other processes, allowing users to run multiple apps without slowing down their device.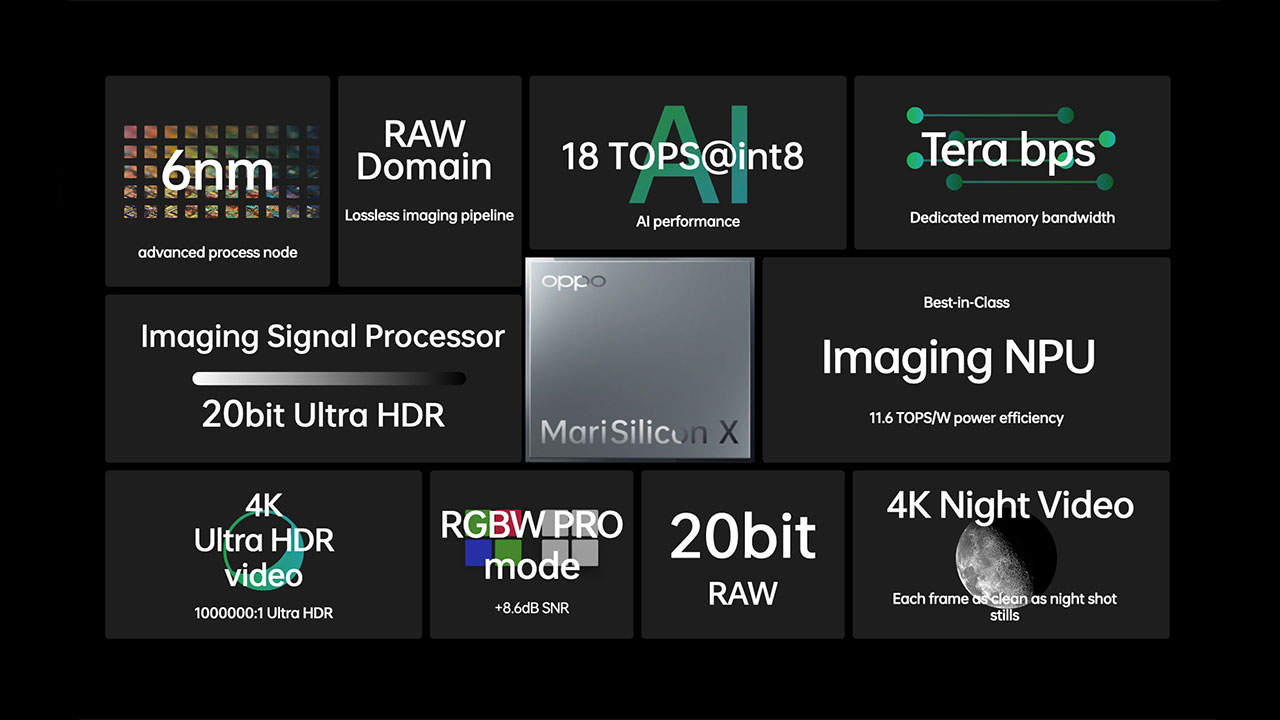 The MariSilicon X is also said to capable of producing HDR photos at four times the quality of the Find X3 Pro. Specifically, the images HDR images that the new chip is capable of taking will be at 20-bit, 120dB dynamic range or have a contrast ratio of 1,000,000:1 between the brightest and darkest parts of the image.
For users that prefer to shoot RAW photos, the MariSilicon X also offers real-time RAW processing and is capable of applying 4K AI improvements and 20-bit HDR fusion at the pixel level.
The MariSilicon X can also work with OPPO's RGBW sensor, Dual Image Pipeline design, and double raw super sampling to achieve images with reduced noise, improved texture quality, and more. Furthermore, OPPO is combining noise reduction algorithms, its improved RGBW sensor, and the MariSilicon X to enable its smartphones to shoot 4K AI HDR night videos.
OPPO has also revealed that its MariSilicon X will be powering its upcoming Find X series smartphones this year.