UPDATE: Congratulations to Noel A. for winning our HyperX Cloud Stinger Gaming Headset Giveaway. Please send us a message so we can ship you your prize soon.
To all those who participated, thanks for the support and watch out for our next giveaway. We hope you can check out all our content in the meantime.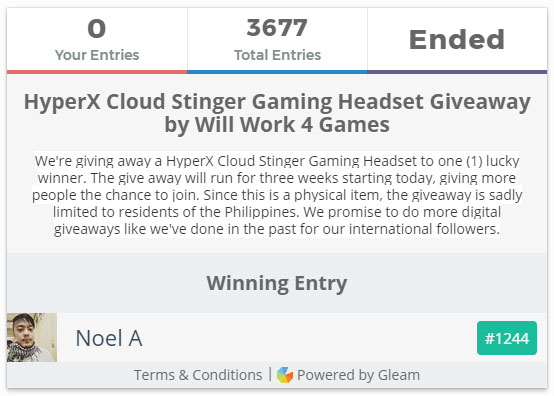 Hey folks, we'll be featuring quite a number of new HyperX products this month and to coincide with all our upcoming HyperX content, we're giving away a HyperX Cloud Stinger Gaming Headset to one (1) lucky winner. The give away will run for three weeks starting today, giving more people the chance to join. Since this is a physical item, the giveaway is sadly limited to residents of the Philippines. We promise to do more digital giveaways like we've done in the past for our international followers.
Enter the giveaway via the Gleam.io widget below or go to this page:
HyperX Cloud Stinger Gaming Headset Giveaway by Will Work 4 Games