In a market where it can be challenging to purchase authentic hard drives due to the prevalence of counterfeit products, Seagate is reminding customers of the perks and benefits of buying original storage drives as well as instructions on how to verify the authenticity of a Seagate hard drive.
"Data is life. Our physical and digital lives are now intertwined so tightly, that one affects the other in so many ways. As we all know, the most valuable thing on the hard drives you use is the data you create and store there. If it gets lost or damaged, it could have serious implications on you personally or your business."
"Purchasing authentic hard drives can be challenging as counterfeit products and services filled the market. Fret not, Seagate, a world leader in data storage and management solutions, provides warranty, security, and support you need while enjoying other perks and benefits when you buy original Seagate products from their authorized resellers and distributors."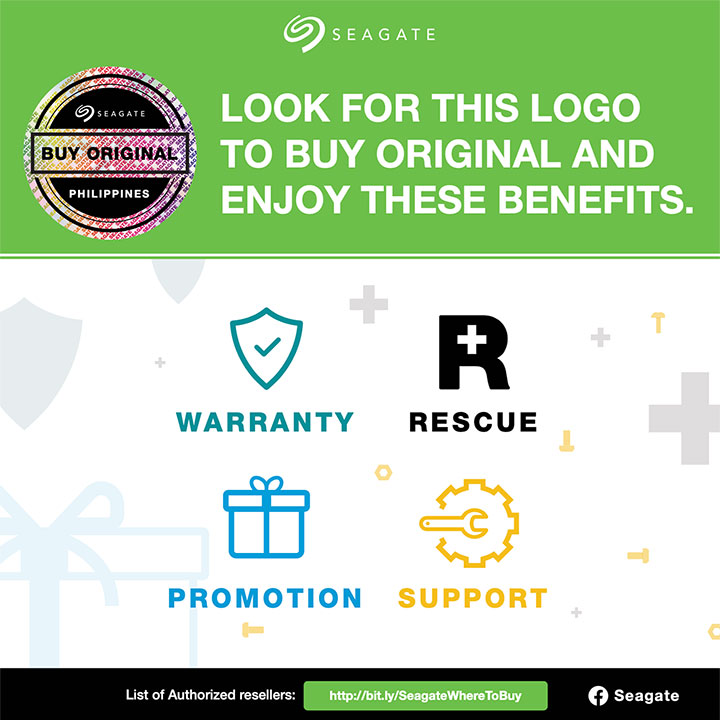 Warranty

Product warranty is the guarantee a manufacturer of a product gives to the customer related to the quality of their product and the compensation offered should the product not perform as advertised.

With Seagate's limited warranty, your hard drive is covered for any defects in the build or material of the product. Make sure to purchase products from a Seagate authorized reseller or distributor to be assured of coverage under this limited warranty. For warranty return service, please visit seagate.com/support/warranty

Rescue

With Seagate's Rescue Data Recovery Plans, enjoy complete peace of mind without worrying about the high cost of data recovery in the event of accidental data loss.

3-year Rescue Data Recovery Services are provided for Backup Plus Series , IronWolf, IronWolf Pro Hard Drives, SkyHawk (2TB and above) and SkyHawk AI Hard Drives, applicable for products purchased from January 1, 2020 onwards.

Promotions

Purchasing original Seagate products entitles you access to the latest exclusive promotions and product updates relevant to you. These updates are available via official Seagate Facebook page at https://www.facebook.com/seagateph.

Support

Stay fuss-free. Seagate provides support for any concerns regarding your originally purchased Seagate products through online, hotline or service center.

For online, please visit https://support2.seagate.com. To connect via phone, please call these 24×7 Toll Free Numbers at (PLDT) 1800.1441.0356 and (Globe) 1800.8909.4095. Otherwise, please visit the newly-minted Seagate SeaCare Center at 2/F 1st St., cor Gilmore Ave., Brgy Valencia, New Manila, Quezon City, available every Monday to Friday from 8:00am to 5:00pm.
How to Verify Your Hard Drive
Scan the QR Code on the hard drive's sticker. It will take you to the Seagate Verification site.
Enter the number between the QR code and the text "verify.seagate.com."

The result page will show the capacity of the drive and the ending serial numbers.
Those who need further assistance with verifying their hard drives can get in touch with Seagate support at https://www.seagate.com/support/
Customers can purchase original Seagate hard drives and other products from authorized resellers and distributors listed at: http://bit.ly/SeagateWhereToBuy.