This weekend's Esports and Gaming Summit, or better known as ESGS 2019, is set to be even more exciting than last year's as the three-day event will be bringing in both long-time and new exhibitors for attendees to check out. The convention, which will happen this weekend from October 25-27, 2019 at the SMX Convention Center at the Mall of Asia Complex in Pasay City, Philippines, is also introducing a few new things to bring the event to the next level.
"With ESGS getting bigger and better every year, I'm very excited to see the gamers in the activities and games that they will be able to experience," said Joebert Yu, Managing Partner of Gariath Concepts. "Our event partners, led by PLDT and Smart, up the ante each year and provide ESGS event-goers with a new kind of gaming experience year after year, and this iteration is no exception to that. It is our hope that people who go to ESGS leave with smiles on their faces after all the hype activities and merchandise."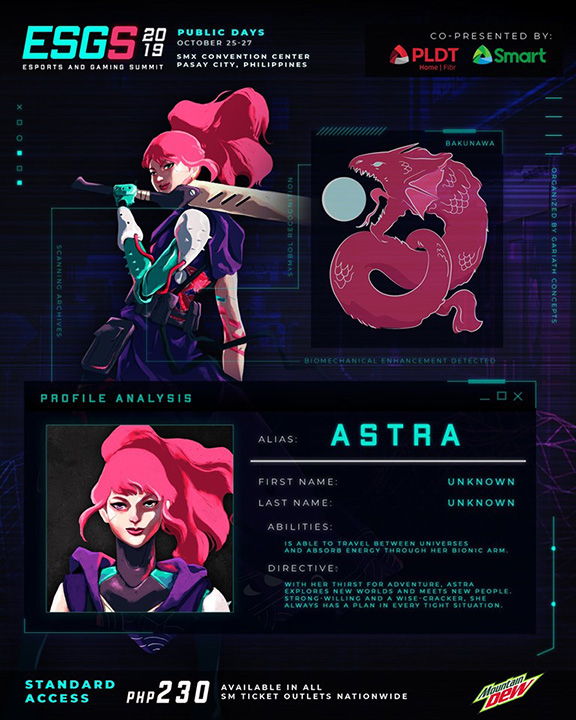 Continuing its new tradition of carrying a yearly theme for every iteration of the annual event, ESGS 2019 will feature a cyberpunk theme, which can be seen in the event's design this year. This year will also feature the introduction of ESGS's first event persona – Astra. The new character, who is cosplayed by Awie De Guzman, will be an important part of ESGS moving forward, even as the event's theme changes year after year.
PLDT and Smart are also back again this year as the event's co-presenter and will host another humongous booth they're dubbing the PLDT-Smart Cyber City. The booth will feature several gaming areas where attendees can play VR games such as Sniper Elite and Beat Saber, meet and greet esports athletes from PLDT-Smart Omega and Sibol, and join the numerous activities and challenges for a chance to win prizes.
The other major exhibitors at ESGS this year include ASUS Republic of Gamers, MSI, Predator, HyperX, ViewSonic, AOC Agon, and more. Maxsoft is also one of the major exhibitors this year and will be hosting a Nintendo Switch booth at ESGS 2019. Other video game exhibitors will also include Capcom, Kojima Productions, Ranida Games, Gumi, Boomzap, PlayPark, and more.
ESGS 2019 will also once be again play host to Indie Fiesta, the event's annual independent video game showcase, where more than 50 games from both local and foreign indie developers will be featured. Attendees will not only be able to try out all the indie games featured at Indie Fiesta but also meet the developers behind these games.
Lastly, the Fighting Game Arena by PlayBook is back at ESGS 2019, this time sponsored by Mountain Dew. The three-day, multi-title fighting game event will feature several tournaments for Tekken 7, Street Fighter V, Dragon Ball FighterZ, Super Smash Bros. Ultimate, King of Fighters XIV, Under Night In-birth Exe:Late[st], BlazBlue Cross Tag Battle, SoulCalibur VI, and Samurai Shodown.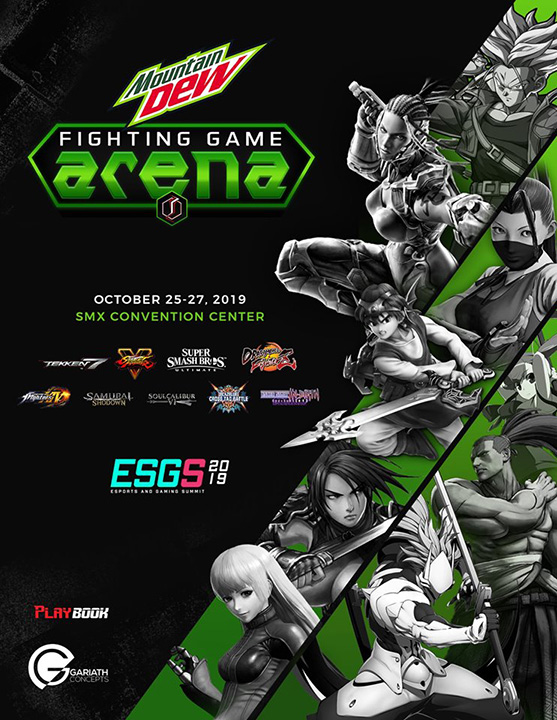 ESGS 2019 will happen from October 25-27, 2019, at the SMX Convention Center at the Mall of Asia Complex in Pasay City, Philippines. More information can be found on the event's official Facebook page.