DC Worlds Collide is now available on iOS and Android devices in Indonesia, Thailand, the Philippines, Malaysia and Singapore.
The launch of the officially licensed DC idle card game in Southeast Asia also includes the release of its latest update, which introduces Martian Manhunter into the game.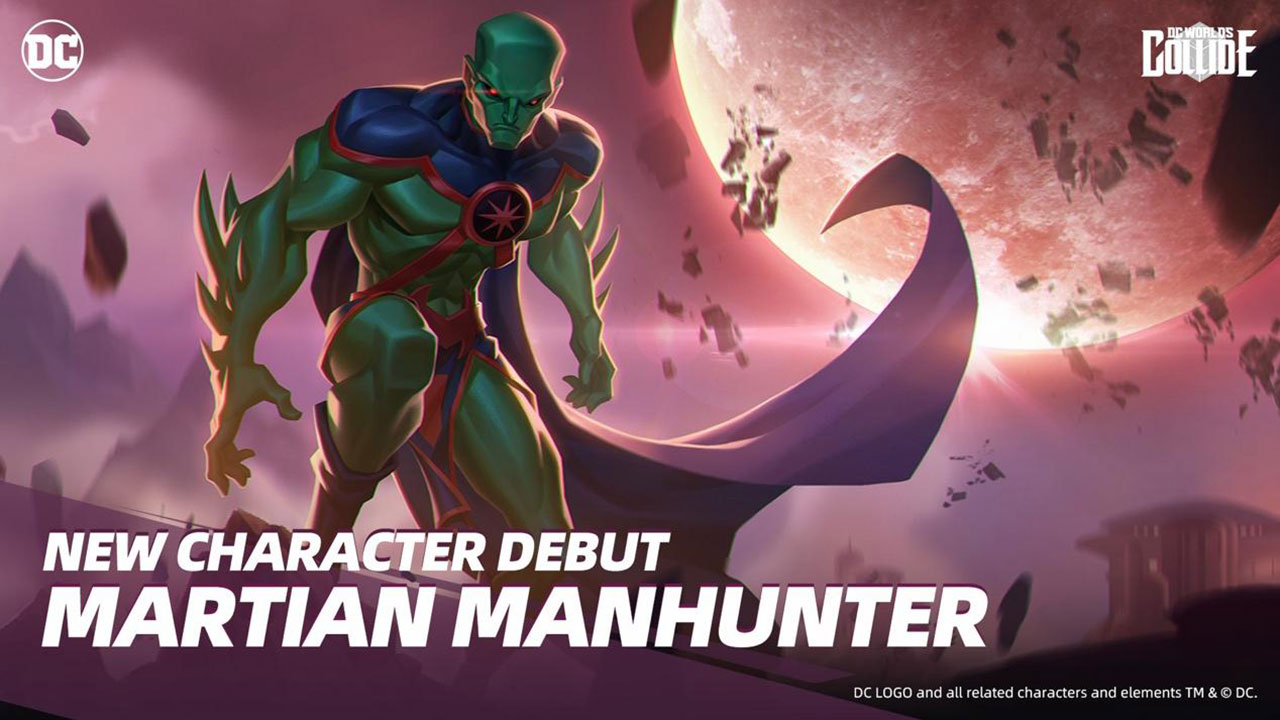 The latest update to DC Worlds Collide also adds the new Guild Challenge game mode as well as several limited-time events and more. Here are all the details on the update:
New Modes and Features

New Character Intel!

He is the last surviving Martian, the only existing heir of the Manhunters. He will always remember his duties and strive to make peace. A completely new legendary character, Martian Manhunter, is here!
After the update maintenance, use Super Encrypted Tokens in Recruitment for a chance that he'll join your team!

New Character Trial

Summoners who manage to recruit Martian Manhunter, Constantine and Grodd will unlock their respective exclusive Character Trial. Tap on Adventure Earth – Character Trials to enter.
Learn about Martian Manhunter, Constantine and Grodd's abilities through their Character Trials and obtain rare rewards like Diamonds, Martian Manhunter Fragments, Constantine Fragments, Grodd Fragments, and Super Encrypted Tokens.

Martian Manhunter Limited-time Pool is here!

Event Duration: From 4/28 at 07:00 to 5/8 at 06:59 (UTC +7).
Increased Chance! During the event, when Super Encrypted Tokens are used in Recruitment, the chance of getting Martian Manhunter will be increased to 100% upon drawing a Legendary character!
This is a limited-time pool. At the end of the event, Martian Manhunter will be added to other pools during the next version update.

Laboratory Theft Investigation Event

SOS! A S.T.A.R. Labs branch has been robbed by persons unknown! Assist Martian Manhunter in the investigation and resolve the potential crisis.
Event Duration: From 4/28 at 07:00 to 5/8 at 06:59 (UTC +7). Laboratory Aid and Gas Leak Crisis will be available until 5/11 at 06:59 (UTC +7).
Participation Condition: Unlocks after clearing Main Stage 5-30.
Complete missions, challenge enemies and help Martian Manhunter in averting the crisis! Take part to get lots of rewards!

New Character Lounge! Martian Manhunter's Exclusive Character Lounge Now Available!

The Telepathic Link mini-game becomes available after constructing Martian Manhunter's exclusive Character Lounge.
Collect Martian Manhunter's treasured items in Martian Manhunter's Character Lounge. Participate in the Telepathic Link with Martian Manhunter and compete with other Summoners.

New Collection Item Intel!

Infused with Metal X and powered by Kryptonite, it is designed and developed by Lex Luthor himself. A completely new invaluable Collection Item, Lex Armor, is here!
After the update maintenance, participate in the Collection Research event for a chance to add it to your Collection!

Collection Research Event

Event Duration: From 5/5 at 07:00 to 5/12 at 06:59 (UTC +7).
Participation Condition: Unlocks after clearing Main Stage 5-30.
Help S.T.A.R. Labs in researching Collection Items to get Ninth Metal Fragments, Forge Hammers, and even a chance to immediately obtain Lex Armor!

A completely new guild game mode, Guild Challenge, is here!

Pandora's Box has been opened. Evil Falls! Gather your guild members to challenge together. Defeat the enemy to gain loads of rewards!
Guild Challenge is available and resets at 00:00 UTC every Sunday. Guild Challenge is divided into 3 battlefields: Vanguard Assault Area, Main Force Attack Area and Core Occupied Area. The Main Force Attack Area opens at 00:00 UTC every Tuesday. The Core Occupied Area opens at 00:00 UTC every Thursday.
The Vanguard Assault Area is further divided into 4 areas, while the Main Force Attack Area is further divided into 3 areas. Whenever 1 guild member is successful in their challenge, the Stability of that area increases by 10%. When Stability reaches 100%, the area skill will be triggered, dealing damage to the Core Occupied Area.
Participating in the challenge grants Challenge Points. You can challenge repeatedly to increase points and gain rewards. According to the Knock Back Progress percentage of the Core Occupied Area, all guild members eligible for Guild Challenge will receive additional points and rewards.
Players who joined the guild during the week cannot participate in that week's Guild Challenge and will have to wait for the Guild Challenge to open again for the following week before joining the challenge.

The Digital Universe Limited-time Event is here!

Event Duration: From 5/5 at 00:00 to 5/11 at 23:59 (UTC +0).
New limited-time stage, Affine Transformation, has been added to Digital Universe.
Mysterious new elements have appeared in the Digital Universe. Clear the stages to obtain generous rewards like Research Data, Collection Rank Up Chips, and Ninth Metal Fragments. Go explore them with Lex Luthor!

Limited-time Legendary Character Selection Pool is here!

Pool Duration: From 5/5 at 07:00 to 5/12 at 06:59 (UTC +7).
Players can select 1 from 3 legendary characters (Doctor Fate, Cyborg and Deathstroke) and gain 100% increased chance for Legendary Recruitment. Upon obtaining the selected character, the pool will disappear.

Completely new Collection mechanics will be here soon!

Collection Item casting requirement standardized as: initial cooldown.
A completely new Collection Item upgrade system, Collection Technology, will be available in a future update!
As Collection Technology research progresses, players will be able to deploy more Collection Items in battle!

New Pack

Martian Manhunter Exclusive Pack!

Pack Duration: From 4/28 at 07:00 to 5/8 at 06:59 (UTC +7).
Purchase to obtain Super Encrypted Tokens for recruiting characters, as well as event exclusive currency to exchange for various rare items in the shop.

Martian Manhunter Character Growth Pack!

Owning Martian Manhunter activates his exclusive Growth Pack. When his growth progression meets the requirements, you can get the corresponding character fragments, Inertron Alloy and other item rewards to boost the character's growth!

Optimizations

Coin Production Increased

The production of Coins in the drone's automatic supply collection will be increased by a certain proportion.

Base Shop Content Adjustments

Removed the Ninth Metal Fragment item purchasable with Diamonds. The field with the Ninth Metal Fragment item purchasable with Coins will have a chance of spawning Collection Rank Up Chips purchasable with Diamonds.
After clearing Main Stage Chapter 12, the discounted purchase attempts for the 8hr Coin Supply in the Base Shop will be increased. The number of purchase attempts with 40% discount increases by 1. The number of purchase attempts with 20% discount increases by 1.

Updated different characters' requirements for unlocking trial instances

Summoners who have unlocked and cleared the first stage successfully will have their unlock status retained, while other Summoners will unlock according to the new unlock requirements.

Interface Update: Players can now view the reward content of each minor stage for unlocked characters from the first interface in trial instances.

Evil Falls Balancing Adjustments

Increased Owlman's base Crit Rate to 100%. At the same time, decreased his Attack Power and the damage coefficient of his sweeping attack.
Decreased Ultraman, Superwoman and Johnny Quick's base Crit Rate by some degree and compensated with the base Attack Power required.
Slightly increased Power Ring's base Speed and base HP and slightly decreased base Crit Rate.

Convergence Crisis Game Mode Optimizations

A completely new game mode main interface!
Decreased the attributes of the few stage monsters with difficulties that exceeded expectations.

Warworld Game Mode Optimizations

Warworld environmental effect enhanced: Both teams are granted 60% Final Damage Reduction at the start of battle, and Final Damage Reduction is decreased by 10% at the end of every battle round. After the 5th round of battle, an additional 15% Decreased Healing is added at the end of every round.
When there are insufficient rank up or level up items, sources to obtain the missing materials will be shown.
Includes Character Rank Up, Emblem Level Up, Collection Upgrade and Collection Rank Up.
Optimized the ease of control in Sector Conquest.
Reduced the difficulty of Sector Conquest.
A complete makeover of equipment icons and styles.

Main Stage Interface Optimizations

Added atmospheric special effects on the map.

Elseworld Reward Growth Increase

As players progress through the stages, the quantity of Titanium, Character Experience, equipment enhancement materials rewarded in Elseworld will all gain a larger increase.

Increase In Some Digital Universe Stage Rewards

Added or adjusted the rewards in some chests from Stage: Eta to Stage: Sigma.
For players who have already cleared these stages, the key rewards added will be reissued via mail.

Character and Battle Adjustments

We have re-evaluated the power of every character's emblem and made adjustments to even out the strength of different emblems and to enhance the weaker emblem effects so that they become more attractive. Some character emblems gained increases in numeric value, while some others gained new mechanics.
DC Worlds Collide is available on Android and iOS.