ASUS and ROG (Republic of Gamers) are joining this year's Lazada 12.12 Sale and making several of their products available at up to a 50% discount when purchased with a voucher from December 10 to 12, 2018.
Those interested in purchasing any of the participating products will need to head to the official Lazada flagship stores of both ASUS and ROG then wait for the 50% discount voucher to be released at 12mn on December 10, 2018. It must be noted though that stocks for each included product will be limited. The voucher can also only be used once per customer to allow more people to purchase the discounted products.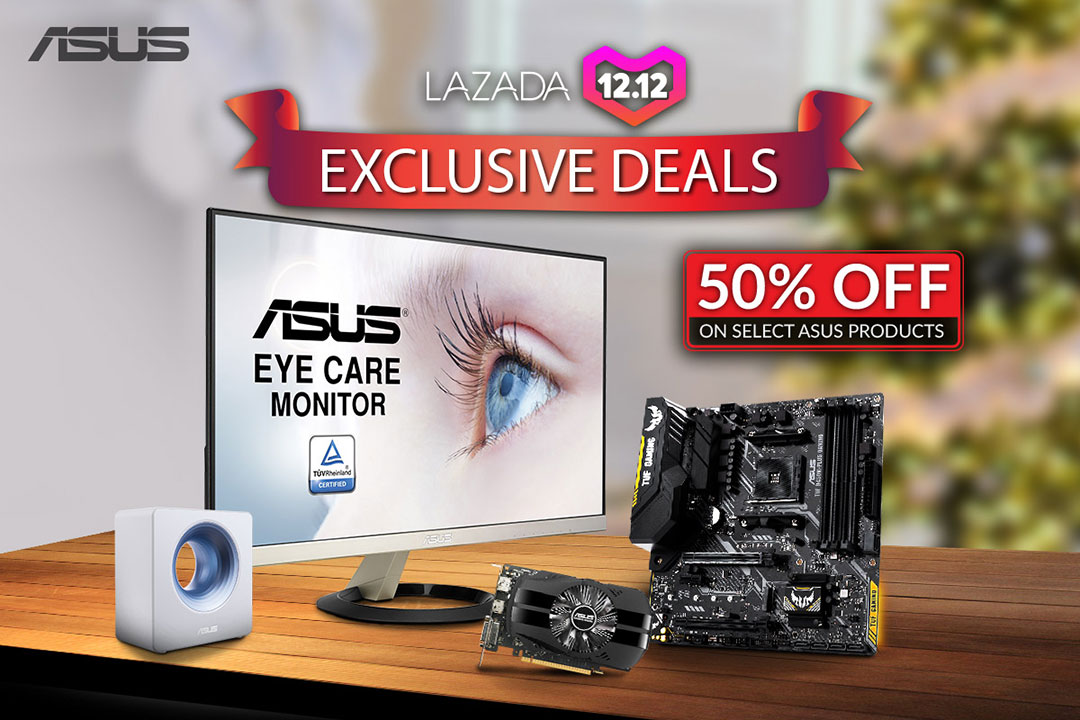 The ASUS and ROG products that will be included during the sale are as follows:
Flagship Store
Product Line
Product Name
Actual 12.12 Price
50% Off
(Through Voucher)
Discounted Price
(After Voucher)
ROG
LCD
ROG Strix XG27VQ
PHP 26,550.00
PHP 13,275.00
PHP 13,275.00
Motherboard
ROG Strix B360-H
PHP 9,080.00
PHP 4,540.00
PHP 4,540.00
WL
RT-AC88U AC3100
PHP 13,523.02
PHP 6,761.51
PHP 6,761.51
Peripherals
ROG Claymore RGB
PHP 11,020.00
PHP 5,510.00
PHP 5,510.00
Peripherals
ROG Strix Evolve
PHP 3,290.00
PHP 1,645.00
PHP 1,645.00
VGA
ROG Strix GTX 1060 O6G
PHP 24,410.00
PHP 12,205.00
PHP 12,205.00
Asus
Motherboard
TUF B450M-Plus Gaming
PHP 6,764.94
PHP 3,382.47
PHP 3,382.47
LCD
VZ279H
PHP 16,980.00
PHP 8,490.00
PHP 8,490.00
WL
Blue Cave
PHP 10,768.24
PHP 5,384.12
PHP 5,384.12
VGA
PH-GTX1050TI
PHP 9,019.92
PHP 4,509.96
PHP 4,509.96
As previously mentioned, the voucher codes for the sale will be released on December 10, 2018, at 12MN through the ASUS and ROG flagship stores on Lazada.