Steam's annual Winter Sale has begun and runs until 2 AM on January 4, 2019. It's a good time to look for deals for yourself and give out gifts for your gamer friends. With that said, I thought I'd share with you what I bought with my budget of PHP 1,500.
With this budget, I easily could've bought one triple-A game on sale or an older triple-A title game with a couple of indie games but I chose against this. I instead decided to pick five games that are on sale for pretty cheap. This list includes an expansion for a triple-A title and a game that I had no idea existed but I had a coupon for it. As for the reasons I picked these specific games, I will run you through them as I go.
It must be noted though that I bought these games using PayMaya. I've used PayMaya for many years now. I appreciated that I could control my spending by loading up my account with whatever my budget was, in this case PHP 1,500, and live within that.
With that out of the way, here's the list of games I picked up at Winter Steam Sale 2018: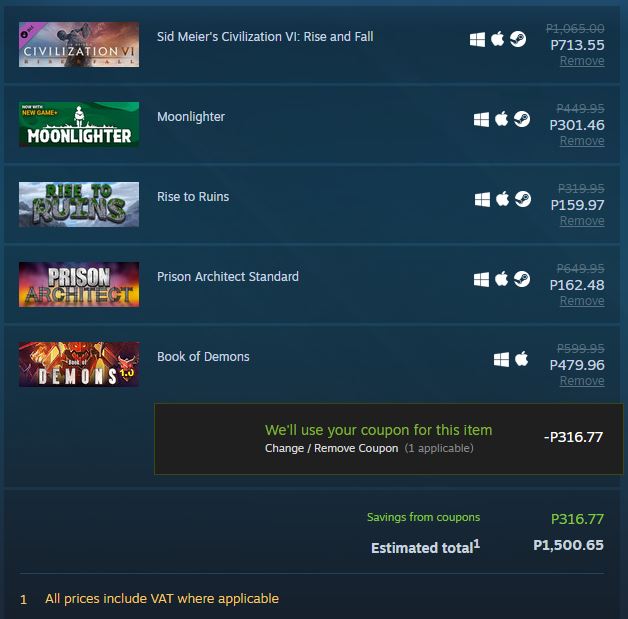 First on the list, the first expansion of Sid Meier's Civilization VI, Rise and Fall. Civilization VI is a turn-based strategy game where you lead a civilization from the ground up towards a variety of win conditions. There's just something about being a leader of a familiar civilization, like Ghandi of India, Teddy Roosevelt of America, Victoria of England, etc., and have the fate of the 'country' in your hands that just interests me.
I went back and forth between getting the bundle that offered all the DLC civilizations or just getting the Rise and Fall expansion. I ended up going with the latter since it brings quite a lot of new mechanics with it as well as nine new civilizations.
While I expect Rise and Fall to be even cheaper when the second expansion, Gathering Storm, comes out in February 2019, I'd want to learn the new mechanics that former brought in separately from latter.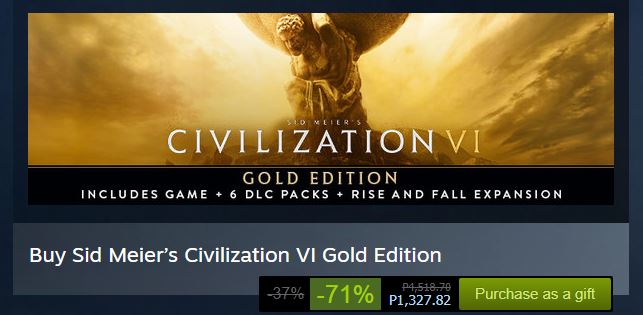 However, if you've had your eyes on getting Civilization VI, I strongly suggest getting the Gold Edition. It has the base game, the seven DLC civilizations and their respective campaigns (Australia, Poland, Persia and Macedon, Nubia, and Khmer and Indonesia), as well as the Rise and Fall expansion. All this for PHP 1,327.82 down from PHP 4,518.70.
Next up is Moonlighter, a game I've kept an eye on ever since a couple of friends told me to check it out. You play the role of a shopkeeper that goes on adventures in dungeons to stock up your shop and fulfill your dream of becoming a hero.
I am a sucker for cute pixel-style games and Moonlighter has it down pat. The dungeon crawling also has a The Binding of Isaac feel to it and further sold the game for me. It's available for PHP 301.46 coming from PHP 449.95. Based on experience, the price of games like Moonlighter hardly ever go super low especially in the same year it was released.
Third on the list is Rise to Ruins. Like Moonlighter, it was recommended by a friend and has the pixel-style aesthetic to it [shoutout to you Migs ;)]. Rise to Ruins is an Early Access game that is a god-like village simulator that brings homage to 90s real-time strategy games.
Again, my bias and love for pixel-style games shows itself with the inclusion of this title. And its price of PHP 159.97 from PHP 319.95, makes it even easier for me to pick up.
Next is Prison Architect. I've had this game on my radar for a while now but never quite got around to getting it. In a nutshell, it lets you build and manage your own prison. Aside from pixel style games, I'm a sucker for management and tycoon-type games and Prison Architect just ticks that box for me.
A big factor that led me to finally include this in my final check out is its price of PHP 162.48 from PHP 649.95. Sure, you can say that it's a three-year old game but its art style and gameplay won't age.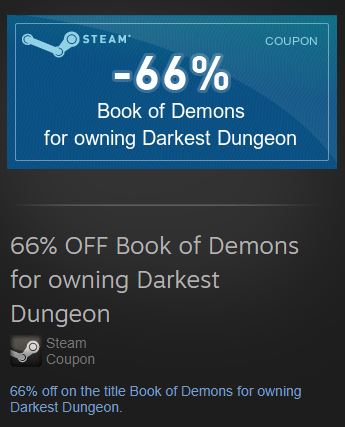 Last is Book of Demons. Admittedly, I did not know of this game but I had a coupon for it from owning Darkest Dungeon, which slashed 66% off its price. Their description on Steam reads, "Book of Demons is a Hack & Slash Deck-building hybrid in which YOU decide the length of quests. Wield magic cards instead of weapons and slay the armies of darkness in the dungeons below the Old Cathedral." Upon research, its gameplay looks like a paper-like Diablo which I will not say no to.
From a base price of PHP 599.95, the Steam Winter Sale slashes 20% off its price while the coupon takes off an additional PHP 316.77 from the sale price bringing it down to just PHP 163.19. It looks like an interesting game and at a little above PHP 150, I'm willing to add it into my check out.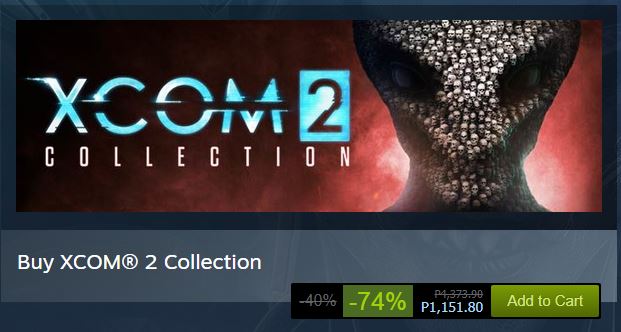 The Steam sale offers even more deals that offer big titles for cheap. These include XCOM 2 for PHP 499.75 from PHP 1,999.00 (or the XCOM collection for PHP 1,151.80 from PHP 4,373.90), Assassin's Creed: Odyssey for PHP 1,100 from PHP 2,200, Dark Souls III for PHP 525 from PHP 2,100, and Planet Coaster for PHP 476.88 from PHP 1,987, to name a few. For those that want a little multiplayer there's a hot bundle for Overcooked for PHP 472.46 from PHP 999.95.
I can go on and on talking about the many deals but it's time for you to check it out for yourself.
The Steam library is massive with a little bit of everything for every gamer. If you haven't gotten a Christmas gift for yourself or your gamer friends, maybe a Steam game would suffice.
Happy Holidays!