Late last year, the realme released its latest mid-range smartphone, the realme 10 (read our review here). Then a few months later, the company launched its more powerful siblings, the realme 10 Pro and the realme 10 Pro+ 5G. While both of the new models feature a slew of upgrades from their predecessor, the realme 10 Pro+ 5G stands out more among the two.
Design
realme has gone with a curved edge display for the realme 10 Pro+ 5G instead of the flat display of both its predecessor and counterpart. This leads to significantly thinner bezels on all sides of the screen. The position of the punch hole front camera has also been shifted to the center instead of the upper left corner.
The rear of the realme 10 Pro+ 5G features a similarly curved polycarbonate back panel. The Dark Matter color variant has a slight shimmer or glitter but retains a matte feel. Similar to the realme 10, the rear cameras of the 10 Pro+ 5G stick out pretty far so it'll definitely be safer to use a protective case.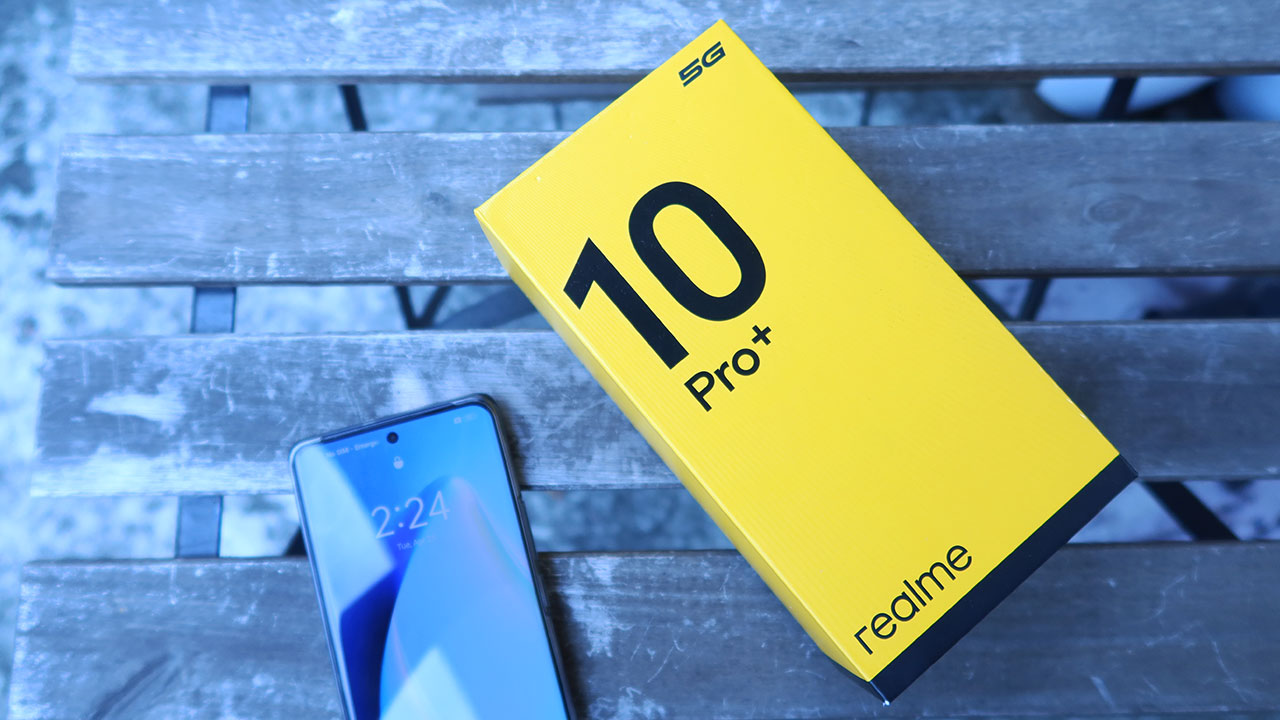 Both the power button and volume rocker can be found on the right-hand side of the device while the USB Type-C port and SIM card tray are positioned at the bottom. There are speakers and microphones on both the top and bottom of the device as well. Unlike its predecessor, there's no support for a microSD card.
The realme 10 Pro+ 5G measures 161.5 x 73.9 x 7.78 mm, which is taller and slightly wider than the realme 10 but is pretty much the same thickness as its predecessor. Notably, in spite of their similar measurements, the 10 Pro+ 5G comes with a bigger display and is at least 3 grams lighter, weight at around 173 grams.
The relatively light weight of the realme 10 Pro+ 5G makes it easy to hold, which is especially helpful since its height may require you to shift it around to reach either the top or bottom end of the display as well as the side buttons.
Features
Display
The realme 10 Pro+ 5G is equipped with a 6.7-inch FHD+ (2412 x 1080) Curved Vision AMOLED display. The company says the display has a refresh rate of up to 120Hz and an instantaneous touch sampling rate of up to 1260Hz, which supposedly makes it pretty suitable for gaming particularly for fast-pace titles such as first-person shooters.
According to realme, the display of the 10 Pro+ 5G can reach a peak brightness of 800 nits. In our time with the new device, we didn't have any major issues viewing the display both indoors or outdoors. While it did start dimming under direct sunlight, it was still very usable. The auto brightness also tended to be dimmer than I'd like but that's just personal preference.
The display is also rated for 100% of the DCI-P3 color space and is HDR10+ certified, both of which made regular use and watching media a treat. Additionally, the HyperVision feature allows you to boost the colors of SDR content or the brightness of the display for HDR content to enhance the viewing experience further.
realme has chosen to protect the realme 10 Pro+ 5G's display with a 0.65mm double-reinforced glass, which it says is capable of surviving drops of up to 1.5 meters so there is still some protection there. There's also an in-display fingerprint sensor for biometrics, which works quite well and would be preferred over facial recognition.
Speakers
Apart from its impressive display, the realme 10 Pro+ 5G's dual speaker setup also makes watching media or listening to music a great experience. The speakers are impressively loud without any distortion. High and mid tones are clear and forward while the lows are subdued, which is usually the case with most smartphone speaker setups.
Camera
realme has rightly upgraded the rear camera assembly of the 10 Pro+ 5G. It's now equipped with a triple AI camera setup. It consists of a 108-megapixel ProLight main sensor (paired with a 23.6mm f/1.75 lens), an 8MP (15.9mm, f/2.2) ultra-wide camera, and a 4MP (21.6 mm, f/2.4 macro) camera.
As for the front camera, it still uses a 16-megapixel sensor and a f/2.45 lens but with a slightly wider FOV (field of view) of 82.3-degrees.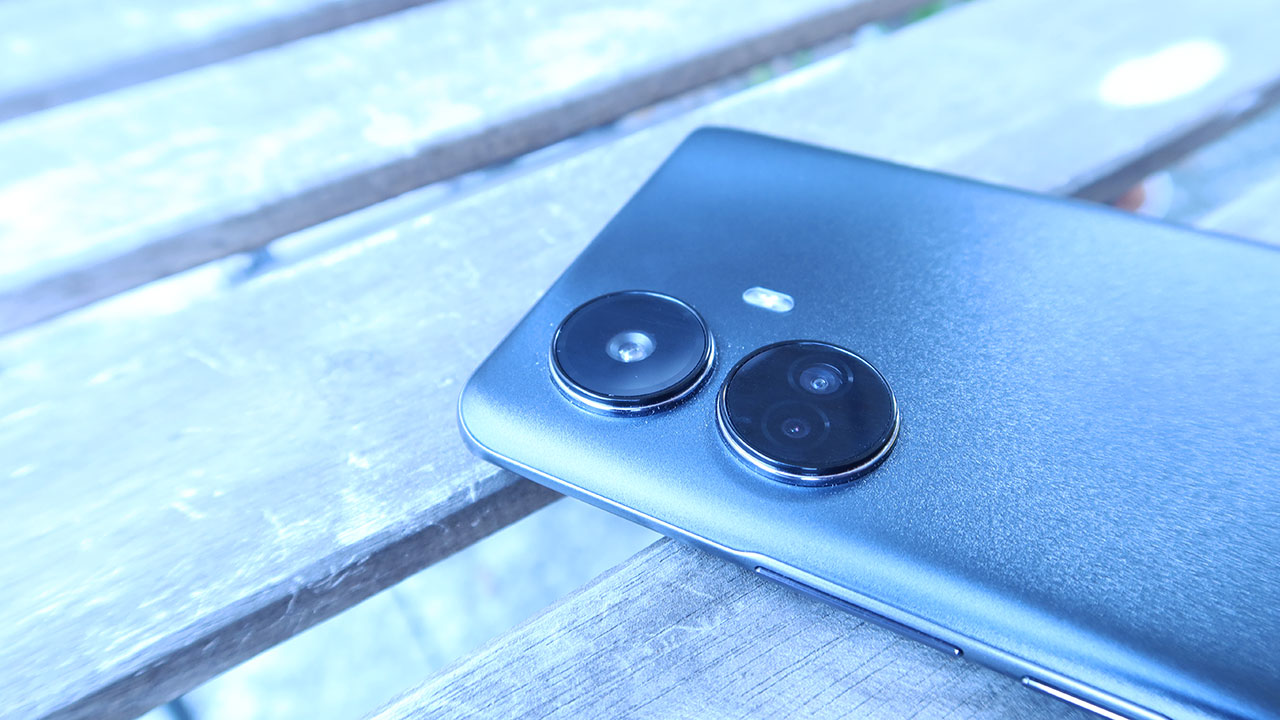 In favorable lighting conditions, the realme 10 Pro+ 5G's main camera is capable of taking great photos, with an impressive amount of detail and sharpness. Colors are well saturated and both the contrast and dynamic range are great. Even backlit photos look surprisingly decent. Both the ultra-wide and macro are also good but are more dependent on good lighting.
As for night photos, it's a mixed bag but the realme 10 Pro+ 5G is generally capable of taking decent photos even in low light environments. With some night photos looking surprisingly good while others feature blown out highlights.Lastly, the front camera of the 10 Pro+ 5G is passable, producing selfies with good colors that look slightly soft in some areas.
Performance
While the global version of the realme 10 Pro+ 5G is equipped with the new MediaTek Dimensity 1080 chipset, the local iteration still features the Dimensity 920 from last year's realme 9 Pro+. While a chipset upgrade for the local version would obviously be preferable, the Dimensity 920 is still a very capable processor.
The realme 10 Pro+ 5G is also equipped with 8GB of RAM (with up to 8GB of additional virtual RAM) and 256GB of storage.
We tested the performance of the realme 10 Pro+ 5G via a number of synthetic benchmark tests, including Geekbench 5, PCMark, and 3DMark, where it scored very well among its peers. We also played several games on it, such as Genshin Impact, Call of Duty Mobile, Mobile Legends: Bang Bang, and several Roblox experiences.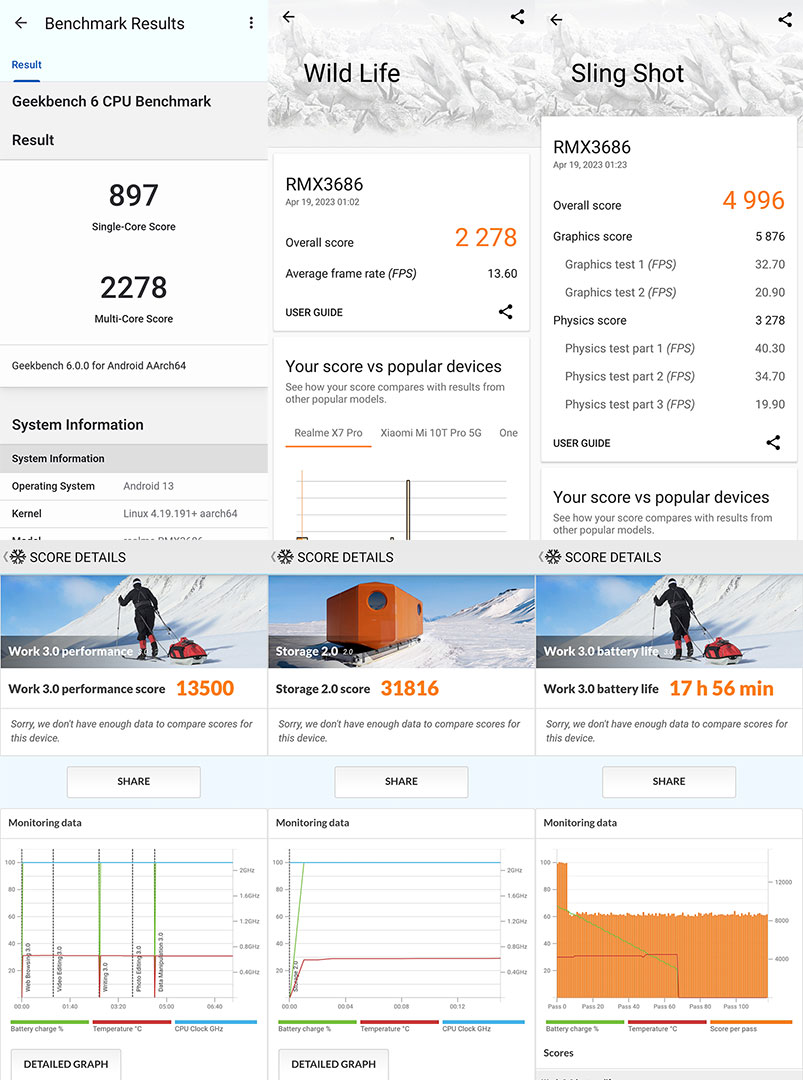 As for its gaming performance, Genshin Impact ran at a comfortable frame rate at low settings while I was able to play Call of Duty Mobile at High graphics and Very High frame rate settings. As for Mobile Legends: Bang Bang and Roblox, they ran without any issues even at high settings. Suffice to say, the realme 10 Pro+ is an adequately capable smartphone for gaming.
Battery
The realme 10 Pro+ 5G is equipped with a hefty 5000mAh battery. We tested the battery through PCMark's Work 3.0 battery life test and it gave us a battery life just shy of 18 hours. In real world usage, the battery of the 10 Pro+ 5G easily lasted me about a day and half of medium to heavy usage, which is impressive.
There's also 67W SUPERVOOC charging support and it comes with an appropriate adapter for it. Just like its battery life, the charging speed of the realme 10 Pro+ 5G is pretty impressive. It's capable of going from 0% to full charge in a little under an hour, so you'll have relatively little downtime in the event that you do run out of battery.
Conclusion
The realme 10 Pro+ 5G is a worthy upgrade to not only the realme 10 but also the realme 9 Pro. Although it carries the same processor as its predecessor, it still performed impressively well in both our synthetic benchmarks and gaming tests.
The display and speakers of the 10 Pro+ 5G make for a great entertainment experience while its battery life and charging speed allow you to stay confident that you'll be able to keep using the device without worrying about running out of power.
Lastly, the cameras of the realme 10 Pro+ 5G are more than capable enough for casual users who want to document their life experiences.
The realme 10 Pro+ 5G is currently available in a 8GB+128GB variant, priced at PHP 19,999, and a 12GB+256GB variant with a price tag of PHP 24,999. The 8GB+256GB variant we reviewed is currently unavailable in the Philippines.
Overall, the realme 10 Pro+ 5G is a decent choice for those looking for a mid-range smartphone that provides a great all-around experience, from its performance and battery life to its display and cameras.