If there was one smartphone that was, I would say, the "talk of the town" for the first half of this year, it would be the HTC One. From the beginning of the year, the rumors and the hype for HTC's new flagship smartphone started and continued spreading like wildfire. It became one of the most anticipated and desired smartphones of the first half of 2013.
HTC sent us the One for a few weeks to review and I go and see if it lives up to all the hype and to answer the question, is it "the one?"
Design & Display
The HTC One sports a full aluminum unibody measuring 137.4 x 68.2 x 9.3mm, weighing only 143 grams, and comes in either a metallic silver (with white trim) or black finish. For my review, I got the metallic silver version of the One and I must say that I was thoroughly impressed by how sleek it looked and felt once I had it in my hand. The One's overall design is just gorgeous and it felt sturdy and rugged in hand.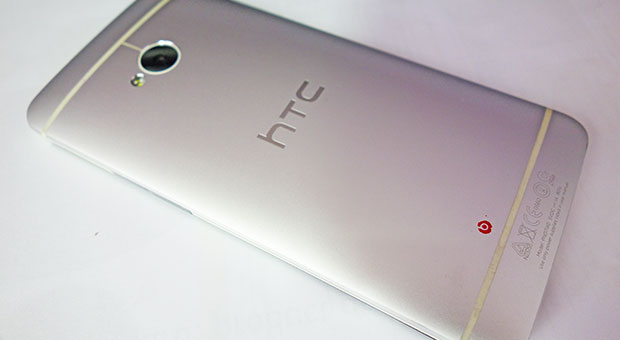 The curved back and tapered edges provide an excellent grip on the phone and even with the aluminum finish the phone didn't feel like it would easily slip out of my hand which, I believe, is important when you're holding a relatively expensive gadget. The rear of the phone is also where the One's unique camera can be found as well as the Sense Voice sensor which we'll get into later on in the review.
The front of the phone features the One's beautiful 4.7-inch full HD screen, 2 capacitive touch keys, and the dual front facing speakers that are part of HTC's new BoomSound system (which we'll also get into later on in the review). The phone's headphone jack is found on the top of the phone and a USB jack on the bottom side.
The HTC One's display, a 4.7-inch Super LCD 3 at a resolution of 1920×1080 pixels which gives it an astounding pixel density of 468 pixels-per-inch, is the best screen I've seen on a smartphone so far. The color reproduction is vibrant and the difference in quality and sharpness compared to the One's competitors and predecessors is easily noticeable without even looking at a spec sheet. The One's gorgeous display enhances almost everything done on the HTC One like gaming, viewing video, reading, browsing the internet, and is certainly our favorite feature of the HTC One

HTC has almost completely gone away with physical buttons. The HTC One has only two – the power button and volume rocker. The power button, which doubles as an IR blaster, is placed at the top of the phone which I found a bit out of place as it wasn't easily reachable without adjusting the phone in your hand. The volume rocker can be found on the right-hand side of the phone and, disappointingly, both the power button and volume rocker didn't feel as premium as the rest of the phone did. They both felt flimsy and the volume rocker even wobbled a bit on the unit I had.
Features & Performance
HTC has introduced their new Sense 5 UI with the HTC One with new additions like BlinkFeed and a host of changes and other features.
BlinkFeed is HTC's new "home page" for Sense which collates all your feeds into one screen which is supposed to make it faster and easier for users to see and access content. I initially synced only my social feeds and BlinkFeed was able to fulfill its purpose but as I added more and more feeds BlinkFeed became too cluttered and I found myself using individual apps to check specific feeds instead. If used for just social media feeds, BlinkFeed is a great feature that makes keeping updated easy and streamlined. But people who consume large amounts of content might find BlinkFeed too cluttered and may decide to forego it completely.
Sense 5 also features new lock screens, a new button layout, a cleaner app drawer, and more. All of which are improvements from the previous version of Sense. My only gripe with Sense is the keyboard. Compared to other third-party keyboards the Sense keyboard is just harder to use, has less capabilities, and is less "powerful". While this doesn't turn me off of the HTC One at all, I still wish they improved the keyboard along with Sense 5's other features.
Under the hood, the HTC One is powered by a Qualcomm® Snapdragon™ 600 1.7GHz quad-core processor, 2GB of RAM, and a storage capacity of 32GB or 64GB. When I ran the HTC One through AnTuTu Benchmark it did very well with a score of 23623.
Browsing through the menus and features of the HTC One was fluid and even when I had multiple pages of apps and widgets on my home screen the phone barely showed any signs of slowing down. Launching and switching between apps was quick and multi-tasking was easily doable with the One's 2GB of RAM.
Those looking to play games on the HTC One won't be disappointed as well. Playing games on the HTC One was a great experience with the combination of HTC's quad-core processor, HD display, and BoomSound and there weren't any performance issues even with hardware intensive games.
Overall, the HTC One is an excellently performing device in every area from basic functions, multi-tasking, media consumption, and gaming.
Media & Camera
With the One, HTC introduced their new BoomSound technology which is essentially an amplified dual stereo speaker system on the front side of the phone. In retrospect, this kind of system would seem like a no-brainer for a better listening experience on any smartphone and it is kind of odd that hardly any smartphones have implemented this kind of setup before. So I think it was a great move for HTC to use this system, give it its own name, and market it as a primary feature of their flagship phone.
It is another area where the HTC One shines. BoomSound has admittedly provided the best listening experience I've had on a smartphone. The output is literally loud and clear. For a speaker system of its size, it's very impressive and users shouldn't be concerned with distortion when the phone is cranked up to max volume because there isn't any. And partnering BoomSound with the One's beautiful display and you've got a top-of-the-line media viewing device.
Another new feature that HTC introduces with the One is the Ultrapixel camera. Instead of increasing the megapixel count of their rear camera like most smartphones, HTC decided to produce their own type of camera that uses less but larger pixels on its sensor which supposedly improves low-light performance. The HTC One specifically sports a 4MP Ultrapixel camera. It also sports a regular 2.1MP front-facing camera.
The pictures taken with HTC One's Ultrapixel camera are pretty good. Even if the camera captures less detail due to the reduced pixels, the quality is either on par or better than other smartphone cameras in the same bracket. And the low-light performance is definitely superior over other smartphones. The increased capability in low-light also makes the HTC One's camera faster which enables it to take better action shots especially in fair to good lighting conditions.
The controls for the camera are a bit cumbersome though. Changing settings like exposure, contrast, sharpness, etc. are hidden deep in the camera menu which makes adjusting settings slower. The sliders for some of the settings also can't be dragged to adjust (they're adjusted using -/+ buttons on each side) which also adds to how slow changing settings can be.
And videos are where the One's camera has trouble with. Because of the reduced number of pixels, the amount of detail the camera is able to capture is reduced, videos come out "warbly" due to the rolling-shutter effect, and because of the lack of image stabilization, which is a very important feature for smartphone cameras for video, they also come out very shaky.
With the new Ultrapixel camera, HTC has also released HTC Zoe which is their built-in camera app. It takes, at the same time, 20 pictures and a 3-second video clip which are easily shared on social networks. It's a very interesting app with a lot of possible applications but not really something that'll be used on a regular basis because the default camera or even a third-party app may be more powerful, flexible, and/or featured-packed.
Battery Life
The HTC One uses a 2300mAh battery and its battery life varies greatly depending on how it's used. With everything off and hardly any use, the battery can last up to a little more than a day but with heavy media use the One's battery could only last a little over 6 hours. During my review, with things like Wifi or Mobile Data always on, it lasted around 15-18 hours on average.
Conclusion

The HTC One is one of the best looking smartphones that have ever come out and it has some of the best features I've seen on a smartphone so far like its beautiful display and ingenious speaker system. Both those features are simply far ahead from its competitors. And even though I do have some gripes with the software, the camera, and the battery life I think the One is an excellent device and is definitely one of my favorites this year. As for the question, is it "the one"? In my opinion, it most certainly is.