PLDT, in partnership with Microsoft, has launched the TVolution Stick, the evolution of its TVolution set-top box, which is based on the Intel Compute Stick.
"The TVolution Stick is compact and extremely efficient—two characteristics that today's upwardly mobile users look for in their gadgets," said PLDT VP and HOME Marketing Director Gary Dujali. "We're honored to work with a globally renowned brand like Microsoft to continuously innovate this small but powerful device running on PLDT HOME's most robust and powerful broadband connection of up to 1 Gbps. Together, we are confident that we can truly help create the strongest connections at home."
The TVolution Stick by Microsoft transforms an HDMI-equipped TV into a fully functional PC with Windows 10 where users can browse the web using the pre-installed Edge browser and use applications such as the complete Office 365 suite, Skype, Dropbox, and more. Users will be able to do productivity tasks such as answering e-mails and writing documents as well as leisure activities such as watching videos on YouTube or Iflix. The TVolution Stick also gives users access to Microsoft's array of entertainment solutions via the Windows Store and the Xbox PC Games app.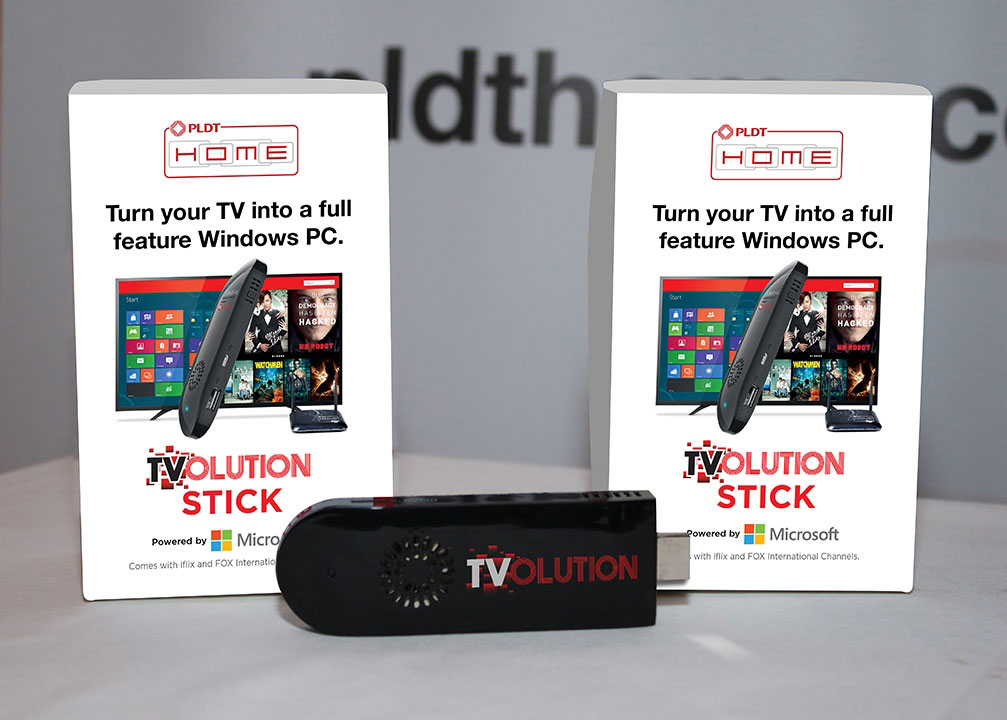 "It's a full PC on a stick, so you can turn any HDMI screen into a get-it-done machine," said Carlos Lopes, Microsoft Consumer and Channels Group General Manager for Asia Pacific. "Filipinos are among the world's heaviest Internet users with a huge appetite for various forms of multimedia content, which is why the TVolution Stick by Microsoft is a perfect fit. This powerful device definitely needs the powerful connection of PLDT HOME to fully deliver the device's exceptional performance to more Filipino homes."
Lopes added, "We live in what we call a mobile-first, cloud-first world where people are always on the go and are using devices that are getting better and smarter. This is what makes this partnership with PLDT crucial to our mission of empowering every individual in the world – we are bringing the convenience and innovation of Microsoft technology straight to the homes of our customers."
The TVolution Stick by Microsoft is available to new PLDT HOME subscribers or existing subscribers who upgrade to high-speed plans 999 and up at an introductory price of Php199/month until December 31, 2015 or Php299/month starting January 2016 but will come a free keyboard and mouse. Additionally, all new PLDT HOME Fibr and DSL Plan 999 subscribers also get the stick for free, complete with iflix and Fox, until December 31, 2015.