LG has announced its lineup of 11.11 sale offers that will be available on Lazada today, November 11, 2021. The company showcased the items that are included in the sale in a Facebook livestream hosted by LG monitor brand ambassador Myrtle Sarrosa.
"When the pandemic hit, most of the workforce was forced to work from home in an instant. While this is good to combat COVID-19, most people's homes weren't equipped to handle a remote setup. The need for good monitors was highlighted. It's not enough to stick with your small laptop screen since it doesn't simply give the work space you are looking for. A new, proper monitor makes things easier and even makes you more productive, whether you're working, gaming, creating content, or just surfing."
Some of the monitors that are being offered during LG's 11.11 sale include the 27GP850-B.APH, 32GN500, and 27GP750 from the UltraGear line, the 34WN780 UltraWide Ergo, 27UP850 UltraFine, 32UN880 UltraFine Ergo and the LG 24MP400-B.APH Standard Monitor. Shoppers can get up to 10% off on the included monitors, PHP 500 vouchers, and freebies such as a pair of LG Tone Free FN4 wireless earphones.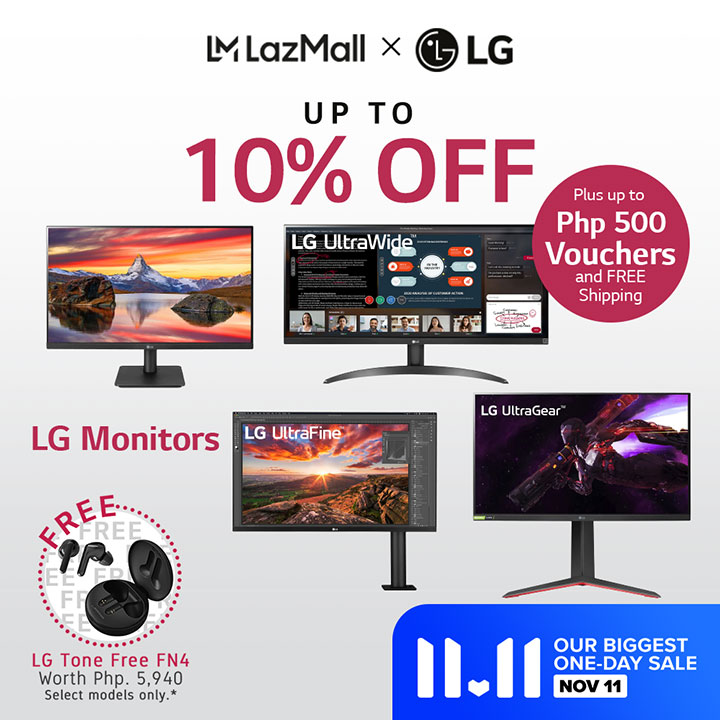 Check out LG's lineup of 11.11 sale offers on the LG Flagship Store on Lazada.