In response to the ongoing global pandemic, Lenovo has announced its 3-Year Premium Care warranty service for some of its devices, extending its previous 2-Year Premium Care warranty by an additional year. Starting July 1, those who purchase select Lenovo devices from its consumer lineup will receive the 3-Year Premium Care service for free. As for existing warranties, users will have the option to extend or upgrade their current warranties for a free.
Lenovo Philippines President and General Manager Michael Ngan said in a press statement:
"At Lenovo, we are committed to putting our customers first, and this entails not only providing game-changing products but also extending them flexible and affordable technical support and solutions. The pandemic has disrupted day-to-day operations and pushed everyone to set up mobile working arrangements which leads to additional wear and tear to devices. Hopefully, with the added year of maintenance in our Premium Care service, our customers can spend their money on more essential goods in these trying times."
Lenovo's Premium Care service comes with several perks beyond the typical store and manufacturer warranty. It includes services such as 24/7 access to Lenovo technicians via phone, chat, email, and WhatsApp, that may provide comprehensive hardware, software, and peripheral support. The service also offers on-site repair, an annual PC health check, and more.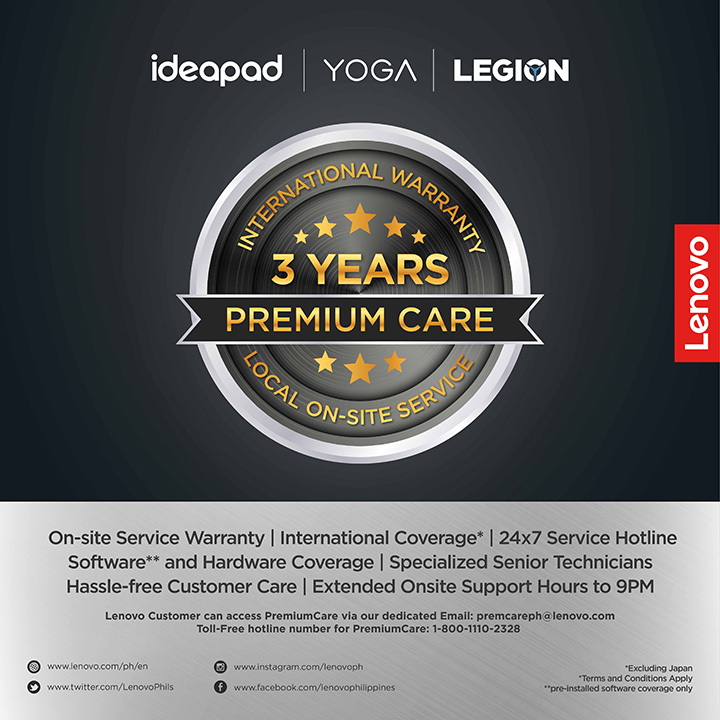 As previously mentioned, the new 3-Year Premium Care service will be bundled for free upon the purchase of select IdeaPad, Yoga, and Legion laptops as well as select IdeaCentre and Legion gaming desktops starting July 1, 2020. Here's a complete list of the Lenovo products that are eligible for the free bundled 3-Year Premium Care serivce:
IdeaPad Slim 5
IdeaPad Gaming 3i
IdeaPad Slim 5i
Legion 5
IdeaPad Flex 5
Legion 5i
IdeaPad Flex 5i
Legion 5pi
Yoga Slim 7
Legion 7i
Yoga Slim 7i
Legion Tower 5i
Yoga C940
IdeaCentre 3
IdeaPad Gaming 3
IdeaCentre Gaming 5i
IdeaCentre AiO 3
Those with an existing 2-Year Premium Care warranty also have the option to extend their warranty for an additional year for PHP 5,300. Only those who with warranties that still have at least six months before their respective expiration can avail of the extension. As for those with device's under Lenovo's 2-Year Carry-In warranty, they can upgrade to the 3-Year Premium Care warranty for PHP 9,100. More information on Lenovo's Premium Care warranty service can be found on the official Premium Care website.