Cougar has officially launched the 600M, the company's latest and the third gaming mouse the company has released this year. The 600M sits just below the company's award-winning 700m gaming mouse and is Cougar's attempt to give gamers "state-of-the-art technology, all the features necessary to enhance the gaming experience and an aesthetically pleasing design."
The 600M features 8 programmable buttons including a 45-degree "Sniper" button on the thumb rest, a rubberized scroll wheel with an ALPS encoder, a braided mouse cable with a gold-plated USB plug,  and a soft-touch surface. The left and right mouse buttons feature OMRON micro switches which have a 5 million click guarantee. The left mouse button is designed to be a"floating key" with an LED light under it that can display up to 16.8 million colors. The two top buttons, while programmable, may also act as on-the-fly DPI adjustment buttons alongside the 4-stage DPI LED indicator.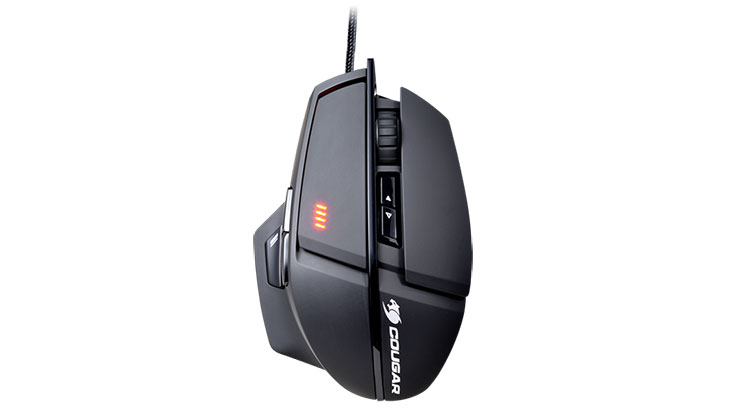 On the inside, the 600M is equipped with an 8200DPI high performance ADNS-9800 laser sensor, a 32-bit ARM Cortex-M0 processor, 512KB of on-board memory, a 1000Hz polling rate with 1ms response time, a framte rate of 12,000 FPS, a maximum tracking speed of 150 IPS, and a maximum acceleration of 30G. The on-board memory enables users to save up to three different profiles on the mouse itself for easy use on other PCs. The whole package weighs only 90 grams which makes it an insanely light gaming mouse in spite of its features. And like the rest of Cougar's gaming peripherals, the 600M supports the company's Cougar UIX System for configuring and customizing the mouse's features. The 600M also supports Cougar Fusion which allows it to sync settings and functions with other Cougar peripherals.
The Cougar 600M will be available sometime later this year from a variety of online retailers as well as local retailers. We've reached out to Cougar for more information on availability and price in the Philippines. We shall update this article if we get word from them.