COLORFUL has announced its new iGame G-ONE PLUS all-in-one gaming PC, powered by the latest 12th generation Intel Core processors and NVIDIA GeForce RTX graphics.
The new iGame G-ONE PLUS features a 31.5-inch 2K (2560 x 1440) 165Hz IPS display that's HDR400 certified and has a 99% sRGB color gamut. It also comes with built-in 5W stereo speakers, customizable RGB lighting, a concealable Lift Camera and a built-in 15W Qi wireless charging dock in its ergonomic stand.
The all-in-one gaming PC can be powered by up to an Intel Core i9-12900H CPU and an NVIDIA GeForce RTX 3060 GPU. It can also be fitted with up to 16GB of DDR4-3200MHz memory (with support for up to 64GB) and up to 1TB of NVMe SSD storage (with another M.2 2280 PCIe Gen3x4 slot available for increasing its storage).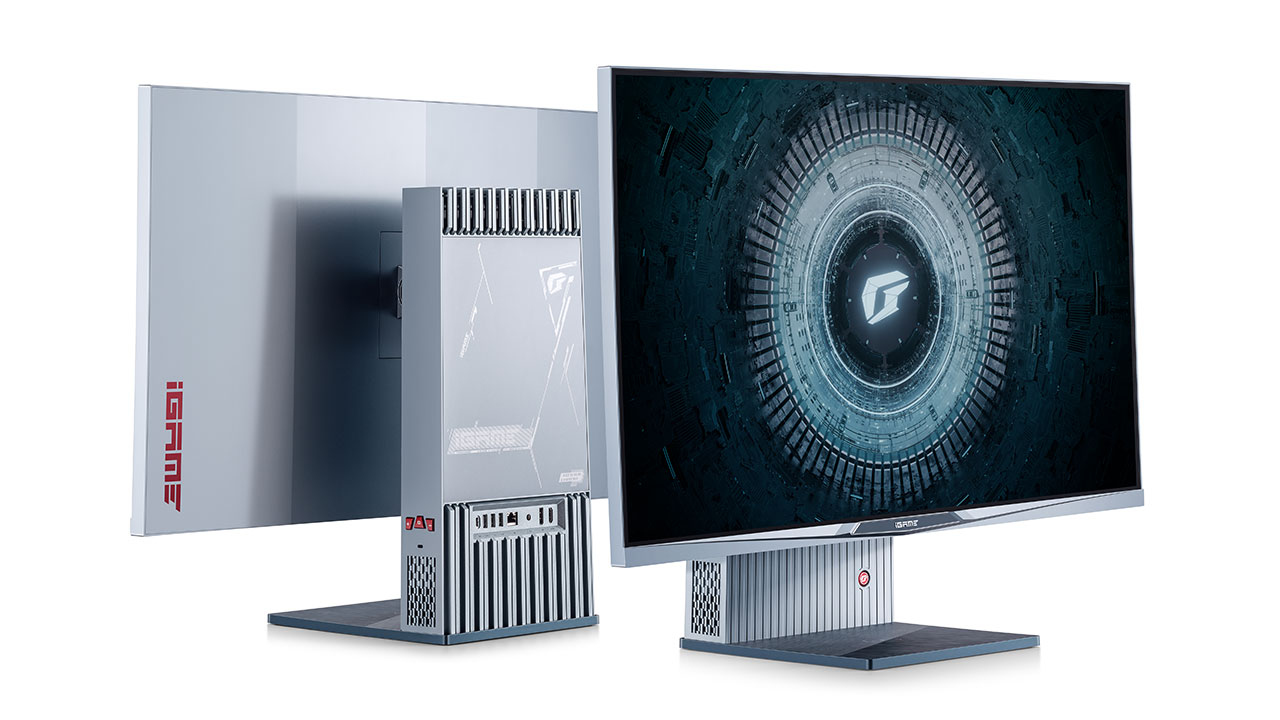 The G-ONE PLUS features a vertical cooling tower with independent cooling channels for the CPU and GPU. It also utilizes four 10mm heat pipes and one 8mm heat pipe coupled with two 52-blade turbofans. Users can configure the settings of the cooling system using the iGame Center app, which offers four modes for users to choose from – quiet, entertainment, performance, and boost.
The ergonomic stand that has both tilt and swivel adjustments is equipped with an HDMI 2.0 port, a DisplayPort 1.4 connector, two USB 2.0 ports, a 2.5GbE LAN port, a USB Type-C (USB 3.2 Gen 2) port, and the dedicated DC power port. It also features two dedicated USB ports for peripherals alongside a set of audio ports.
For now, COLORFUL has launched the Intel Core i7-12700H model of the iGame G-ONE PLUS, priced at USD 1999 (~PHP 99,950), while the i5 and i9 models are scheduled to be released at a later date.
Series
G-ONE Plus
CPU
Intel Core i5 12500H
12-Cores (4P+8E), 16-Threads, 4.5GHz Max Turbo.
Intel Core i7 12700H
14-Cores (6P+8E), 20-Threads, 4.7GHz Max Turbo.
Intel Core i9 12900H
14-Cores (6P+8E), 20-Threads, 5.0GHz Max Turbo.
GPU
GeForce RTX 3060 Laptop GPU
GeForce RTX 3060 Laptop GPU
GeForce RTX 3060 Laptop GPU
Memory
2*8 DDR4 SO-DIMM 3200MHz
2*8 DDR4 SO-DIMM 3200MHz
2*16 DDR4 SO-DIMM 3200MHz
Storage
M.2 2280 PCIe Gen3x4_1: 512GB NVMe SSD
M.2 2280 PCIe Gen3x4_2: (Unpopulated)
M.2 2280 PCIe Gen3x4_1: 1TB NVMe SSD
M.2 2280 PCIe Gen3x4_2: (Unpopulated)
M.2 2280 PCIe Gen3x4_1: 1TB NVMe SSD
M.2 2280 PCIe Gen3x4_2: (Unpopulated)
Display
31.5inch?99% sRGB QHD/165Hz?HDR400
31.5inch?99% sRGB QHD/165Hz?HDR400
31.5inch?99% sRGB QHD/165Hz?HDR400
Audio
5W *2 Stereo Speaker
5W *2 Stereo Speaker
5W *2 Stereo Speaker
Camera
2M W/MIC IR
2M W/MIC IR
2M W/MIC IR
LAN and WiFi
2.5 GbE
2.5 GbE
2.5 GbE
Intel AX211, WiFi 6E
Intel AX211, WiFi 6E
Intel AX211, WiFi 6E
I/O Ports
DC-IN x1,
USB 3.2 Gen2 x2,
USB 2.0 x3,
Type-C (USB3.2 Gen 2) x1
HDMI 2.0 x1,
DP 1.4×1,
Headphone Jack x1, Mic jack x1,
RJ45 x1
DC-IN x1,
USB 3.2 Gen2 x2,
USB 2.0 x3,
Type-C (USB3.2 Gen 2) x1
HDMI 2.0 x1,
DP 1.4×1,
Headphone Jack x1, Mic jack x1,
RJ45 x1
DC-IN x1,
USB 3.2 Gen2 x2,
USB 2.0 x3,
Type-C (USB3.2 Gen 2) x1
HDMI 2.0 x1,
DP 1.4×1,
Headphone Jack x1, Mic jack x1,
RJ45 x1
Power
330w
330w
330w
Wireless Charging
Qi Max/15W (5W,7.5W,10W)
Qi Max/15W (5W,7.5W,10W)
Qi Max/15W (5W,7.5W,10W)
Operating System
Windows 11 home
Windows 11 home
Windows 11 home