UPDATE: The BIOSTAR Gamer Z97X Motherboard is now available through PCWorx for an SRP of Php14,375.
BIOSTAR, most recently known for producing motherboards for Hi-Fi audio consumers, has just announced its latest motherboard this time targeted at the gaming crowd. The BIOSTAR Gaming Z97X motherboard takes its position as the company's flagship gaming motherboard and has all the inclusions you'd expect from a product of its class and then some.
The full ATX-sized Gaming Z97X motherboard supports 4th generation (Socket 1150) Intel processors and, as its name implies, features Intel's latest Z97 chipset. Other notable features include two USB 3.1 ports, a PCI-E M.2 slot, a SATA Express port, and three PCI-E x16 3.0 slots with AMD CrossFireX multiple-graphics support. On-board video options include a DisplayPort, two HDMI ports with support for 4K and 2K resolutions, and a standard DVI port. The new motherboard also features Dual GbE Lan which combines the Intel LAN and Killer LAN chips for potentially increased bandwidth for data transfers via Load Balancing/Teaming as well as connection redundancy (when one connection fails, the other kicks in).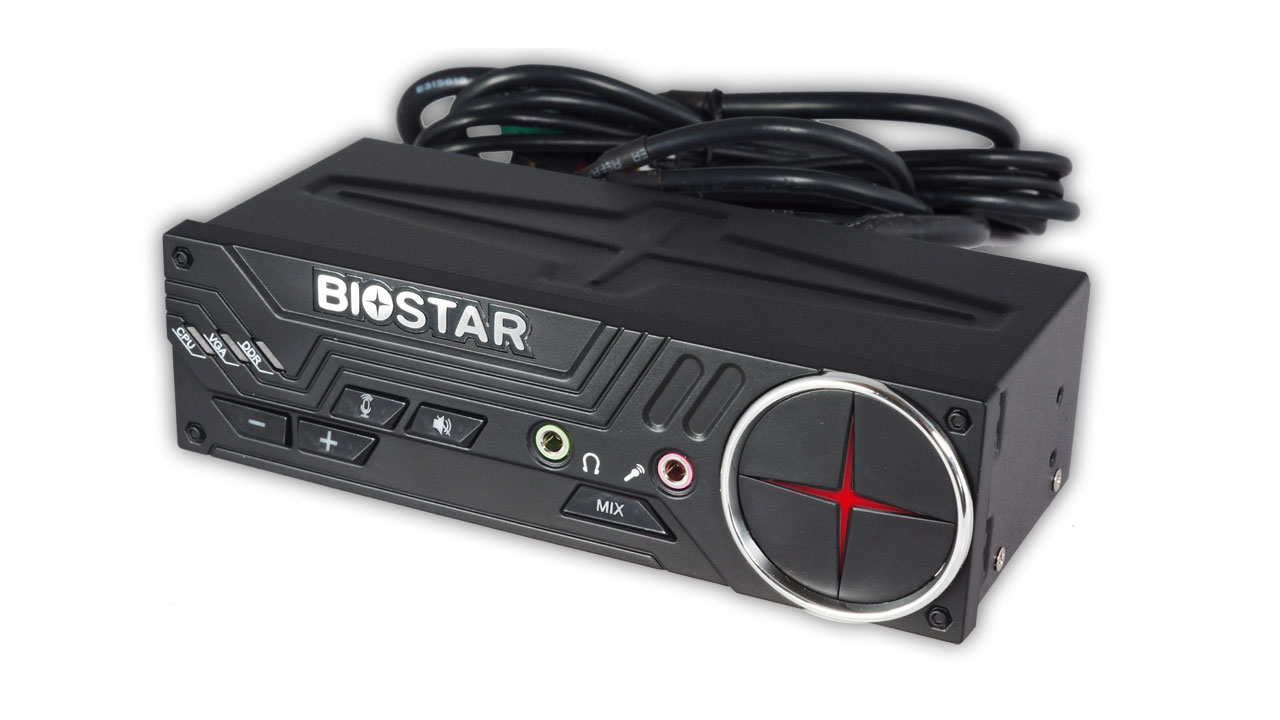 As previously mentioned, BIOSTAR has recently been credited with producing motherboards that feature Hi-Fi audio technology and that same technology is present in the Gaming Z97X. Users can utilize the motherboard's on-board Hi-Fi 3D 7.1ch Blu-Ray Audio chipset for surround-sound gaming. Alternatively and additionally, the user can use the included and also newly launched BIOSTAR Gaming Commander Box as an alternative audio output source. The BIOSTAR Gaming Commander Box is an external hub designed to fit into the 5.5-inch (CD-ROM) slot of a user's computer case. It comes with its own USB DAC as well as a slew of controls and ports including dedicated Mic In and Line-Out jacks, volume controls, LED indicators for CPU/RAM/VGA, and an XLouder function for boosting the microphone input. The BIOSTAR Gaming Commander Box is controlled and configured via included software.
The BIOSTAR Gamer Z97X is now available through PCWorx for an SRP of Php14,375. More information on the new motherboard can be found on the BIOSTAR website and we've attached the full press release below for your reference: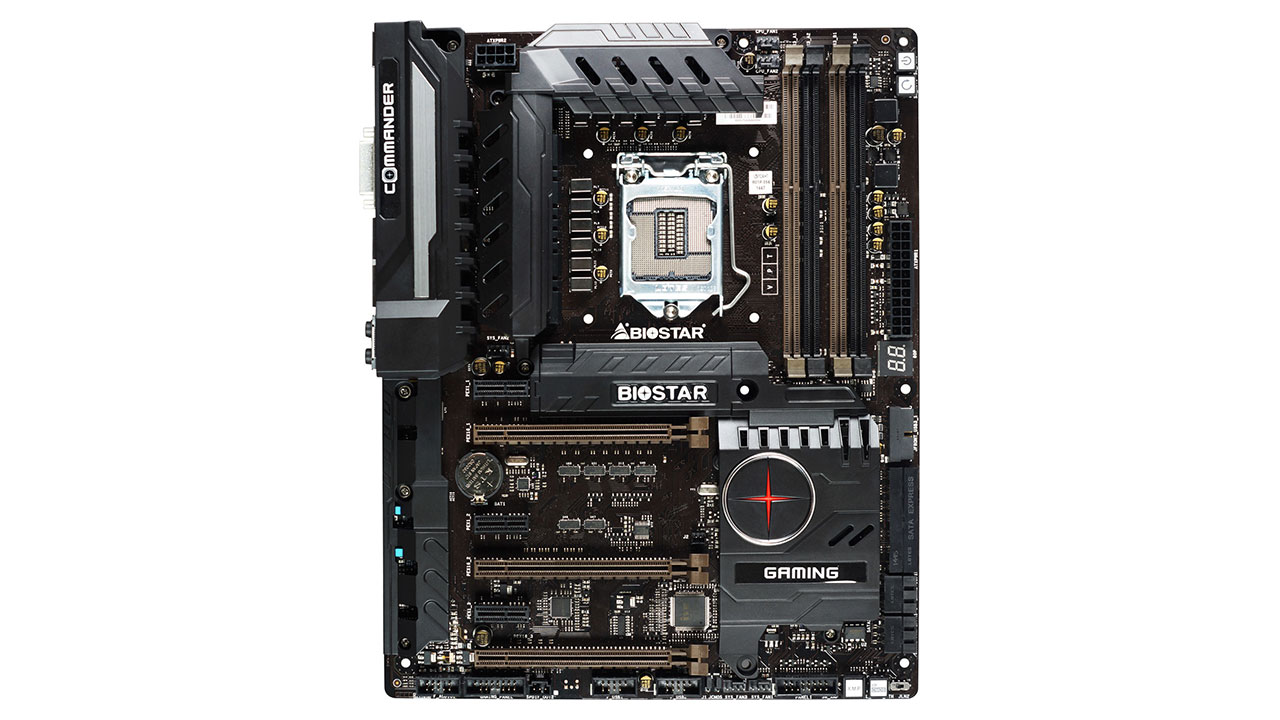 February 9th, 2015, Taipei, Taiwan – BIOSTAR has launched the latest high-end gaming board, the Gaming Z97X, a board with the new Gaming Commander Box accessory as well as cutting-edge features like USB 3.1 on-board and innovative durability enhancements.

The Gaming Z97X ushers in a brand new series of gaming hardware from BIOSTAR, the first complete gaming motherboard designed by BIOSTAR. This is something new from BIOSTAR, because it's not just a regular gaming motherboard that satisfies a typical gamers' needs by just merely offering top of the line hardware, rather it is designed from the ground up to be cool looking and high performing. Let's talk about what makes the BIOSTAR "Gaming Z97X" so special.

The Gaming Z97X is an ATX form factor board that features Intel socket 1150 support and is based on the Intel Z97 chipset, coming with key features such as USB 3.1, three PCI Express 3.0×16 slots, PCIe M.2 support, Dual GbE LAN and BIOSTAR exclusive Super Hi-Fi Audio technology and support for DisplayPort. Two on-board HDMI supports 4K and 2K resolutions. There is also the introduction of the SATA Express Connector which supports both SATA and PCIe storage solutions giving maximum data transfer speed of up to 10Gb/s.

This board also heralds the launch of the BIOSTAR external Gaming Commander box. It fits in a standard 5.5″ (CD-ROM) area; it is also comprised of software with voice control center exclusively designed by BIOSTAR. The external box features an independent USB DAC, dedicated MIC_IN and Line-out jacks, buttons for volume adjustments, a diagnose LED for CPU/ DDR/ VGA temperature indicators, and exclusive XLouder button for quick MIC boost. The Gaming Commander software is a user friendly interface with equalizer functions which allows users to make their own voice effects while enjoying games.

As mentioned before, it should be noted that the Gaming Z97X is the first motherboard that comes with an onboard USB 3.1 connector, a new standard known as SuperSpeed +. The new standard doubles data transfer rate from 5Gbps to 10Gbps, and it's backward compatible with existing USB3.0 connectors and all the USB 2.0 devices.

The On-board PCIe M.2 slot, available for higher performance SSD; and SATA Express ports that supports both SATA and PCIe storage solutions to maximum data transfer speed up to 10Gb/s. Both features can upgrade your system performance in terms of data access and storage.

Most of the features we've just talked about are related to system hardware performance, now let's look at the audio performance. The Gaming Z97X adopts BIOSTAR's exclusive Hi-Fi 3D technology, it enables high definition multidimensional sound and gamers also get extremely high quality sound with an additional amplifier on-board. With the Gaming Commander BOX, you can freely use either sound chips from motherboard or the BOX in different scenarios to get the maximum sound performance.

One thing no gamer can stand is a sudden internet disconnection, so BIOSTAR has prepared two LAN connectors, with the most popular Killer LAN and Intel LAN chips. With Dual GbE LAN, the primary advantage is doubling bandwidth from 1G to 2G, and with two high-speed gigabit networks plus zero packet delay that provides super high data transmission efficiency. Another major advantage is "Load Balancing", it allows a gamer to attach both network adapters to a single network. It will therefore support the aggregation "teaming" function by merging the two connections to support multiple aggregation modes. In addition, two Gigabit Ethernet lightning protection circuits reduce the probability of damage from lightning or other power surge, so if one connection is disabled the other connection will automatically kick in.

We've talked about high-end hardware specs, the high quality sound and the high speed LAN connection, what about product stability? BIOSTAR has that covered. Around the CPU area, there is a 12 phase power design to prevent the CPU from overheating; BIOSTAR's exclusive super-durable ferrite chokes and solid capacitors also enhance energy efficiency and extend the motherboard's lifespan. An Anti-Surge and ESD design also provides the best protection and reduces the shocks caused by ESD as well as other damages arising from overvoltage transients thus enhancing system stability and durability.

The Gaming Z97X will come with super durable box headers providing solid, secure and durable connections between the motherboard and peripheral cables. When running such high-end machinery sometimes such tight tolerances call for some expert debugging of overclocked or highly stressed systems. For that, there will be Super Rapid Debug 3 which gives out critical POST code information on a vivid digital LED display. This greatly helps trouble shooting of a system.

And of course, it all looks cool and sharp with the armor design; there are a lot more great features like the LN2 switch, T-Overclocking software & an onboard XMP button for easy CPU and memory overclocking, and dual HDMI ports that support true 4k/2k HD video. We hope you can experience it yourself.