When the ASUS Zenfone Max Pro M2 launched last month, we were a bit concerned as its higher price tag from its predecessor, the Max Pro M1 (read our review here), left a gap in the Php 10,000 price bracket. But just a month later, ASUS has already filled that gap with the announcement of the Zenfone Max M2, the little brother of the Max Pro M2.
The new budget smartphone features the same 6.3-inch all-screen, notch-equipped IPS display of its big brother but now features a resolution of 1520 x 720 pixels. While the front of the Max M2 loos almost identical to the Max Pro M2, it has kept the same aluminum mid-frame and rear as the Max Pro M1, which we assume is to help keep the device's price low.
The Max M2 also features a Qualcomm Snapdragon 632 processor, which was released late last year, 3GB of RAM, 32GB of internal storage, and a 4,000 mAh battery. While the battery of the Max M2 may be smaller than both the Max Pro M1 and Pro M2, its processor and lower resolution display may still keep its battery life similar to its predecessors.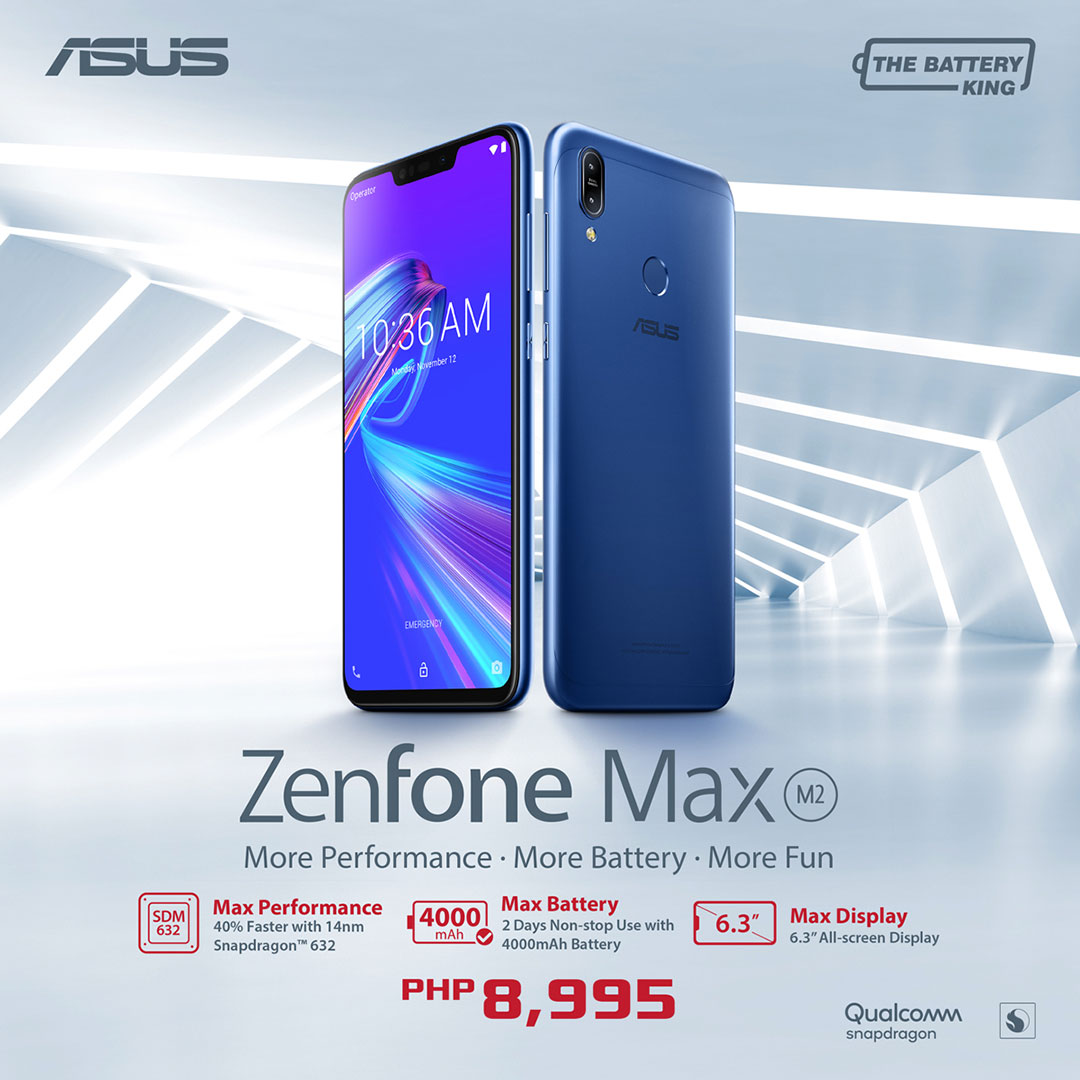 The dual rear camera system on the Max M2 consists of a 13-megapixel main sensor coupled with a 2-megapixel depth sensor while the front-facing camera features an 8-megapixel sensor and a f/2.0 aperture, 26mm lens. Both the front and rear camera systems are coupled with an LED flash.
Other features of the Max M2 include 802.11n Wi-Fi, Bluetooth 4.2, a micro USB port, a rear-mounted fingerprint sensor, a triple-slot SIM card tray for two nano SIMs and a microSD card up to 2TB, and stock Android 8.1 Oreo.
The Max M2 comes in either Midnight Black or Space Blue with an SRP of only PHP 8,995, which is similar to the price of the cheaper Max Pro M1. The new budget smartphone will be avilaable sometime this month at ASUS stores and kiosks, Zenfone stores and kiosks, as well as accredited retailers.