Tag Archive: splitmedialabs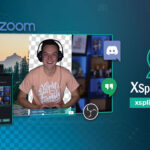 November 21, 2018 1:15 pm
Leave your thoughts
Remove the need for a physical green screen with the new XSplit VCam tool.
October 21, 2017 5:29 am
Leave your thoughts
Player.me has launched a new Create platform for streamers and content creators which include a web-based overlay system and dashboard for streaming.
July 15, 2016 12:55 am
Leave your thoughts
The folks behind Xsplit have just brought in both Player.me and Challonge into their family.