The shift from 2.5-inch SATA to M.2 NVMe SSDs over the last half-decade has picked up steam as chipset and motherboard support has increased, with some motherboards featuring multiple M.2 NVMe slots. And while both AMD's current and Intel's upcoming CPUs feature support for the new PCIe 4.0 interface, the number of available options in the market along with their higher price tags still make current PCIe 3.0 M.2 NVMe SSDs very relevant. One such drive is the Seagate FireCuda 510 M.2 NVMe PCIe 3.0 SSD which the company released last year.
The FireCuda 510 is one of the company's first M.2 NVMe SSDs which was launched alongside the more affordable BarraCuda 510. While the latter is targeted more towards mainstream consumers that wish to supplement their current PC or laptop with a faster drive for their OS or programs to accompany their larger yet slower mechanical drives, the FireCuda 510 is positioned for users that require more performance and higher capacities such as gamers, enthusiasts, and professional users.
Available in 500GB, 1TB, and 2TB storage capacity variants, the FireCuda 510 is one of Seagate's top-end M.2 NVMe SSDs, sitting right behind its recently released FireCuda 520. But with PCIe Gen4 x4 only being natively supported by AMD and its latest X570 chipset (until Intel fully releases its Rocket Lake desktop CPUs), the FireCuda 510 will still be the more widely compatible drive in the market.
Packaging & Design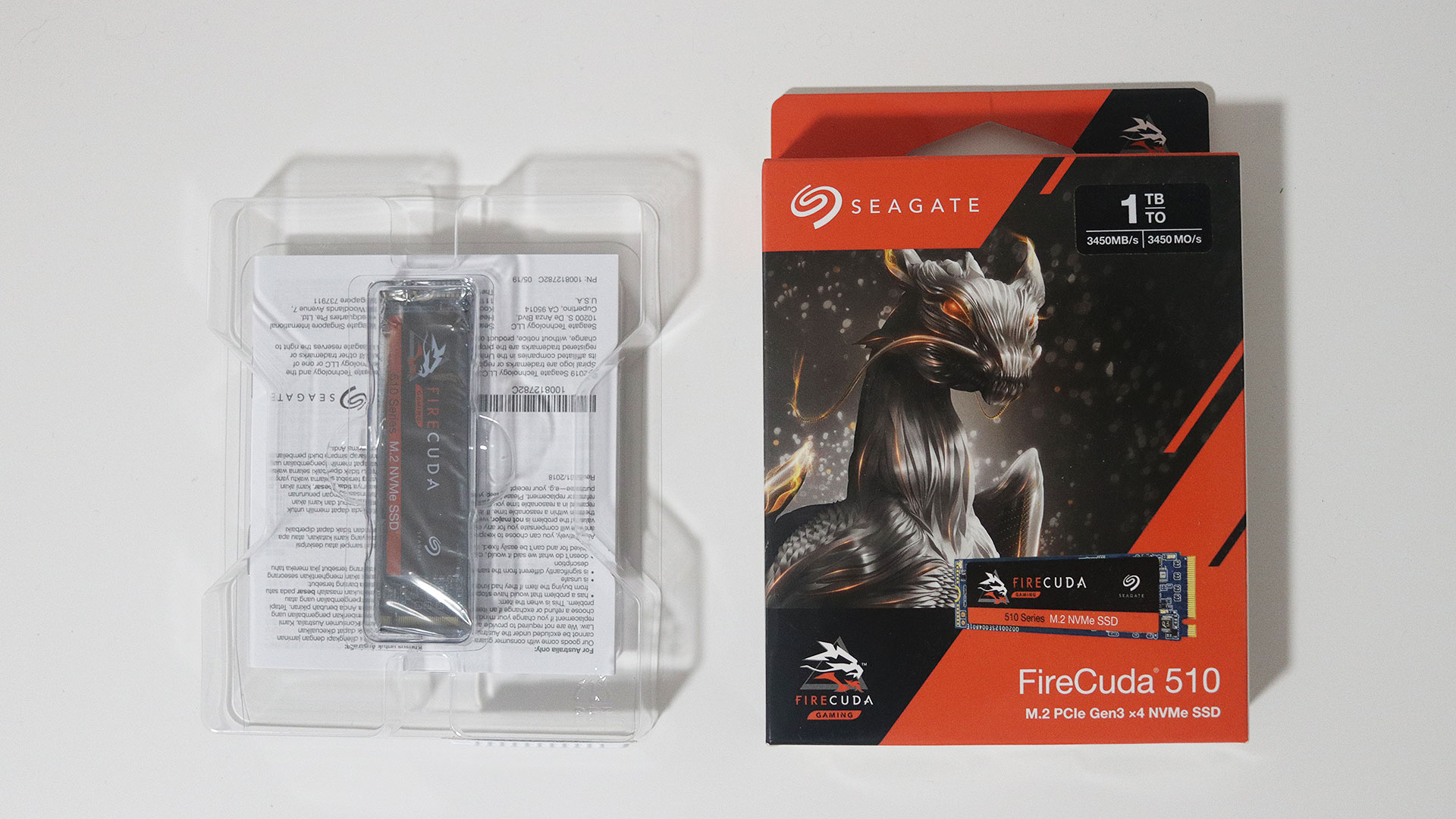 Packaging for most M.2 NVMe SSDs are usually pretty simple and straightforward and that remains to be the case for the FireCuda 510. It comes in a cardboard box with Seagate's current FireCuda branding, including the 3D-modelled dragon. Inside the box is a piece of folded cardboard where the SSD is fastened to. The drive itself is kept inside a small anti-static pouch, which is a welcome inclusion given that many other M.2 NVMe SSDs usually come in just a moulded plastic container.
The FireCuda 510 itself features a relatively barebones design, with no built-in heatsink or heat spreader and only stickers on each side of the drive instead. The lack of an included heatsink or heat spreader isn't unusual, with many other M.2 NVMe drives in the market also featuring the same minimal design. And with many modern motherboards already including either heat spreaders or heat sinks for their M.2 slots, including one with the SSD isn't may just make its price unnecessarily higher.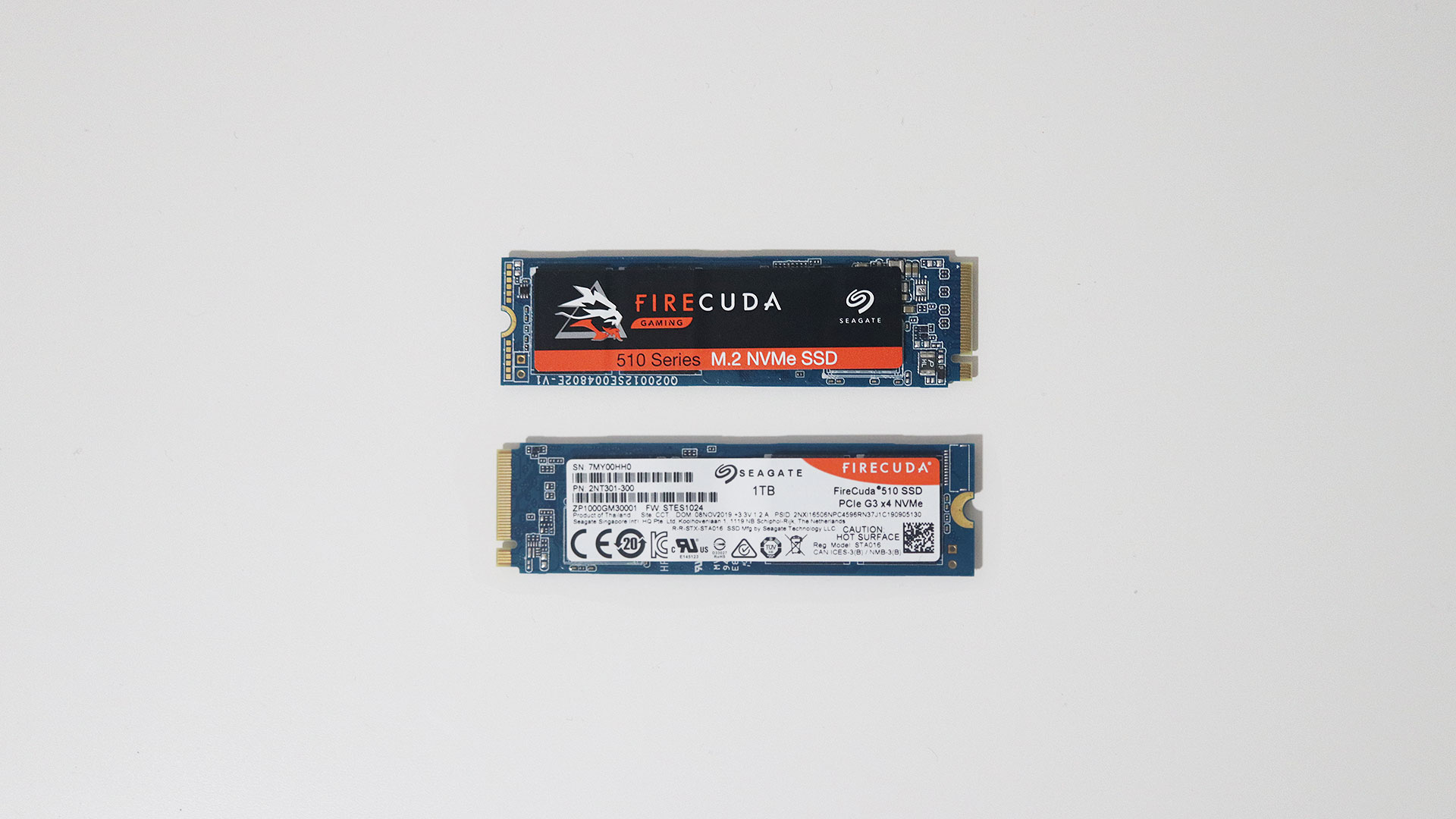 The FireCuda 510 comes in a double-sided M.2 2280 form factor and utilizes a PCIe Gen3 x4 NVMe 1.3 interface. Seagate has equipped it with the popular Phison E12 controller coupled with Toshiba 64-layer 3D TLC NAND. According to Seagate, the FireCuda 510 has a rated maximum sequential read/write speed of 3,450/3,200 MB/s as well as a rated maximum random read/write performance of 620,000/600,000 IOPS.
Seagate has also rated the FireCuda 510 with a TBW (Total Bytes Written) of 1,300 TB and an MTBF of 1.8 million hours, giving users some assurance that they'll be able to use the drive for a relatively long time. This is also helped by Seagate's 5-year limited warranty.
Performance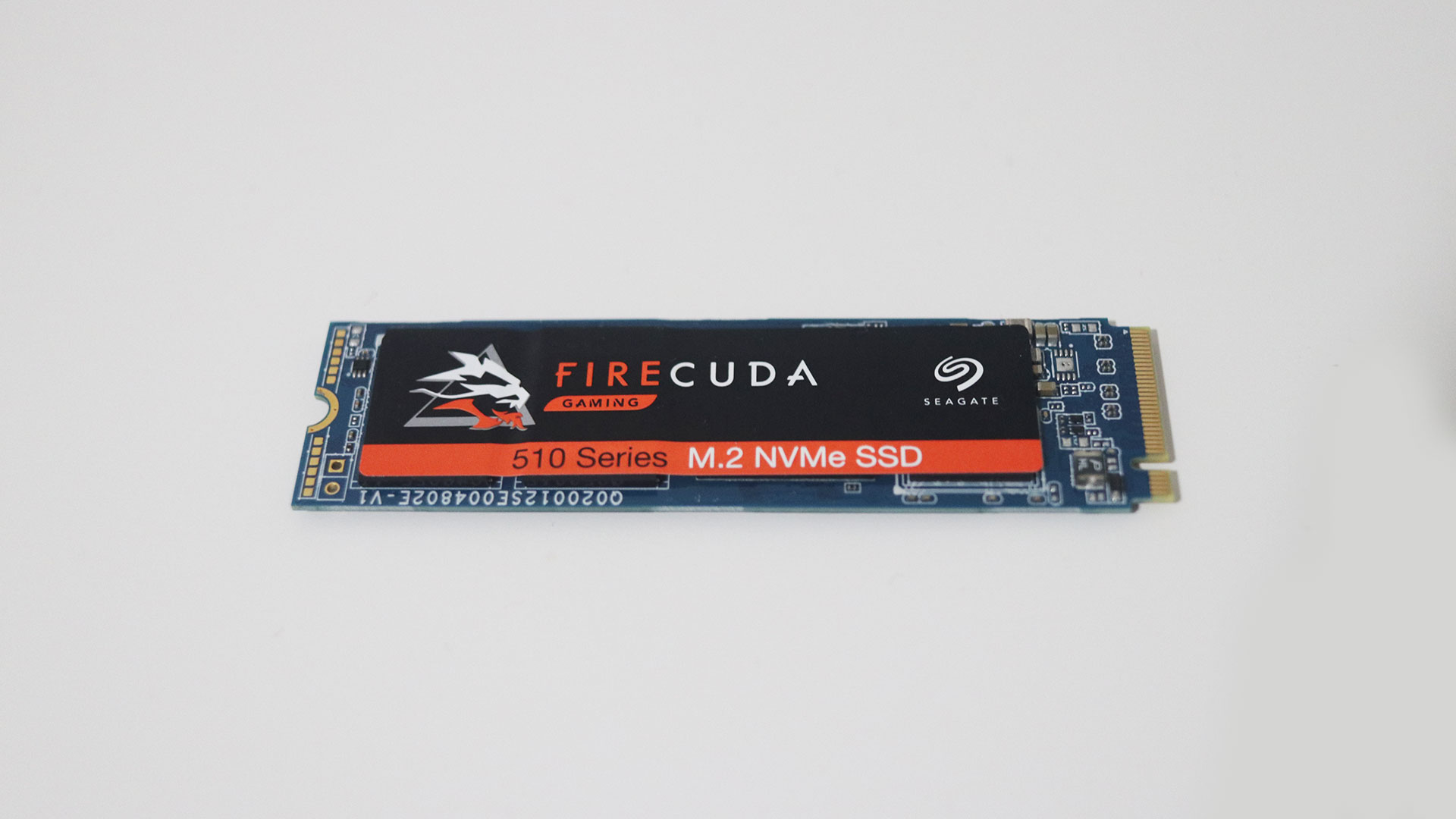 We ran the FireCuda 510 through a few benchmarks to test out its performance, including CrystalDiskMark, AS SSD, and ATTO Benchmark. We compared the results of our CrystalDiskMark and AS SSD tests with other M.2 SSDs we've previously tested while our ATTO Benchmark test shows us how well the FireCuda 510 performs in relation to its rated sequential read/write speeds as listed by Seagate.
Here are the specifications of our test setup:
CPU: AMD Ryzen 7 3700X
Motherboard: ASUS ROG ROG Strix X570-E Gaming
RAM: HyperX FURY DDR4 RGB 16GB DDR4-3200
GPU: GALAX GeForce RTX 2060 EX WHITE
CPU Cooler: Deepcool Gamer Storm Captain 240EX RGB
PSU: Seasonic Focus GX-750 750W 80+ Gold
The result of the ATTO DISK Benchmark test shows that the FireCuda 510 comes pretty close to its rated sequential read/write speeds but doesn't really reach maximum performance when working with small bits of data. The performance of the FireCuda 510 does start to peak and plateau at around 64KB of data for write operations and 256KB of data for read operations. As previously mentioned, the rated sequential read and write speeds of the FireCuda 510 are 3,450 and 3,200 MB/s, respectively.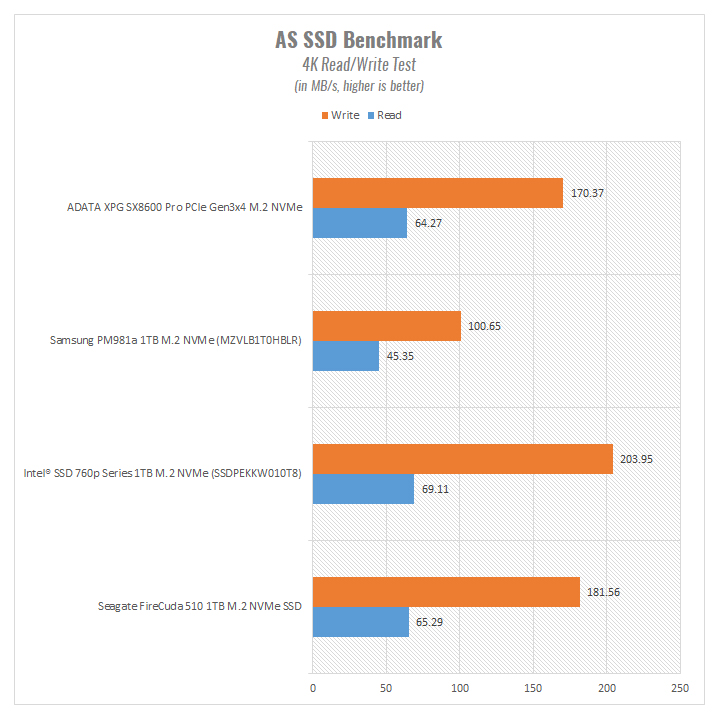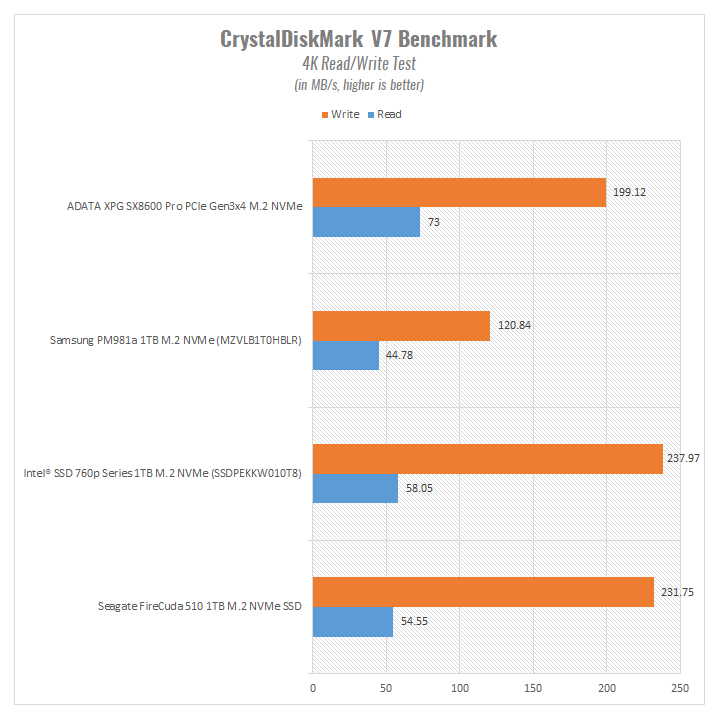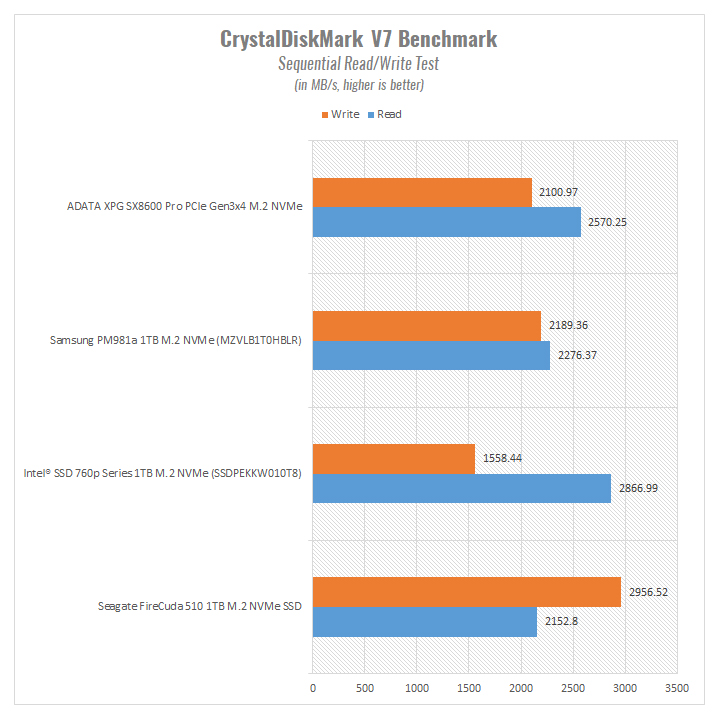 We got mixed results with both our CrystalDiskMark and AS SSD benchmark tests but the FireCuda 510 generally performed well. Notably, the FireCuda 510 was only slightly behind the Intel SSD 760p in some tests while surpassing it in others, all this while being significantly cheaper than the latter.
Conclusion
The Seagate FireCuda 510 is a pretty impressive drive despite being one of the company's first forays into the rapidly growing and highly competitive M.2 NVMe SSD segment. While the 1TB variant of the FireCuda 510 is relatively pricey, with cheaper options available in the market, it makes up for it with great performance that's backed by long-term reliability and Seagate's 5-year limited warranty. The FireCuda 510 is a decent choice for those with systems or laptops that don't support PCIe Gen 4 yet but are looking for a high performance SSD that they can install and not worry about. It's also good to know that Seagate is off to a relatively good start in the segment and it'll be exciting to see how they improve their M.2 NVMe SSDs in the future.