Seagate is one of the leading providers of consumer and enterprise storage solutions, from internal drives for several applications to external portable and desktop drives. The Backup Plus Desktop Hub is one of the company's current consumer storage solutions, meant as an external desktop drive for storing backups of one's data. It's available in 4TB, 6TB, 8TB, and 10TB storage capacities.
The Backup Plus Desktop Hub is a pretty compact drive with a rather small footprint, measuring only 98.1 x 41 x 118 mm. The all-black case is a mix of glossy and matte plastic with a honeycomb pattern on the narrower sides of the device. While the top honeycomb pattern is closed, the bottom has the holes cut out to act as ventilation. It's also equipped with small rubber feet to help it stand and stay in position.
The compact size of the Backup Plus Desktop Hub means there aren't any cooling solutions, such as fans, inside so the only cooling it has are the aforementioned ventilation holes on the bottom. In spite of this, the temperature of the drive sat at around 48-degrees Celcius after leaving it to play a movie for over an hour, which is a pretty safe and impressive temperature for a hard drive without any active cooling.
The front of the Backup Plus Desktop Hub features two USB 3.0 ports, which not only replaces the one port you'll end up using to connect the drive to your rig but also gives you an additional port. There's one caveat though, the two ports will only work properly if the drive is attached to a USB 3.0 port on your rig. Connecting the drive to a USB 2.0 port won't give enough power to allow you to use both USB 3.0 ports reliably.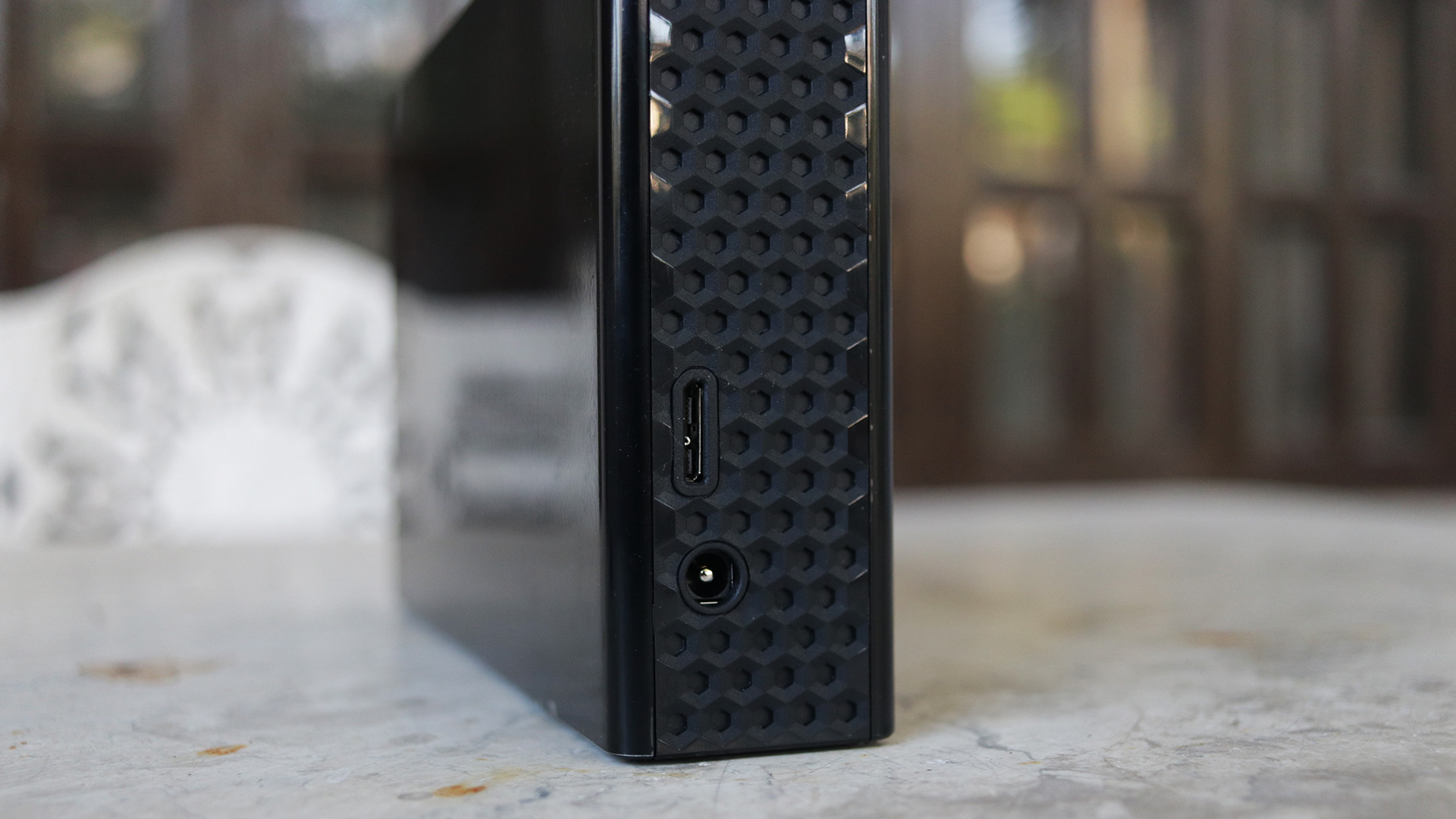 Setting up the Backup Plus Desktop Hub is pretty straightforward, only involving plugging the AC adapter into an outlet and the data cable to a USB 3.0 port on your rig. Drivers for both Windows and Mac are included although the drive initially comes in NTFS but can be formatted to HFS+ for easier compatibility with Macs.
The included Seagate Toolkit software comes with a few features to make using the Backup Plus Desktop Hub easier. Users can set up specific drives or folders that the software will automatically back up data depending on the user's set schedule. There's also a mirroring feature that will keep selected folders or drives constantly synced. Using the software is pretty straightforward and once set up, doesn't need much tinkering thereafter.
We tested the Backup Plus Desktop Hub's performance using CrystalDiskMark as well as by copying a large group of files, totalling 27.4GB, from one of our internal drives to the Backup Plus Desktop Hub to test its real-world performance. We've included screenshots of our CrystalDiskMark and real-world tests below: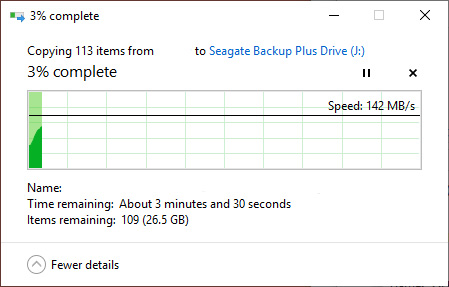 Both our CystalDiskMark and real-world performance test results were rather impressive. Its read surpassed our Seagate's own rated read/write speed of 160 MB/s significantly while its write speed CrystalDiskMark came very close. The performance of the Backup Plus Desktop Hub makes it one of the fastest HDDs we've ever used.
Conclusion
The Seagate Backup Plus Desktop Hub combines a compact design with great performance and an accessible price tag. The thermals of the device were incredibly impressive, despite the lack of an active cooler, and its performance easily went beyond our expectations. It's also incredibly easy to set up and use. Those looking for an affordable but capable external backup drive can't go wrong with the Backup Plus Desktop Hub.