There's no denying how massive mobile gaming has become and the number of smartphones that have been released that have been designed or positioned for those that wish to play games on their mobile devices. From high-end gaming smartphones with extra features specifically for gaming to budget-friendly models that let almost anyone gain access to playing mobile games. realme's new narzo 50A is the company's latest offering for those looking to get a smartphone for gaming at an incredibly affordable price.
Packaging and Inclusions
The realme narzo 50A comes in the company's new light blue box for its narzo series, which was also used for the narzo 30A, with the brand's name and other details emblazoned on it. Apart from the device itself, the box also contains a jelly case, paperwork, a SIM tray ejector tool, a USB Type-C cable, and an 18W charger. The inclusions are pretty typical for a device in this price range.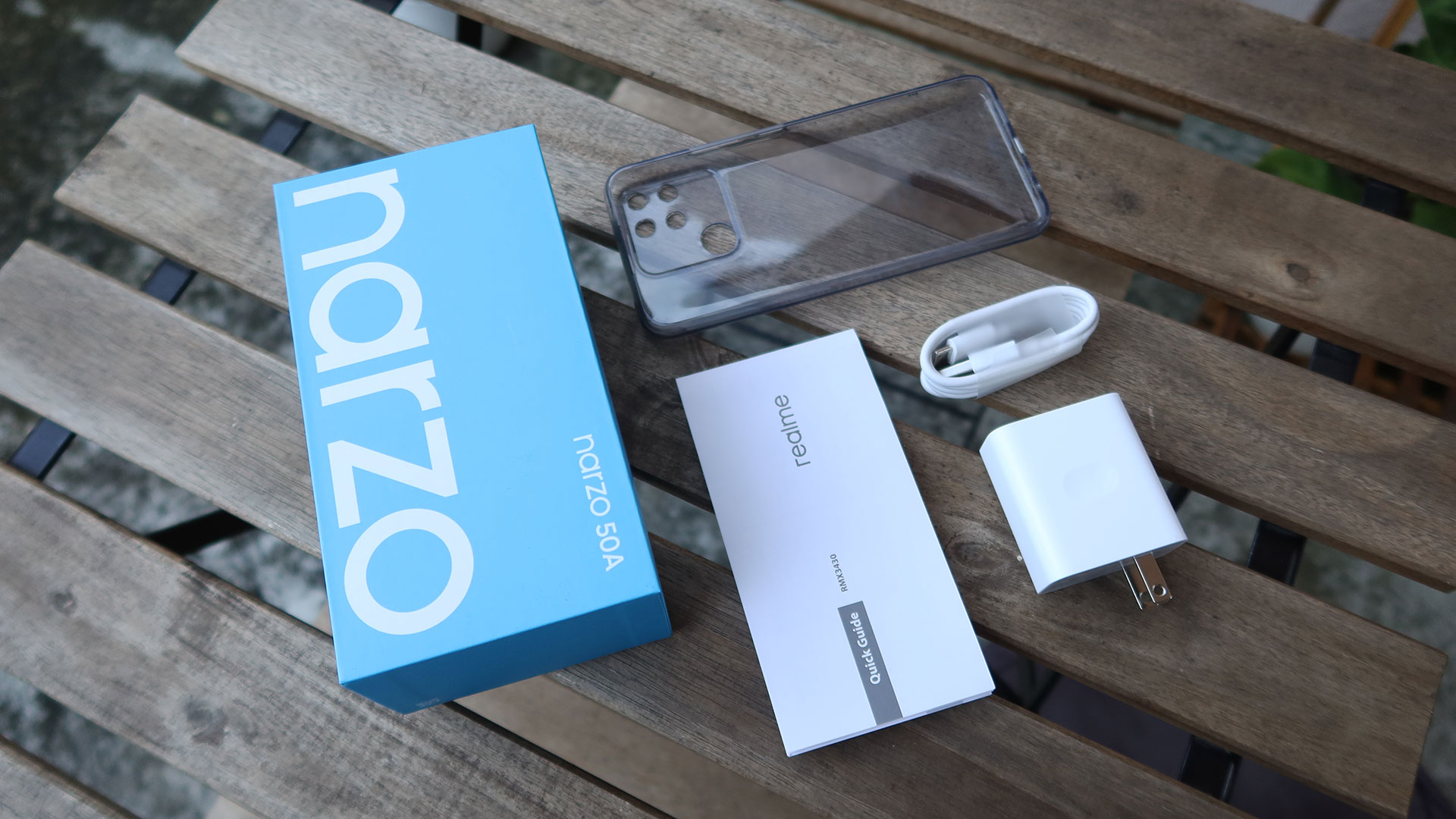 Design
The front of the narzo 50A features its 6.5-inch HD+ IPS display. There's a teardrop notch on top for its front-facing camera as well as a relatively sizable bezel at the bottom. While there isn't anything unusual or remarkable about the front of the device, its rear features a pretty prominent camera module. It houses not only the narzo 50A's three rear cameras and LED flash but also its rear fingerprint sensor. The narzo branding is also printed on the module.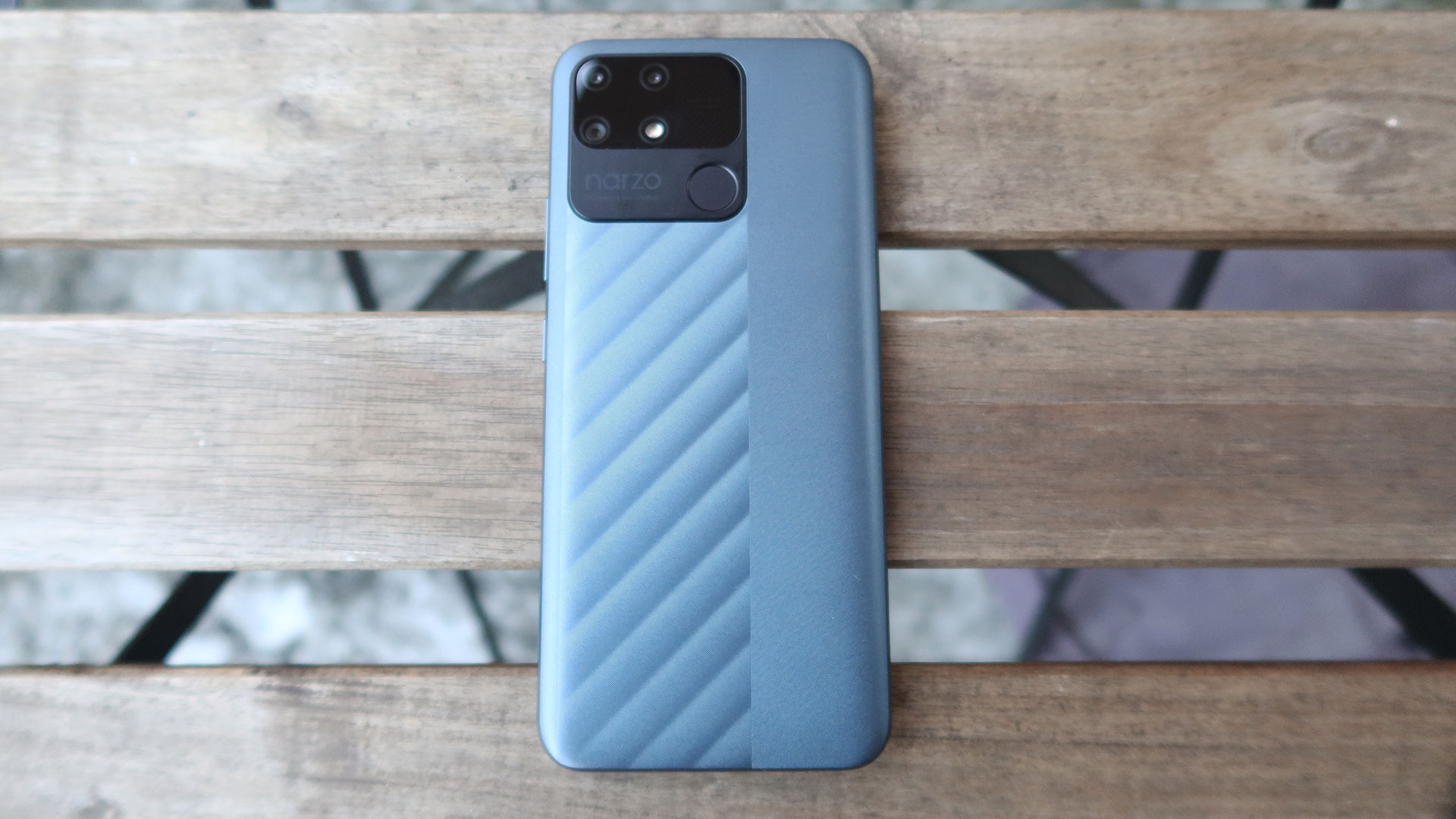 The narzo 50A's rear panel is discreetly textured to make it easier to grip. While part of the panel is mostly plain, the area below the camera module features a similarly prominent diagonal pattern that helps the device stand out. The texture of the rear panel is also different for its two portions, using wavy lines for the aforementioned diagonal pattern and diagonal lines for the rest of it.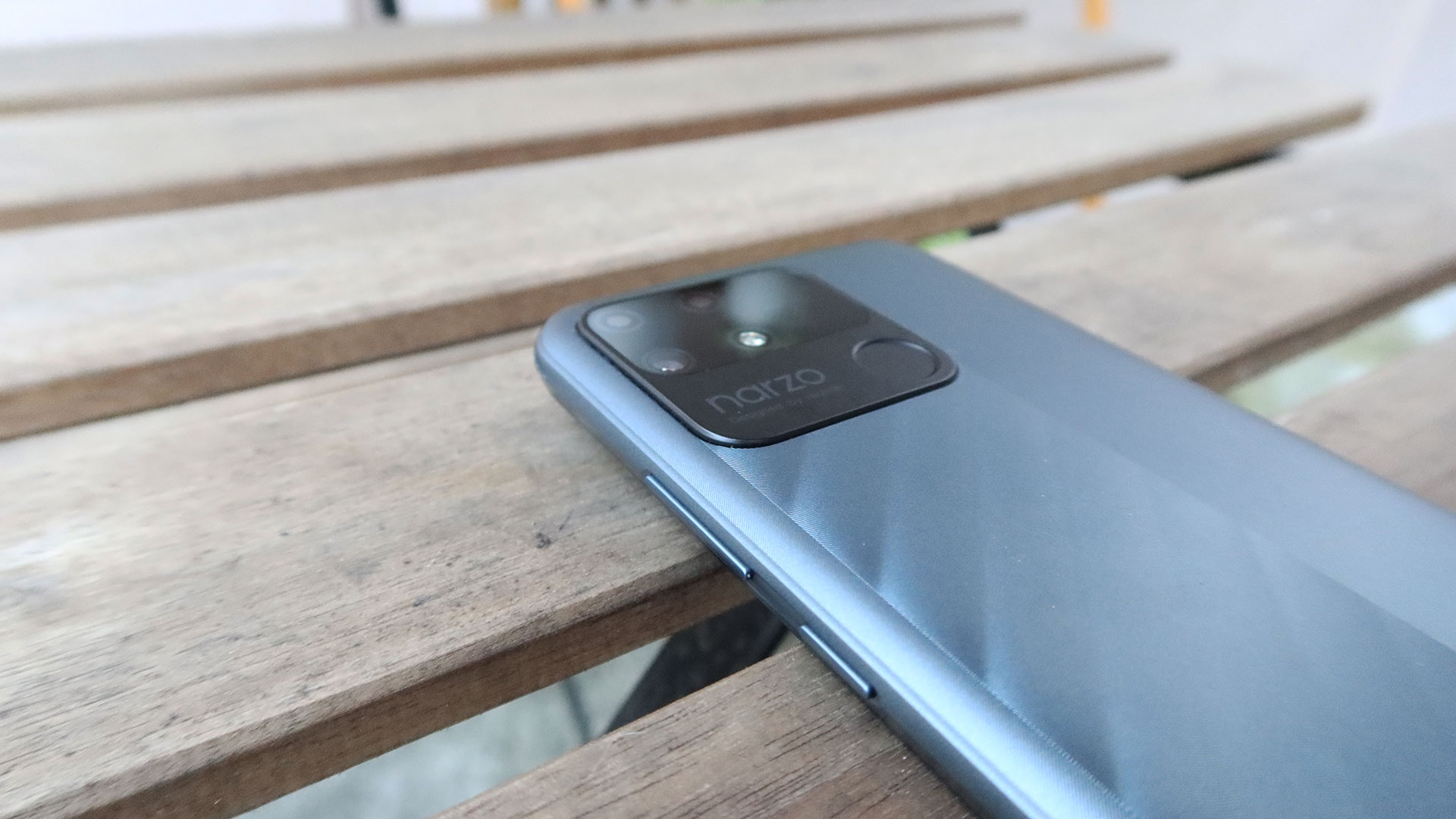 The bottom of the narzo 50A contains its USB Type-C port, 3.5mm headphone jack, microphone and speaker while the top of the device is plain. The right-hand side holds the power button and volume controls and the left is where the SIM card tray can be found.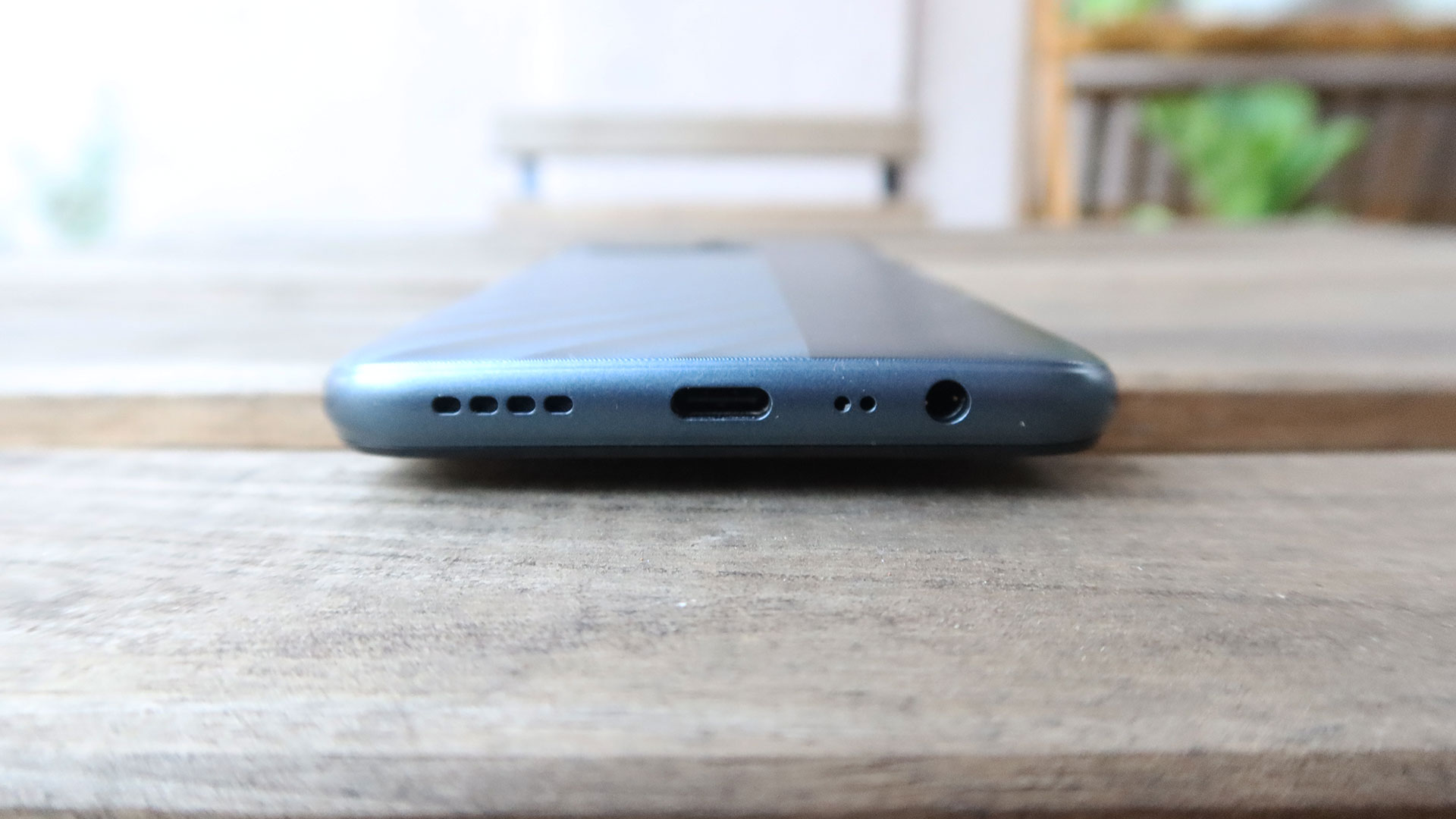 The narzo 50A does have some heft and chunkiness to it (weighing in at 207 grams and measuring 9.6mm thick), which is primarily thanks to its 6000mAh battery. However, those characteristics and its textured rear panel all contribute to making the device easier to grip and carry around as compared to lighter phones with smooth rear panels.
Display
As previously mentioned, realme has equipped the narzo 50A with a 6.5-inch HD+ IPS display. With a display resolution of only 1600 x 720px, giving it a PPI of 270, as well as a refresh rate of just 60Hz, the narzo 50A's display is probably its weakest aspect. While the lower resolution isn't significantly noticeable or bothersome, it does seem dated in a market where more and more devices in the same price bracket have begun sporting Full HD+ displays.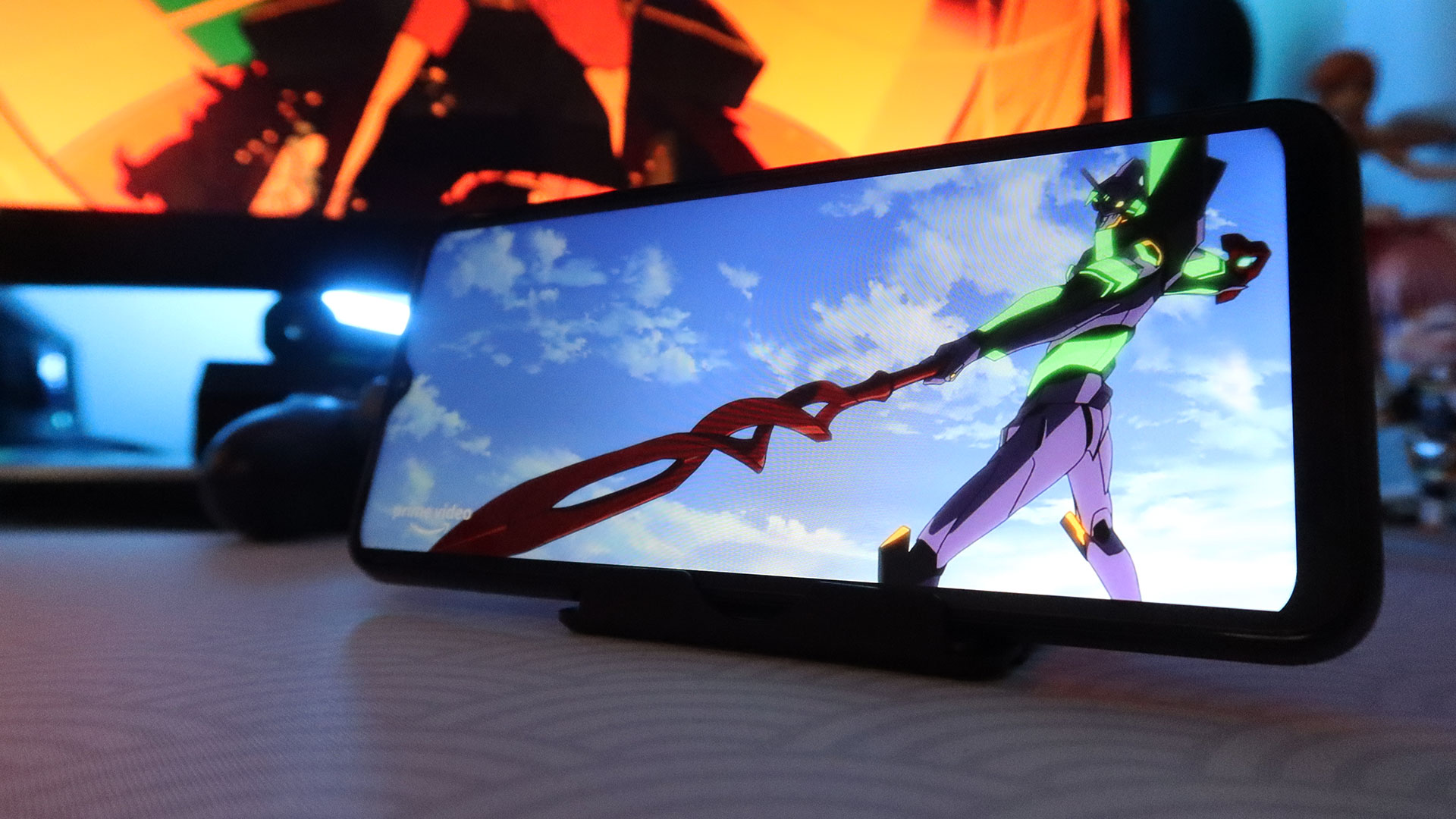 Nonetheless, the color performance and viewing angles of the narzo 50A's screen are more than decent and viewing media and playing games are both still enjoyable. It's also somewhat understandable that the choice to stick with a slower, lower resolution panel may help the narzo 50A's Helio G85 processor achieve higher and more consistently playable framerates in games, which is what the device is positioned for.
Performance
The MediaTek Helio G85 processor is an octa-core CPU that can clock up to 2.0GHz and is paired with a Mali-G52 GPU. realme has coupled it with 4GB of RAM, a combination that's par for the course at this price range. We ran the narzo 50A through several synthetic benchmark tests, including Geekbench 5, PC Mark, and 3DMark, to see how well the device holds up. Here are the scores the devices got from the tests:
Geekbench 5 – 383 (Single Core), 1,347 (Multi-Core)
PC Mark – 8,738 (Work 3.0)
3DMark Slingshot Extreme – 1,425 (OpenGL 3.1)
3DMark Wild Life – 711 (Vulkan)
As the narzo 50A is meant to be a budget-friendly gaming smartphone, we also tried running multiple mobile games on it. We chose Mobile Legends: Bang Bang, League of Legends: Wild Rift, PUBG Mobile, and Genshin Impact, as these are some of the most popular mobile titles in the market today. We ran the games at the settings that would give us the best performance rather than the best visual fidelity to see the upper frame rate limits the device could achieve.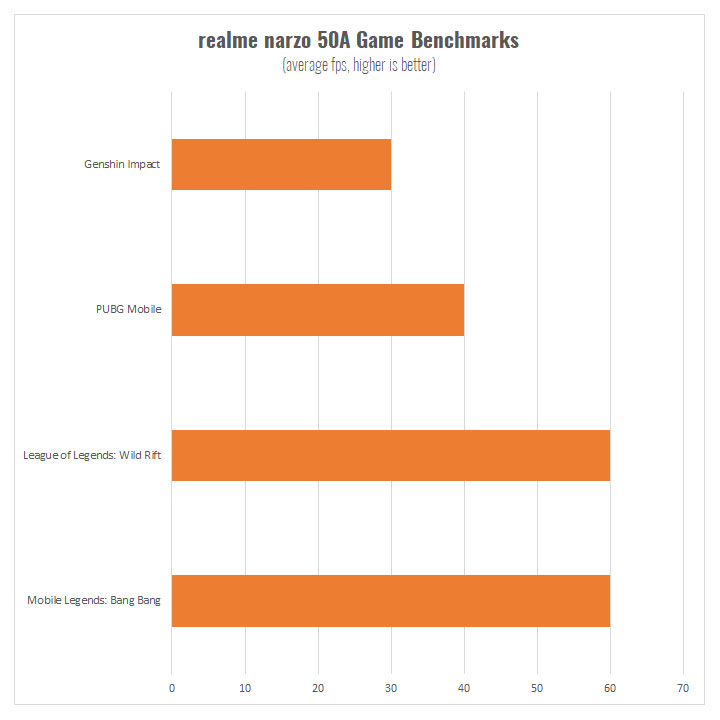 The narzo 50A was able to consistently run both Mobile Legends: Bang Bang and League of Legends: Wild Rift at around 60 FPS. PUBG Mobile was also more than playable at around 40 FPS, although it may be difficult to play very competitively against those with more powerful devices. Unfortunately, even though Genshin Impact was able to reach the set framerate cap of 30 FPS, the amount of stuttering we experienced made it difficult to enjoy.
Camera
In spite being positioned by realme as an entry-level smartphone for gaming, the narzo 50A surprisingly packs a pretty hefty 50-megapixel f/1.8 main camera that's accompanied by two 2-megapixel f/2.4 cameras for depth-sensing and macro shots, respectively. Lasty, it comes with an 8-megapixel f/2.0 front-facing camera for selfies.
The rear camera system of the narzo 50A is capable of taking fairly decent photos when there's good lighting, with pretty good detail and colors. Macro shots are also surprisingly good. Unfortunately, the camera begins to struggle with low-light or night shots. The photos turn grainy and start losing detail and color. Lastly, selfies with the front-camera are decent enough but the quality also suffers in bad lighting.
Battery
Equipping the narzo 50A with a 6,000mAh battery was a good choice for a device that's meant for gaming. It can last at least a couple of days of light usage and it scored a little over 20 hours in our battery life test. Users can probably expect a day's worth of gaming with the narzo 50A, although your mileage may vary depending on the title. Charging the narzo 50A's battery from 0% took about 3 hours with the included 18W charging adapter.

Conclusion
The realme narzo 50A is a surprisingly impressive device for its price of PHP 7,990. Apart from the average display and the poor nighttime camera performance, almost every other aspect of the new smartphone hits above its price tag. More importantly, the narzo 50A is capable of playing most of today's popular mobile games such as Mobile Legends: Bang Bang and PUBG Mobile. Those looking for a incredibly affordable yet capable smartphone for gaming will definitely want to consider the narzo 50A.