When AMD released its Radeon RX 400 line of graphics cards two years ago, powered by its new Polaris architecture, it gave users a new set of options for those who wanted to get a graphics card for gaming at a competitive price. At the time, the flagship RX 480 was also the cheapest graphics card that was compatible with VR headsets like the Oculus Rift and HTC Vive. And while the RX 400 line lacked a high-end variant that catered to the enthusiast market, it gave users a way to play their favorite titles at 720p or 1080p without breaking the bank.
Last year, the company refreshed the RX 400 line with the release of its Radeon RX 500 series, which features the same basic design and Polaris architecture but is now built on AMD's new 14nm process, enabling it to achieve higher clock speeds. AMD has also added a new power state that allows RX 500 series cards to use up less power during certain situations such as when they're idle or when watching videos, which leads to lower power consumption overall. And much like the RX 400 line, the RX 500 is led by the flagship RX 580.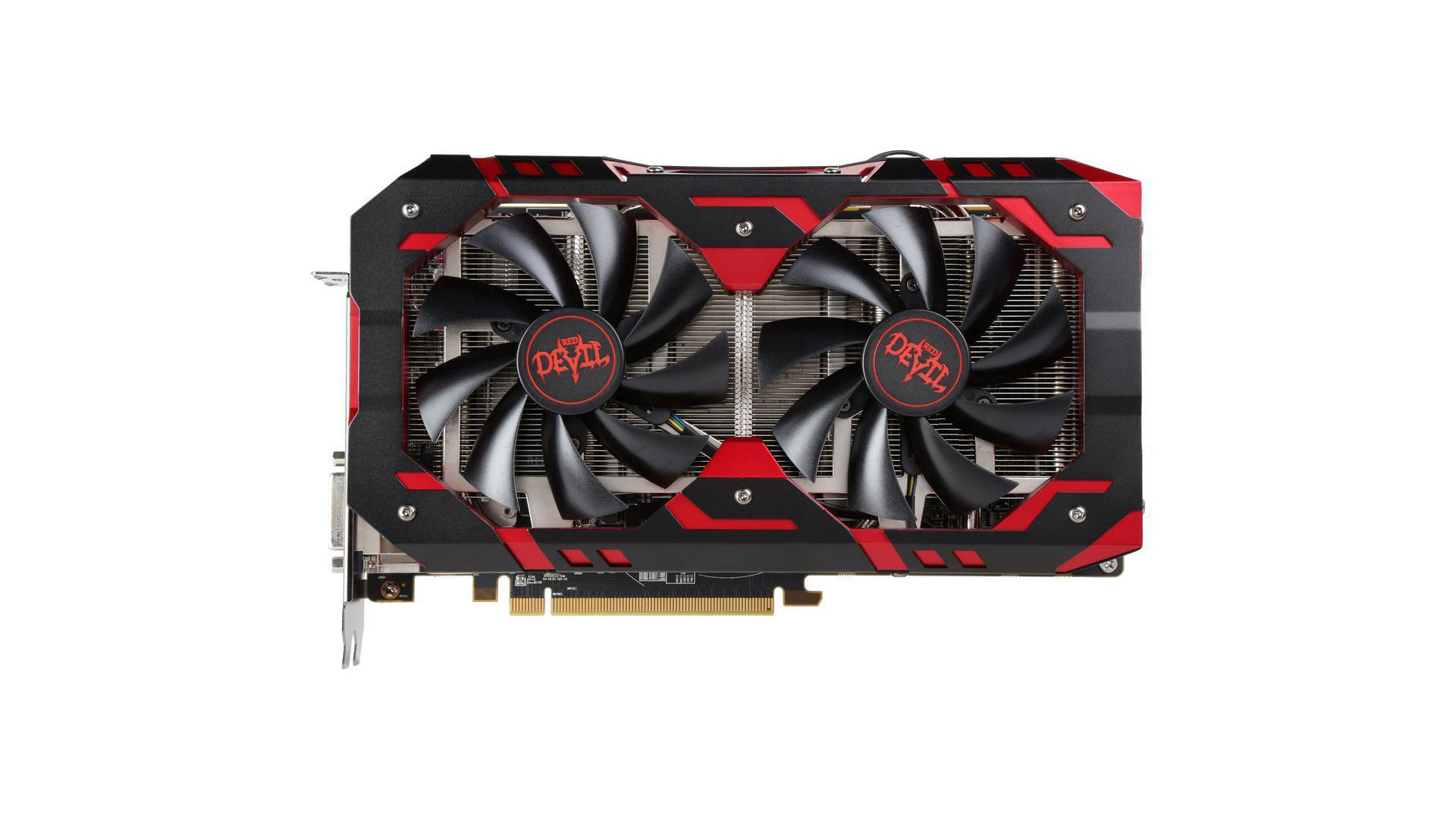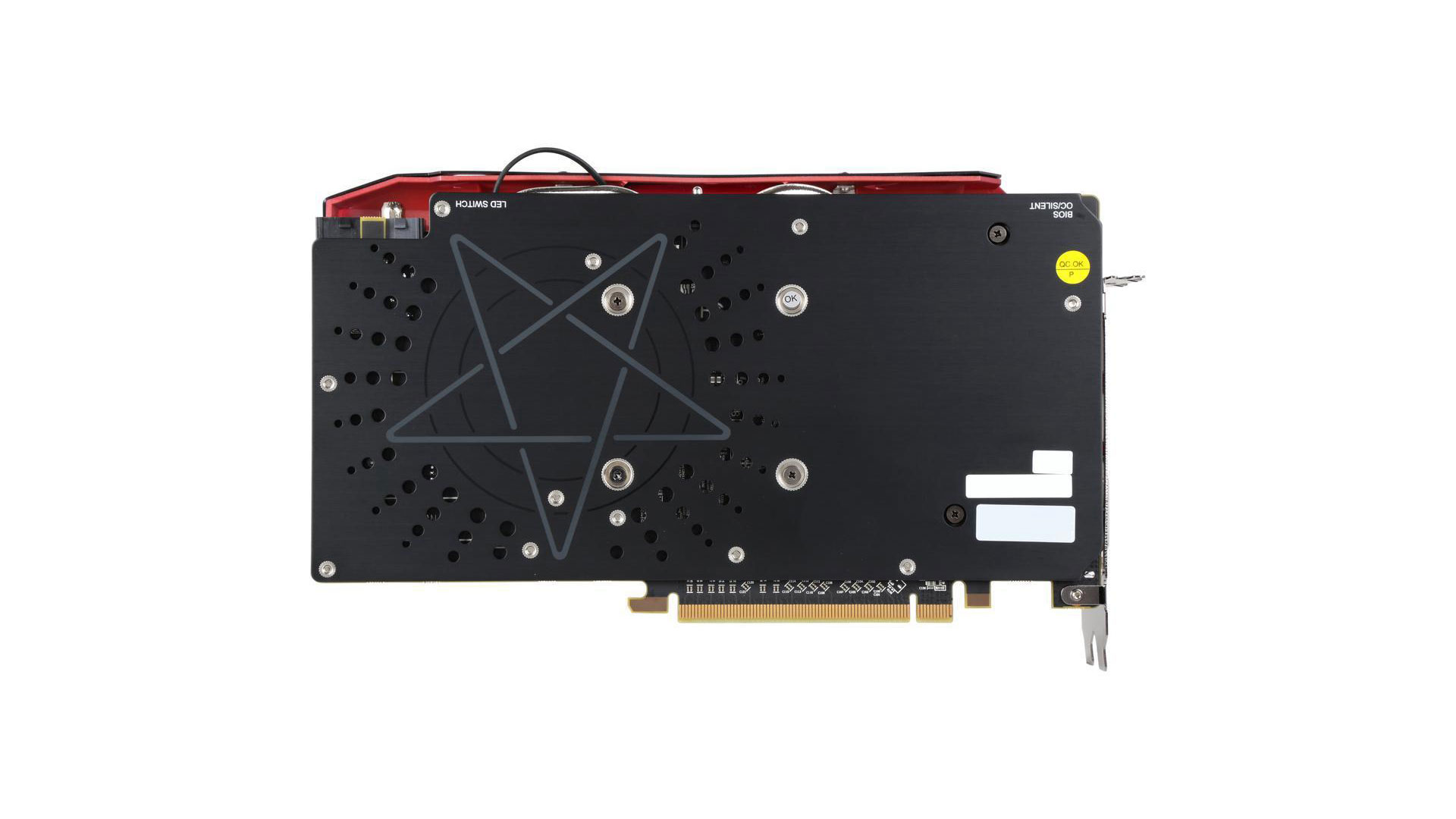 For our review, we have the Radeon RX 580 Red Devil Golden Sample from PowerColor. It features a black metal back plate with a demonic aesthetic and a humongous cooler that comes in a black and red color scheme with Red Devil logos featured on the cooler fans and on side of the cooler shroud, the latter of which lights up when the card is running. The cooler features a large heatsink with five heat pipes and two fans making the entire card pretty huge, taking up three full slots with a full height measurement of 46mm while the rest of the card measures 255mm in length and 157mm in width.
On the inside, the Radeon RX 580 Red Devil Golden Sample comes with 8GB of GDDR5 with a memory clock of 8.0Gbps or 2000MHz, a core clock of 1425MHz, and a TDP of 185 Watts. The card also ships with two BIOS modes – an Ultra Overclocking mode and a Silent Overclocking mode. On the OC mode, the core clock speed runs at 1425MHz while it runs at 1411MHz on the Silent bios. It also features some of the same specifications as the RX 480, due to it keeping the same Polaris architectures, including 2304 GPU cores, 144 texture mapping units (TMUs), and 32 render outputs (ROPs).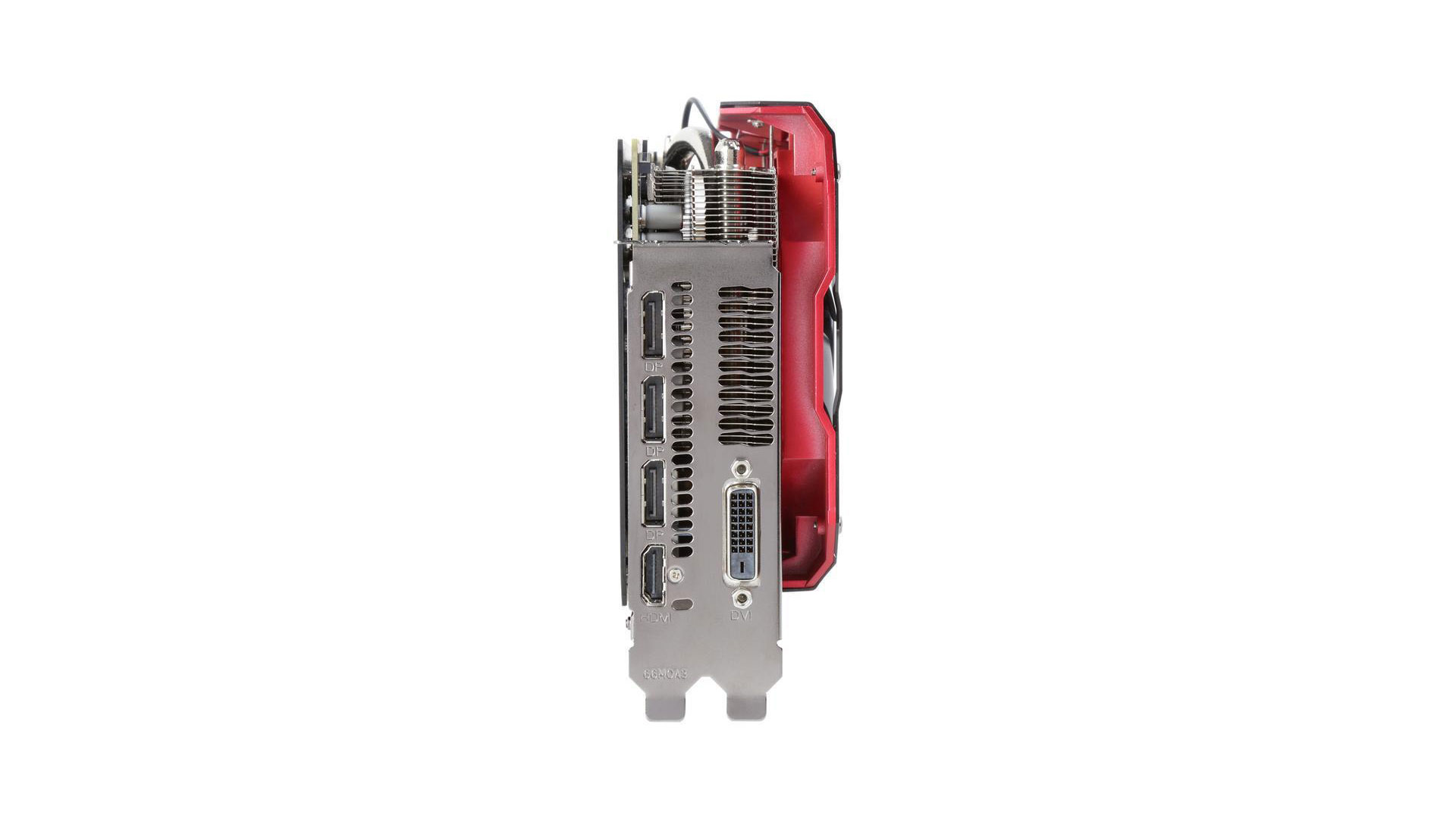 The Radeon RX 580 Red Devil Golden Sample comes equipped with three DisplayPorts, one HDMI port, and one Dual-Link DVI-D connector, giving users a lot of options for single monitor and multi-monitor setups. While the RX 580 is more suited for those playing at 1080p resolution, the availability of three DisplayPorts allows users to also try out gaming with the RX 580 in either 2K or 4K resolutions. Although it must be noted that the RX580 wasn't really designed for 4K gaming and won't perform very well under the resolution. We would've preferred if PowerColor included one more HDMI port in exchange for one of the three DisplayPorts to make it a bit easier for users to connect multiple 1080p displays, which the RX 580 is more suited for, without having to purchase adapters for either a DisplayPort or the DVI-D connector.
We tested the Radeon RX 580 Red Devil Golden Sample using several synthetic benchmarks and real-world tests. Our synthetic benchmarks include 3DMark's Fire Strike benchmark test and the benchmark tools of Rise of the Tomb Raider, Ashes of the Singularity, Deus Ex: Mankind Divided, and Total War: Warhammer. We then compared our results to those attained from an NVIDIA GeForce GTX 1060 Founder's Edition, the closest counterpart of the RX 580, as well as a few other cards we've tested previously.
Here's our test setup for reference:
Motherboard: ASUS Prime X370-Pro
CPU: AMD Ryzen 5 1600X 3.7GHz
RAM: 16GB (8GBx2) G.Skill Trident Z RGB 2999MHz DDR4
Cooling: AMD Wraith MAX
PSU: Seasonic M12II Evo 620 Watts
Storage: HyperX Savage SSD (256GB)
OS: Windows 10 Pro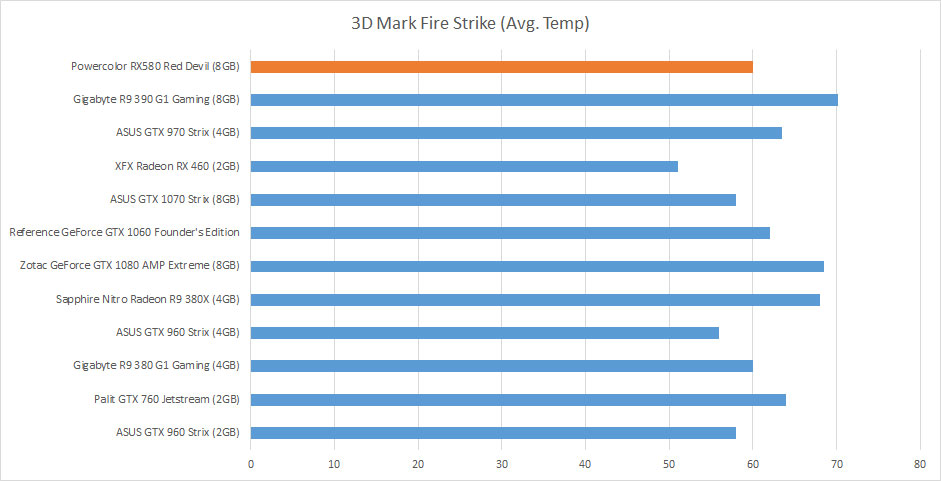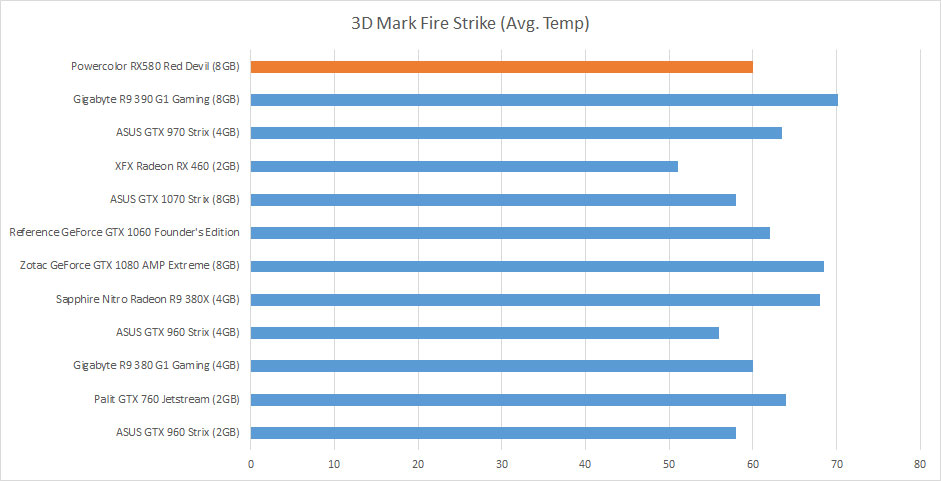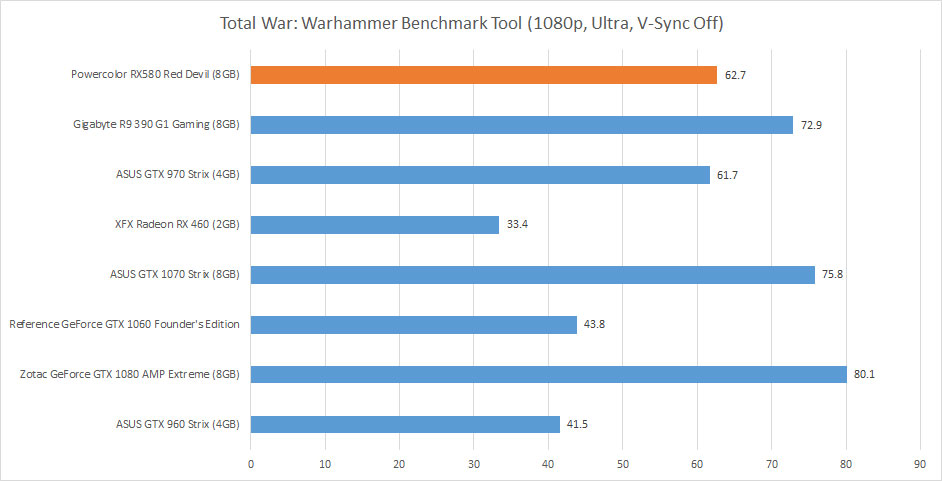 Our synthetic benchmarks showed very good results with the RX 580 beating out the GTX 1060 in our 3DMark Fire Strike test with a score of 12093 versus 10074. It also surprisingly ran a little colder with an average temperature of 60 degrees as opposed to the 62-degree average temperature of the GTX 1060. The RX 580 also outperformed the GTX 1060 in our other synthetic benchmarks with an average performance difference of 30%.
Conclusion
The PowerColor Radeon RX 580 Red Devil Golden Sample is a pretty impressive card that sits right in between the NVIDIA GeForce GTX 1060 and the GTX 1070 in both performance and price. While it doesn't have any luxury features like RGB lighting, the RX 580 Red Devil Golden Sample comes with all the things that count including great performance and an excellent build quality. And while it's more expensive than its predecessor, the improvements that have been made more than make up for the difference in price. The PowerColor Radeon RX 580 Red Devil Golden Sample is undeniably a great card for those looking for a powerful mid-range video card without breaking the bank.