Across the past few years, the demand for devices like tablets and laptops increased exponentially. And even now that most students have gone back to face-to-face classes and employees have gone back to their respective offices, it's still useful to have a laptop for school or work, entertainment, and more.
However, purchasing an expensive laptop for a young student might not be feasible. This is where laptops like the Lenovo IdeaPad Slim 1 come in. Priced at only PHP 31,495, it's a lightweight and affordable entry-level laptop with specs and features that make it suitable for school, work, and casual use.
Design & Features
The design of the IdeaPad Slim 1 is rather muted, which helps it stand out less in office or school settings. The top cover only has a small Lenovo logo in the corner while the bottom features four small rubber feet and a single row of vents.
The entire body of the laptop is made from plastic and comes in a cloud gray (although a sand color variant is also available). However, in spite of its build material, the case of the IdeaPad Slim 1 still feels decently rigid and durable.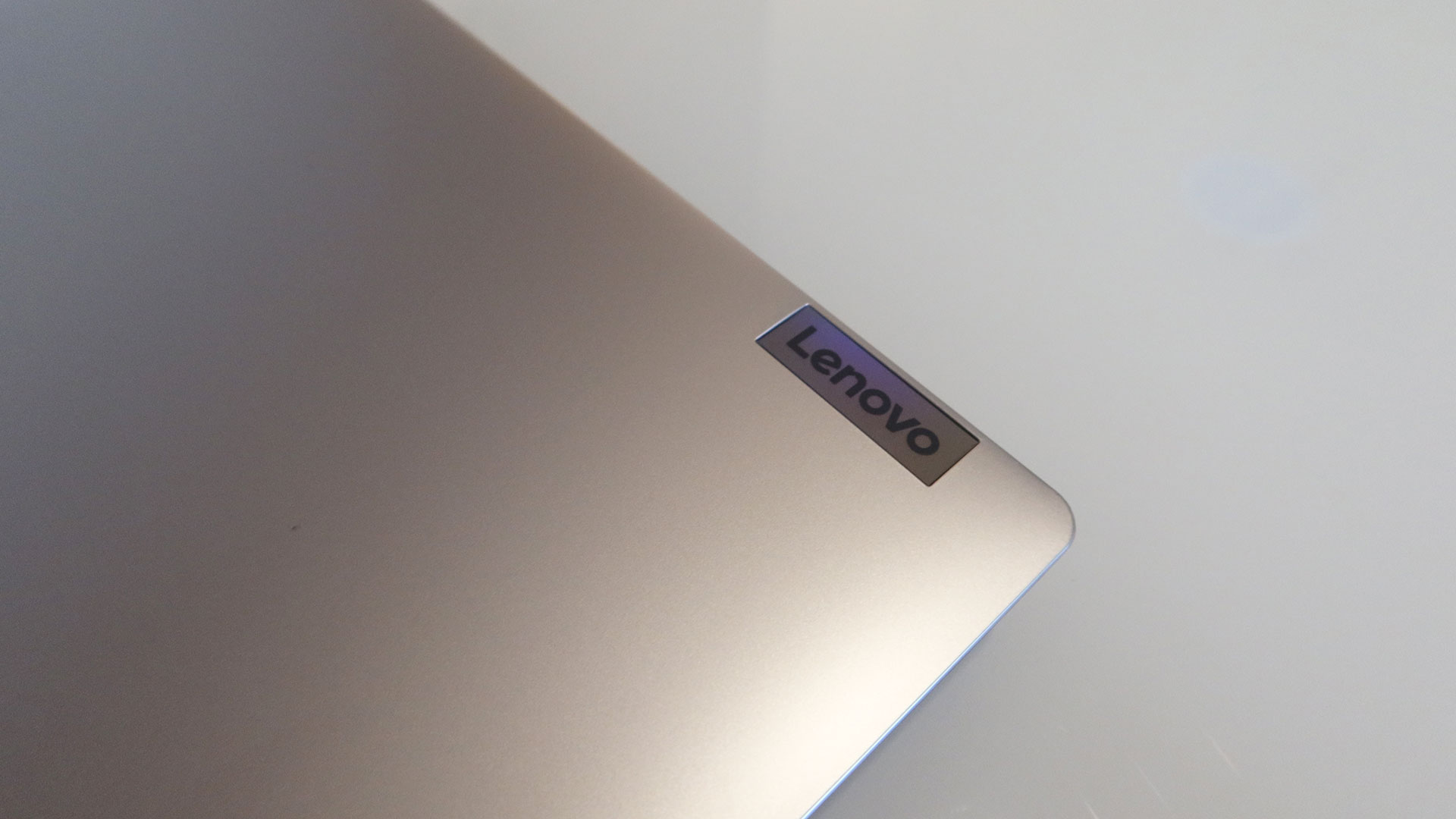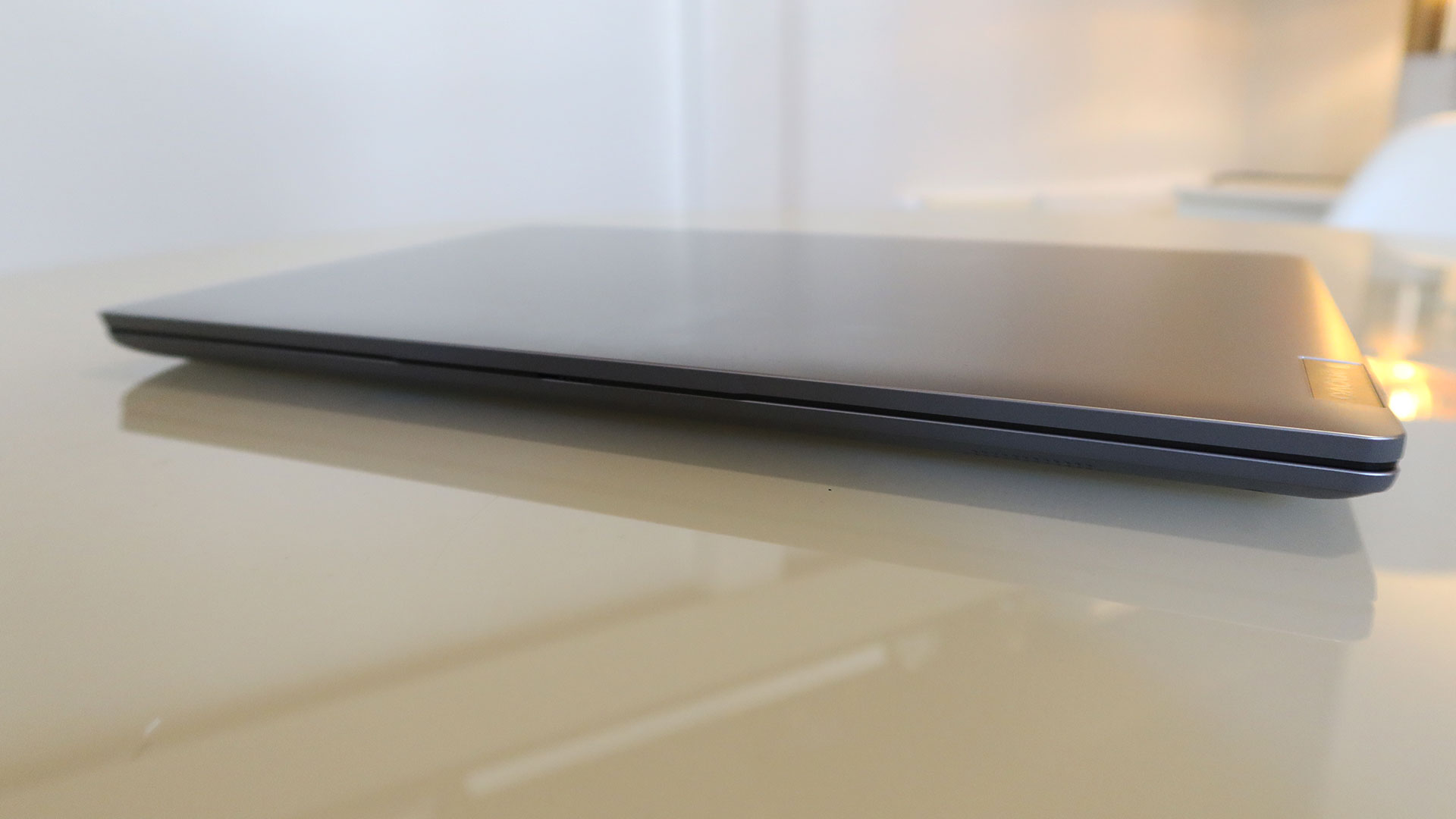 As its name suggests, the IdeaPad Slim 1 features a sleek and slim chassis measuring only 17.9mm thin as well as 360.2mm wide and 236mm deep. It weighs only about 1.38kg which is only a little over a hundred grams heavier than a MacBook Air.
The IdeaPad Slim 1's slim design and light weight makes it easy to bring around in a shoulder bag or backpack. The hinge of the laptop also allows the lid to be opened almost 180-degrees, increasing the number of ways the device can be positioned.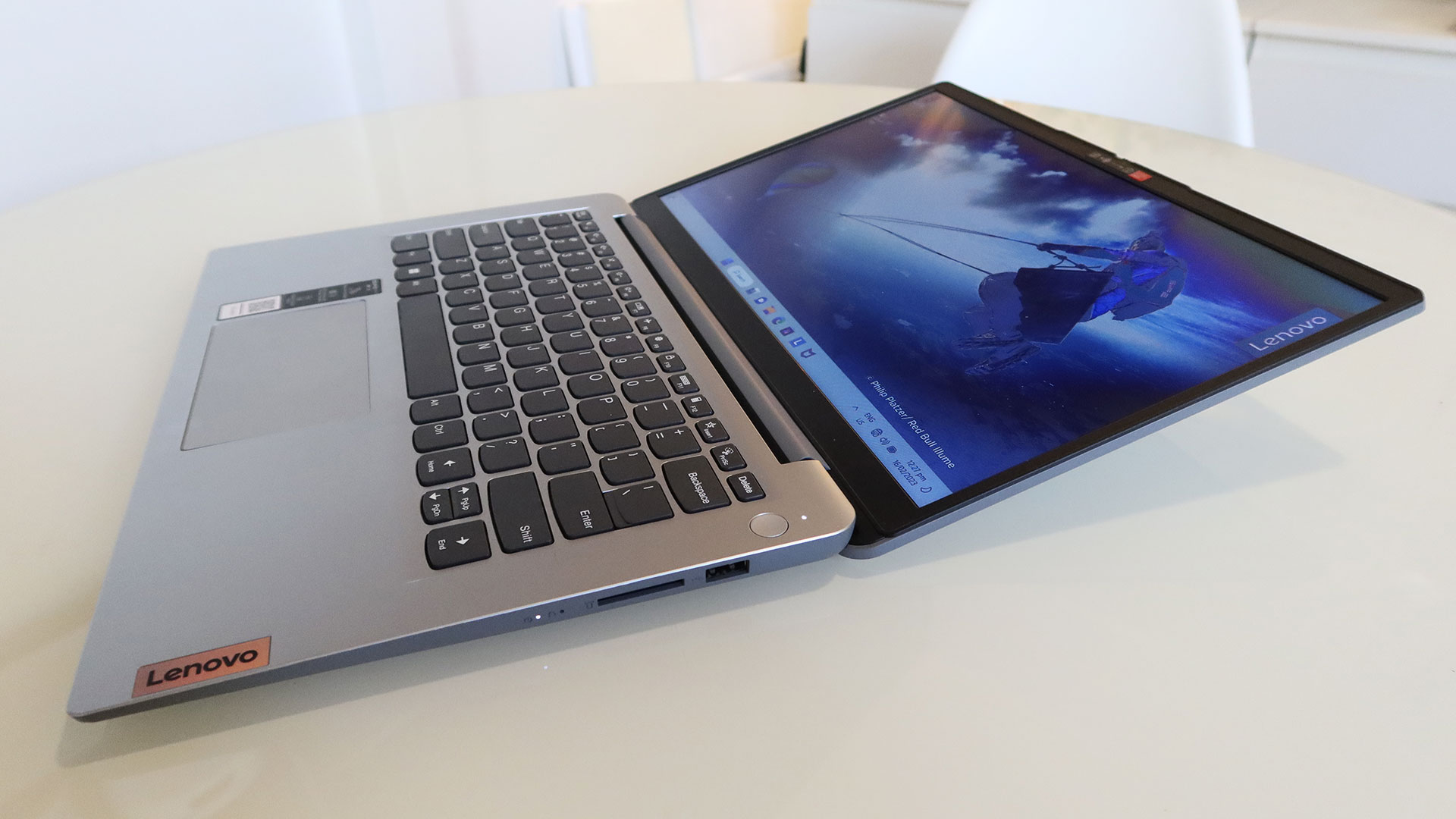 Display
Given its affordable price tag and entry-level positioning, it's unsurprising that Lenovo had to compromise in a few departments. Which is most noticeable with the laptop's display, as it comes equipped with a TN display instead of an IPS panel, which you see in most laptops today.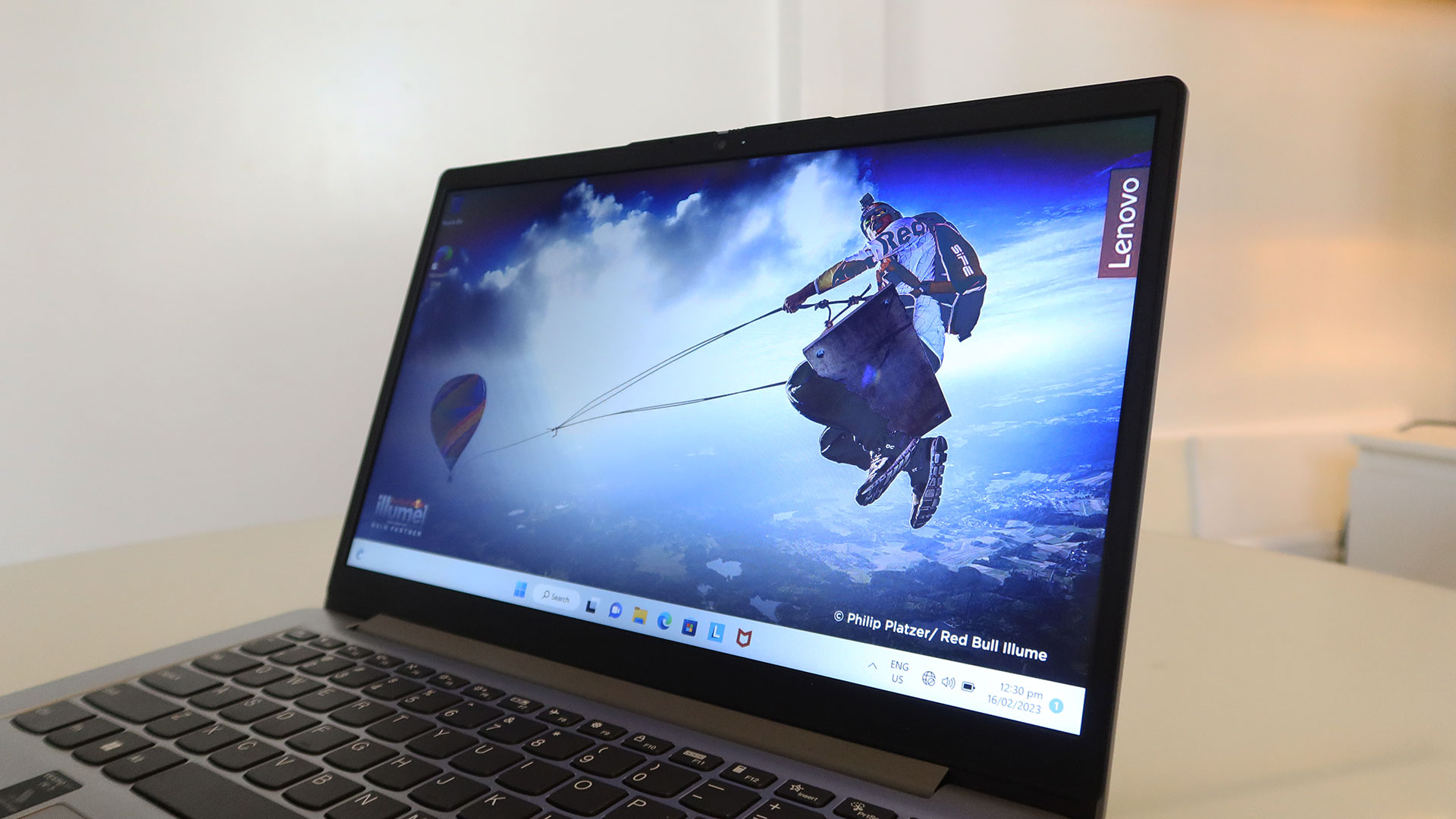 The use of a TN panel means that the viewing angles, color output, and brightness of the IdeaPad Slim 1 are less than optimal, but still very usable for school or work tasks, web browsing, and more.
Furthermore, the 220 nit max brightness of the display makes the laptop difficult to almost unusable under direct sunlight so I recommend only using it indoors.
Ports
The IdeaPad Slim 1's selection of I/O ports seems pretty dated as well. The single USB Type-C port can only be used for data. There's neither charging nor display out support, which are usually included in many current laptops.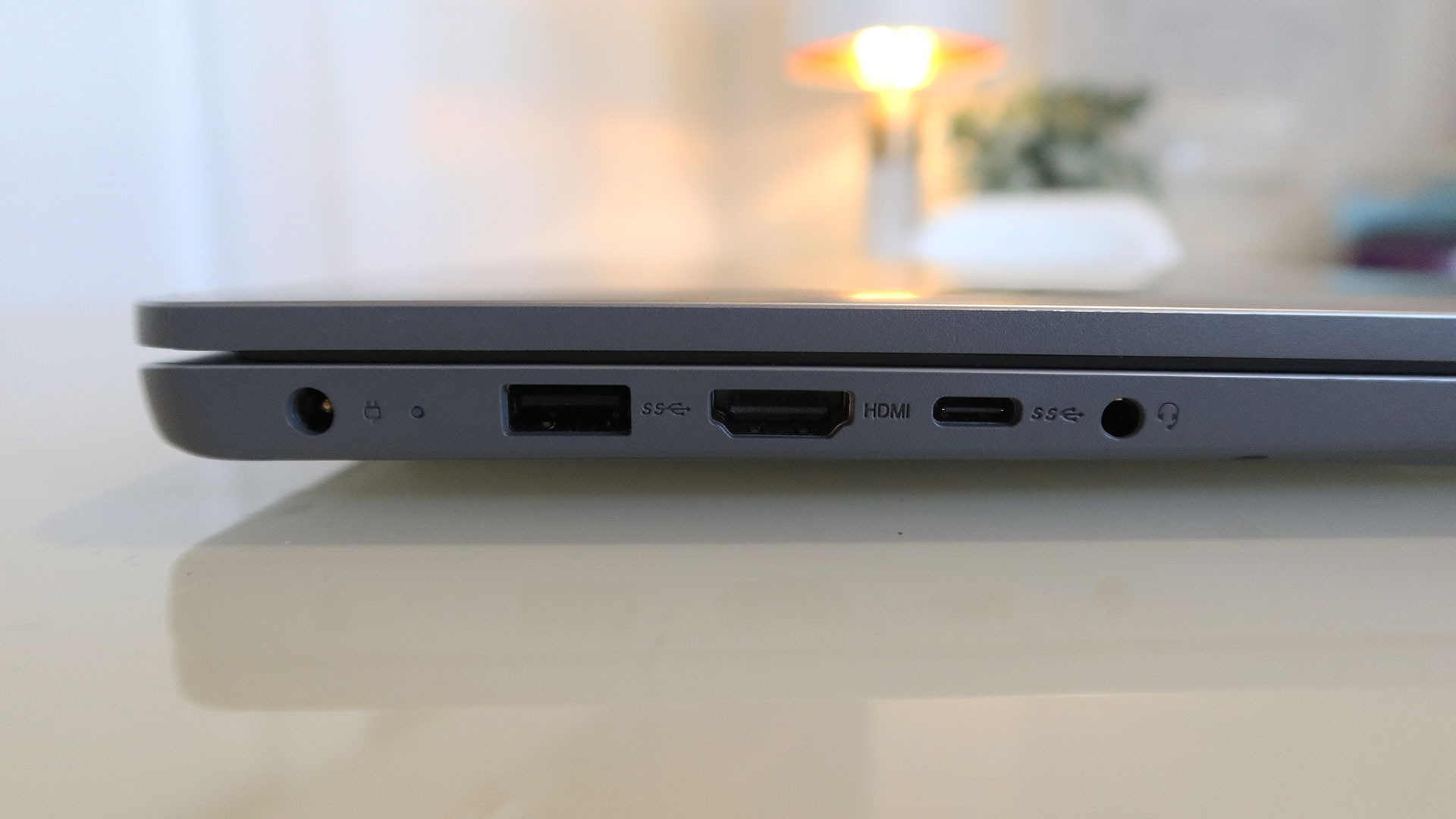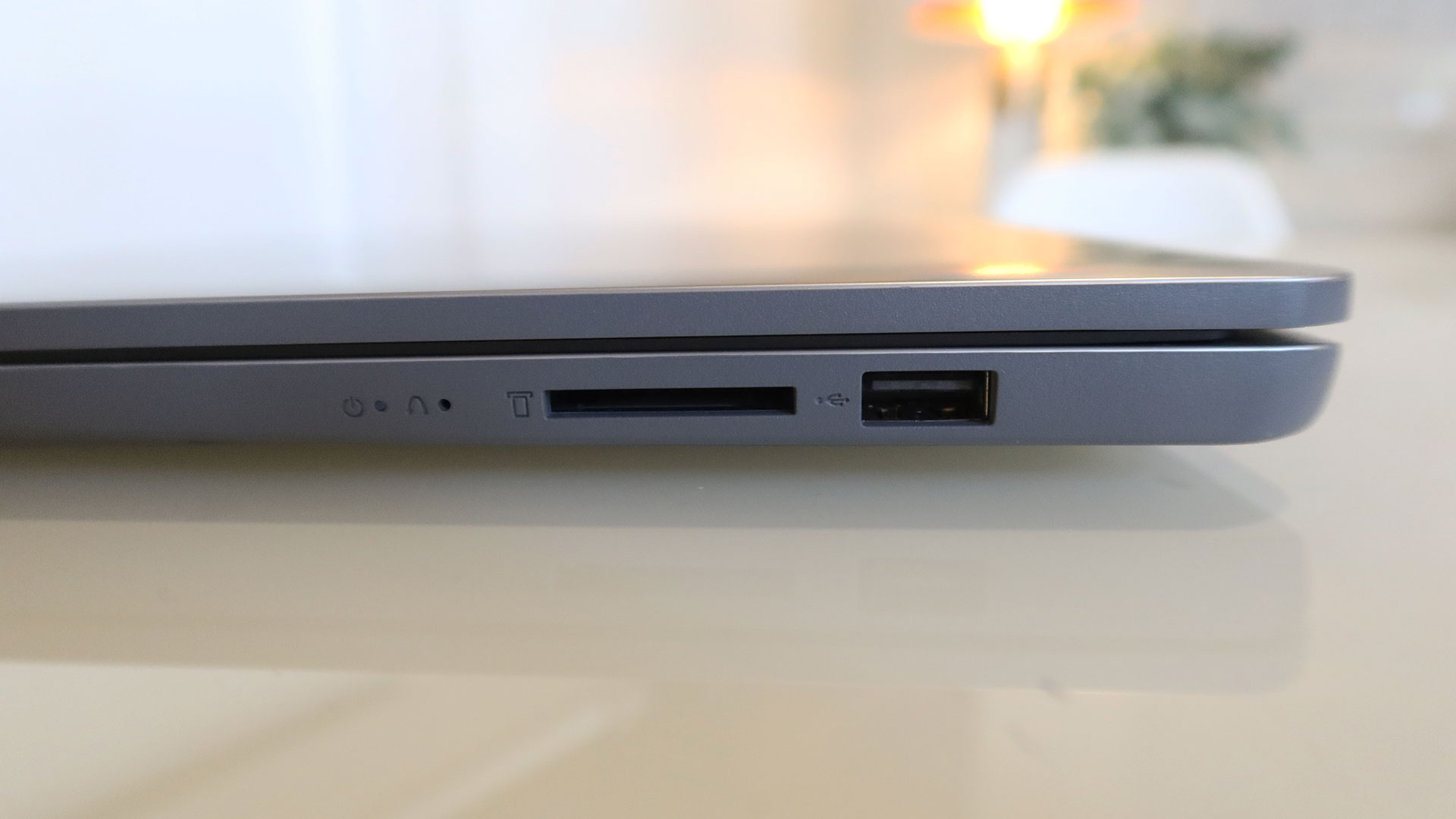 As for the rest of the ports, they include an HDMI port, two USB-A ports, an SD card reader, and a 3.5mm headphone jack. There's also the dedicated power adapter connector.
While the lack of charging or display out support on the USB Type-C port is disappointing, the rest of the ports are relatively adequate for most use cases.
Keyboard
Thankfully, the keyboard and touchpad of the IdeaPad Slim 1 are both pretty decent. The keyboard is comfortable to type on, with good spacing between the keys.
I particularly liked the arrow key layout, with the full-sized left and right arrow keys and the split one for the up and down arrows, as it felt more reassuring to press without much worry of mistyping.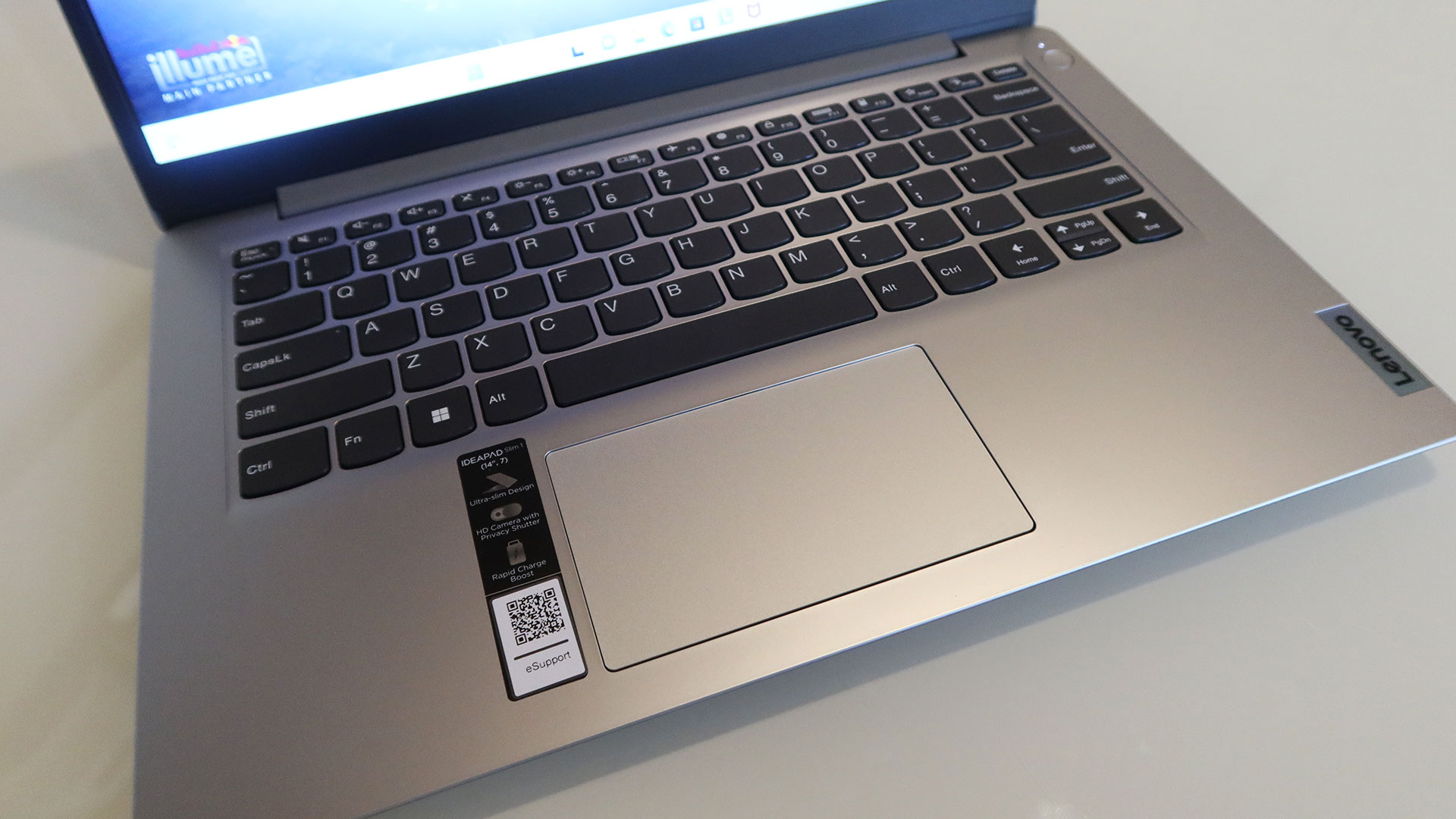 The selection of function key shortcuts are also pretty useful. Apart from the typical ones that control the laptop's settings, such as volume and display brightness, there are also a few uncommon ones. These include shortcuts for airplane mode, the calculator app, and the snipping tool.
As for the touchpad, it's rather sizable with good tracking and a nice feel to its surface and click.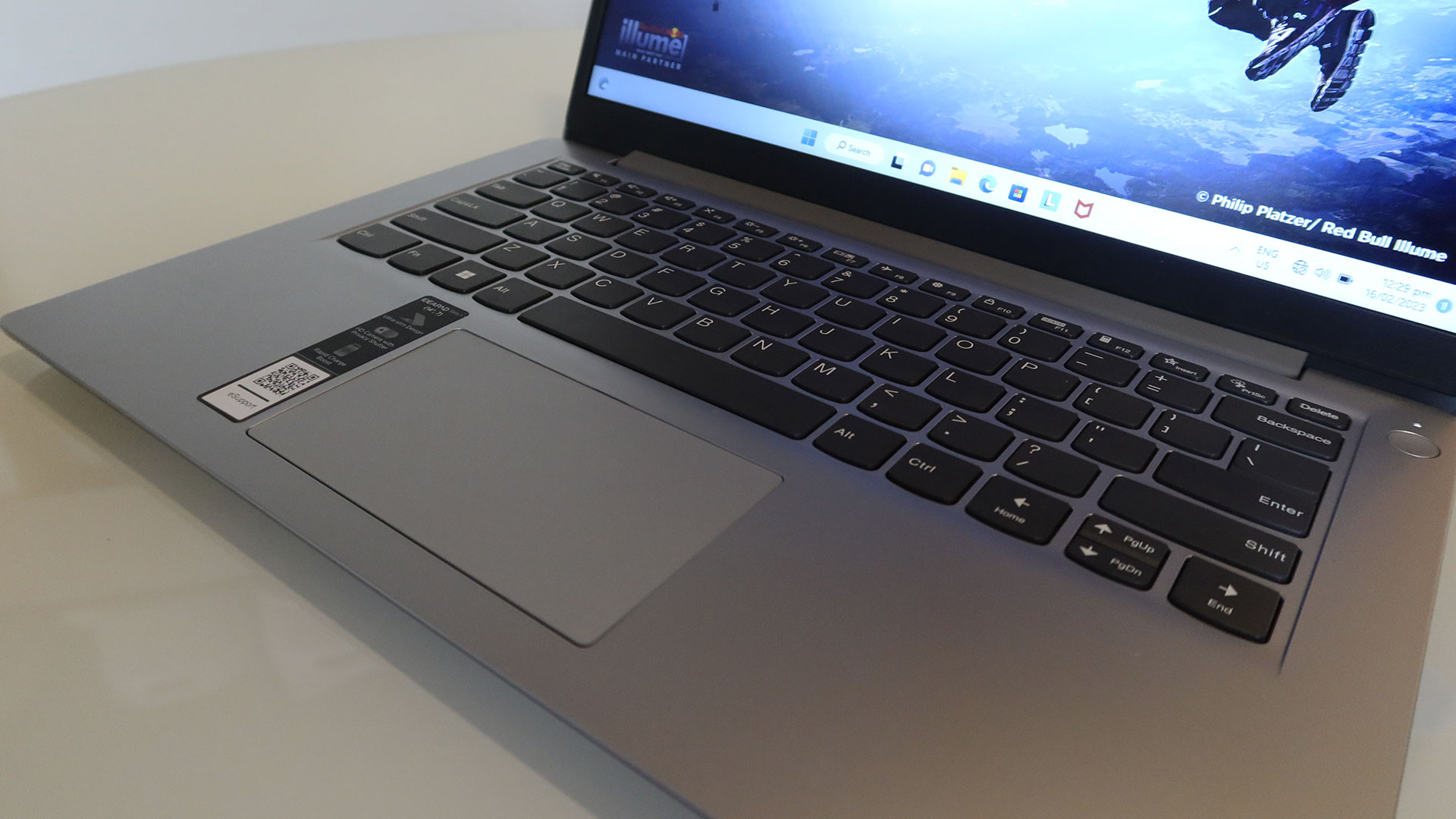 Similarly, the speakers, while soft, are passable. They're good enough for using up close by a couple of people but lacking for larger rooms and fairly noisy environments.
Lenovo has included its physical privacy shutter for its webcam on the IdeaPad Slim 1, giving users an additional layer of security. As for the webcam itself, it's a basic HD/720p webcam. It's certainly usable, but not the best.
Specs & Performance
Our unit of the IdeaPad Slim 1 is equipped with an AMD Ryzen 3 7320U CPU that's coupled with an AMD Radeon 610M, 8GB of LPDDR5-5500 RAM, and a 512GB NVMe PCIe 4.0×4 SSD.
The combination of the AMD Ryzen 3 7320U, which uses older Zen 2 cores, and 8GB of RAM positions the IdeaPad Slim 1 as an entry-level device that's designed for basic tasks and casual use.
We tested the performance of the IdeaPad Slim 1 by using several synthetic benchmark tests such as Cinebench R20, PCMark 10, PC Mark 10, GeekBench 5, and 3DMark.
The IdeaPad Slim 1 performed surprisingly well in our benchmarks, at least above our expectations, and is easily able to handle productivity tasks, web browsing, and casual media consumption.
It can also manage light photo and video editing as well as less intensive games, such as Roblox or Minecraft, although your mileage may definitely vary. The IdeaPad Slim 1 shouldn't be expected to handle demanding applications or games well or at all.
Battery
During my time with the IdeaPad Slim 1 its battery averaged at least 6 hours of moderate use, so it can be expected that it can manage a typical day of school or office use without having to be plugged in. It also doesn't take too long to charge it, taking only a couple of hours to go from empty to full, so you won't be stuck to a power outlet for long.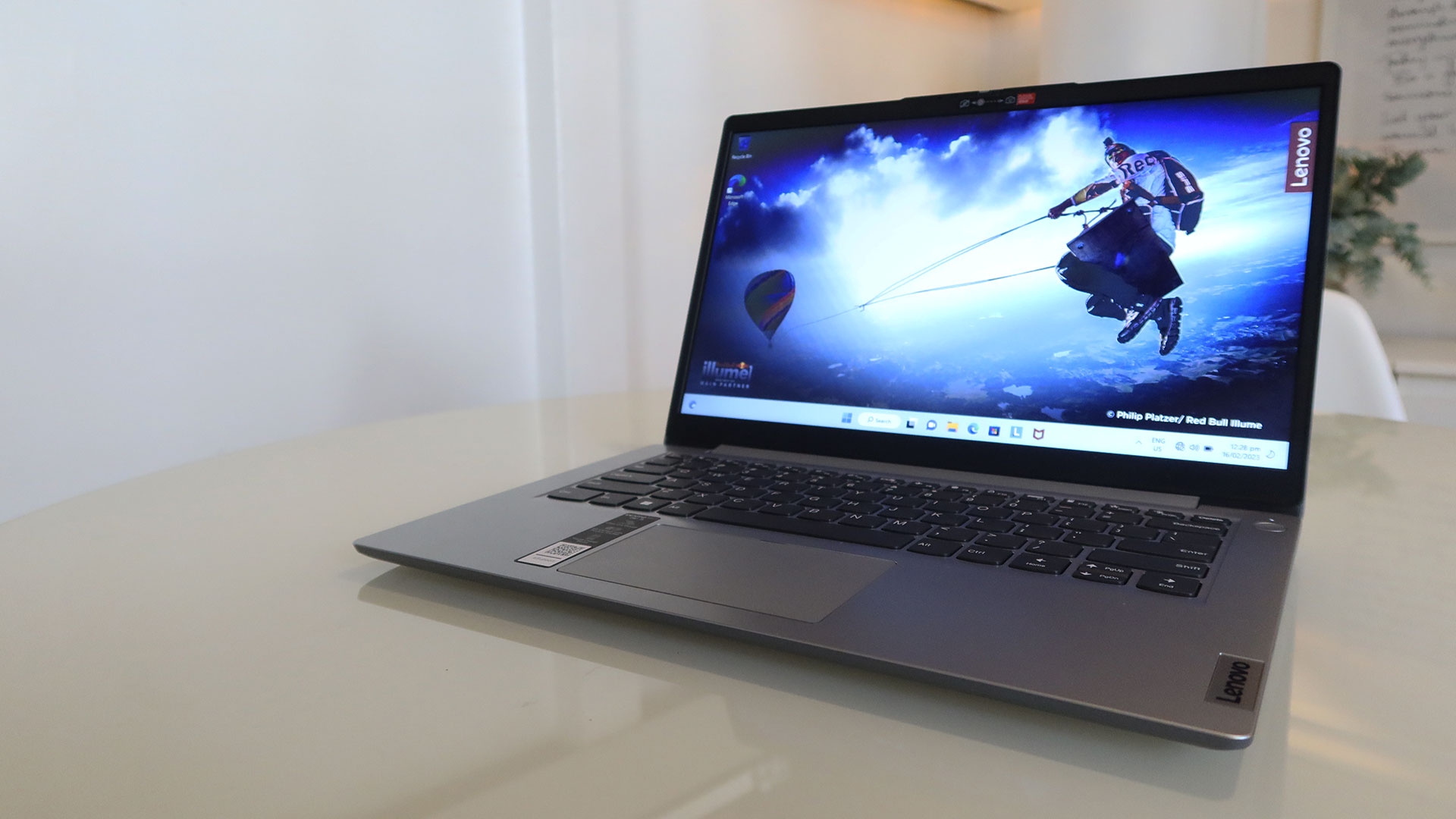 Conclusion
The Lenovo IdeaPad Slim 1 is an adequate entry-level laptop that would be a decent choice for school, office, or casual use. While it does have some drawbacks, such as its display and lack of USB Type-C charging or display out, which are expected given its position, it's still a rather capable machine thanks primarily to its processor and battery. If you're looking for an affordable laptop, whether as a child's first or for doing work at home, the Lenovo IdeaPad Slim 1 is certainly a reasonable option.