It's been over a year since Kingston sold its HyperX brand to HP and relaunched its memory lineup under its Kingston FURY brand, which now encompasses the company's entire gamer-centric memory kit catalog. The lineup includes its Impact, Beast, and Renegade product lines, which are its SODIMM, mainstream, and enthusiast lineups, respectively. The Kingston FURY Renegade DDR4 are the company's series of RAM kits for those who want high-end performance while skipping on RGB lighting. We tested out the Kingston FURY Renegade DDR4-4266 to see if the massively high frequency is worth
Packaging
Unlike the Kingston FURY Beast and Impact, both of which are packaged in just a transparent plastic shell, the Kingston FURY Renegade DDR4 memory kit adds a cardboard box to its packaging where a similar transparent plastic shell for the sticks themselves go in. Apart from the sticks themselves, Kingston has also included warranty and installation information as well as a Kingston FURY sticker.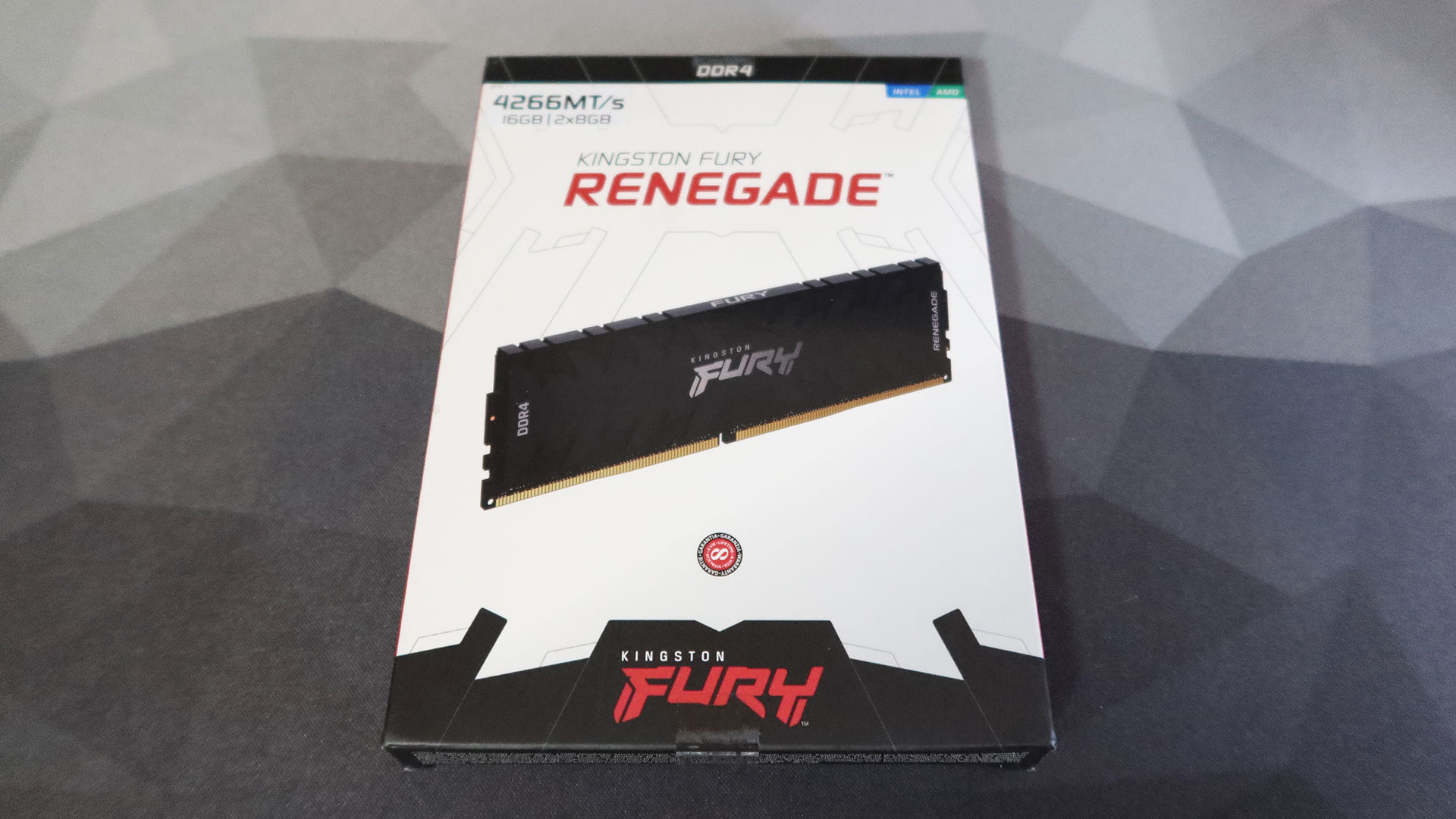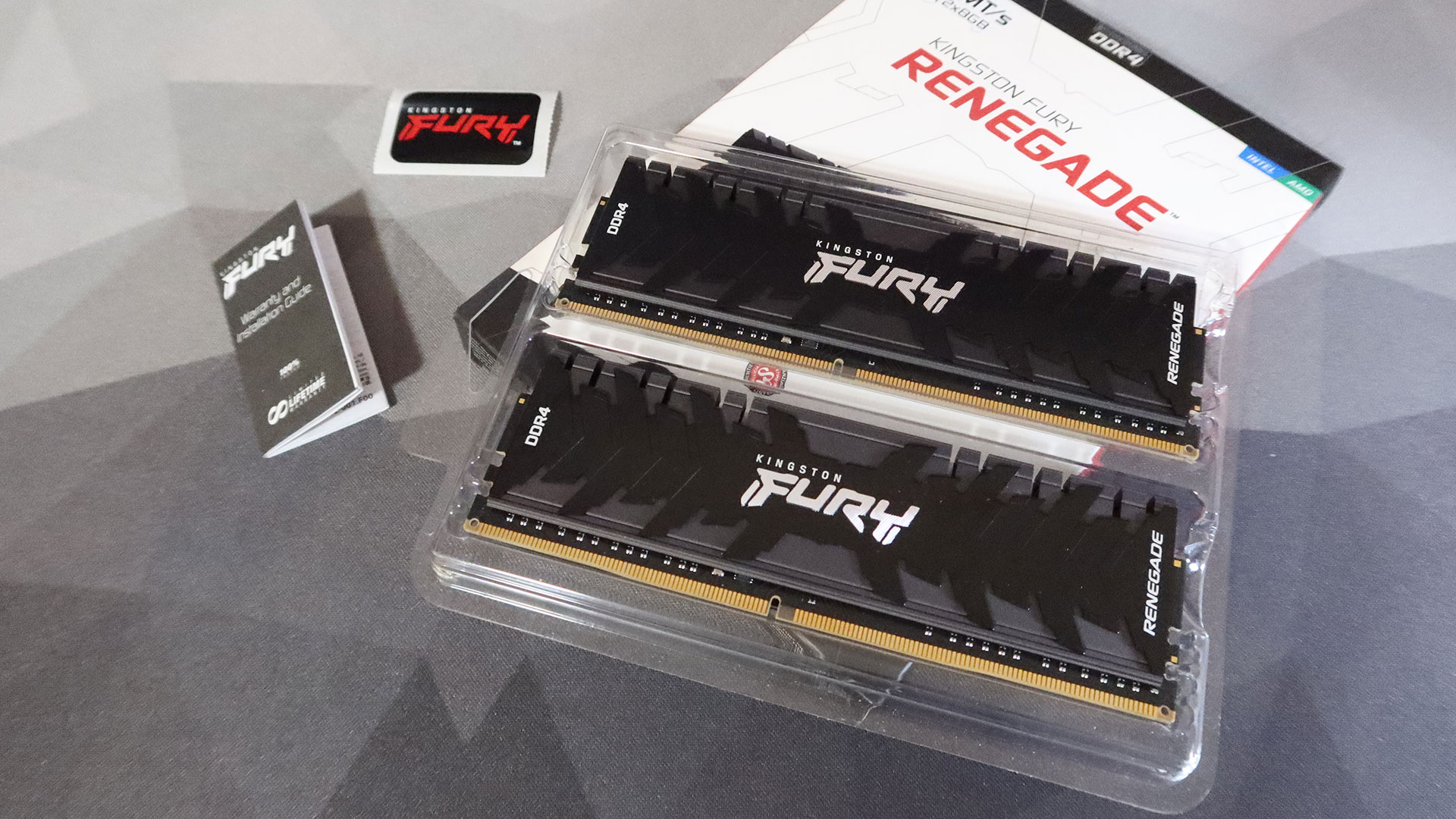 Design and Features
The Kingston FURY Renegade DDR4 memory modules feature pretty much the same design as the HyperX Predator but with a slight color difference and new branding. The heat spreader on the new FURY Renegade DDR4 is slightly darker than its older counterpart. The HyperX logo has also been replaced with the new Kingston FURY logo while the new Renegade designation has replaced the Predator moniker.
The height of the Kingston FURY Renegade DDR4 module measures 42.2mm which makes it compatible with most air coolers. And, as previously mentioned, the FURY Renegade DDR4 forgoes RGB lighting, so it's a good candidate for partnering with larger air coolers with heatsinks or fans that end up obscuring the RAM or even cases with no windows that would make internal RGB lighting moot.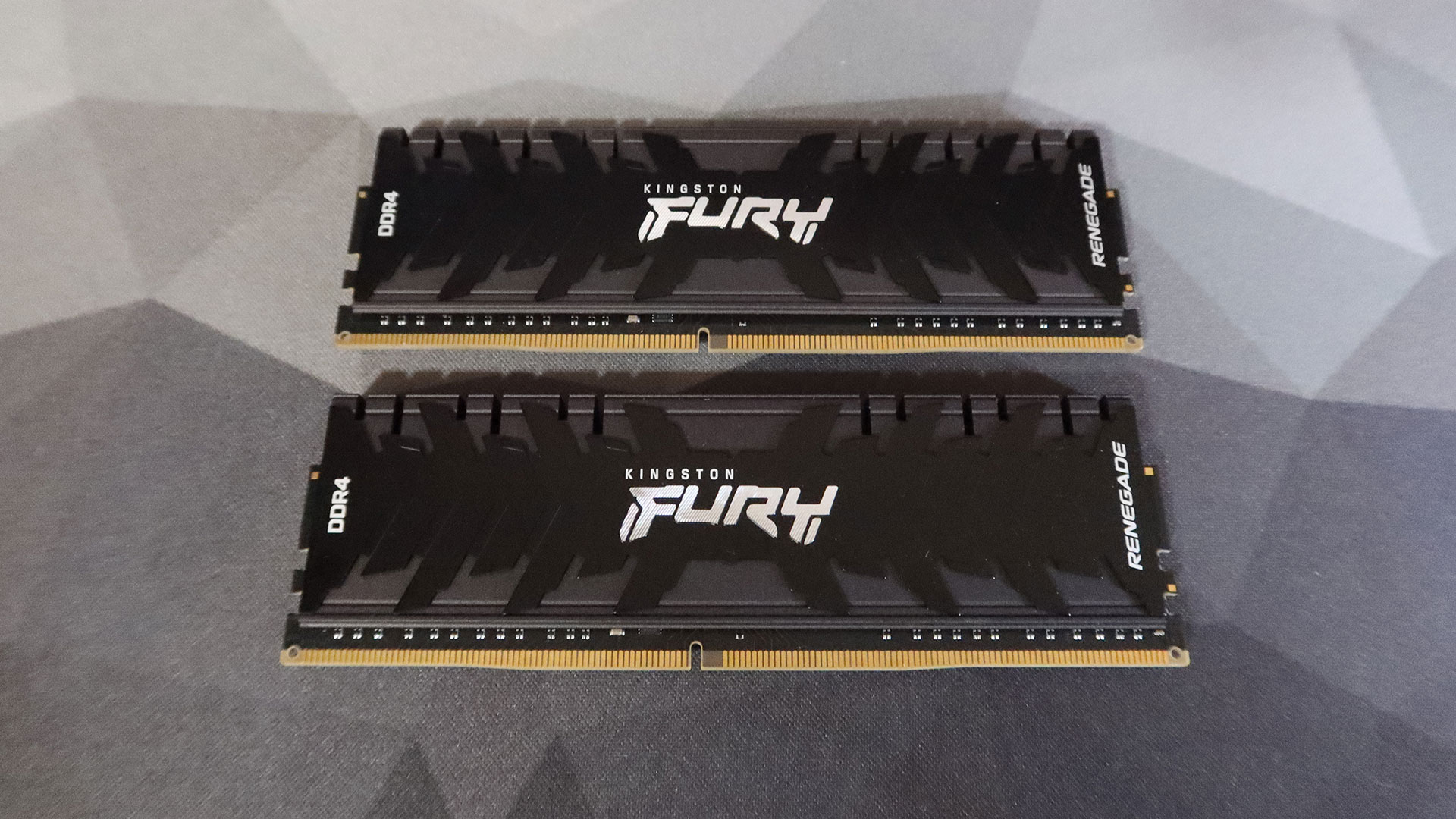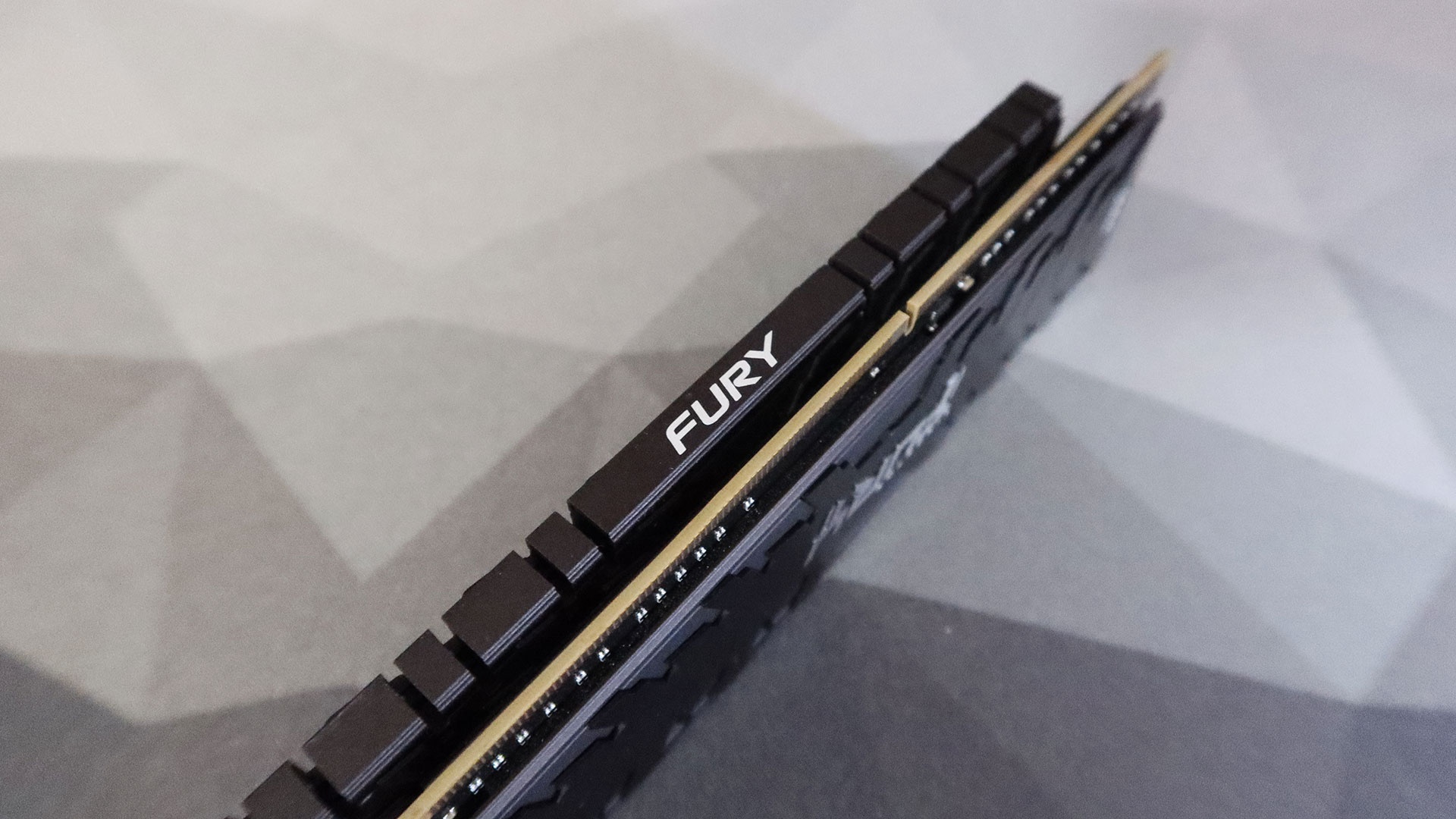 Specs and Performance
Our Kingston FURY Renegade DDR4 RAM kit (KF442C19RBK2/16) includes two 8GB sticks and is rated to run up to DDR4-4266 with timings of 19-26-26 at 1.4V. It also has a second XMP profile set to DDR4-4000 and CL19-21-21 at 1.35V. Here are the details of our test rig:
CPU: AMD Ryzen 7 3700X
Motherboard: ASUS ROG ROG Strix X570-E Gaming
GPU: GALAX GeForce RTX 2060 EX WHITE
CPU Cooler: Deepcool Gamer Storm Captain 240EX RGB
PSU: Seasonic Focus GX-750 750W 80+ Gold
SSD: Adata XPG SX8200 Pro 500GB PCIe Gen3x4 M.2 NVMe SSD
Unfortunately, our Ryzen 3700X CPU and ASUS ROG Strix X570-E Gaming motherboard combination is only capable of an FCLK (Infinity Fabric Clock Speed) of 1800MHz.This means that running the FURY Renegade DDR4 at speeds above 3600MHz will lead to decoupled speeds and increased latency.
For this reason, we decided to not attempt to overclock the kit further. Instead, we tested the FURY Renegade DDR4 using both XMP profiles as well as at 3600MHz CL18-20-20 at 1.35V to see its performance when the FCLK and RAM clock speed are matched. We used AIDA64's memory benchmark as well as 3DMark's Time Spy CPU-only benchmark for our tests.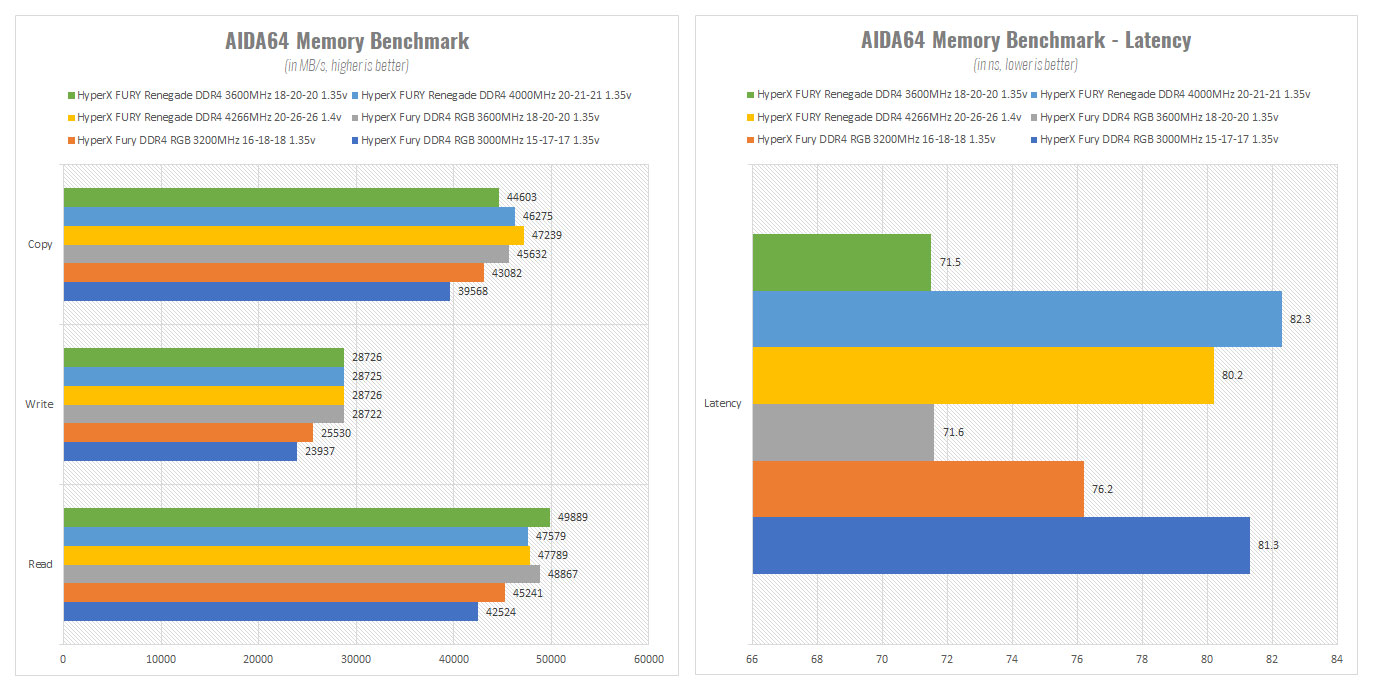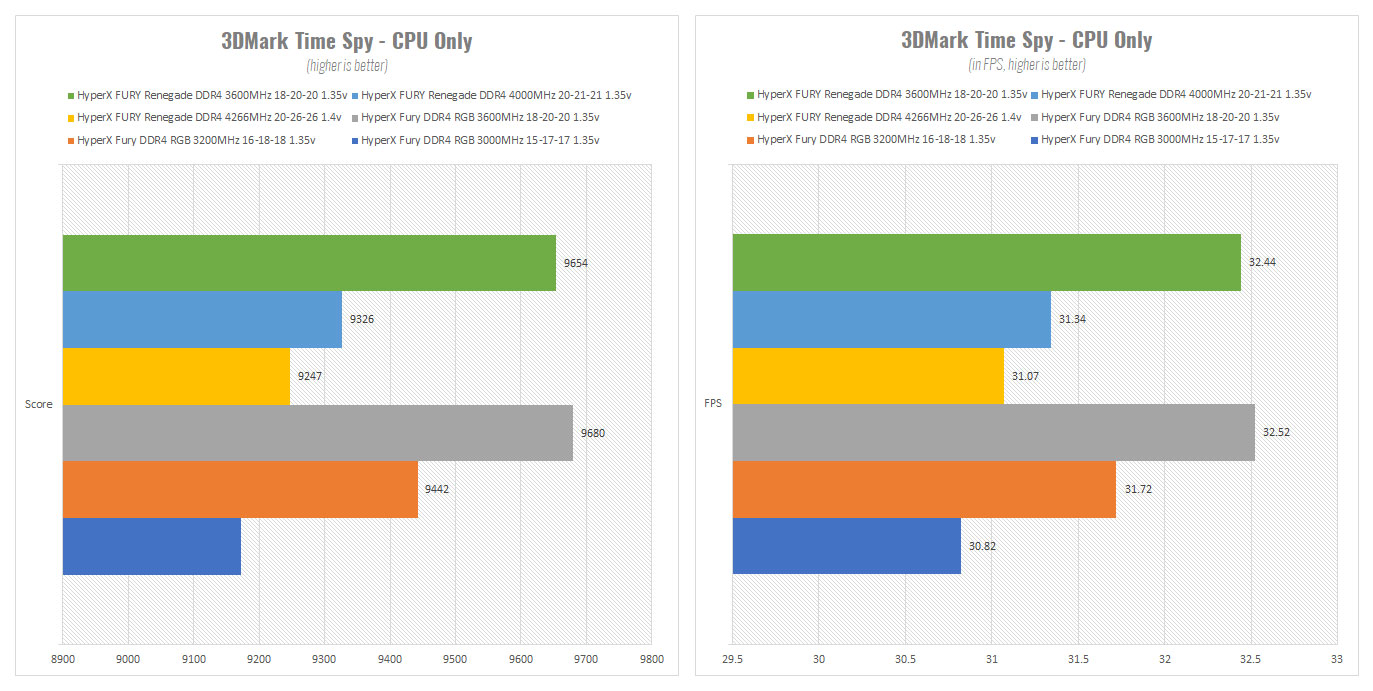 The results of our tests were pretty surprising and telling. We ended up with very mixed results when we compared the Kingston FURY Renegade DDR4 with our older HyperX FURY DDR4 kit. The results show the FURY Renegade DDR4 performing better than the supposedly older and slower kit in only a few tests when its XMP profiles were used.
The newer kit also performed consistently better when we downclocked it to match our maximum FCLK setting, showing how significant the effects of syncing the RAM speed for AMD-based systems are. It's also possible that it could perform even better if the timings were tightened further.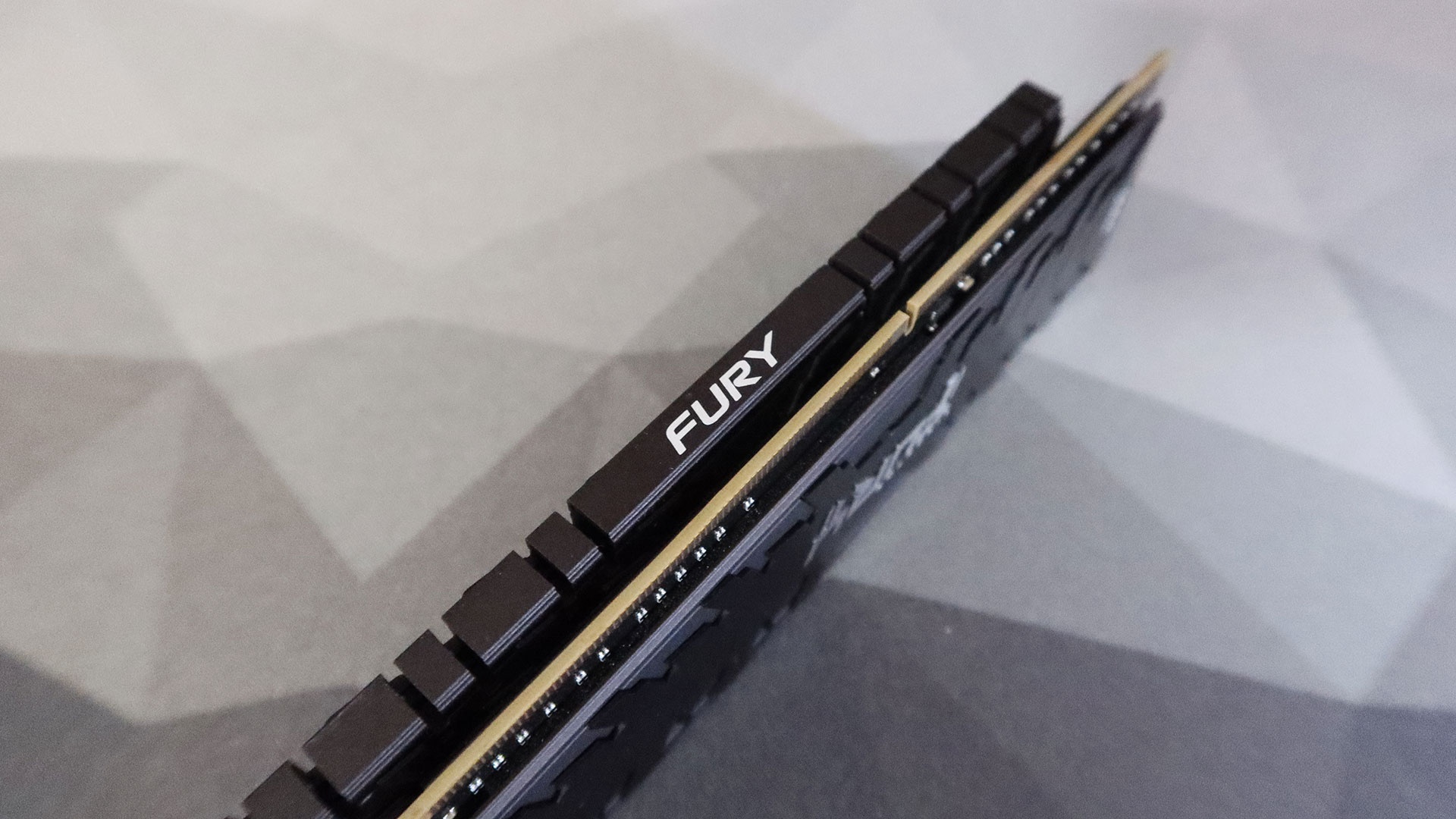 Conclusion
The Kingston FURY Renegade DDR4-4266 is undoubtedly a capable kit of RAM, especially if your system is capable of achieving higher FCLK speeds to be able to set its frequency higher while keeping them synced. However, to make the most of its rated 4,600MHz frequency, you'll need to match it with a CPU and motherboard that is capable of supporting those speeds fully. So if you have a top of the line system, then the Kingston FURY Renegade DDR4-4266 is definitely a decent choice if you want high-performance RAM while also skipping on the RGB lighting. As for those on a tighter budget, Kingston also offers more affordable kits that are easier to maximize, such as the Kingston FURY Beast DDR4 lineup.