Blizzard has announced that World of Warcraft: Shadowlands will finally launch on November 24, 2020 (GMT+8). The latest major expansion of the long-running MMORPG was initially set for release last October but was eventually delayed to allow the developers to further polish the title based on feedback from the game's beta test. Alongside the launch date announcement, Blizzard also released a map showing what date/time the expansion will go live in each part of the world (e.g. It will go live at 7AM in the Philippines).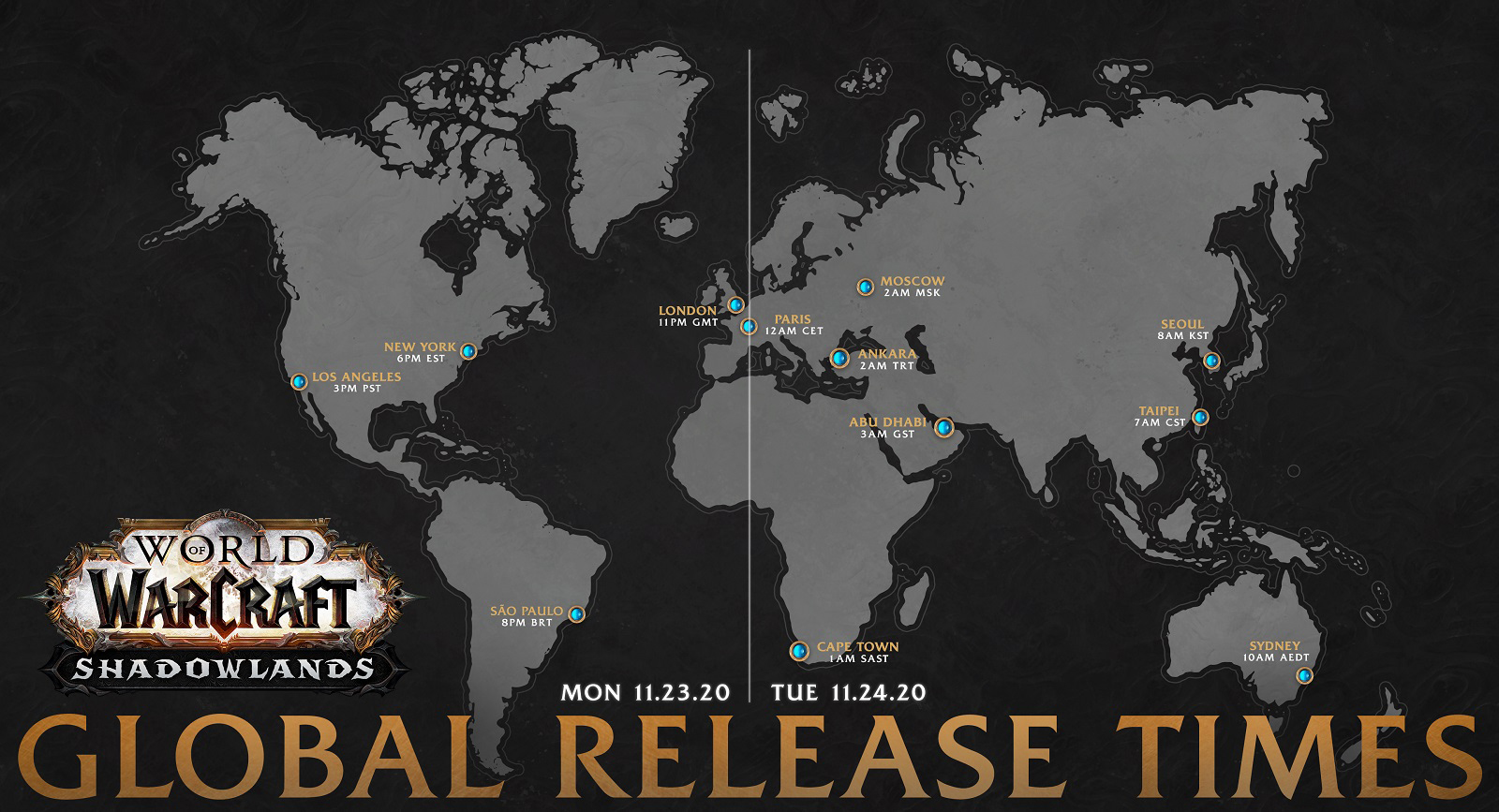 In a statement on the World of Warcraft forums, executive producer John Hight said:
"Since we first told you about our decision to delay, we've used the time to further polish the expansion and shore up the endgame, including overhauling the combat and rewards in the Maw, and reworking the Covenant systems to make your choice more immediately impactful and have clearer long-term goals. Now the team is in a great position to get things the rest of the way to the finish line before November 23—and as always, we're committed to working with you to improve the game for as long as you're out there playing it."
As the release date of Shadowlands draws near, several in-game events have been announced to give players something to look forward to before and after the expansion's release:
The Scourge Invade Azeroth November 11 – With the Helm of Domination torn apart and the sky over Icecrown shattered, the undead Scourge make a resurgence—and Azeroth's heroes must confront this Death-born threat before it consumes the mortal world of Azeroth. This Shadowlands preexpansion event goes live starting November 11.
The Gates of Castle Nathria Open December 9 – Castle Nathria, the first epic 10-boss raid of Shadowlands, will be available starting December 8. The opening of the raid also signals the start of Shadowlands Raid, Mythic Dungeon, and PvP Season 1.
World of Warcraft: Shadowlands is scheduled for release on November 24, 2020.