ViewSonic has launched its Christmas Blowout 2021 promotion, which will not only give those who buy select monitors a chance to win amazing prizes but also reward them with e-gift certificates with their purchase.
During the promotion, which runs from November 22 to December 31, 2021, every purchase of a qualified ViewSonic monitors will earn the buyer one (1) raffle entry. The buyer will then have to follow a series of step to validate and submit their purchase to both be included in the raffle and receive their e-gift certificate.
The prizes that buyers can win in the raffle include:
1 x Nintendo Switch OLED
1 x ViewSonic TD1655 Portable Touch Monitor
1 x M1 mini Plus LED Projector
5 x ViewSonic Loot bags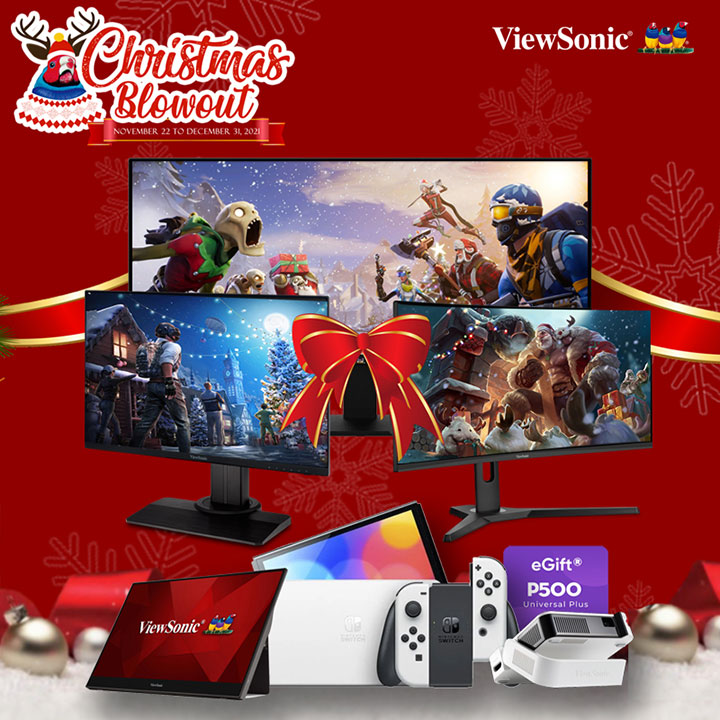 Here are the mechanics of the ViewSonic Christmas Blowout 2021:
Purchase a qualified ViewSonic monitor (see list of qualified monitor in table below) and you are entitled for 1 raffle entry.
Share ViewSonic's pinned post to your timeline with the hashtag #ViewSonicChristmasBlowout. Make sure you set the post to public.
Fill up the Google Form (https://bit.ly/VSChristmasBlowout2021) with the necessary details (Name, Contact Number, Email Address, Proof of Purchase) together with the screenshot of your post.
All validated purchase will be automatically included in the raffle, and the e-Gift Certificate will be automatically sent to your provided email address and contact number.
Validation and sending of e-Gift codes may take 7-14days. You may reach out to facebook.com/ViewSonicPH for any concern.
Here is the list of qualified ViewSonic monitors for the promotion along with the respective e-gift certificate that will be rewarded for each purchase:
Model
E-Gift Certficate Denomination

All VP/ColorPro models
VX3418-2KPC
VA3456-MHDJ
VA2932-MHD
XG270QC
VX3219-PC-MHD
VX2719-PC-MHD
VX2468-PC-MHD
VX2718-2KPC-MHD
VX2418-P-MHD
VX2705-2KP-MHD
XG2405XG2705-2K
XG2705XG2431
VX2705-2KP-MHD
VX3276-2K-MHD
VX2480-2K
VX2785-2K-MHDU

PHP 500

VA2256-H
VA2223-H
VA2215-H
VA2418-SH
VA2432-H
VA2418-SH-2
VA2415-H
VA2408-H
VA2718-SH-2
VA2732-H
VA2732-MH
VA2406-MH
VA2456-MIKU
VG2440V
TD1655
TD2455

PHP 300
More information on how to use the e-Gift certificate can be found here (https://giftaway.ph/howitworks). As for where they can be used, you can check below:
Lastly, here are the terms and conditions for the ViewSonic Christmas Blowout 2021 promotion:
Promotion is open to all residents of the Philippines.
Only purchases made through any authorized dealers and their respective E-Commerce stores, official ViewSonic Lazada and Shopee are qualified for the promotion.
Maximum of 5 entries per end-user/company.
No shared post/screenshot, no e-Gift Certificate.
eGift code will be sent to the provided email address and contact number.
Raffle winners will be announced on January 7, 2022 on ViewSonic Philippines Facebook Page.
Winners will be notified thru their provided email address.
Participants can only win once.
Names drawn will be subject to initial verification by ViewSonic Philippines and will be announced after.
ViewSonic Philippines reserves the right to suspend the release of items or void any entry should misrepresentation or fraud be proven.
ViewSonic Philippines reserves the right to take legal action if found any illegal/fraudulent claims.
Prizes unclaimed sixty (60) days after notification will be forfeited.
Prizes are not transferable and cannot be converted to cash.
ViewSonic Philippines reserves the right to disclose and publish names, photos, and other information of the winners in any mode or manner, as they deem appropriate.