ESGS 2019 starts tomorrow and many of the conventions tech exhibitors, such as ASUS ROG and HyperX, have begun announcing the promos and deals they'll be hosting through the event, which give attendees an opportunity to purchase the companies' products at either a more affordable price or at a better value with bundled items. We've listed down some of the brands that have announced tech deals and promos at ESGS this year.
ASUS ROG
ASUS ROG is back with a slew of great deals this year for some of their gaming laptops, monitors, peripherals, and components. ESGS 2019 attendees can get up to PHP 25,000 on gaming laptops, PHP 13,500 worth of bundled freebies, and even up to 68% off on select monitors, peripherals, and components on different days of the event. More information can be found on the ASUS ROG Facebook page.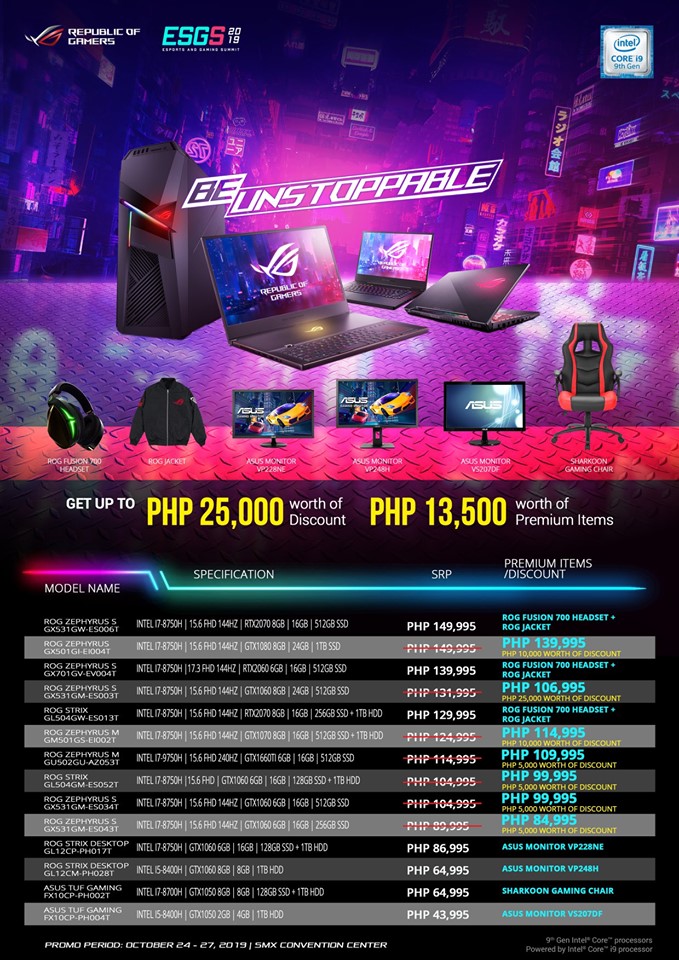 Be at the top and join us at ESGS 2019! We're giving up to 68% off of our most popular and highly-sought gaming products. Check our list for the full details! #ROGxESGS2019 #BeUnstoppable

Posted by ASUS Republic of Gamers on Tuesday, October 22, 2019
HyperX
HyperX is back with their 50% off deals this year. The company will be selling their Cloud X and Cloud for PS4 gaming headsets as well as their Alloy FPS RGB gaming keyboard at 50% off each day of ESGS 2019. Stocks will be limited though and each person can only purchase one piece per item to let everyone have a chance at snagging this great deal. HyperX will also be launching several of their latest products in the Philippines at their booth at ESGS 2019.
Zowie
Zowie is offering several of their products on sale at ESGS 2019 including some of their gaming monitors, gaming mice, and accessories. Some of the products that will be put on sale include the Zowie XL2740, XL2456, XL2436, RL2755, and XL2411P gaming monitors; the Zowie EC1-A, FK1, ZA12, EC1-B, and EC1-B CS:GO Edition gaming mice; the Camade mouse bungee; and the BenQ EL287OU and EW2370U monitors.
Glow up your game station for Electronic Sports and Gaming Summit – ESGS 2019. Get your hype on and arm yourself with…

Posted by EASY PC on Tuesday, October 22, 2019
Corsair and Elgato
Corsair will also be putting several of their and Elgato's products on sale at their booth at ESGS 2019. While they haven't announced any specific details on which of their products will be put on sale, they have said that the discounts can go up to 50% off depending on the product. It'll definitely be worth swinging by their booth to check out which products are on sale for the duration of ESGS 2019.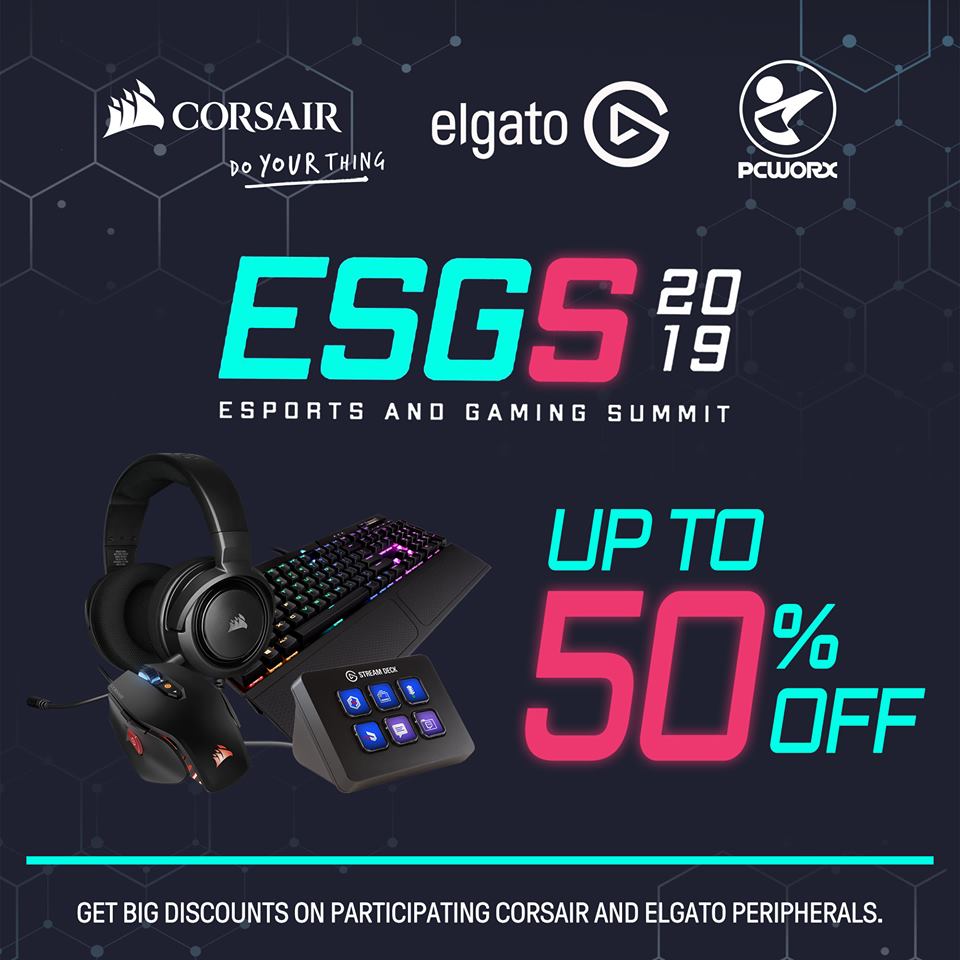 Legion by Lenovo
Legion by Lenovo will also be selling quite a large number of their laptops at ESGS 2019 at discounted prices. From the high-end Legion Y740 to the more affordable IdeaPad 330, there's definitely going to be a good deal for someone among Lenovo's lineup.
Acer Predator
Lastly, Acer Predator has teased that it will be putting some of their products on sale for up to 50% during ESGS 2019. They've yet to announced the details of their promotions so attendees should definitely watch their Facebook page and visit their booth at the event to find out what deals the company has to offer during the convention.
Take a peek on what's in store for the upcoming #ESGS2019!

Posted by Predator Gaming on Wednesday, October 16, 2019
ESGS 2019 will happen from October 25-27, 2019, at the SMX Convention Center at the Mall of Asia Complex in Pasay City, Philippines. Check out the event's Facebook page for more info.