The PUBG Mobile Pro League (PMPL) is coming back in 2022 and is adding the Philippines to the participating countries. The tournament, which is hosted by PUBG Mobile, will now feature 20 PUBG Mobile teams from across Malaysia, Singapore, and the Philippines competing for a prize pool of USD 150,000.
The PMPL will feature 16 invited teams, 2 teams from the Malaysia qualifier, 1 from the Singapore qualifier, and 1 from the Philippines qualifier. The tournament by will be held across four weeks, running from March 23 to April 17, 2022.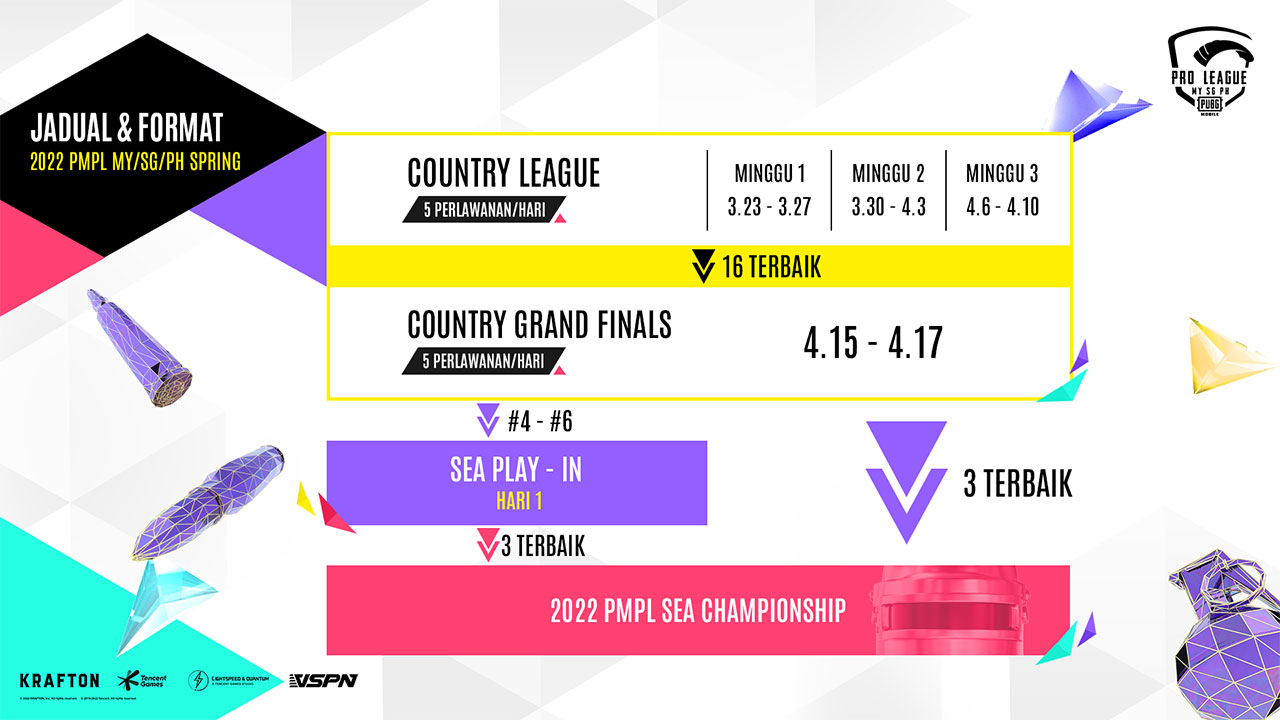 Here's the format of the tournament according to organizer VSPN:
"All 20 PUBG Mobile professional teams will compete in a 3-week long Country League tournament format, with some changes for this split. Teams will be competing for 5 days each week, from Wednesday to Sunday. Points accumulated within the 5 days, will result in an overall weekly ranking. At the end of every week, each team will get 'Weekly Bonus Points' based on their rank that week. After 3 weeks, teams will be ranked according to their placement and elimination points, and awarded 'League Bonus Points.'

The 16 teams with highest total Weekly Bonus Points and League Bonus Points combined will advance to the 2022 PMPL MY/SG/PH Spring Country Grand Finals, where their total Bonus Points will then be brought forward into the Country Grand Finals. The top 3 teams of the Country Grand Finals will directly qualify for the 2022 PMPL Southeast Asia (SEA) Championship. Teams ranked 4 to 6 in overall ranking points will qualify to the 2022 PMPL SEA Championship Play-in, where they will compete for the last 3 slots of the 2022 PMPL SEA Championship."
Here is the full team lineup of 2022 PMPL MY/SG/PH Spring:
16 Professional Invitational Teams:
Geek Fam
Team Secret
Yoodo Alliance-4Rivals
Team SMG
SEM9
R2K
Team HAQ
MAB Esports
RSG
Genexus
EVOS Vip
Farang Lejund
Dingoz Esports
Tabah NSEA
Axis RedOne
HomeBois
4 Promoted Teams from 2022 PMPL Country Qualifiers:
Clutch Guerilla (MY Qualifier)
Team Bosskurr (MY Qualifier)
ALMIGHTY (SG Qualifier)
KHI Esports (PH Qualifier)
More information on the 2022 PMPL MY/SG/PH Spring can be found on the official PUBG Mobile Philippines Facebook page.