PayMaya has launched a new program under its PayMaya Negosyo app called the "Bizkarte Program" which provides MSMEs (micro, small, and medium-sized enterprises) with the proper tools, resources, and assistance to build their businesses and thrive in the current landscape of digital commerce.
PayMaya QR Ecosystems Head Raymund Villanueva said in a press stamenet:
"Filipinos are innately ma-diskarte and we've seen this enterprising spirit rise above the challenges we've all faced in the past months due to COVID-19. On top of this, our entrepreneurs are already tech-savvy and familiar with digital platforms. Now that they've established their homegrown businesses, PayMaya Negosyo's 'Bizkarte' program will help them accelerate their business in this new economy. We hope that through this program can help turn casual online sellers into full-fledged negosyantes who can rely on their home-based businesses for income even after the crisis over."
Businesses that sign up for the Bizkarte program will gain access to the Bizkarte Negosyante Kit, which contains social media templates and how-to guides to help promote cashless payments that they can share through their social media pages, email, or chat apps. They'll also get the opportunity to promote their products and services on PayMaya-owned channels such as the PayMaya app, website, and social media accounts. PayMaya also plans to help Bizkarte members by giving them access to free webinars featuring key industry leaders.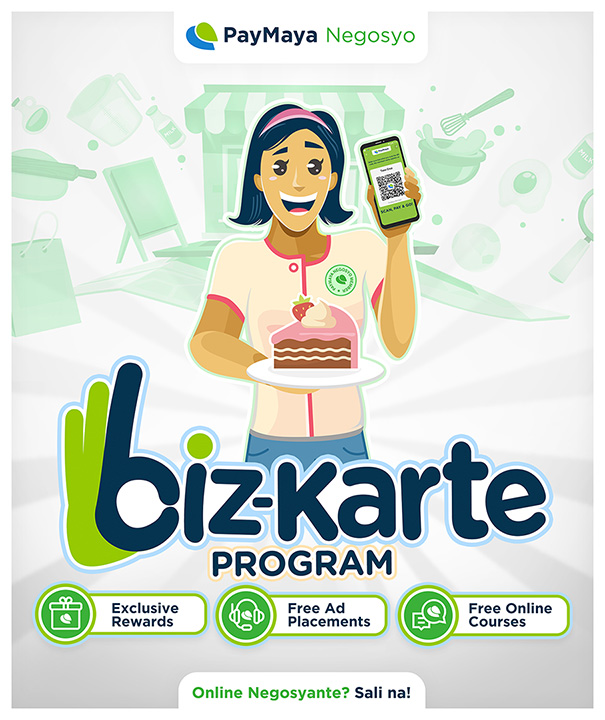 As for their customers who pay using PayMaya , they'll be able to avail of exclusive perks of up to 100% Balik Bayad when they use PayMaya QR. Their customers will also be able to make payments online and offline via bank transfer through InstaPay or through the app's Send Money function.
Apart from the Bizkarte Program, PayMaya Negosyo also offers entrepreneurs more ways to earn revenue by selling mobile prepaid load and other digital goods available in the app. PayMaya also plans to eventually allow PayMaya Negosyo app users to accept bill payments and remittances (with proper documentary requirements) through the app.
Those interested in signing up for the Bizkarte Program, entrepreneurs and MSMEs only need to download and register for an account through the PayMaya Negosyo app (download here: http://pymy.co/PayMayaNegosyo) and then sign up for the Bizkarte program through the official Bizkarte website.