PayMaya has launched a new donation platform as part of its #OneAgainstCOVID19 campaign. The platform allows anyone to donate to various partner organizations to "help raise funds for frontliners and the most vulnerable communities affected by the pandemic."
"In this time of great and urgent need, coming together in the traditional spirit of bayanihan becomes ever more important so that no one gets left behind. This #OneAgainstCOVID19 harnesses the power of collaboration and digital payments as we fight this global pandemic," said PayMaya Founder and CEO Orlando B. Vea.
Visiting the #OneAgainstCOVID19 page on the PayMaya website (http://donate.paymaya.com) or going to the Pay Bills section of the PayMaya app, Filipinos can choose from a variety of charitable organizations including:
Philippine Red Cross
UNICEF
Caritas Manila
Oxfam Philippines
Philippine Business for Social Progress
Philippine Disaster Resilience Foundation
#NoWhereToGoButUp Foundation
Alagang Kapatid Foundation
PLDT Smart Foundation
Kaya Natin!
Anyone from around the world can go to the #OneAgainstCOVID19 website and donate using their credit, debit, or prepaid card. Online donation acceptance using a Philippine mobile number with a PayMaya account through Pay with PayMaya is also available. For PayMaya account holders, donating via the Pay Bills section of the PayMaya app or by scanning a partner's PayMaya QR online is the fastest way to support #OneAgainstCOVID19 causes.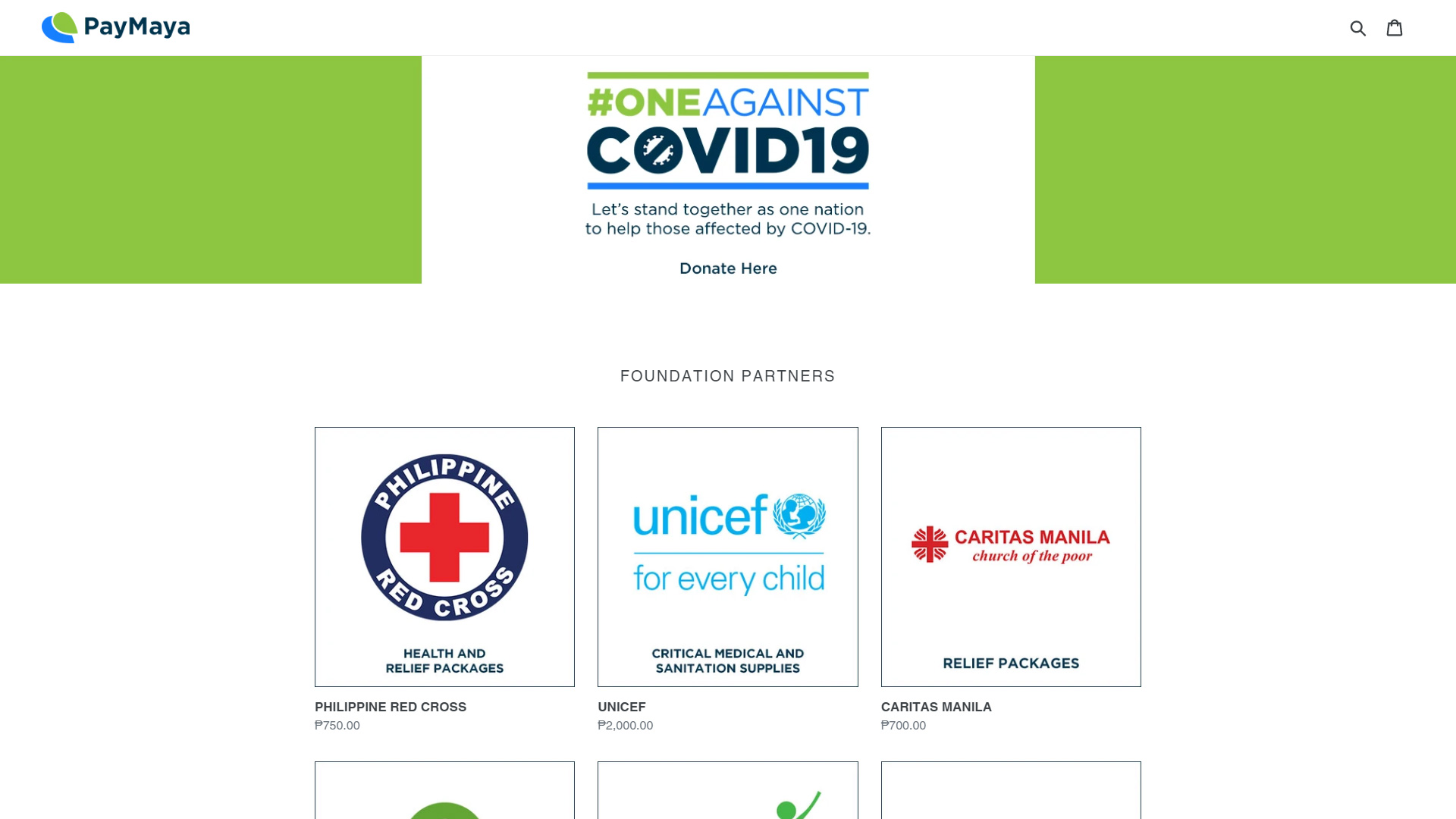 To donate via the #OneAgainstCOVID19 web page, simply follow these steps:
Choose the specific organization or cause that you want to donate to
Choose the donation amount or package of your choice, then click 'Add to Cart'
Review your cart or donate to other organizations as well, then click 'Check Out'
Fill in the needed information, then click 'Continue to Payment'. Review the details you entered, then click 'Complete Order' to be redirected to the secure payment page
Enter your card or PayMaya details in the fields provided, then click 'Pay Now'
You will receive a confirmation of your donation via email or SMS, depending on the payment method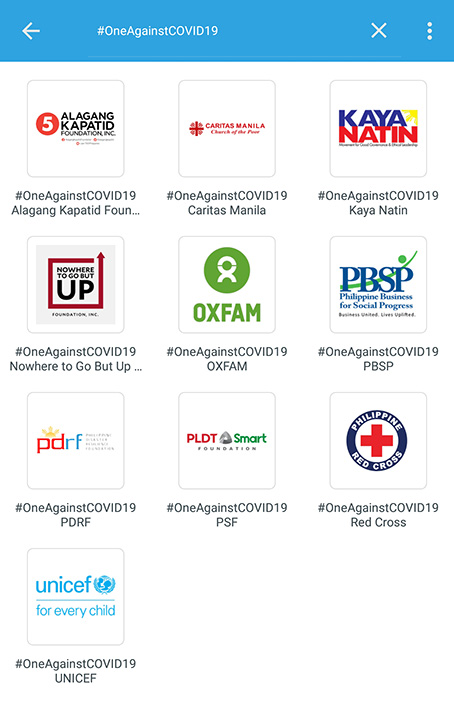 To donate using the PayMaya app, follow these steps:
Log in to your PayMaya account
Click the 'Pay Bills' button
Choose from among the organizations with the hashtag #OneAgainstCOVID19 you want to donate to
In the Account Number field, enter '00000'
In the Amount field, enter the amount you want to donate
Once done, click continue. Review the information you have entered, then click 'Pay'
You will receive an SMS in your mobile phone regarding the donation
Donations collected via these #OneAgainstCOVID19 channels will be received by PayMaya and remitted to their respective recipient organizations.