NVIDIA has partnered with PC Express and PC Worx to offer consumers several pre-built PCs powered by NVIDIA GeForce GPUs. NVIDIA has worked with the two retailers to create a number of pre-built PCs for customers to choose from, depending on their performance needs and budget.
"Gamers and content creators are hungry for systems that are capable of delivering uncompromised experience for AAA games and creative applications, all of which demand significant GPU performance," said Simon Tan, Consumer Business Lead, APAC South, NVIDIA. "GeForce RTX PCs and GeForce Esports PCs can enable consumers in the Philippines to experience the most realistic ray-traced graphics, cutting-edge new features, and the power of AI."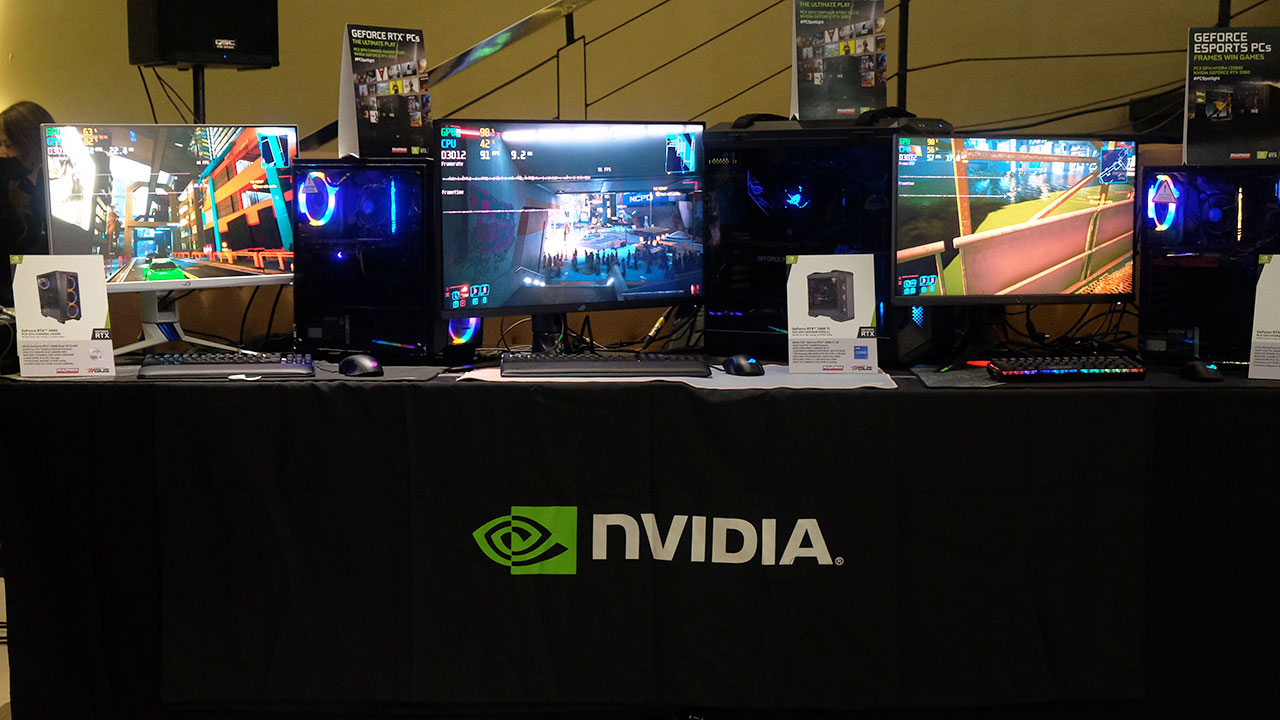 PC Express has come up with three pre-built PCs, the PCX GFH Hydra, the PCX GFH Chimera Raider, and the PCX GFH Centaur Strix (LC) II. The Hydra is equipped with an NVIDIA GeForce RTX 2060 GPU while the Chimera Raider and Centaur Strix come with RTX 3060 and RTX 3080 GPUs, respectively.
Jesse Tan, VP for Sales & Marketing PC Express, said, "The GeForce RTX PCs we have assembled in collaboration with NVIDIA are suitable for the demands in the Philippines with accelerated digital transformation in many industries driven by the global health crisis. GeForce RTX PCs deliver the best-in-class computing and graphics for creators and gamers."
On the other hand, PC Worx has announced four pre-build PC configurations ranging from Good to Best. The two PCs in the Good category come with either an NVIDIA GeForce RTX 3050 or RTX 3060 GPU. As for the Better and Best categories, they're equipped with a GeForce RTX 3070 Ti and RTX 3080 GP, respectively.
Angelika Cruz, Marketing Manager of PC Worx, said, "Through this collaboration with NVIDIA, gamers and digital content creators only have to give a simple explanation of the specification they want when looking to buy or assemble their own PCs, after which they will be provided with a custom-built PC tailored to their needs. We will help our users to get the best experience and flexibility with their PCs when it comes to creating videos, 3D graphics, and animation to expand and upgrade capacities in response to future demands."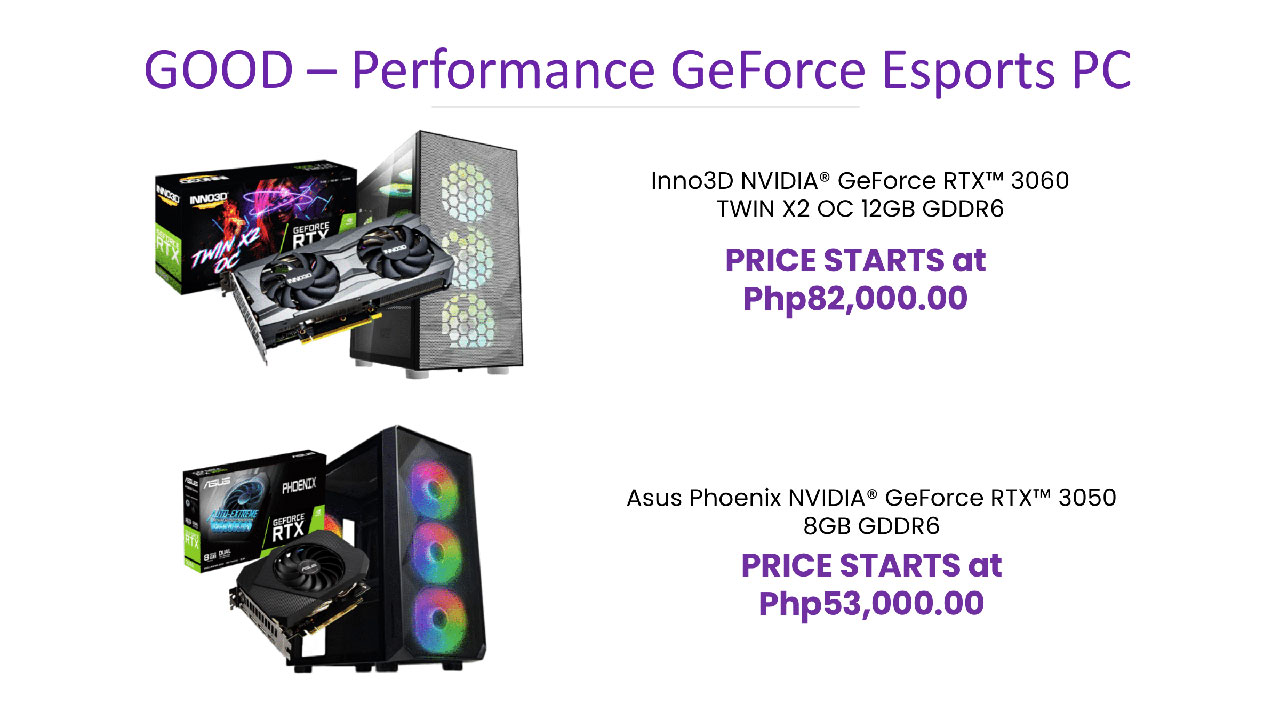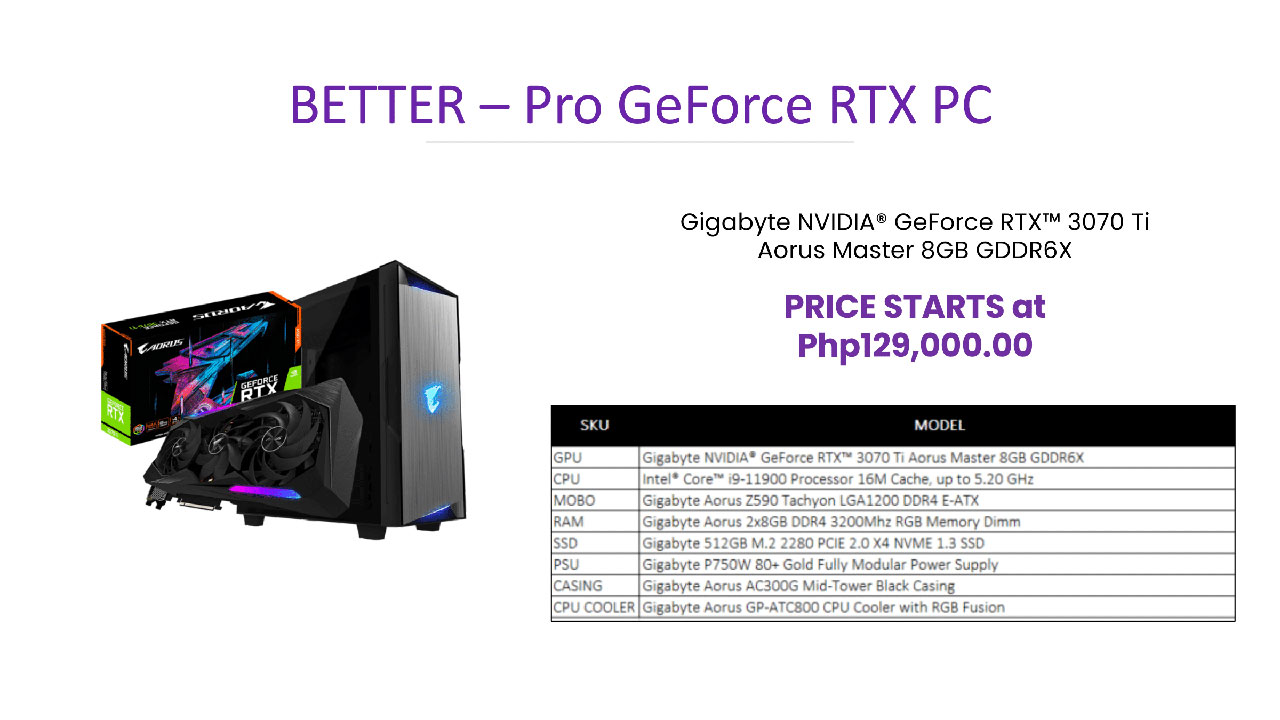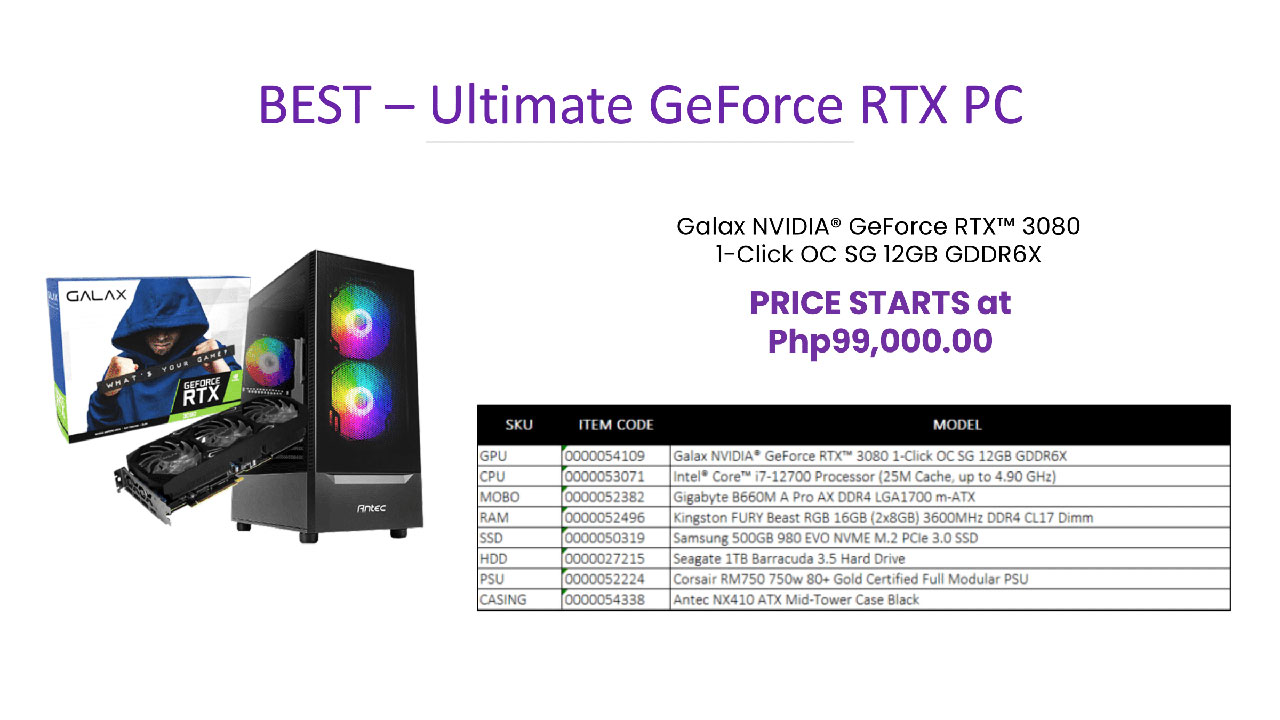 The new NVIDIA GeForce RTX and Esports PCs are available through the NVIDIA GeForce Store on Lazada and Shopee as well as all retail branches of PC Express and PC Worx nationwide.