MSI has officially launched its Back to School promotion which puts several of the company's laptops on sale or bundles them with a slew of freebies, depending on the laptop model. The company has also announced a new raffle that will give those who purchase an MSI laptop during the promotion the opportunity to fly to Seattle to witness the The International 2017.
Headlining the MSI Back to School promotion is its latest Camo Squad edition gaming laptops, inspired by Ghost Recon Wildlands. Purchasing any of the two Camo Squad laptops, the GE62-76E Apache Pro Camo Squad Limited Edition or the GE62VR-7RF Camo Squad, entitles the buyer to receive a Camo Squad backpack, a mouse pad, a water bottle, dogtags, and a digital copy of Ghost Recon Wildlands and its Season Pass. Other laptops included in the promotion can come bundled with laptop backpacks, bags, or sleeves as well as SteelSeries products.
The full list of laptops that are included in the promotion as well as their prices and freebies can be found on the MSI Philippines Facebook page here.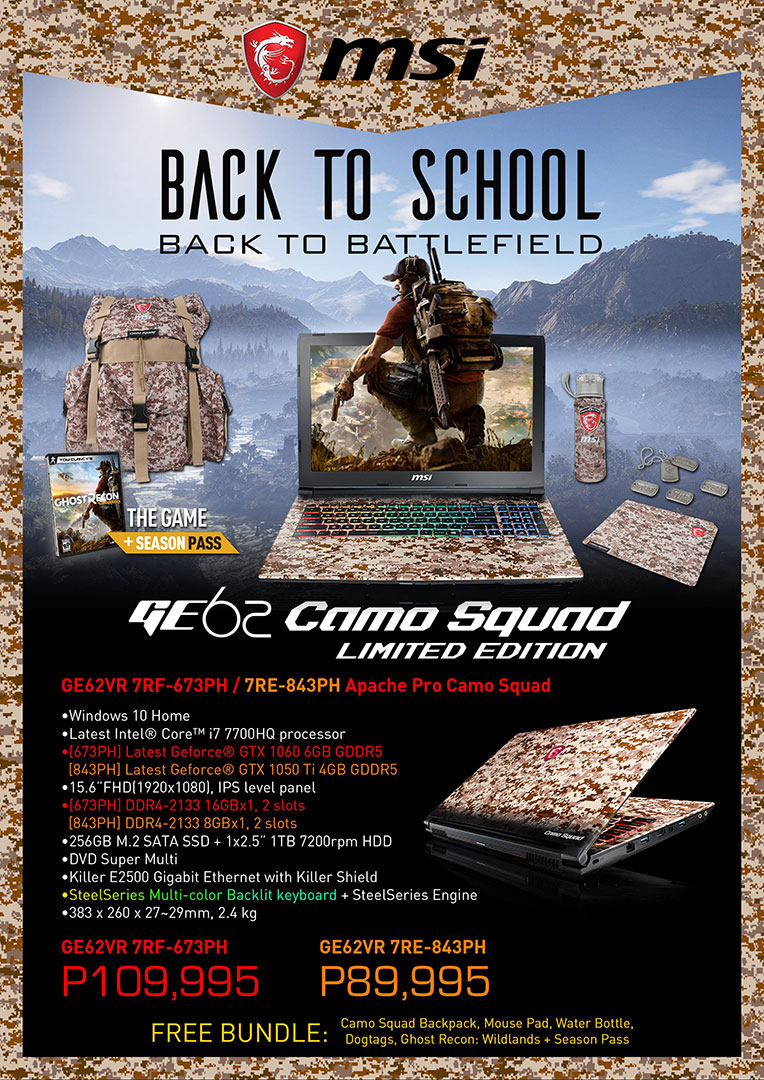 As for the MSI Back to School The International Raffle Draw, while the Grand Prize winner of the raffle gets to go to Seattle to watch TI7, there will also be consolation prizes including an MSI laptop, gaming peripherals, Dota 2 in-game items, and Steam Wallet codes. More details on the raffle can be found below or at the MSI Philippines website here.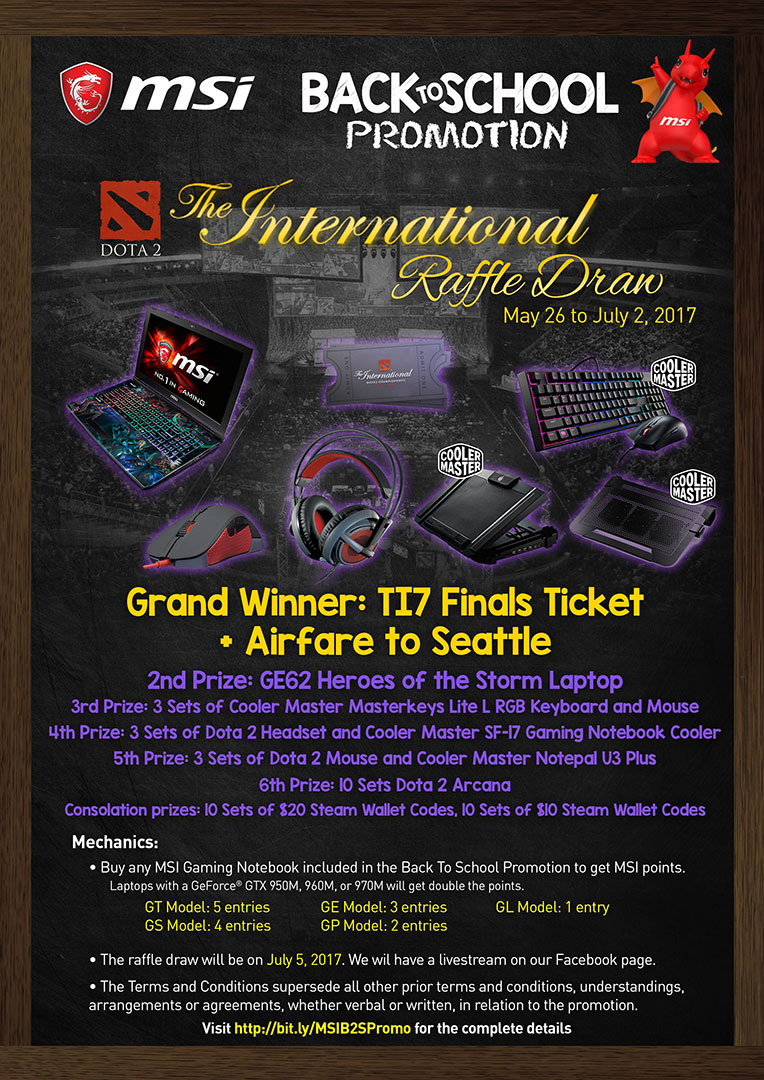 Terms and Conditions for the Back To School TI7 Raffle:

1. By entering the Raffle, you agree to be bound by these Terms and Conditions. Any raffle entry and participation instructions form part of these Terms and Conditions. Any entries not complying with these Terms and Conditions will not be valid.
2. The promo period is from May 26, 2017 until July 2, 2017.
3. Buy any MSI Gaming Notebook from our authorized stores in the Philippines that are included in the Back To School Promotion to get raffle entries. Here are the denominations:
a. GT Model – 5 entries
b. GS Model – 4 entries
c. GE Model – 3 entries
d. GP Model – 2 entries
e. GL Model – 1 entry
3a. Laptops with a GeForce ® GTX 950M, 960M, or 970M will get double the entries.
The more entries you have, the more chances you get to win.

4. The prizes are the ff.:
Grand Winner – TI7 Finals Ticket + Round Trip Airfare Ticket Going to Seattle
2nd Prize – GE62 HotS Laptop
3rd Prize – 3 Sets of Cooler Master MasterKeys Lite RGB Keyboard and Mouse
4th prize – 3 Sets of Dota 2 Headset and Cooler Master SF-17 Gaming Notebook Cooler
5th Prize – 3 Sets of Dota 2 Mouse and Cooler Master Notepal U3 Plus
6th Prize – 10 Dota 2 Arcana
Consolation Prize – Steam Wallet (USD 20 x 10, USD 10 x 10)
5. An individual may win a maximum of one prize only.
6. The winner of the TI7 Finals Ticket + Airfare Ticket must be at least 18 years of age at the time of entry. Verification of your age will be required when you claim your prizes.
7. Upon purchase, go to http://bit.ly/TI7RaffleRegistration and submit your entry.

7a. Winners will be chosen through electronic raffle based on the completed form of the purchaser.
8. Raffle Draw will be on July 5, 2017 on the MSI Gaming Facebook page.
9. The winners will be notified by the MSI Philippines Notebook team through telephone or e-mail.
10. The winners may be required to take part in publicity related to the Promotion including having his or her photograph taken and his or her name, nationality and country of residence being disclosed.
11. To claim the prize, winners must present at least two (2) valid IDs, and proof of Qualifying Transaction.

12. Terms and Conditions for the air ticket package:

a. MSI Philippines will only be shouldering the round trip airplane ticket and TI7 Finals Ticket. Any other requirements for going to the US will be arranged by the winner, such as US Visa, etc.
b. MSI Philippines Notebook shall not be responsible for arranging travel insurance, medical insurance, any transport expenses other than the air ticket as specified above, any meal expenses, any expenses of a personal nature, any other travel related expenses or such other expenses which have not been specifically included in the terms and conditions of the prizes.
c. MSI Philippines Notebook shall not be responsible for the inability of any winner to utilize the prize, for any reason whatsoever.
d. MSI Philippines Notebook shall not be responsible for claims of any nature whatsoever for any loss, illness, bodily injury including death of any winner and/or its companion during and/or in course of the package.
13. The prizes are not exchangeable or transferable and not convertible to cash.
14. MSI Philippines Notebook reserves the right to change the prizes to another prize, which has the same value, anytime within the promotion period.
15. If any winner is subsequently found illegible to participate in this Promotion, MSI Philippines Notebook may at its sole discretion forfeit or reclaim the prize and award or dispose of the same in such manner and to such person as it deems fit.
16. In case of any dispute, the final decision lies with MSI Philippines Notebook. They reserve the right to change/void the promo at any point of time without any prior notice.
17. MSI Philippines Notebook's decision in all matters to do with the promotion is final and no correspondence will be entered into.
18. These Terms and Conditions supersede all other prior terms and conditions, understandings, arrangements or agreements, whether verbal or written, in relation to the Promotion.

You can register to the raffle through this link: http://bit.ly/TI7RaffleRegistration