Logitech has launched a new raffle promotion in the Philippines that'll give Logitech customers a chance to take a home an iPad Air or Mini and/or Logitech gear. Here are the raffle details as listed by Logitech:
In today's digital age, consumers are constantly looking out for simple-to-use yet high quality devices
that they can use and rely on in their daily lives; whether at work or at play. Logitech, with their wide
range of computer peripherals, gives consumers this assurance of using innovative and reliable
products. Logitech's wireless mouse, for example, allows consumers to stay connected and unified with
up to six devices.

And to thank customers for their continued support, Logitech announced today "Be Wireless with
Logitech", a raffle promotion that is open to all Filipino residents, 18 years and above. For every
purchase of participating Logitech products, customers are entitled to a raffle coupon to win these
attractive prizes: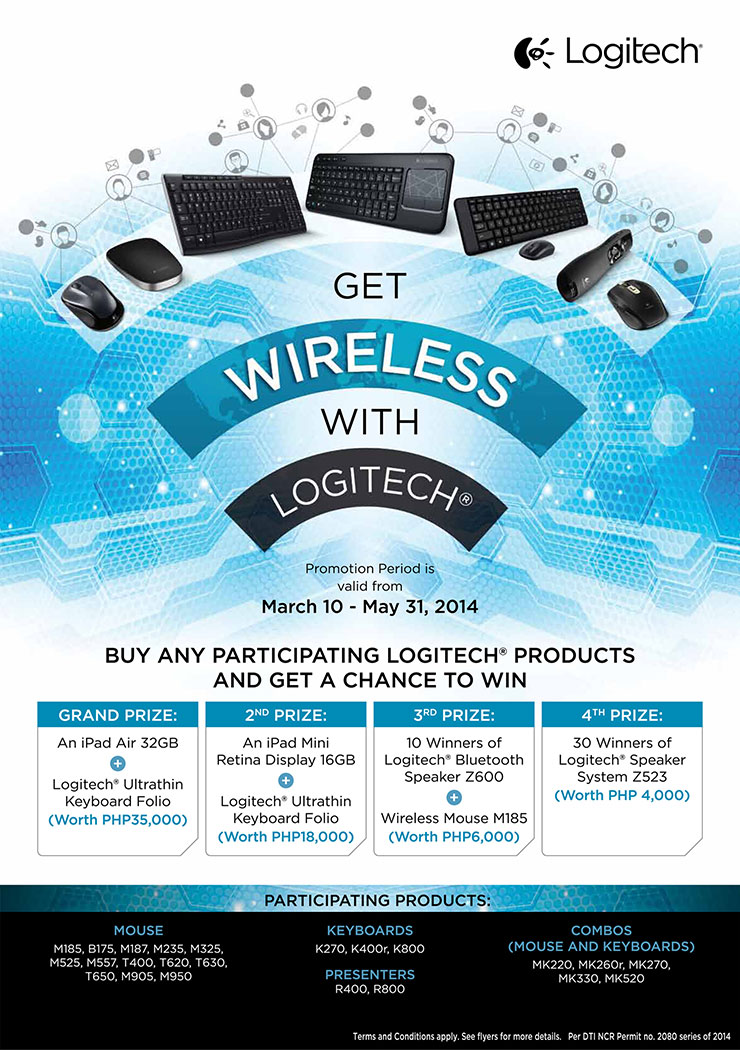 Grand Prize: Apple® iPad Air™ 32 GB + Logitech® Ultrathin Keyboard Folio (worth PhP 35,000.00)
Second Prize: iPad Mini Retina Display 16GB + Logitech® Ultrathin Keyboard Folio (worth PhP
18,000.00)
Third Prize: 10 winners of Logitech® Bluetooth Speaker Z600 + Wireless Mouse M185 (worth PhP
6,000.00)
Fourth Prize: 30 winners of Logitech® Speaker System Z523 (worth PhP 4,000.00)

The participating Logitech products are:

Logitech Wireless Mouse: M185, B175, M187, M235, M325, M525, M557, T400, T620, T630, T650, M905, M950
Logitech Wireless Keyboard: K270, K400r, K800
Logitech Wireless Keyboard Combo: MK220, MK260r, MK270, MK330, MK520
Logitech Wireless Presenter: R400, R800

"Be Wireless with Logitech" promotion is valid from 10 March – 31 May 2014 at the following participating stores in Metro Manila:

PC Worx
Info Worx
PC Express
Silicon Valley
Octagon
Complink
Thinking Tools

The last day of submission is at 10.00pm on 31 May, 2014. Winners will be picked on 18 June 2014
and will be notified via registered mail. Winning prizes cannot be converted into cash. Terms and
conditions apply.