Lenovo is expanding its line of multimedia-centric smartphones with the announcement of the launch of three new Vibe K5 series smartphones – the Vibe K5, the Vibe K5 Plus, and the Vibe K5 Note.
"We at Lenovo have always envisioned bringing the consumers' encounter with tomorrow's technology to a higher level and letting them experience it today. With the introduction of the new Lenovo Vibe K5 Plus and the Lenovo Vibe K5 Note, with the exception of the Lenovo Vibe K5, we are supersizing everyone's overall TheaterMax experience," said Dino Romano, Country Manager, Lenovo Smartphone, Philippines.
The first two smartphones in the new line, the Vibe K5 and Vibe K5 Plus, feature a 5-inch 720p HD and a 5-inch 1080p Full HD display, respectively. They both also feature 13-megapixel rear and 5-megapixel front-facing cameras. On the inside, they're equipped with 2GB and 3GB of RAM,  respectively, 16GB of internal storage with support for expandable storage up to 32GB, and a 2750mAh battery. Lastly, the Vibe K5 is powered by a Qualcomm Snapdragon 415 1.4GHz 64-bit octal core processor while the Vibe K5 Plus comes with a Qualcomm Snapdragon 616 1.5GHz 64-bit octal core processor.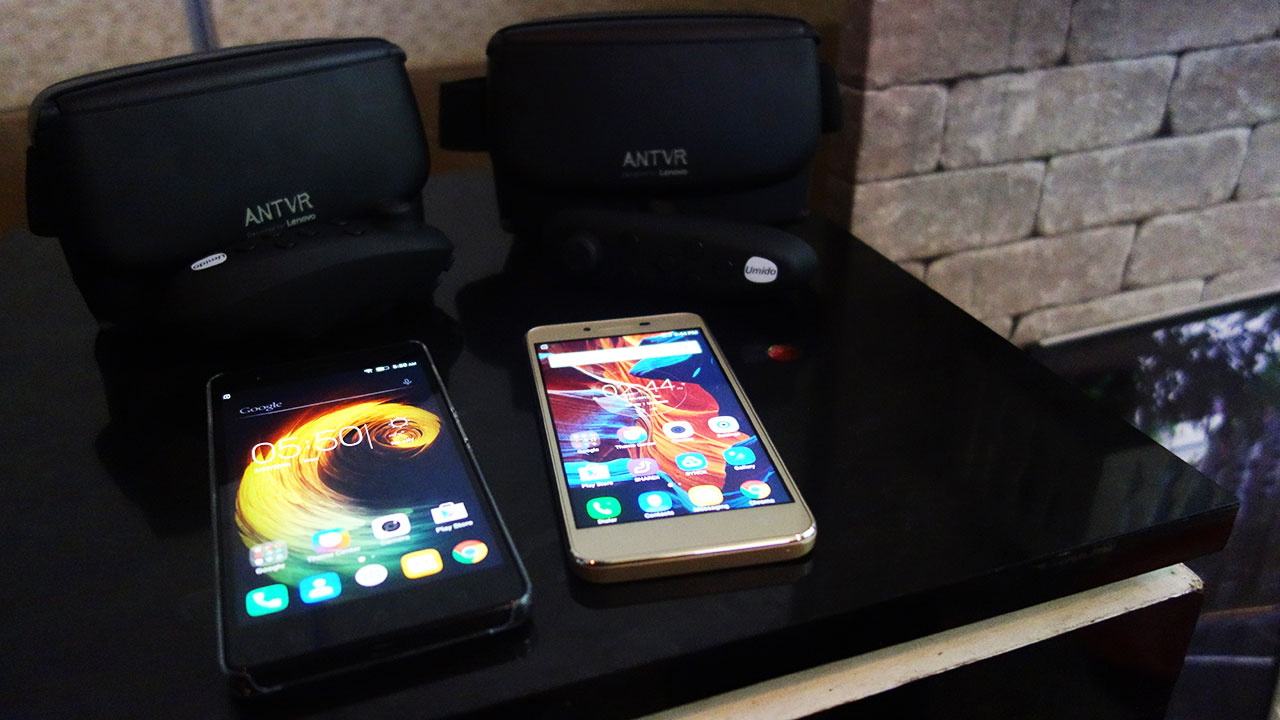 As for the flagship of the new series, the Vibe K5 Note, it features a larger 5.5-inch screen with a display resolution of 1920×1080 pixels. It also features a 13-megapixel rear camera and an 8-megapixel front-facing camera. The Vibe K5 Note is powered by a Hello P10 64-bit octa-core processor, 3GB of RAM, 32GB of built-in storage, expandable storage up to 128GB, and a 3500mAh battery.
As previously mentioned, the Vibe K5 Plus and the Vibe K5 Note come equipped with Lenovo's TheaterMax technology which works alongside the company's ANT VR goggles and new TheaterMax controller to give users an intuitive and seamless VR experience. Both phones are also powered by dual rear speakers with Dolby Atmos technology.
All of the smartphones in the new Vibe K5 series feature full aluminum bodies that come in a variety of color options. The Vibe K5 and Vibe K5 Plus are available in Platinum Silver, Champagne Gold, and Graphite Grey while the Vibe K5 Note can come in either Platinum Silver or Champagne Gold.
The Vibe K5 Note and Vibe K5 Plus will come bundled with the ANT VR goggles, the TheaterMax controller, a clear case, and a screen protector and will be priced at Php 11, 999 and Php8,999, respectively, while the Vibe K5 will come bundled with a free screen protector and will be priced at Php6,999. The new Vibe K5 series is now available at all authorized Lenovo dealers nationwide.
(Featured image courtesy of Lenovo Philippines)