Code Vein, the latest action RPG from Bandai Namco, is officially coming out on the PlayStation 4, Xbox One, and Steam on September 28, 2018, according to an announcement from the company. Bandai Namco also unveiled the game's Collector's Edition as well as the bonuses for those who pre-order the game.
The Code Vein Collector's Edition will include the base game for the PS4 or Xbox One (there will be no Collector's Edition for the PC version) as well as a limited 7-inch Mia Karnstein figure, one of the main characters from the new game. The Collector's Edition will also include digital content such as a copy of the original soundtrack, a digital artbook, and an in-game customization set called the "Insatiable Bloodthirst," which will be usable by all the characters.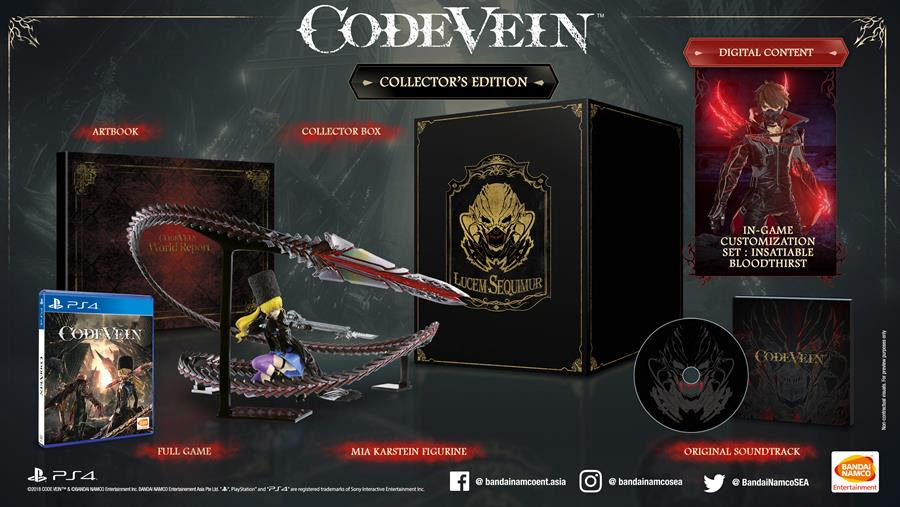 Those who pre-order the game will also get three crossover weapons from Bandai Namco's God Eater series as well as a the "Venous Claw" blood veil, an accessory set, a customization set, the "Harbinger" blood code, and a communication stamp set for multiplayer. It's also been reported that the game will get a Season Pass which will include content that will be released in three ways. The Season Pass content will include additional dungeons, new Blood Codes, and color variations for the game's characters. Purchasing the Season Pass will also include bonus content such as a white color variation for Mia's outfit, the "Astrea" Blood Code, and a Code Vein PS4 theme.
In Code Vein, players take on the role of a Revenant, a vampire-like being that needs to consume blood and give up their memories in order to survive and awaken supernatural powers. It features open-world, third-person gameplay set in a post-apocalyptic, dystopian world.
Code Vein is schedule for release on the PS4, Xbox One, and PC on September 28, 2018. You can check out the release date announcement trailer below: