ASUS Philippines has announced that the Transformer Book Flip, the company's latest and affordable convertible Windows 8.1 laptop, is now available in the country.
The Transformer Book Flip features a display similar to Lenovo's Yoga line of laptops which can be flipped open all the way up to 360-degrees enabling it to transform into a slew of modes including laptop mode, tablet mode, and a couple of display modes. Additionally, when the Flip is switched into the non-laptop modes, an automatic keyboard and touchpad lock activates to prevent accidental input. The Flip's touchscreen features 6mm-diameter actuators which make it, according to ASUS, twice as responsive as other touchscreens. It also features the something called ASUS Splendid technology which supposedly gives it richer, deeper, and more vibrant colors.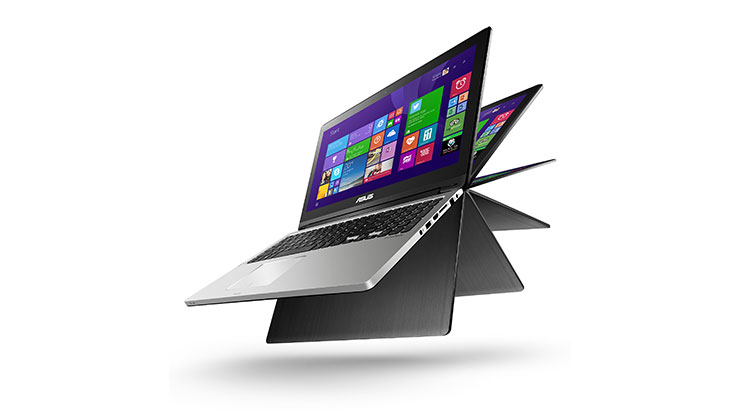 Available in either 13-3 inch and 15.6 display sizes that all have a display resolution of 1366 x 768 pixels, the Flip is powered by Intel Haswell-based processors from a Core i3-4010U to a Core i7-4510U as well as Intel or NVIDIA graphics chips from an Intel HD Graphics 4400 chipset to discreet NVIDIA GeForce 820 GPUs with either 2GB or 4GB of DDR3 VRAM. Other internal features include RAM configurations from 4GB to 8GB of DDR3 RAM, and a 500GB or 1TB hard-disk drive.  The Flip also features Instant On technology as well as an ASUS SonicMaster audio system.
The Flip is now available at all ASUS authorized re-sellers nationwide in two 13.3-inch and one 15.6-inch configurations at different SRPs. More details on the configurations can be found on the table below:
Model Name
Transformer Book Flip 13"
TP300LA-DW099H
Transformer Book Flip 13"
TP300LD-DW012H
Transformer Book Flip 15"
TP550LD-CJ056H
OS
Windows 8.1
Windows 8.1
Windows 8.1
Processor
Intel® Core™ i3-4010U processor
Intel® Core™ i5-4210U processor
Intel® Core™ i7-4510U Processor
Display
13.3″ 16:9 IPS HD (1366×768) display, multi-touch screen
13.3″ 16:9 IPS HD (1366×768) display, multi-touch screen
15.6″ 16:9 IPS HD (1366×768) display, multi-touch screen
Graphics
Integrated Intel® HD Graphics 4400
NVIDIA® GeForce® 820
2GB DDR3 VRAM
NVIDIA® GeForce® 820
4GB DDR3 VRAM
Memory
4GB DDR3 RAM
4GB DDR3 RAM
8GB (4GB + 4GB) DDR3 RAM
Storage
500GB HDD
500GB HDD
1TB HDD
Optical Drive
N/A
N/A
DVD-RW
Color
Black
Black
Black
Connectivity
USB 3.0, Bluetooth 4.0, Wi-Fi
USB 3.0, Bluetooth 4.0, Wi-Fi
USB 3.0, Bluetooth 4.0, Wi-Fi
Dimensions
32.6(W) x 23.2(D) x
1.90 ~ 2.20 (H) cm
32.6(W) x 23.2(D) x
1.90 ~ 2.20 (H) cm
38.0(W) x 26.1(D) x
2.72 ~ 2.72 (H) cm
Price
Php26,995
Php39,995
Php49,995
Bundle Gift
Notebook Bag
Notebook Bag
Notebook Bag