ASUS has officially launched the B85M-Gamer motherboard in the Philippines, the company announced in a press release.
The ASUS Gamer series' first mATX (micro-ATX) motherboard, the B85M-Gamer is targeted towards those with more compact rigs. The B85M-Gamer features Intel's B85 Express chipset and supports both original and new 4th generation Socket 1150 Intel processors. The new board also supports up to 32GB of RAM with its four DIMM slots and comes with one PCI-E 3.0/2.0 x16 slot as well as two PCI-E 2.0 x1 slots.
The B85M-Gamer also features ASUS SupremeFX 8-audio chipset which includes SupremeFX shielding technology, ELNA premium audio capacitors, and a built-in headphone AMP. The motherboard also features the company's Gamer's Guardian components such as a DIGI+ VRM (voltage-regulator module), DRAM overcurrent protection, and ESD guards.
Lastly, the B85M-Gamer is compatible with the company's AI Suite 3 software which allows the user to monitor, configure, and improve their motherboard in a number of ways including fan controls, USB 3.0 boost, EZ update, and more.
The ASUS B85M-Gamer will be available in the Philippines sometime in March 2015 for an SRP of Php4,090. More information on the new motherboard can be found on the ASUS website and we've attached the press release below for your reference: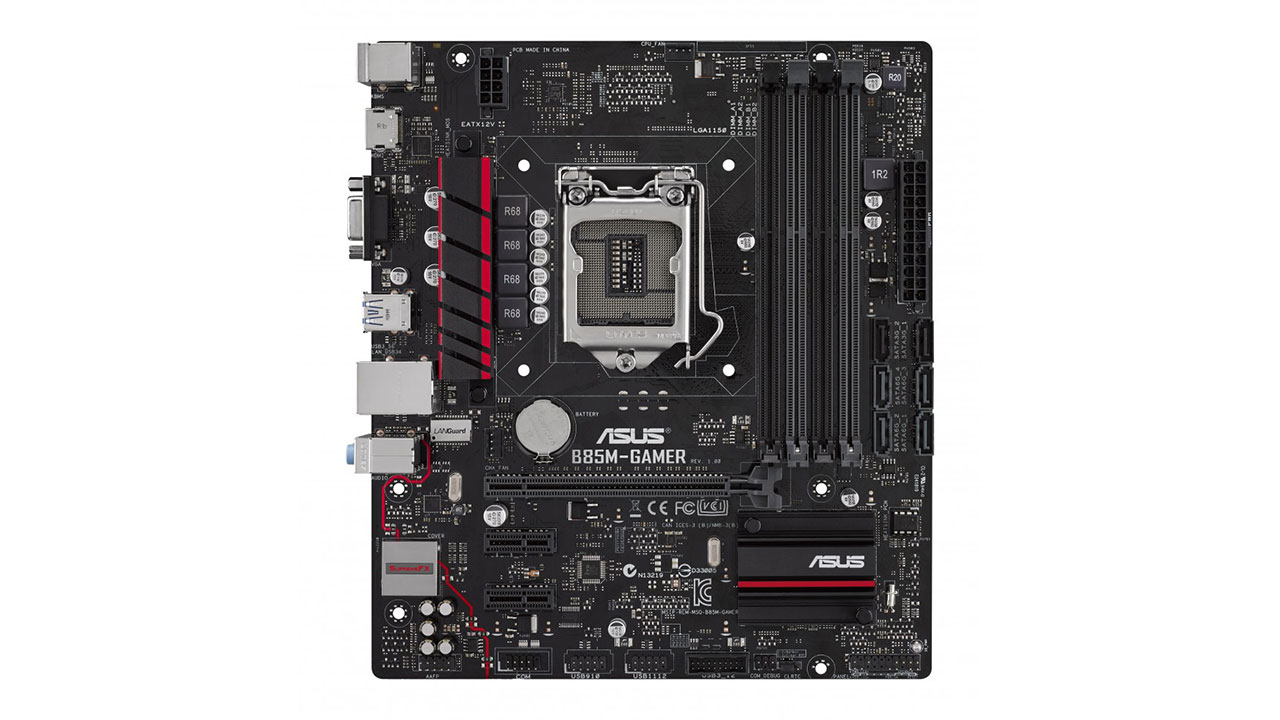 Manila, Philippines (10th February, 2015) — ASUS today announced the B85M-Gamer, a new Intel® B85 Express chipset-based motherboard that marks the first micro-ATX (mATX) model in the popular ASUS Gamer series. The B85M-Gamer is ready for the latest 4th-generation Intel Core™ processors, and is packed with multiple exclusive game-enhancing technologies for the best gaming fun in even the smallest builds.

The B85M-Gamer is engineered to provide the finest gaming experience for its users. It is equipped with the Intel Gigabit Ethernet networking for lag-free online gaming and the ASUS SupremeFX audio technology for flawless reproduction of in-game sounds. The motherboard also has the ASUS-exclusive Gamer's Guardian, having high-quality components for exceptional durability and reliability. This new mighty mATX motherboard also includes the ASUS-exclusive AI Suite 3 toolbox for customization and efficiency.

Built-in Blazing-Fast Online Gaming Technologies

The B85M-Gamer benefits from Intel Gigabit Ethernet in delivering ultra-smooth online gameplay. This advanced networking technology communicates directly with Intel processors offering exceptionally-high networking throughput, lowering overall processing demands and improving efficiency — delivering more power for games and on-screen action. Using network-assessment tools, ASUS engineers determined that the Intel Gigabit Ethernet in the ASUS B85M-Gamer has an improvement of up to 200% as compared with other competing solutions. The ASUS B85M-Gamer also incorporates the ASUS-exclusive LANGuard as an additional defense against static electricity discharges while also improving speed.

Size-defying Gaming Audio

Built inside the B85M-Gamer is the ASUS-exclusive SupremeFX technology, capable of producing near-lossless audio with a remarkable signal-to-noise ratio (SNR) of 115dB — bringing every detail to life.

The advanced SupremeFX audio chipset is isolated from electromagnetic interference (EMI) by a protective shield, preserving the integrity of the audio signals. An exclusive 'red-line shielding' horizontally separates B85M-Gamer's audio components from the rest of the motherboard. This unique combination effectively eliminates analog interference to ensure flawless sound quality. Premium ELNA® audio capacitors are added to the mix to deliver a warmer, natural sound, completing a unique audio experience from a mATX board.

SupremeFX also has a built-in amplifier that drives high-quality headphones — all the way up to 300ohm impedance — enabling the B85M-Gamer to deliver audio output that is as great as a dedicated sound card.

Ultimate Real-World Protection from Gamer's Guardian Components

The ASUS B85M-Gamer benefits from high-quality, highly-durable Gamer's Guardian components for exceptional real-world protection.

The Gamer's Guardian feature includes onboard resettable fuses that protect the connection ports and DRAM against overcurrent and short-circuit damage, and ESD Guards on the USB ports, audio connectors and Ethernet (LAN) port ensure that B85M-Gamer is actively protected against sudden electrostatic discharge (ESD). The result is that the components last much longer.

The B85M-Gamer also has the Digi+, an ASUS-exclusive voltage-regulator module (VRM) that provides ultra-smooth, ultra-clean power to the processor, enhancing performance, increasing efficiency and ensuring reliability. The motherboard's resilience is furthered by a stainless-steel back input/output (I/O) panel that's chromium-plated and corrosion-resistant to last up to three times (3X) longer than traditional panels.

Pumped-up gaming fun with an exclusive tweaking toolbox

The new ASUS mATX gaming motherboard includes the AI Suite 3, an ASUS-exclusive dashboard-style control panel that lets players fine-tune almost every aspect of B85M-Gamer-based systems for the best balance between performance, stability and efficiency — all via a simple and intuitive interface.

AVAILABILITY & PRICING

ASUS B85M-Gamer will be available in the Philippines on mid-March 2015 with an SRP of PhP 4,090.