A few months ago, AMD surprised everyone with the unveiling of its first next-generation graphics card, the RX 480 which gave us VR and high-end graphics for the price of a mid-range card. And the company surprised us even further with the announcement of the RX 460 soon after, a budget card priced at only a little above $100 that was designed to run today's most popular esports titles. The RX 460 is AMD's next-generation solution for entry-level and budget gamers looking to play their favorite esports titles such as Dota 2, League of Legends, CS:GO, and even Overwatch, at an affordable price. We spent some time with the 2GB Double Dissipation variant of the RX 460 from XFX to test just how well it truly performs and see if it is deserving of its "esports graphics card" monicker.
Design
The design of the XFX's Double Dissipation variant of the RX 460 is pretty simple and straightforward with its standard dual slot design and black and red color scheme. As opposed to the super-small reference design of the RX 460, XFX's version features a full-length PCB with a slight extension to accommodate its dual-fan setup that's coupled with an aluminum heatsink. Interestingly enough, the fans on the XFX RX 460 are removable and replaceable, if you're able to order replacements from XFX. While the removable fans don't really improve the performance of the card nor do graphics card cooler fans usually burn out, it's an interesting gimmick we've yet to personally see before. We would've appreciated a backplate more than replaceable fans though, especially since backplates have become almost standard for graphics cards nowadays, including those in the budget segment.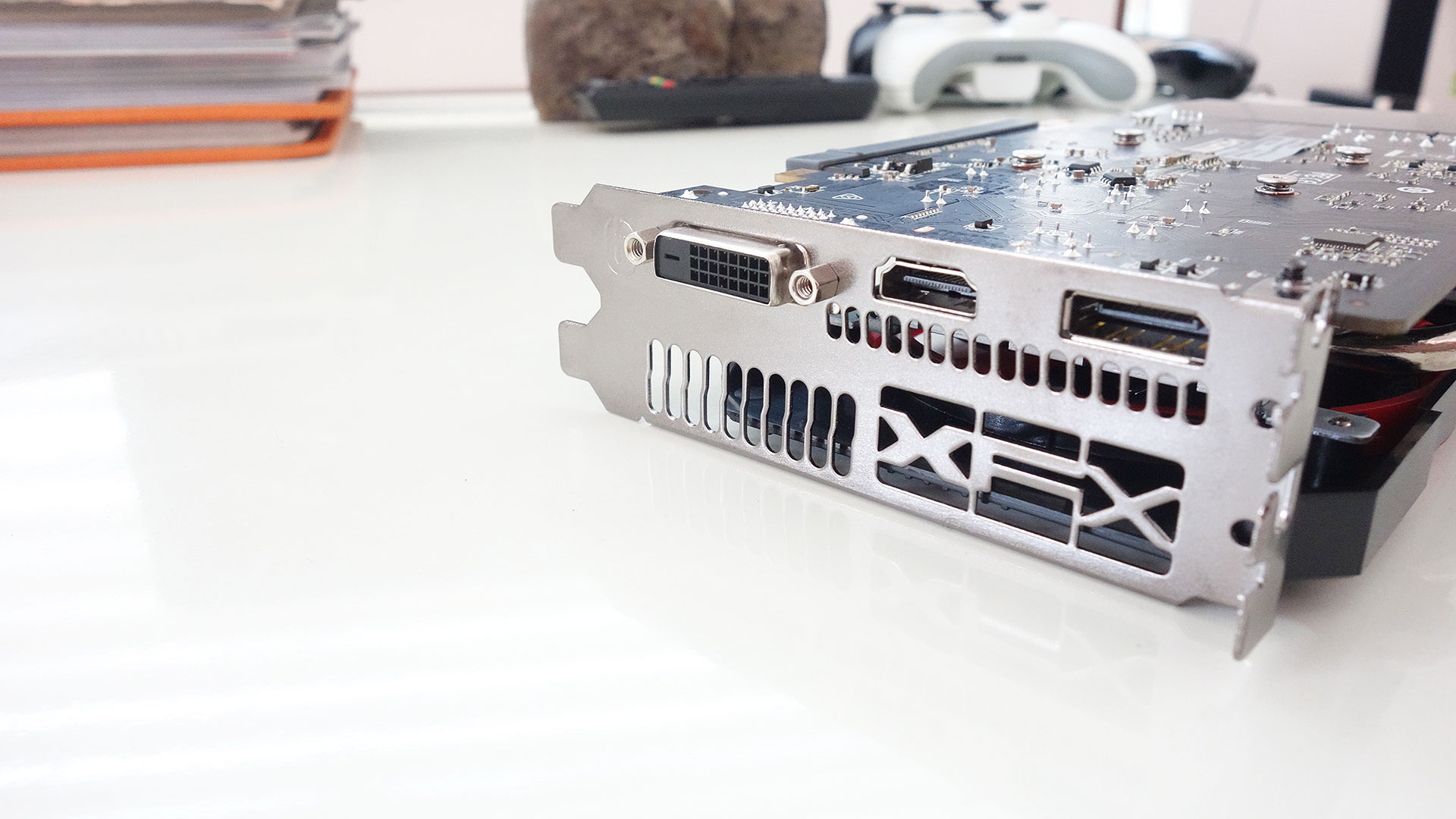 Features
The XFX RX 460 is available in 2GB and 4GB variants with both featuring the same specifications including a core clock of 1220MHz, 896 stream processors, a 128-bit memory bus, and an effective memory clock of 7000MHz. It's equipped with a DVI connector, a DisplayPort 1.4, and an HDMI 2.0b port. Additionally, just like the reference RX 460, the XFX version also uses a 6-pin power connector and XFX's package comes with a 4-pin to 6-pin power cable for those still using older power supplies. Additionally, going back to the cooler fans of the XFX 460, as with most coolers in this generation of video cards, the fans are able to automatically adjust their speed or even completely shut off depending on the load of the system.
Performance
We put the RX 460 through some of our usual benchmark tests including 3DMark's Fire Strike benchmark to test how well it performs and stacks up against other graphics cards. We also specifically tested how well it could handle today's most popular esports titles including Dota 2, League of Legends, CS:GO, and Overwatch.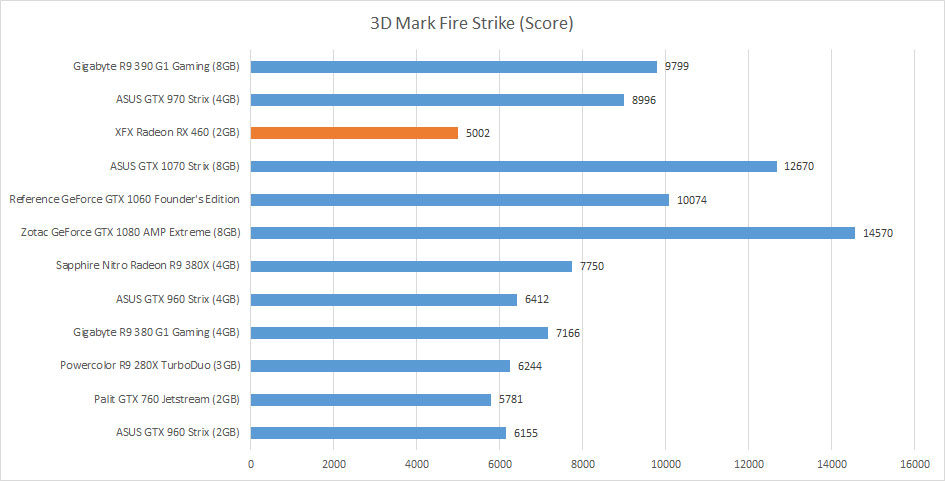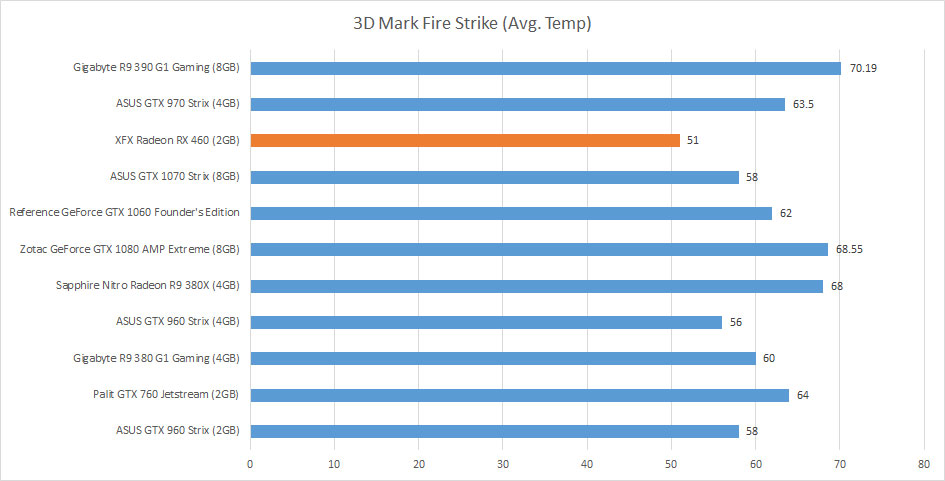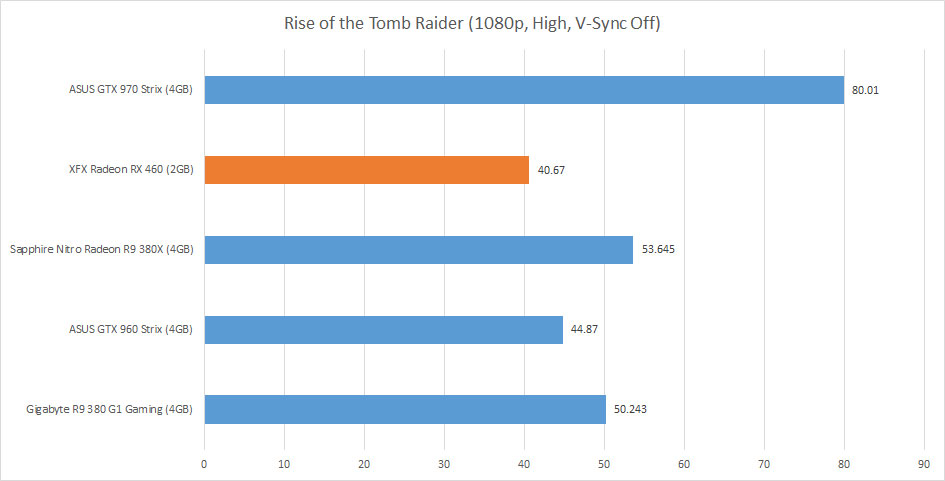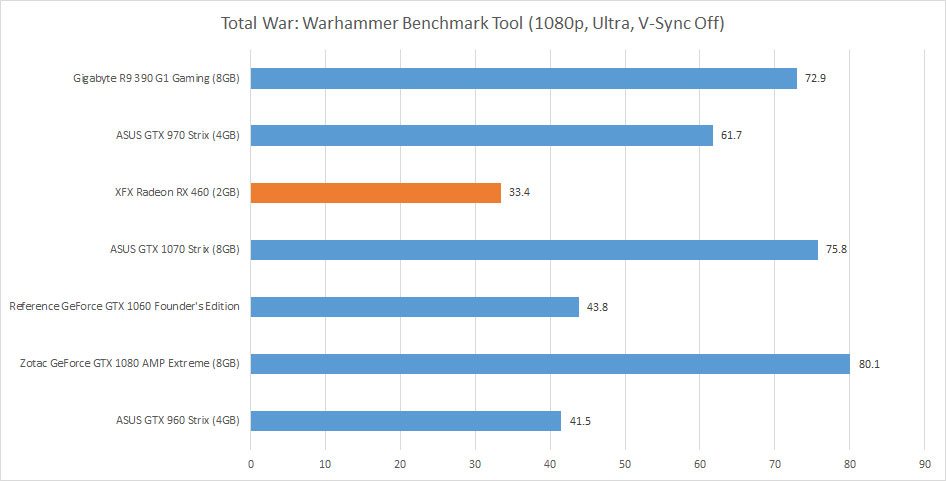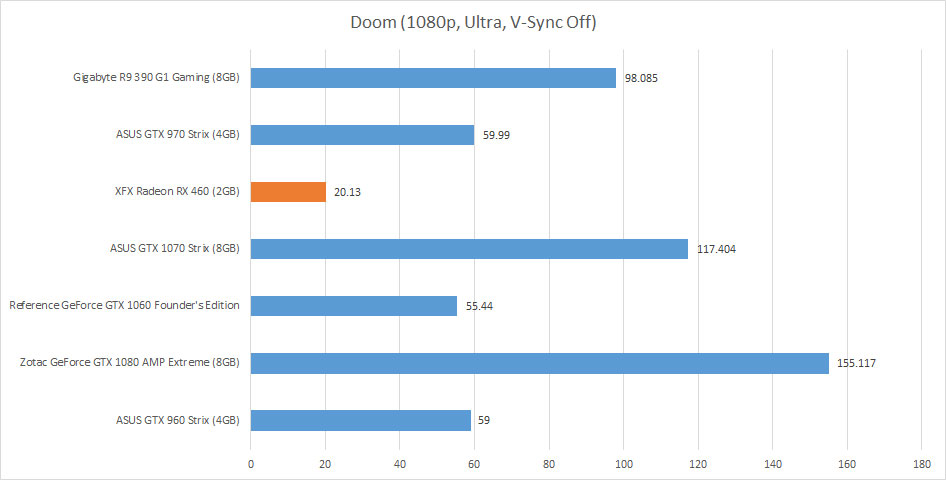 As expected, while the RX 460 was able to handle most of our benchmarks, it struggled to run them at decent settings and achieve acceptable framerates. In most of our benchmarks, it averaged only around 30 frames per second. Specifically, it was able to handle Rise of the Tomb Raider fairly well but struggled with both Ashes of Singularity as well as Doom.
On the other hand, the RX 460 was able to run most of our esports titles at max settings and achieve impressive framerates going beyond 100 frames per second. The only title where we had to lower the settings to Medium to achieve an acceptable average framerate of at least 60 frames per second was Overwatch.
Conclusion
{rating}
With a price tag of a little over Php6,000, it's hard to argue with the value and affordability of the RX 460. It has everything you need from a graphics card in its price bracket and its performance is more than good enough for those want to play today's most popular esports titles at 1080p and more so at 720p. It may even handle some of today's most recent titles at playable framerates with some of their graphical settings turned down. AMD has done a bang-up job at making this generation's first budget gaming graphics card. It is definitely a great choice for gamers on an really tight budget and we can safely say that the RX 460 is definitely deserving of the title, "esports graphics card."