Plextor was known as one of the best optical drive manufacturers in the market and the company eventually expanded into the SSD market where they quickly became one of the category's biggest contenders. Their latest foray into the SSD market is the company's new M9Pe series of NVMe PCI SSDs. The new line of drives come in three form factors, each with three storage capacity options – 256GB, 512GB, and 1TB. There's a bare M.2 model as well as an M.2 model with a slim heatsink then there's a PCIe add-in card model with a larger heatsink, which is what we're reviewing. We received the 5125GB PCIe add-in card model for our review.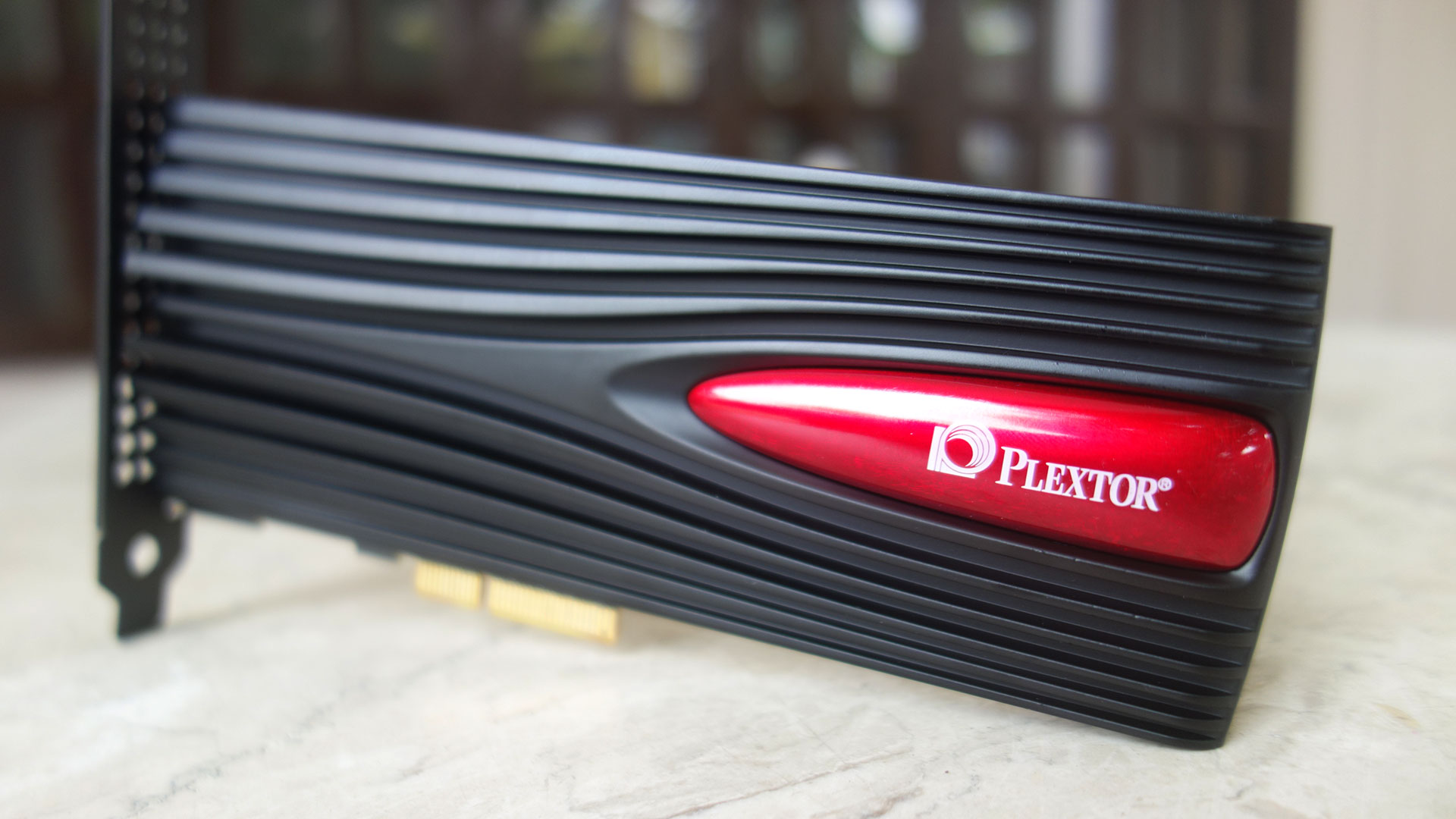 The PCIe add-in card M9PeY comes in an HHHL (half height, half length) form factor that measures 176.33 x 121.04 x 22.39 mm. The heatsink of the card goes the full length and height of the PCB. It also comes in black with the same design as its predecessor, the M8SeY, albeit with a red accent now instead of blue. The card comes with both a full-height and half-height bracket for use with both large and small form factor rigs, respectively. The heatsink of the M9PeY is also equipped with a thin LED strip that's capable of 3-mode, RGB lighting. Sadly, the RGB lighting of the card isn't customizable or syncable but the lighting mode does change depending on whether the card is on standby or in use.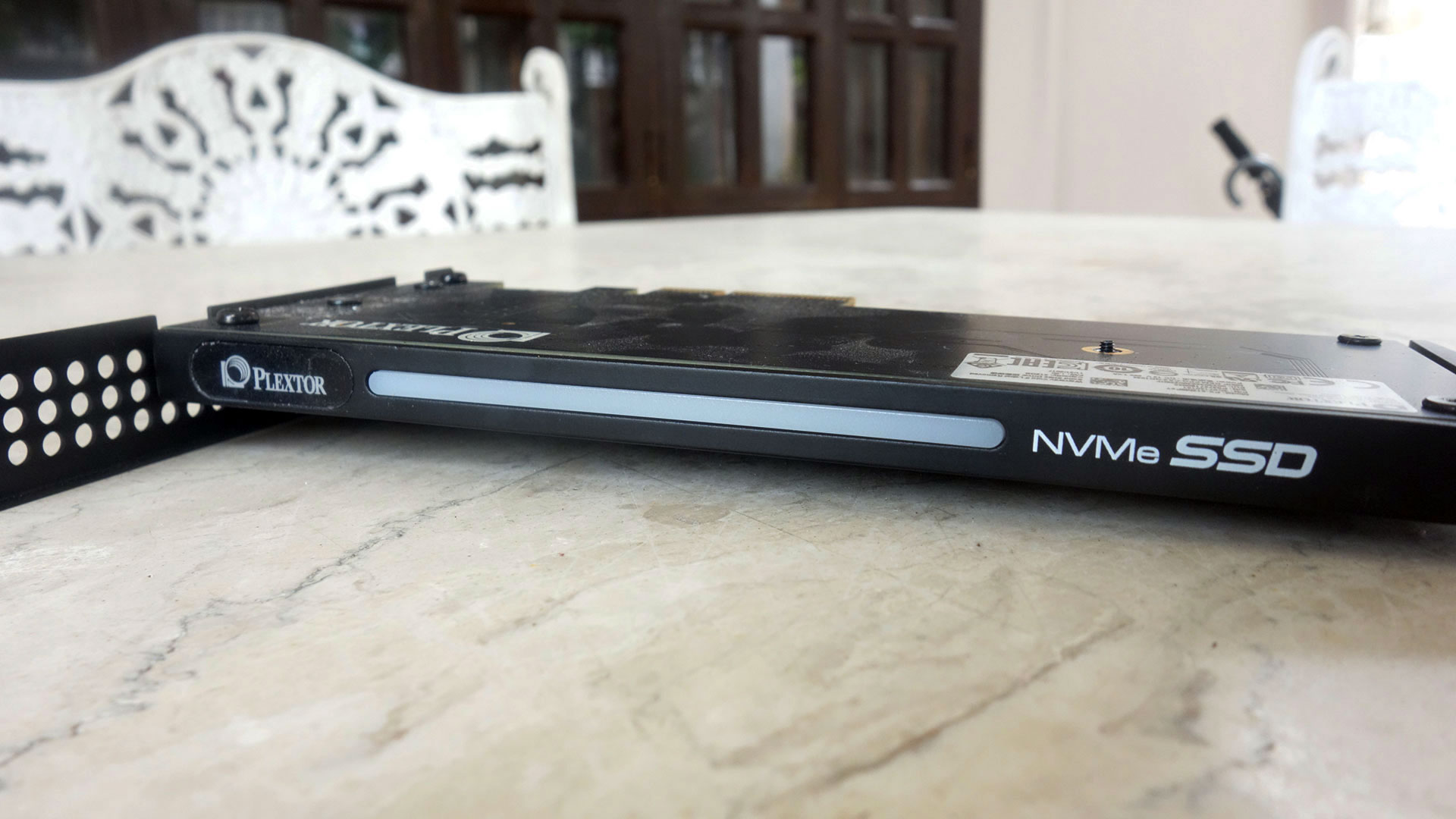 Internally, the M9PeY is powered by a Marvell 88SS1093 controller and features Toshiba's BiCS3 3D TLC NAND flash. It is also powered by 512MB LPDDR3 of cache and M.2 PCIe Gen 3 x 4 technology. The drive has a listed MTBF (Mean Time Before Failure) of 1,500,000 hours and a rated endurace of 320 TBW (terabytes written). The M9PeY also comes with several features including PlexNitro technology, which optimizes the drive's cache, and LDPC error correction technology. Both of these technologies help the drive achieve better performance. The drive comes in three storage capacities – 256GB, 512GB, and 1TB. The unit we received for review was the middle variant at 512GB of storage.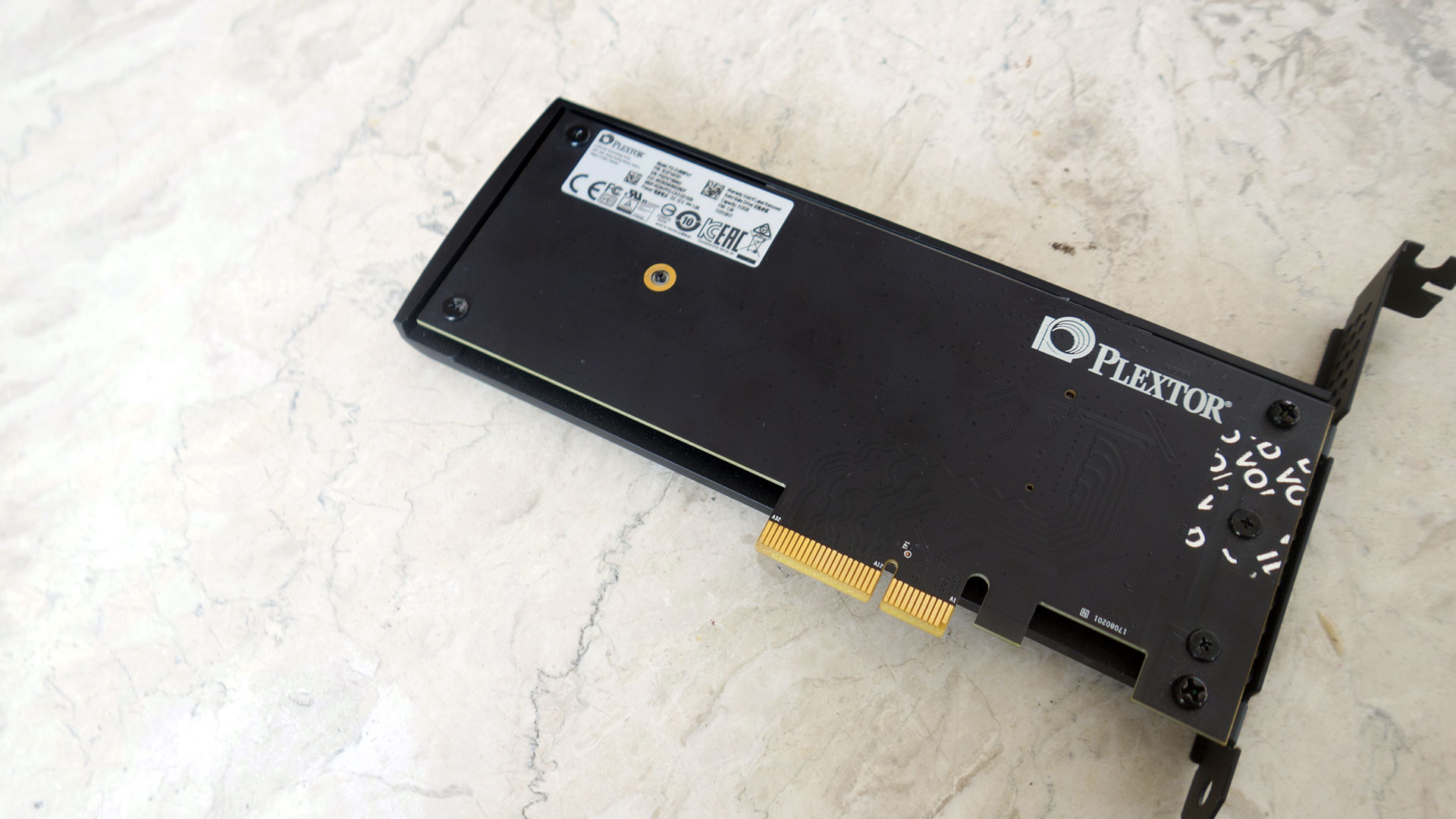 We ran the M9PeY through a few storage drive benchmarks including AS SSD and CrystalDiskMark to test out its performance. Here is our current test setup that we used with the M9PeY:
CPU: AMD Ryzen 7 1800X
Cooler: Deepcool Gamer Storm Captain 240EX RGB
RAM: 16GB (2x8GB) G.Skill Trident Z RGB 3200MHz
GPU: PowerColor Radeon RX580 Red Devil Golden (8GB)
PSU: Seasonic M12II-620 EVO (620W)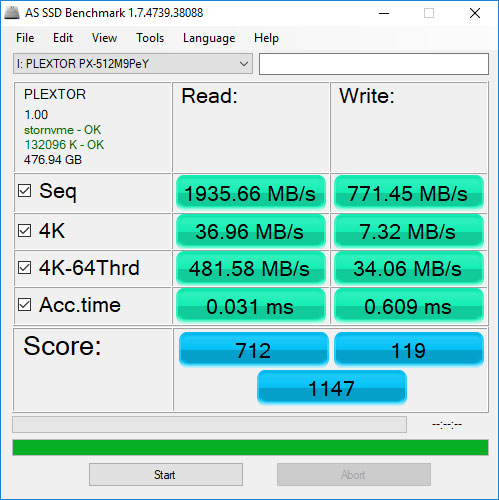 The M9PeY performed pretty well in our tests, reaching some impressive numbers in all three benchmark programs. Unfortunately, the M9PeY is the only recently released SSD we've been able to review so we don't have comparative numbers to show you. Hopefully we are able to check out more current comparable SSDs so we can contrast results. Regardless, as expected, the M9PeY performed significantly better than our older SATA-based SSDs by quite a margin so those looking to upgrade from an older SSD will definitely not be disappointed with the M9PeY.
Conclusion
The Plextor M9PeY is an impressive SSD in both design and performance. The HHLL form factor not only potentially gives it better thermals but also allows it to be equipped with RGB LED lighting. While the initiative to add the lighting was appreciated, it would have been better to allow it to be either customizable and/or compatible with RGB syncing technology such as ASUS's Aura Sync. Regardless, the M9PeY is definitely a great choice for those looking for a new PCIe SSD in an HHLL form factor. While the price tag of the M9PeY may seem pricey (at around $150, $250, and $460 for the 256GB, 512GB and 1TB variants of the HHLL form factor, respectively) it's definitely worth the price for what you're getting.