The release of AMD's new Ryzen processers also inevitably meant the release of new motherboards equipped with AMD's new AM4 socket as well as its X370, B350, and A320 chipsets to support the new Ryzen processors, with the X370 chipset leading the chipset pack. And with ASUS being the biggest consumer motherboard manufacturer in the world, it wasn't a surprise that the company would soon release a whole flurry of X370 motherboards across its several product lines including the enthusiast ROG series and the mainstream Prime series.
While the ROG series is targeted at the high-end enthusiast market who want all the bells and whistles with their motherboards, the mainstream Prime series is designed for those who are a bit limited with their budget and would rather spend more on their video card or processor rather than their motherboard. This means they want something that gives them the most value for the least amount of money. For its Prime series, ASUS has released two X370 motherboard models – the Prime X370-Pro and the Prime X370-A, with the former being the line's flagship model.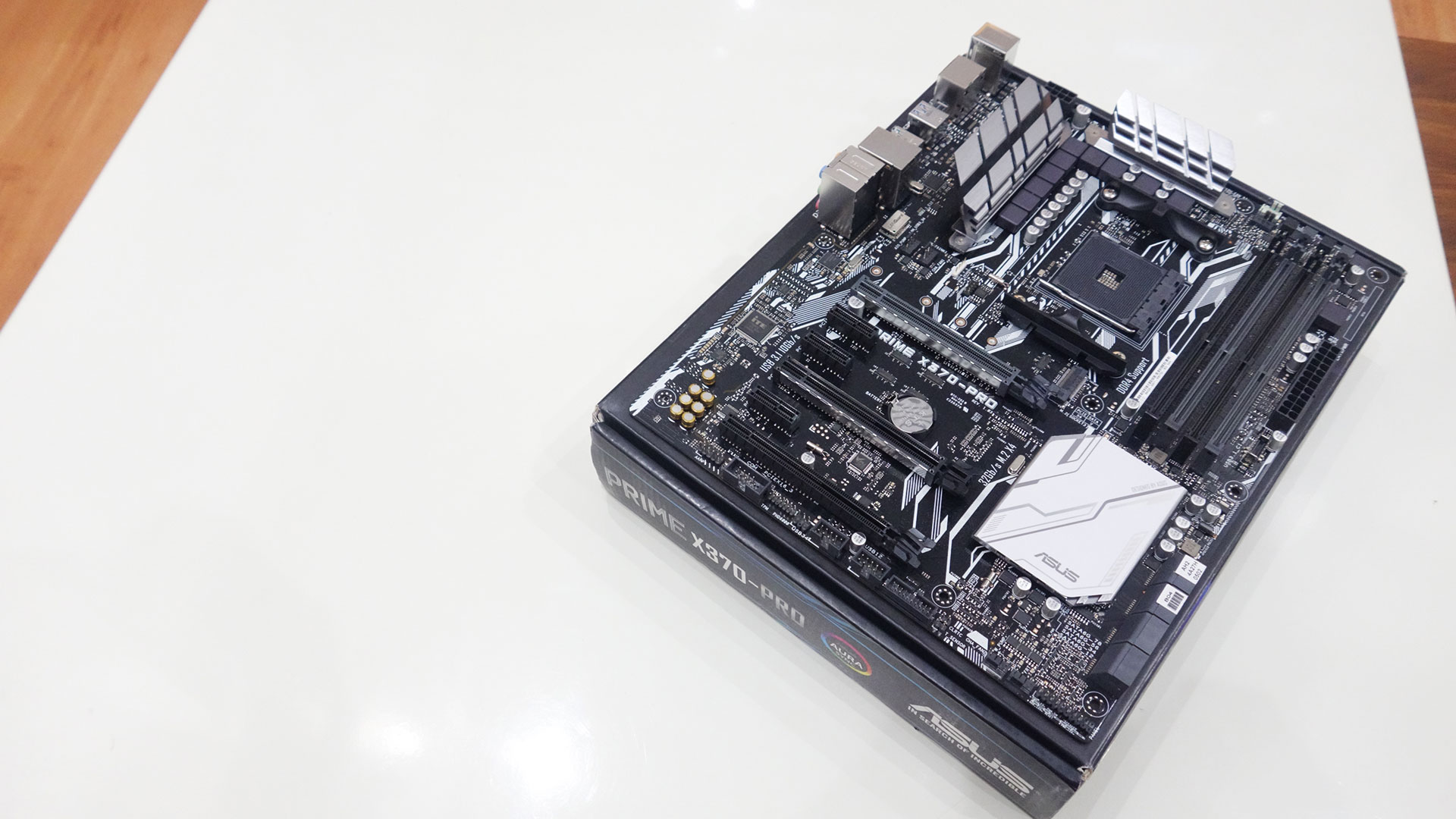 Design
The Prime X370-Pro comes in your standard ATX form factor, measuring 12.0 inches by 9.6 inches, and features a pretty simple design with not much flair. Aside from the one covering the chipset, there are no shrouds covering any of the other components such as the heatsinks, M.2 slot, and the rear I/O ports. The motherboard comes in a black PCB with all of its ports and connectors in black or grey, the aforementioned heatsinks come in a bare brushed metal, and the chipset shroud comes in white with a futuristic design in silver.
While the design of the Prime X370-Pro is simple, it is deliberately functional. The board utilizes RAM slots that only have clips on one side to make installation or removal easier. The design and placement of the heat sinks make the Prime X370-Pro compatible with many third-party coolers. The board also utilizes the company's SafeSlot technology, which introduces metal reinforcement for the PCIe slots for better stability and durability. The neutral color scheme of the board also makes it easier for builders to match it with other components such as RAM and video cards.
Features and Specifications
Aside from the aforementioned one-sided RAM slots, other features that ASUS has implemented in the Prime X370-Pro that makes building easier or more convenient include the Q-Slot clip for the PCIe slots that feature a large wing that makes it easier to unlock and remove graphics cards and an included Q-Connector that makes its incredibly easy for builders to connect their front-panel connectors to the motherboard with its easy to identify labels. ASUS's attention to detail has even gone as far as to make the rear I/O shield safer by making the edges softer which reduces the risk of getting cuts or scratches.
Like many of ASUS's new motherboards, the Prime X370-Pro is compatible with the company's proprietary Aura Sync technology that allows users to customize and sync the RGB lighting of all of their Aura Sync compatible products such as peripherals or other components. As for the Prime X370-Pro itself, it is equipped with RGB lighting that illuminates the rear lower right of the board as well as the line that separates and insulates the board's audio components. It's also equipped with a single RGB strip header for more RGB lighting for one's case. For our build, we were able to utilize the ASUS Aura sync with our RAM, CPU cooler, and a single RGB LED strip.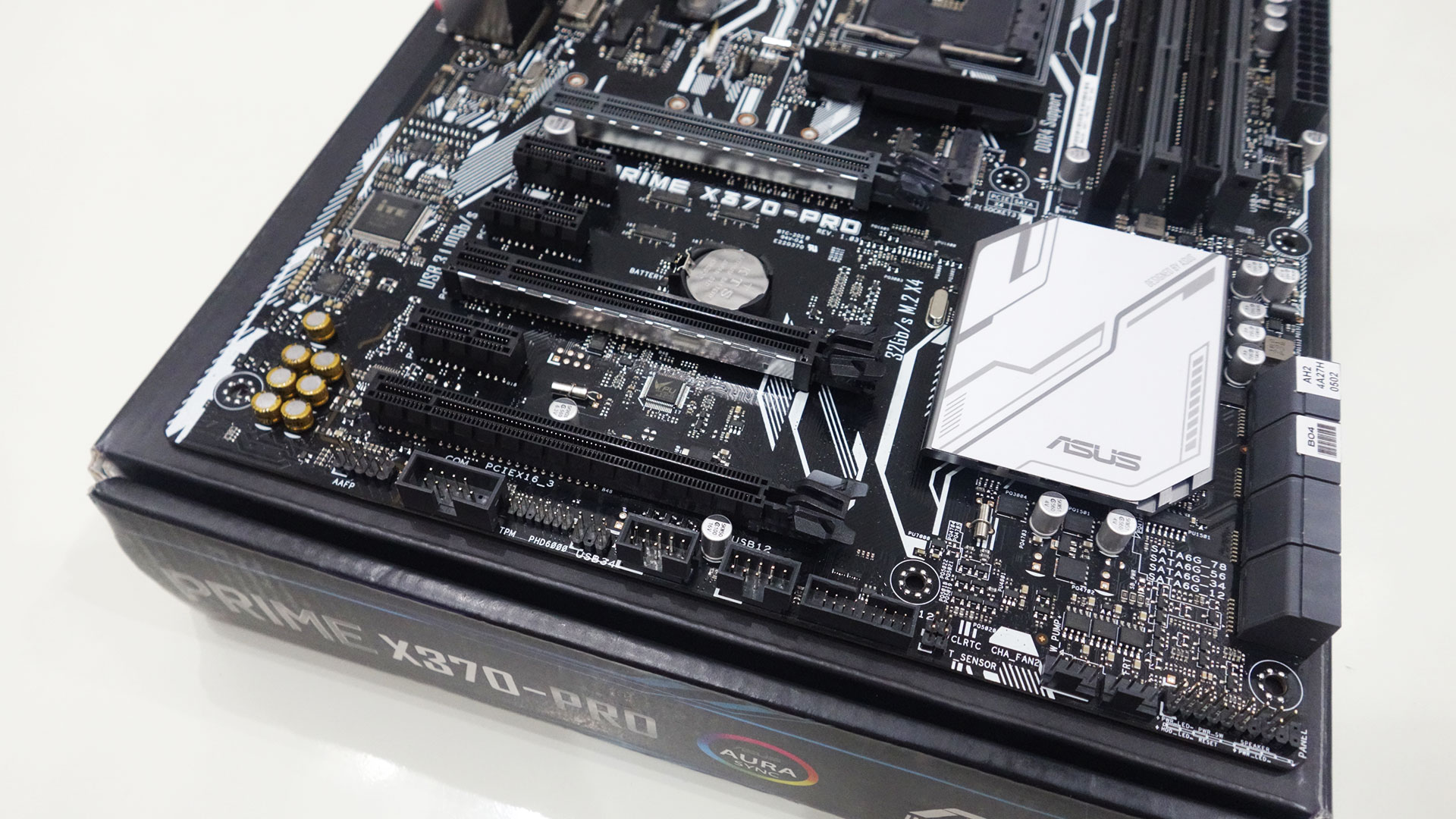 For those hoping to run multiple video cards, the Prime X370-Pro supports both NVIDIA 2-Way SLI and AMD CrossFireX. The Prime X370-Pro is equipped with three PCIe x16 slots, although only two of the three feature SafeSlot metal reinforcement.  Additionally, there are also three PCIe 2.0 x1 slots. On the front of the board, there's eight SATA 6.0 connectors as well as one M.2 socket above the expansion slots, allowing for a lot of storage options for users.
For cooling, the Prime X370-Pro is equipped with quite a number of 4-pin connectors including a CPU Fan header, a CPU Optional Fan header, two Chassis Fan headers, one AIO pump header, and one water pump header. This gives users a number of options for cooling for their rigs depending on the case and components they have. From conventional case fans and CPU fans to AIOs and custom liquid cooling setups, the Prime X370-Pro allows users both options and variety.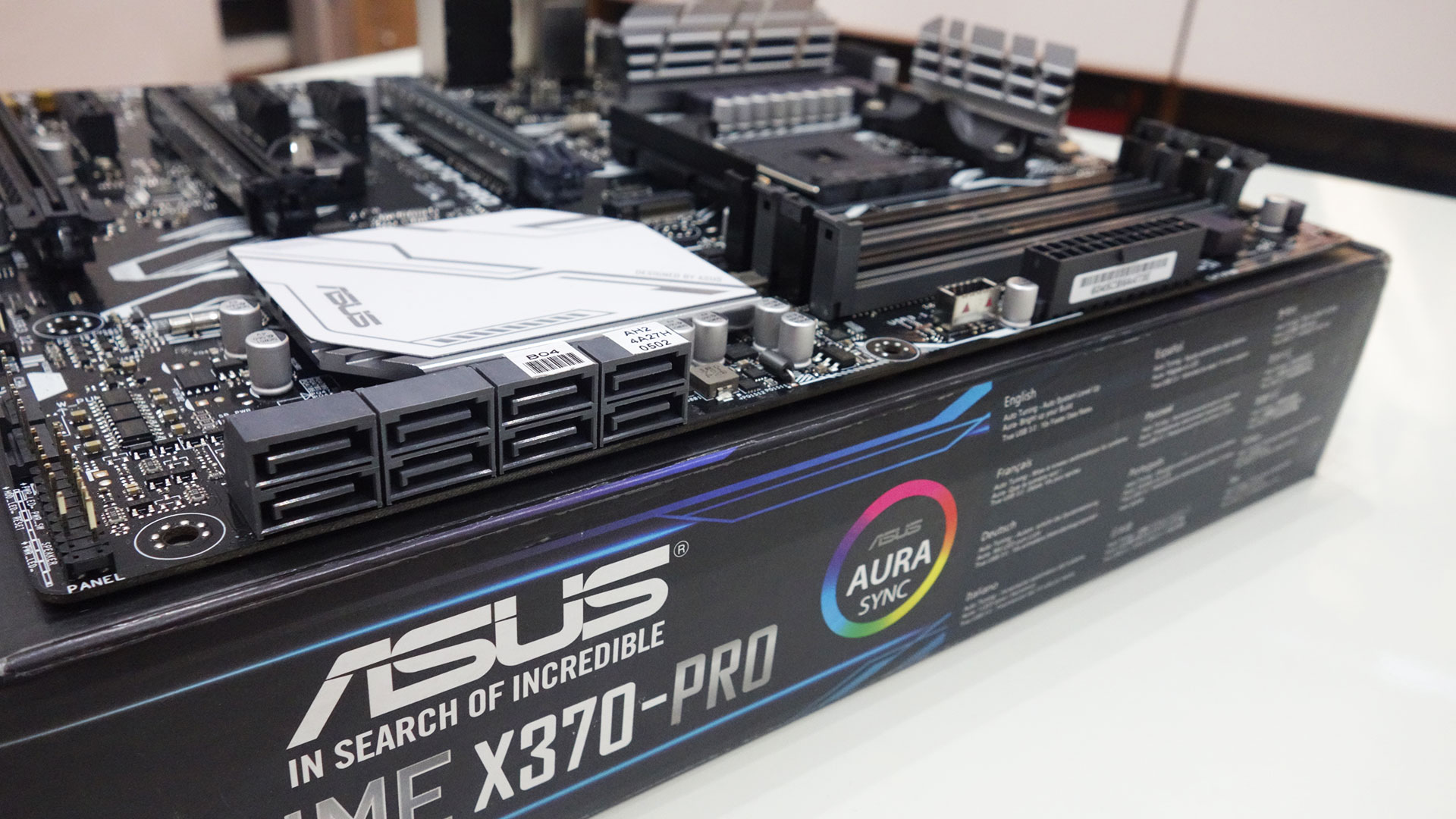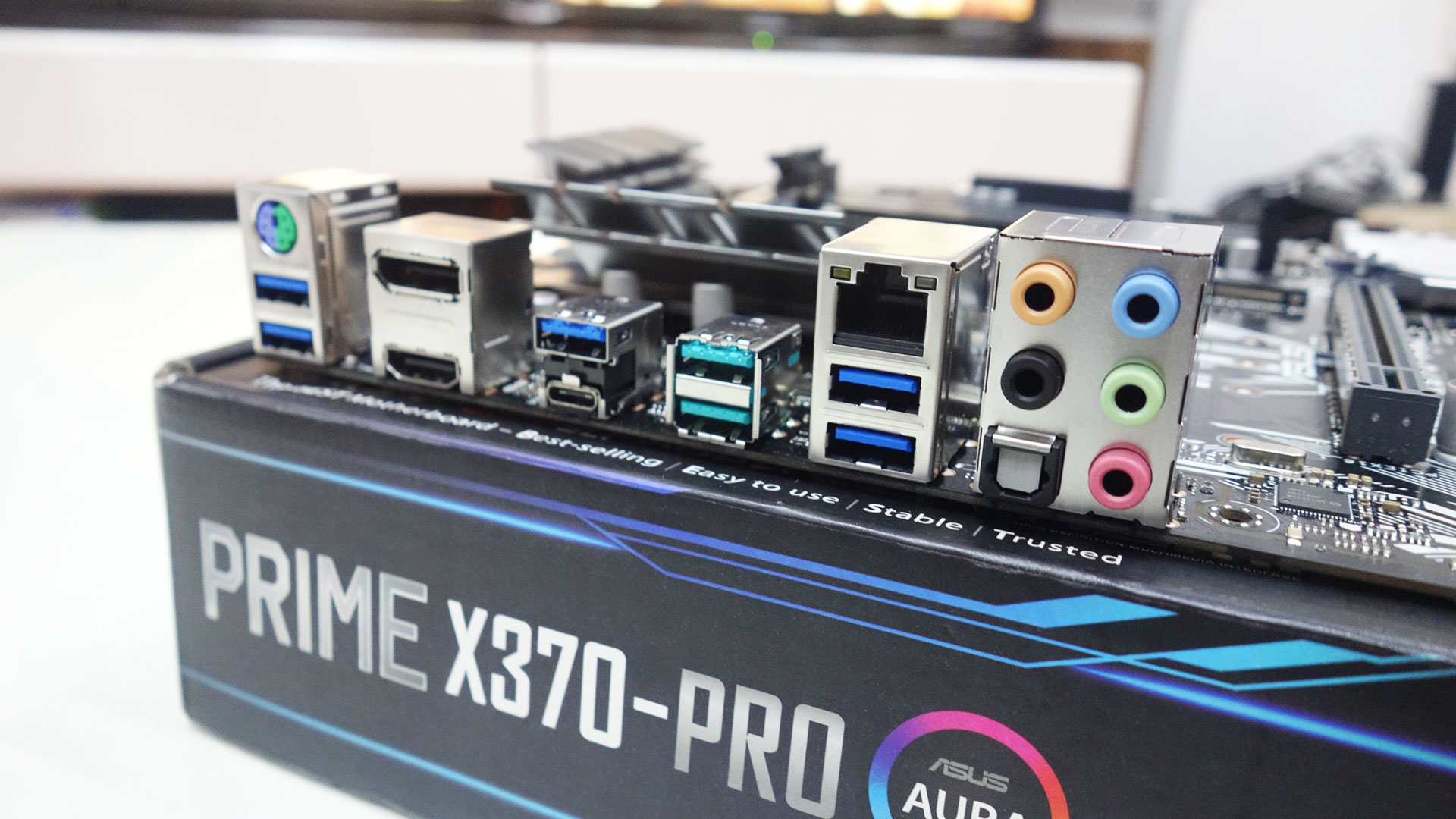 The rear panel of the board also provides quite a few ports including two USB 3.1 Gen 2 Type-A ports, five USB 3.1 Gen 1 Type-A ports, and one USB 3.1 Gen 1 USB Type-C port. The other rear panel connectors include a PS/2 combo port, a DisplayPort, an HDMI port, and one RJ45 LAN port. For audio, there's one Optical S/PDIF out port and five 3.5mm audio jacks, which are powered by a Realtek® ALC S1220A 8-Channel High Definition Audio CODEC.
Software
As expected, the Prime X370-Pro works with the company's AI Suite 3. The utility comes with several features that allow users to overclock and tweak their computer's components and settings, respectively. Given that it includes an RGB header and support for the company's Aura Sync technology, the Prime X370-Pro also works with the company's Aura software where users can customize the RGB lighting of their motherboard and Aura Sync compatible components and peripherals.
Overclocking
The rig we built using the Prime X370-Pro includes the following:
CPU: AMD Ryzen 5 1600X
Cooler: Deepcool Gamer Storm Captain 240EX RGB
RAM: 16GB (2x8GB) G.Skill Trident Z RGB 3200MHz
GPU: PowerColor Radeon RX580 Red Devil Golden (8GB)
PSU: Seasonic M12II-620 EVO (620W)
SSD: HyperX Fury 280GB SSD
We tried overclocking our Ryzen 5 1600X as well as our Trident Z RGB in several ways – using the EZ Tuning Wizard in the UEFI/BIOS, the 5-Way Optimization feature of the ASUS AI Suite 3 software, and manually overclocking in the UEFI/BIOS. Both the EZ Tuning Wizard and 5-Way Optimization feature came out with the same results – 3.9GHz @ 1.4V for the processor and 2800Mhz @ 1.35V for the RAM. We tried going above those via manual tuning, specifically 4.0GHz at 1.45V for the CPU and 2933MHz @ 1.35V for RAM, but our rig would no longer boot and eventually revert to default settings or be able to boot to Windows but would soon crash and restart.
For our tests we were using the latest BIOS version for the Prime X370-Pro at the time – Version 3803. Hopefully, ASUS releases future BIOS updates that will enable us to overclock our CPU and RAM even more to reach 4.0GHz for our Ryzen 5 and 3200MHz for our Trident Z RGB. It must be noted though that your mileage may vary when it comes to overclocking, depending on the processor and RAM you get due to the "silicon lottery" so you may be able to reach higher clocks even when using the same components. Additionally, RAM models that are included in the motherboard's QVL (Qualified Vendor List) will have a better chance to be overclocked fully.
Conclusion
The ASUS Prime X370-Pro is a great entry-level X370 board for new AMD Ryzen processor users. While the X370-A is slightly cheaper, the additional features make the price difference well worth it. And for a board that's already priced below Php10,000, the X370-Pro has almost everything a mid-range user would need for their rig and more. Furthermore, if ASUS improves its compatibility and stability with RAM and processor overclocking through BIOS updates, the board's value just increases even further. Those looking to build a mid-range Ryzen rig with single or multiple GPUs, an AIO or custom loop, and RGB lighting will definitely not be disappointed with the Prime X370-Pro.