United Gamers Guild (UGG) held its first-ever UGG Axie Infinity All-Stars Tournament last December 28 to 29, 2021. The tournament, which was streamed on Facebook, was able to raise a total of 33,459 Stars, all of which were donated to the Youth Movement Initiative for its efforts in helping out those were affected by the super typhoon.
The two-day tournament showcased the best Axie Infinity players from UGG's talent pool along with some of the biggest content creators and streamers in the Philippines, all vying for the lion's share of the 1,000 AXS prize pool as well as the title of the first-ever UGG All-Stars Tournament Grand Champion. The competitors included the likes of AremzyTV, Chippu, Don Panda, Fifi, Gudz, Inzai, Ninyoww, Overxyze, Lex Aeterna, Pattie, Ruthless, Toothless, Ninong Nokz, and more. An Axie Infinity showmatch between comedian/streamer Roadfill and award-winning singer songwriter Yeng Constantino was also held during the event.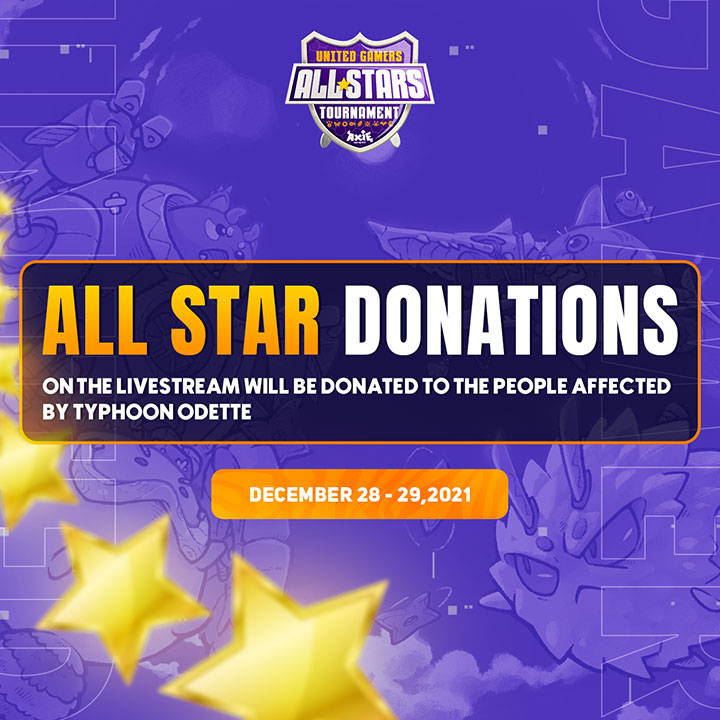 During the broadcast, Phillip Sebastian, CEO of United Gamers Guild, unveiled the vision for UGG and how it hopes to support the country's burgeoning play-to-earn gaming community:
"We have a dream with UGG, we wanted to be able to give back to the community. We want to help the players who play games on a casual daily basis be able to earn and benefit from their happiness and passion for being a gamer. We also want to help educate that community on how you can find other play-to-earn games and what play-to-earn games they should be playing, and at the same time, support that community with an esports infrastructure like tournaments and events for the entire community. To the entire gaming community this is the start! Look out for more events to come! This is the first step to the future of gaming!"
UGG also gave away a total of 15 Axie Infinity scholarships as well as other promotions and prizes during the event. You can check out the VOD of the UGG Axie Infinity All-Stars Tournament at the official United Gamers Guild Facebook page.