PayMaya has launched its latest Bills Bayad promo, which gives those who use PayMaya to pay for their fees and due to select government agencies a cashback reward.
From February 1 to March 31, 2022, those who pay their Pag-IBIG, SSS, PRC, and BIR fees and dues for the first time using PayMaya will get a 10% cashback voucher while existing users who have paid using PayMaya before will get a 5% cashback voucher every month. Users can get up to PHP 200 in cashback rewards during the promo period.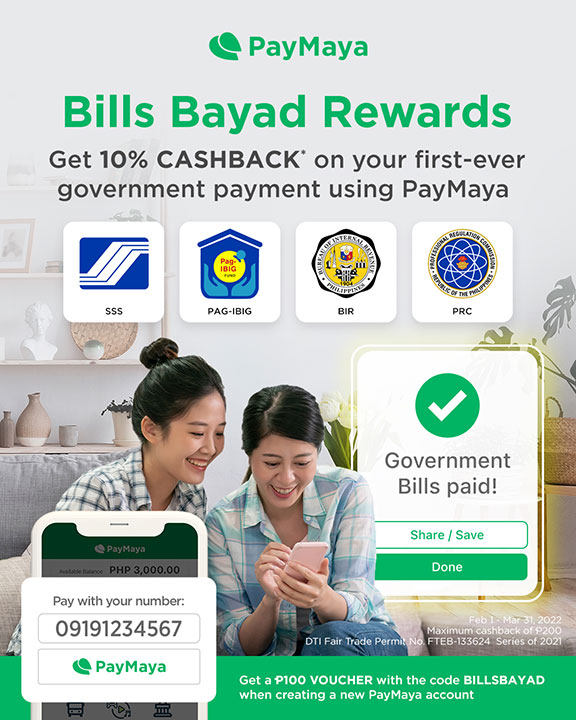 "We are always looking for ways to make everyday transactions easier and more rewarding. These include encouraging more consumers to use digital payments when transacting with national government agencies. We want to give users a more convenient experience as we also help promote ease of doing business with the government," said Pepe Torres, Chief Marketing Officer at PayMaya.
Here's how you can pay for your Pag-IBIG, SSS, PRC, and BIR fees and dues with PayMaya:
SSS – pay for your social security contributions via the PayMaya app and the SSS mobile app
Pag-IBIG – remit your regular housing amortizations via the PayMaya app and the Pag-IBIG website
PRC – pay for your professional fees via the commission's website
BIR – settle your taxes and fees via the PayMaya app.
New users who upgrade their accounts can also get a PHP 100 voucher when they use the code BILLSBAYAD when creating their accounts.
More information on PayMaya's products and services can be found on the official website.