Global smartphone brand OPPO is showcasing some of the features of its ColorOS 11 operating system that comes with the company's latest Reno6 series smartphones. Some of these include features that help the user relax and relieve stress, AI-driven hands-free features, automatic brightness adjustment, as well as performance efficiency and power saving features.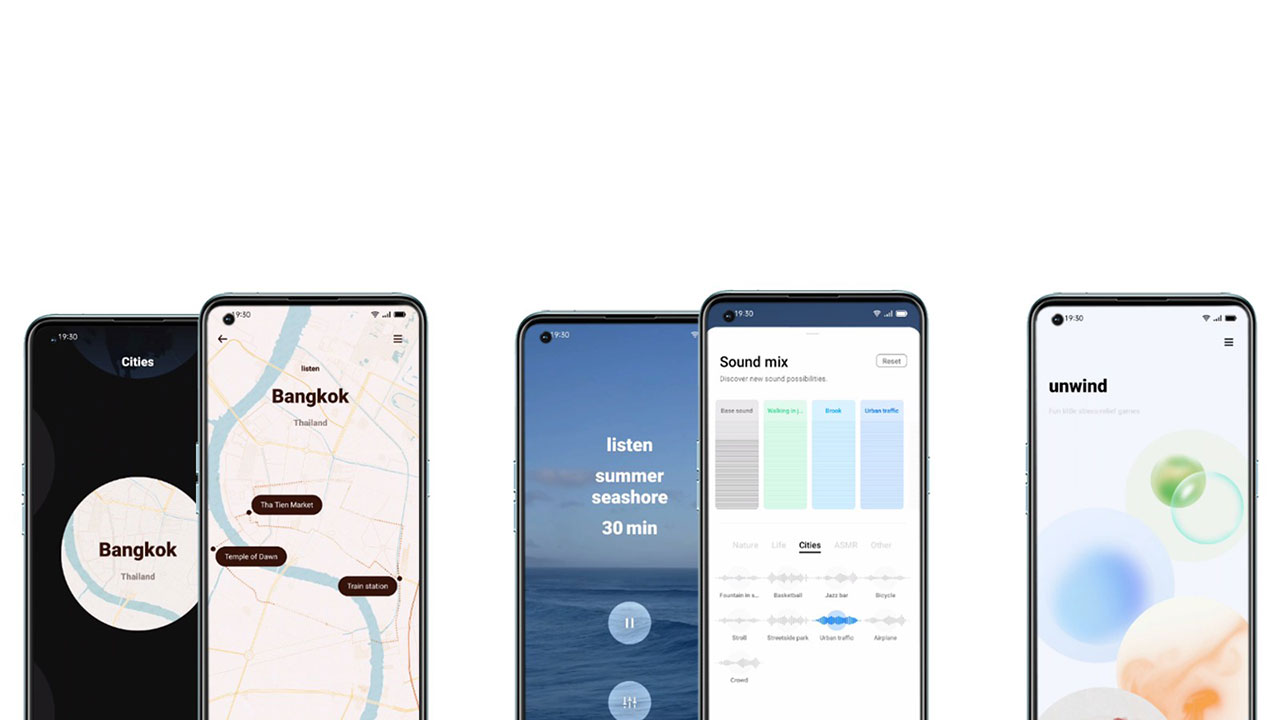 Pause and Breathe With O Relax 2.0

The new normal setup can be very stressful whether you are working or studying offsite or onsite, and this is why it is very important that your smartphone allows you to pause and escape your demanding environment. The O Relax 2.0 allows you to use soothing sounds and play mini-games that can help relieve anxiety. The latest version features Sounds of the Cities, which plays calming sounds from your favorite global locations; White Noise Customization, a list of white noise selections you can play to block out any other sounds; and lastly, Stress-relieving Games that will help you unwind.

Experience Industry-first Hands-free Features

If a convenient experience with state-of-the-art innovation is what you're looking for, ColorOS 11 has it covered for you. The AI-enhanced Sensing Algorithm in the Reno6 Series cameras allows you to take advantage of its Air Gestures, which lets recognized users navigate their phone up and down on popular social networking apps, and also answer calls, without having to touch their phone! There's also a built-in Anti-Peeping Feature for Notifications, which automatically detects if someone else is sneaking a look at your phone and hides details of your pop-up notifications, a privacy essential for sure. Lastly, ColorOS 11 also has an Adaptive Sleep feature equipped with an AI intelligent sensing algorithm that detects your present attention, making sure the screen does not dim or go to sleep while you are streaming your favorite shows.

Less Eye Strain For More Comfortable Viewing

Have you been staring at your gadget all day? No need to worry about eye strain and even headaches, as ColorOS 11 comes with all-day AI Eye Comfort. It manages screen brightness automatically, no matter the ambient light, to reduce stress on your eyes, so you can comfortably enjoy your me-time and stream your favorite show.

Consistently Smooth Experience, Just Like Day 1

It's natural to experience a slowdown when your gadget gets older. Ensuring that your Reno6 always runs like new, ColorOS 11 incorporates several functions to guarantee the fastest and smoothest response. Through its Garbage Cleaning function, ColorOS 11 automatically cleans up junk and defrags your phone storage to keep your phone running as smoothly as ever. Meanwhile, Quick Startup studies users' daily habits, and predicts the top apps you are likely to open, preloading them for you even before you think to open them and improving app startup speed by an average of 23%.

Lasting as Long as You Need It To

Everyone hates using a phone with a battery that's almost draining. ColorOS 11's Super Power Saving Mode removes the stress around conserving your battery life. It automatically adjusts screen brightness and CPU use, keeping up to only six apps at full capacity so you can stay productive while keeping your phone alive.
More information on ColorOS 11 and the OPPO Reno6 series of smartphones can be found on the official OPPO website.