Lenovo has announced the launch of its exclusive gaming community and rewards program called "The Empire" for owners of its Legion devices.
According to Lenovo, some of the perks of being part of The Empire include "premiere access to Legion merchandise, VIP entry to future Legion gaming events or tournaments, and first dibs on the latest news about the brand."
Members of The Empire can redeem exclusive Legion merchandise using points gained through weekly missions such as quizzes, surveys, tasks, and more. Some of the merchandise that will be available include limited edition t-shirts, tumblers, and caps.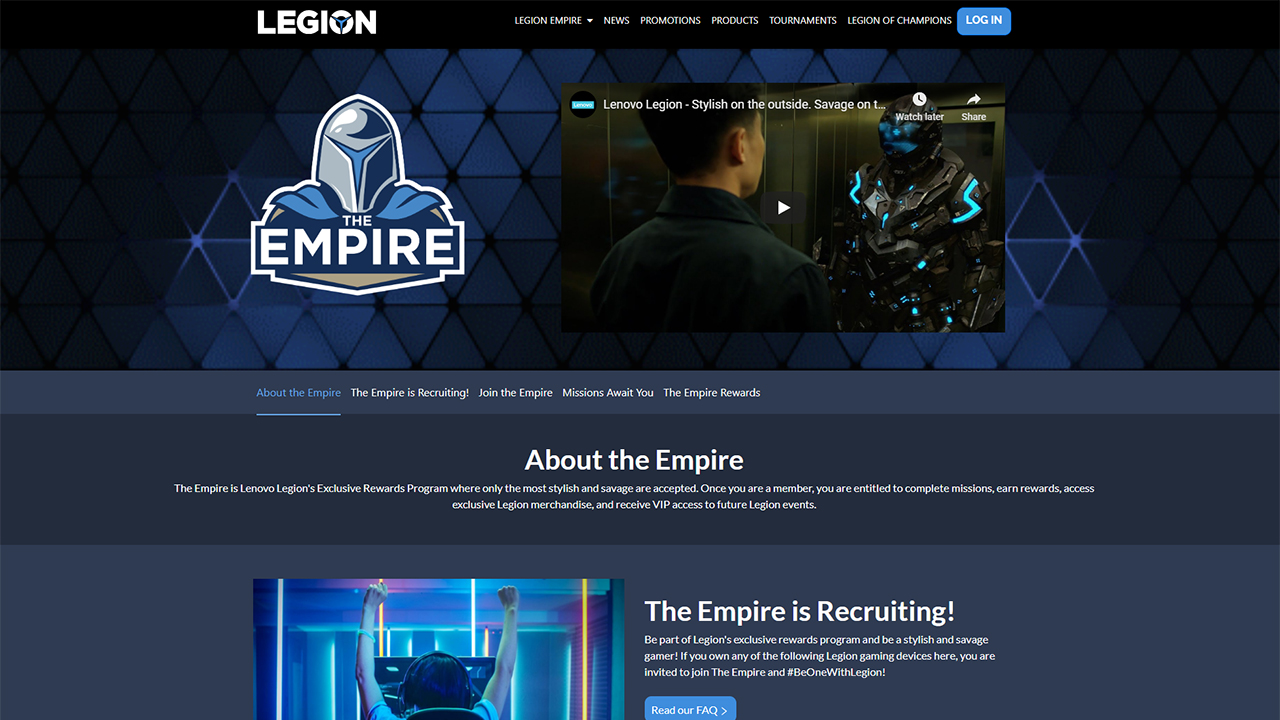 Lenovo Philippines President and General Manager Michael Ngan said in a press statement:
"The 'gamers-first' mindset is baked into Lenovo Legion's DNA, with most of the innovations we incorporate into our gaming products having been driven by direct customer feedback. With The Empire, we are leveraging our smarter technology to build a community that brings people together and to create a more diverse and dynamic world that enhances the human experience. Rest assured that Lenovo will continue to create a holistic technology ecosystem with our smart devices, smart infrastructure, and smart verticals ? all held together by our top-notch service offerings ? to enable access to better opportunities, greater connectivity, and the ability to transcend limitations for all."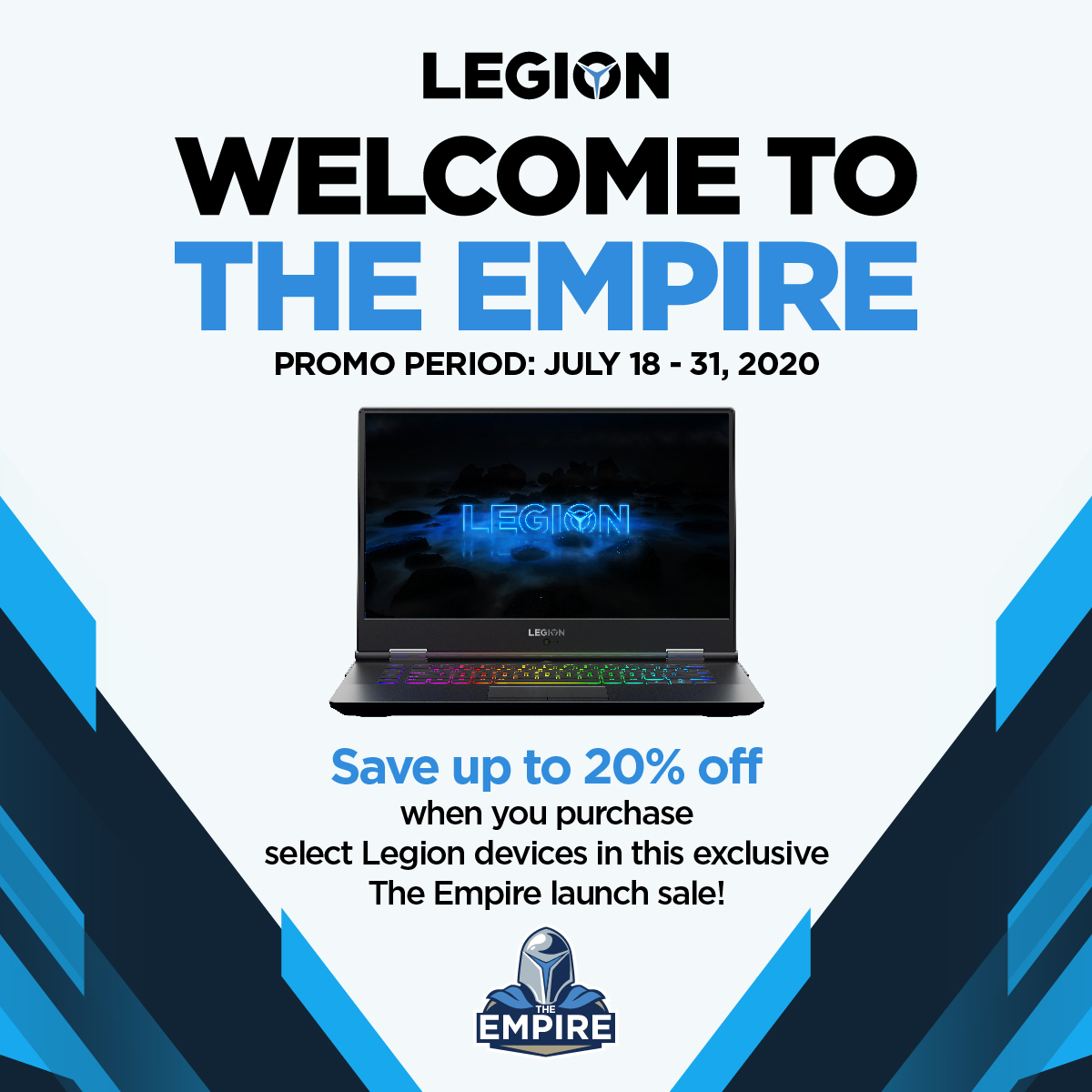 Those who own or purchase any of the following Legion gaming noteboooks and towers are eligible to be part of The Empire:
Legion Y530
Legion 5i
Legion Y540
Legion 5Pi
Legion Y730
Legion 7i
Legion Y740
Legion Y740Si
Legion T530
Legion Tower 5i
Legion 5
To join The Empire, users have to visit the official The Empire website (legion.lenovo.com/empire) and sign up for a Legion account. They then thave to upgrade their Legion account and provide additional information such as their Legion device model and serial number as a proof of purchase.
Once they're part of The Empire, the website will display the full list of redeemable rewards as well as the latest Legion announcements and events. Users will be able to personalize their accounts and add the games they play, gaming accounts, the specs of their gaming devices, and more.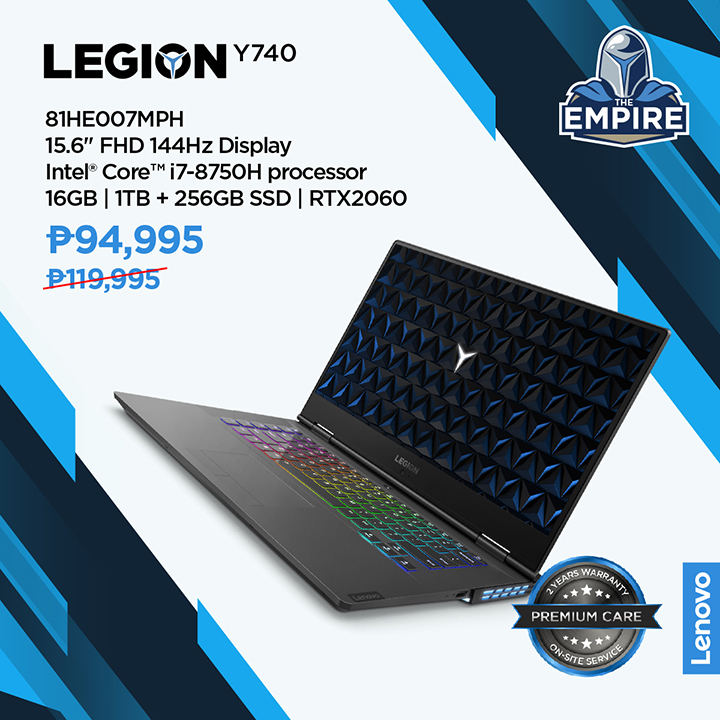 Welcome to The Empire Promo
The celebrate the launch of The Empire, Lenovo is placing select Legion devices on sale from July 18 to 31, 2020.
| Model Name | Original Starting Price | Promo Starting Price |
| --- | --- | --- |
| Legion Y740 | PHP 119,995 | PHP 94,995 |
| Legion Y540 | PHP 64,995 | PHP 54,995 |
| Legion Y545 | PHP 79,995 | PHP 62,995 |
| Legion T530 | PHP 69,995 | PHP 57,995 |
The select Legion devices included in the promo are available in all Legion Exclusive Stores and authorized Lenovo partner stores nationwide.