AMD has officially unveiled three new Radeon RX 5700 series graphics cards including the high-end RX 5700 XT, the standard RX 5700, and the limited-edition RX 5700 XT 50th Anniversary Edition.
The new RX 5700 series features the company's new 7nm process and RDNA architecture, the latter replacing AMD's previous-generation GCN architecture. According to AMD, RDNA is capable of delivering up to 1.25X more performance-per-clock and up to 1.5X higher performance-per-watt compared to GCN. The new GPUs also come with several new features such as Radeon Image Sharpening (RIS), that helps sharpen visuals in combination with GPU upscaling, Radeon Anti-Lag, which reduces input-to-display response times by up to 31 percent, and support for DisplayPort 1.4 with Display Stream Compression, which can support up to 8K HDR at 60Hz and 4K HDR at 144Hz+. Lastly, AMD is also releasing its FidelityFX toolkit, an open-source toolkit to make it easier for developers to create high-quality, post-processing effects and features Contrast-Adaptive Sharpening (CAS) to help make low-contrast areas more detailed.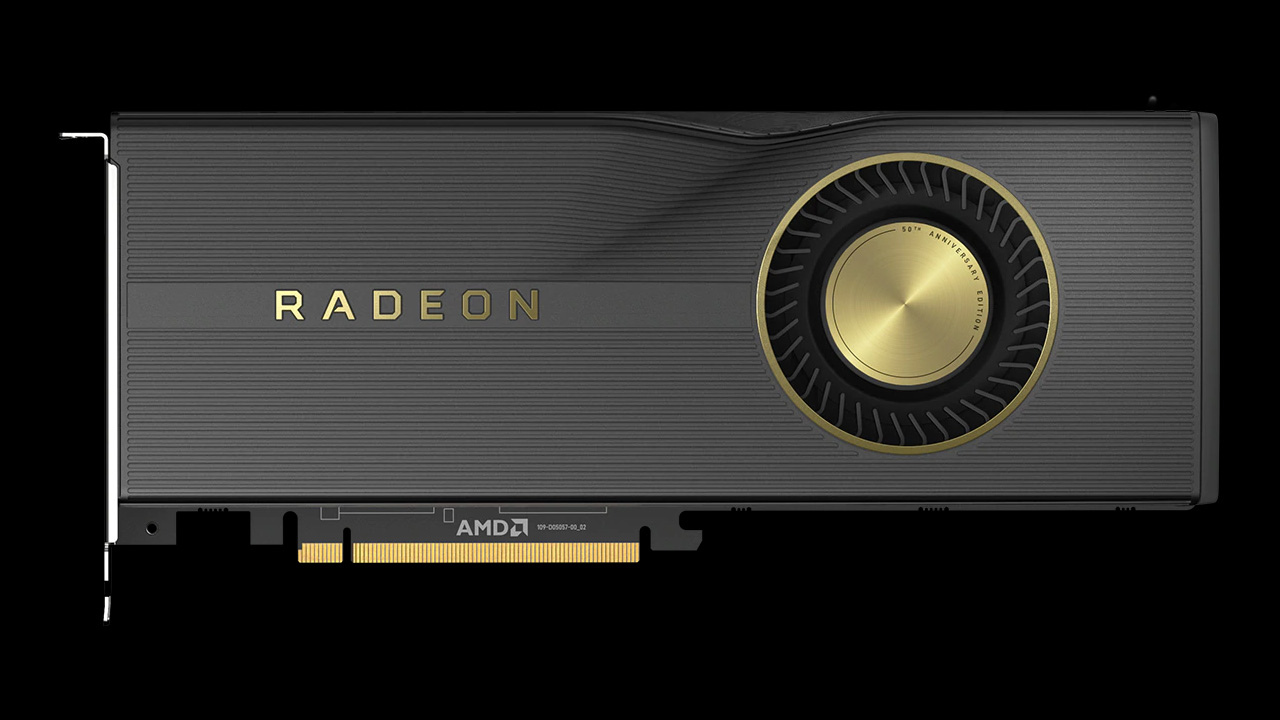 The current top-end model of AMD's new GPUs is the limited-edition Radeon RX 5700 XT 50th Anniversary Edition, which features 8GB of GDDR6 memory, a base clock of 1,680 MHz, a game clock of 1,830 MHz, and a boost clock of up to 1,980 MHz. It's also equipped with 40 compute units, 2,560 stream processors, and is rated for up to 10.14 TFLOPS.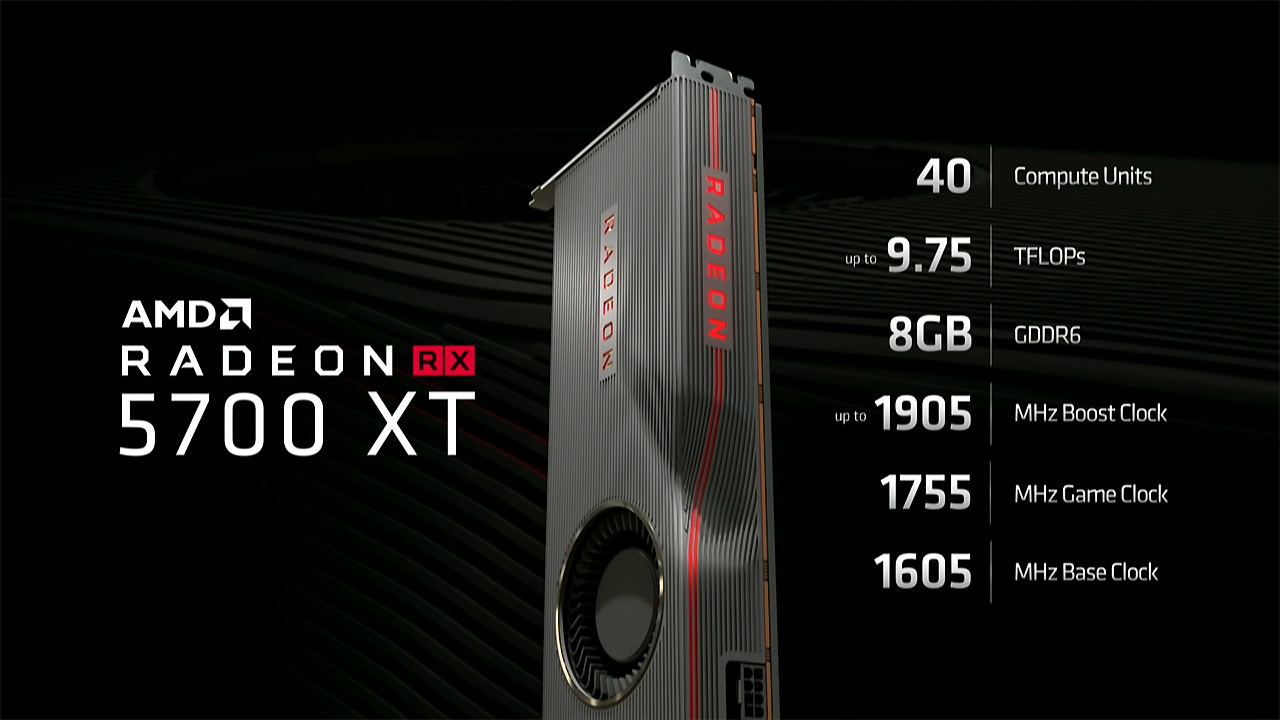 On the other hand, the regular Radeon RX 5700 XT features lower base, game, and boost clocks than the 50th Anniversary Edition, set at 1,605 MHz, 1,830 MHz, and up to 1,905 MHz, respectively, giving it a rated TFLOPS of up to 9.75.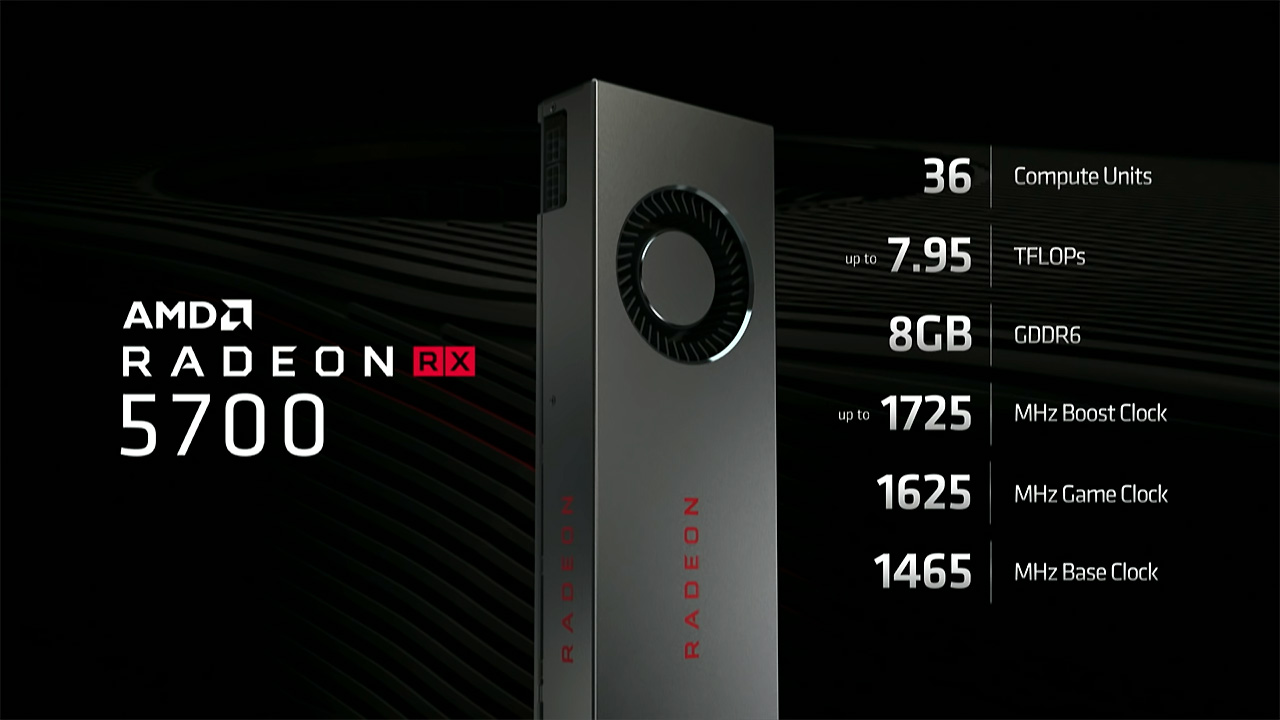 Lastly, the Radeon RX 5700 features fewer compute units, stream processors, and a lower TFLOP rating at 36, 2,304, and up to 7.95, respectively, and slower clocks including a base clock of 1,465 MHz, a game clock of 1,625 MHz, and a boost clock of up to 1,725 MHz.
All three models of the Radeon RX 5700 series will be available starting July 7, 2019. The limited-edition Radeon RX 5700 XT 50th Anniversary Edition will be priced at $499, the standard Radeon RX 5700 XT is set at $449, and the base RX 5700 has an SRP of $379. Local pricing and availability has yet to be announced but we should get more information from either AMD or its partners closer to release.