The new semester has just started and ASUS has decided to celebrate it by running a new promotion that will let customers get a free gadget for purchasing select ASUS motherboards and graphics card bundles.
The promo, which runs from May 25 through July 31, features three bundles categorized by budget and performance ranges.
In the first bundle – the Power Package – customers can choose between the ASUS Z97 Sabertooth Mark S or Mark 1 motherboards then add the Strix GTX 980 OC Edition graphics card to complete the bundle. Customers who purchase this package will get a Strix Claw gaming mouse for free.
The second bundle – the Gamer Package – features the H97-Pro Gamer or A88X-Gamer motherboard and the Strix GTX 750Ti OC Edition graphics card. This bundle comes with a HS-W1 Wireless Headset for free.
Lastly, the Value Set comes with either a B85-Pro Gamer or B85M-Gamer motherboard as well as a GT730-2GD3 graphics card. Value Set buyers will get an RT-N10+ Wi-Fi Router for free.
We've added ASUS's graphic guide below to make it easier to understand the bundles and what comes with them.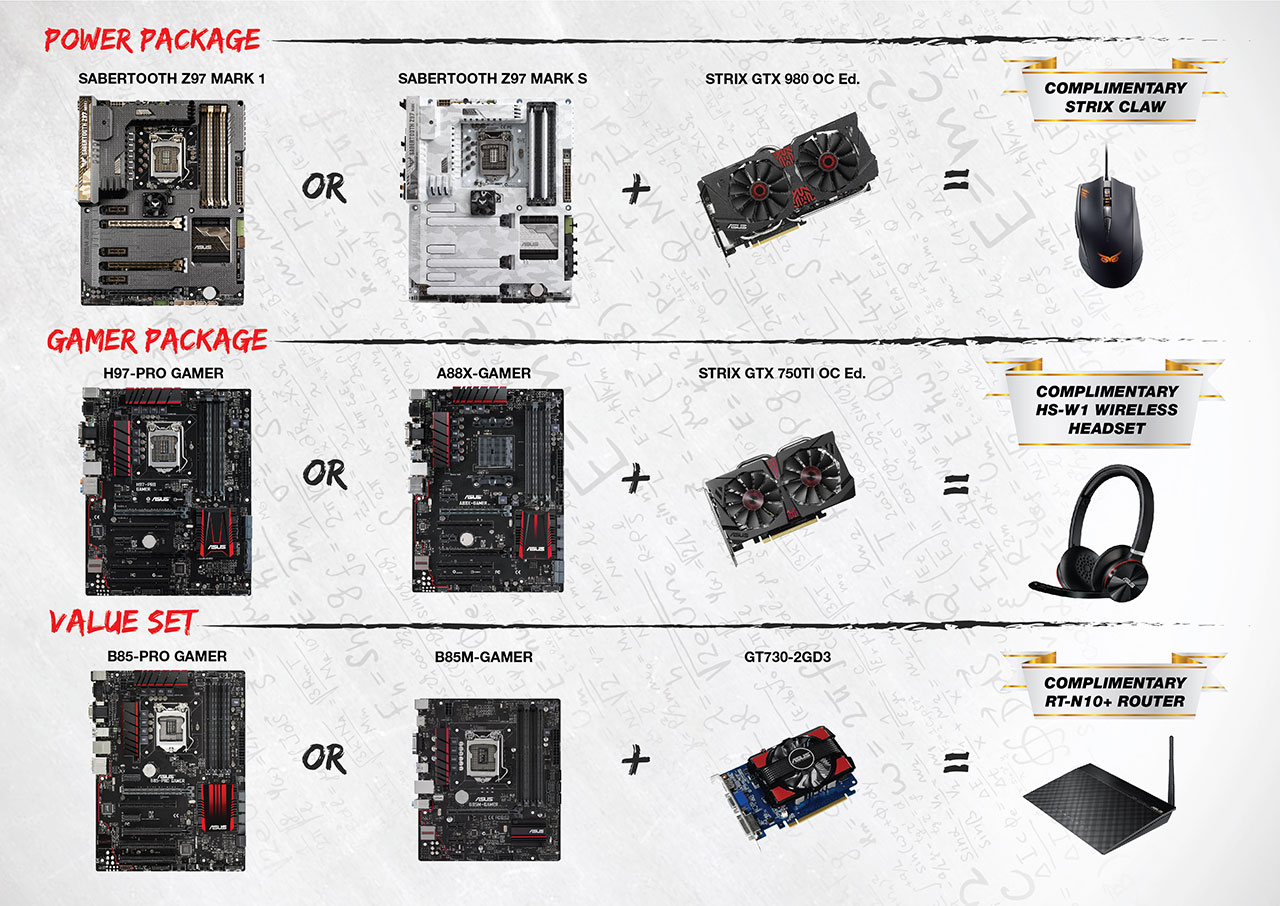 We've also listed the prices of each of the components in each of the bundles below:
Power Package
ASUS Z97 Sabertooth Mark 1 – PHP 12,630
or
ASUS Z97 Sabertooth Mark S – PHP 16,390
plus
ASUS Strix GTX 980 OC – PHP 33,820
Gaming Package
ASUS H97-Pro Gamer – PHP   6,350
or
ASUS A88X-Gamer – PHP   5,560
plus
ASUS Strix GTX 750 Ti OC (2GB) – PHP   8,150
or
ASUS Strix GTX 750 Ti OC (4GB) – PHP 10,150
Value Set
ASUS B85-Pro Gamer – PHP   4,990
or
ASUS B85M-Gamer – PHP   3,990
plus
ASUS GT730 (2GB) – PHP   2,700